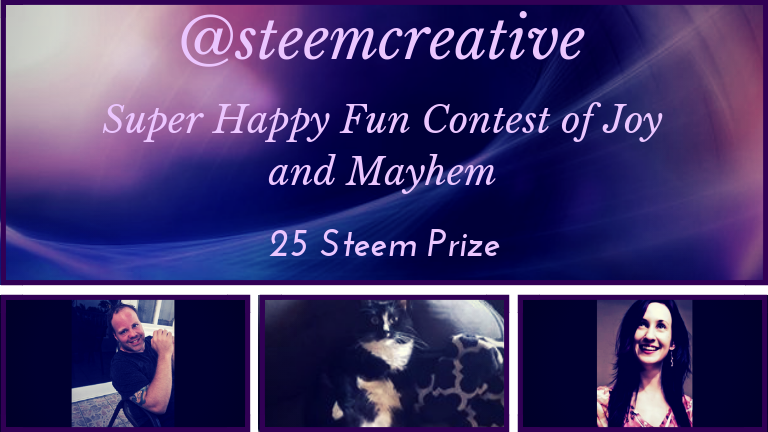 Welcome one and all!
It's time for the weekly Super Happy Fun Contest of Joy and Mayhem!
The main prize will be 25 Steem, but there's a bit of a catch....
We want you to nominate another user's post!
Why??????
Engagement!!!
We want to help encourage user interaction and reward people not only for their creativitiy, but also for their interactions and engagement on the platform.

Who Is Eligible?
This contest is open to ANY creative post. Not limited to art, but also music, film, needlework, sculpting, mime, or whatever else has a creative element.
So what do you get for nominating?
Well, this is the cool part. We are splitting the prize.
The person that nominates the winning post will receive 10 Steem and the Post creator will receive 15 Steem.
How cool is that?
It's very cool.
We will also be throwing random upvotes on meaningful comments in the contest post, as well as upvotes on entries submitted to futher engage and reward. We just keep giving!
And now! Steem Monster Packs!
Runner-ups will now be receiving Steem Monster booster packs! 1 pack to the artist and to the person submitting! You can do with these as you wish, play them, sell them, trade, whatever you want!

When Does This begin?
The contest will start with this post and will run from Monday, November 5th through Saturday, November 10th 8pm CST / Sunday 2am UTC.
Remember, you are nominating someone else's creative post! Self-nominating will not be counted.

FAQ
I see cats in your header picture. Why?

Because they are part of the witness team!
How do I enter?

Step 1 - Find a creative post that you want to submit
Step 2 - Put the link of that post in the comments of this post
Step 3 - Spread the word about your selection
Step 4 - Win?
How are the winners chosen?

The winners will be chosen by our celebrated and decorated hirsute feline judges with consideration of engagement on the post via non-bot comment upvotes and comments.

Can I submit my own post?

Yes, but it will be disqualified from winning! The idea here is to promote other Steemians you silly rabbit.

Do I have to upvote or resteem the contest post?

We would appreciate resteems in order to get Streets Ahead.

Is Streets Ahead a common phrase?

Well, if you don't know then you're probably Streets Behind.

Thank You For Your Witness Vote!
The link below will allow you to vote for our witness. We would be proud to have your vote to help us keep these kind of initiatives and rewards going.
@steemcreative is a joint witness venture and first Husband and Wife witness team of @swelker101 and @isaria, focusing on user engagement, creative content curation, contests, and supporting worthy projects.


Thanks guys!
Shane (@swelker101) and Isaria... And Snibby The Cat... And Jeffy the Cat