After eating salad everyday every meal without meat, I'm craving for some meat. I have some pork belly in the freeze and decided to cook it. I have never cook stew pork belly before, I went to YouTube and found some recipe where I have all of the ingredient in the kitchen.
First try, turn out it's eatable except it is quite heavy taste. I think it is because I have been eating light salad many days.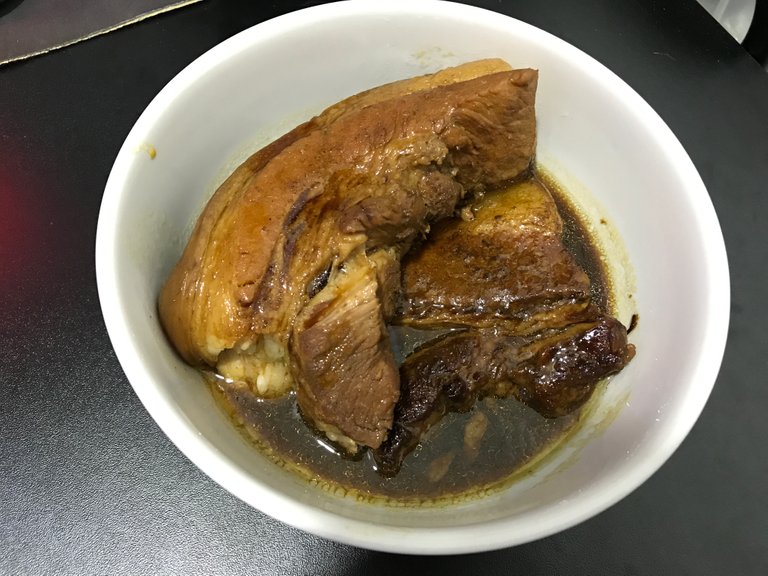 The stew pork belly turn out to have heavy taste based on the ingredients I mixed
Ingredients
400 gram of Pork Belly (preferably cut into square pieces, easy to eat)
6 gloves of garlic 🧄 (you can add 4 gloves or more based on your own preference)
1 1/2 tablespoon of Chinese shaoxing cooking wine
1 tablespoon of light soy sauce
1 tablespoon of dark soy sauce
1 tablespoon of oyster sauce
a few slices of gingers
3 star anise
2 tablespoon of brown sugar
2 teaspoon of cooking oil
1.5 litre of water or pour until it can cover the pork belly
Spring Onion (I didn't put spring onion because I don't like to eat it)
2 hard boiled eggs (didn't put it because no more eggs at home)
Step
Heat up a pot with water, put all the pork belly into it. This is a process call "blanching" before cook.
Switch on pressure cooker, choose sauté mode and pour the cooking oil.
After the oil is heated, put garlic, star anise & gingers sauté it until fragrant
Dry the pork belly after blanching, then add the pork belly. Make sure sauté mode is still on.
After done sauté then close the sauté mode, add the water into it.
Now you may put chinese cooking wine, light & dark soy sauce, oyster sauce, brown sugar, hard boiled eggs.
Turn on the "Poultry" mode
Now you wait until the pressure cooker finish it cooking work.
The benefit of using pressure cooker is I don't have to stand there and the meat is so soft after cook.
Let me know how it turn out for you in the comment section if you decide to try the recipe.