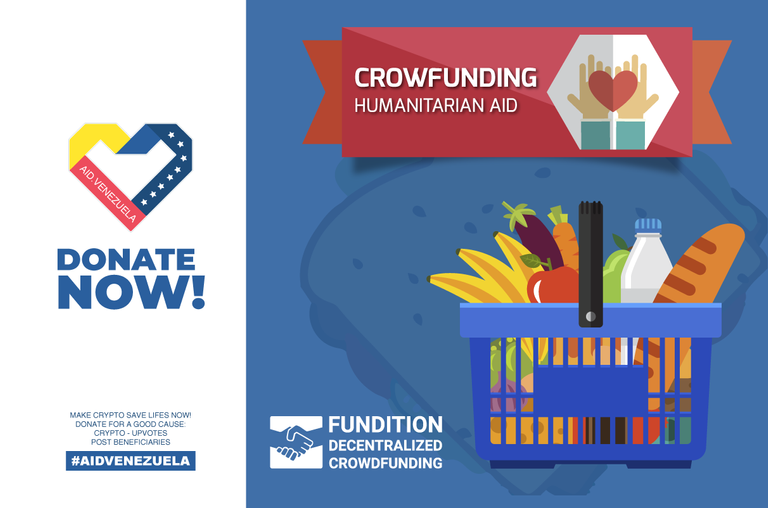 We know the current problem with steem blockchain and some steem projects, but this campaign was posted on Fundition: https://fundition.io/#!/@aid.venezuela/i7jlxkxli/ Trying to receive more help for support Venezuelan people under the humanitarian crisis and quarantine situation.
---
We recently completed several "Food For Life" campaigns, since then we have been observing a limited number of communities trying to create a system that will allow us to serve them all with the help of this program. However, recent problems at the national and international levels have led the project to reconsider many factors.
We want this program to continue, but now the priority is to help many vulnerable families who, although before they did not have many resources to survive due to the crisis in our country, now present greater problems due to the pandemic that is beginning to face Venezuela.
This is why the program will be refocused, giving priority to these vulnerable cases, allowing them to receive support in the face of a national quarantine which, although necessary, keeps in prison people whose resources are few and whose source of income is on the streets every day as informal traders and at the end of the day.
Introduction
Crypto Aid Venezuela was created as a space in charge of attending specific cases of humanitarian aid to health institutions, low-income popular sectors or private individuals. By means of a previous link with a foundation/project/community in the Bolivarian Republic of Venezuela and after the follow-up of their case, Crypto Aid Venezuela is able to provide aid to cushion the damage to life suffered by citizens in this country.

Objectives of the program:
Food for life seeks to provide low-income communities with severe and moderate cases of malnutrition with a food supply that will serve as a means of confronting this crisis, where children and the elderly have been the most affected by not having the necessary resources to deal with it.

Who is it aimed at?
The program is aimed at supporting mainly the most vulnerable cases of the Venezuelan population located mainly between the areas of Miranda State and the Capital District, being these people whose economic capacity does not allow them to maintain stable or medium stable nutrition in view of the inflation levels that the country faces, leading them to cases of severe and moderate malnutrition.

The food for life program has as a priority to attend to cases of malnutrition in children from 0 to 11 years old as well as in older adults.
Time of action of the program:
The program will have a monthly cycle in which we will seek to collect funds that will allow us to create food packages for a determined population of families. This cycle will seek to rotate among various communities to attend to them in the face of the national crisis.

Number of families to support per month.
The program seeks to support an average of 50 families per month, thus visiting an average of 10-15 families per week to whom food packages will be delivered.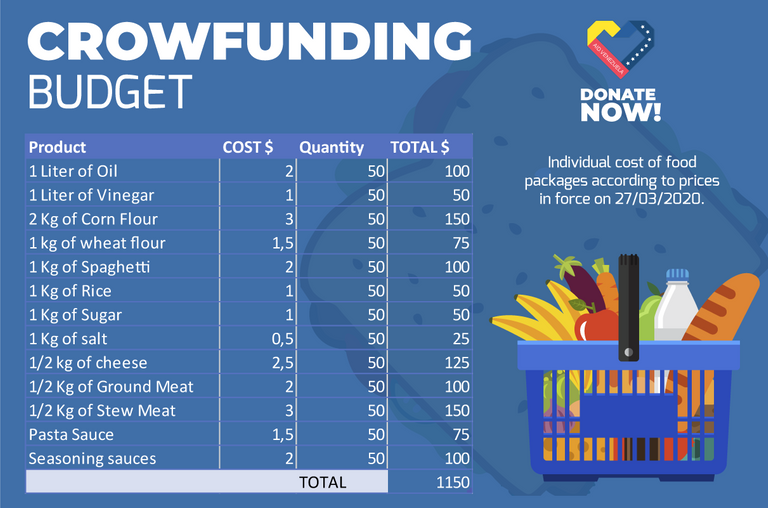 The total expressed corresponds to the expected monthly budget to help a total of 50 families making the minimum investment of $23 per family offering the products with which the Venezuelan family can meet their basic needs for a short period of time.
As a project we want to continue working for the Venezuelan people and we have decided to continue the good work even against the adversities, price of the cryptocurrencies, country/economic situation and other problems that have stagnated the development of the project.
We thank you again for all your support and we hope to be able to count on you in this new opportunity.
If you want to help us disseminate the project we invite you to use the following markdown at the end of your publications, with your help we will be making more and more people know about the project. Thank you very much. They will add a image + link to our mision as project!
If you are interested in supporting us we invite you to read our introductory post where you can learn more about us and some frequently asked questions: INTRODUCING AID VENEZUELA | CRYPTOCURRENCY HUMANITARIAN AID
WALLETS:
WALLETS:
BTC: 1Jq5ss8aLFcdnDiHbmo2sbEK6z7LzLhi1z
EOS: orinocotrade | Memo for operation: 40e87e733186
STEEM/SBD: aid.venezuela
HIVE/HBD: aid.venezuela
Support this project.
Join our discord channel: https://discord.gg/RQ27fRe
Follow on Instagram: https://www.instagram.com/aid.venezuela/