This is an extremely odd lawsuit. Here's the court filing:
https://downloads.coindesk.com/legal/justin.pdf
One of the charges is that they burned Tron "to manipulate prices". Here's what they say:
43 Sun and the Tron Foundation also widely publicized their efforts to manage the
supply of TRX to ensure price appreciation for the benefit of TRX investors. For example, on or
about June 26, 2018, Sun tweeted that "#TRON completed Coin Burn of 1 billion #TRX," with a
link to a Tron Foundation Medium post explaining that "'Coin burn' refers to removing tokens
from the total supply" and "encourages a fair distribution of cryptocurrency, helps to control
inflation and reward[s] token holders" because reducing the total supply of TRX would typically
increase the value of TRX remaining in the market.
Is burning coins really illegal because it "manipulates prices?
They also claim Sun made an "unregistered security offering" in the form of an emoji contest. Here's the bit in the filing related to that:
Between August 13, 2018, and August 28, 2018, Sun and the Tron Foundation
offered and sold 50,000 TRX through an online bounty program, pursuant to which Sun and the
Tron Foundation transferred TRX to certain participants in exchange for completing specific
tasks promoting TRX or the Tron Foundation. They referred to this specific bounty program as
an "emoji contest," which required participants to "TELL A STORY ABOUT TRON WITH
EMOJIS" by posting and sharing on Facebook and/or Twitter original compositions using
"TRON elements" and emojis.
52 According to an August 13, 2018 post by the Tron Foundation to its blog on
Medium, creators of so-called "outstanding works," specifically "the top 6 works with the most
likes and shares on both Twitter and Facebook" would be rewarded with 31,000 TRX—16,000
TRX to the first place winner, and 3,000 TRX each to five runners-up. Another 5,000 TRX
would be distributed to randomly selected participants who met the contest requirements but
were not selected as winners based on the number of "likes and shares" received.
56 By entering the "emoji contest," participants provided Sun and the Tron
Foundation with valuable consideration—the online promotion of the Tron platform and TRX
ecosystem, promotional artwork to feature on the Tron website, and the Twitter and Facebook
handles of entrants and their tagged friends—in exchange for an opportunity to receive TRX.
57 In total, Sun and the Tron Foundation distributed 50,000 TRX to winners of the
"emoji contest."
58 Neither Sun nor his entities took any steps to exclude U.S. persons from receiving
TRX in this offering, and at least one of the winners who received TRX was a resident of this
District
So, apparently winning crypto in an emoji contest is an illegal security offering in the USA.
Whatever people think of Justin Sun, the above is completely ridiculous.
Are the SEC launching these lawsuits as a form of harassment? Will any judge uphold any of this, and if they do, what does it say about the United States?
More importantly, this stuff affects Hive: people on here do burn posts, airdrops and contest giveaways. If one of the winers is an American, and you didn't realise it/check, and gave them coins, then apparently you've broken US law.
Predictably, the price of Tron fell 12% (a bit of price manipulation by the SEC!):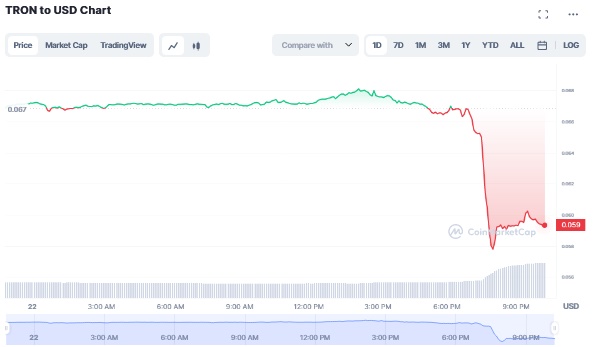 source
This is my personal view, but the SEC is stretching a 1938 law on security offerings, to crush crypto in the USA. Remember, back in 2018, Tron was worth about a thousanth of a cent. So a winner of 10,000 Tron for "best emoji story", received tokens worth 10 cents. But this is evil enough for the mighty Securities and Exchange Commission to launch a lawsuit, because one of the winners of this paltry token was American.