This friday I've got my next hearing in the Crypto Class Action against Facebook & Google for banning the ads of the cryptocurrency industry in early 2018.
[UPDATE: Hearing has been delayed until April because Judge is super busy.]
This will be my fourth 90+ minute hearing before Justice Rares and I have filed a very large amount of material supporting my claim.
@brianoflondon has also prepared some amazing interactive charts showing the impact of Facebook, Google and Twitter's ad bans on market prices and volumes.
We've also included data on amounts raised in ICO smart contracts and amounts locked up in DeFi smart contracts which shows an amazing correlation with the ETH price.
I'm not sure this analysis has been published anywhere else. The ETH price is clearly driven by the amount of ETH locked up in smart contracts.
We think its pretty persuasive that Facebook and Google's ad bans caused the big market drops in 2018.
We hope the Judge finds it persuasive too.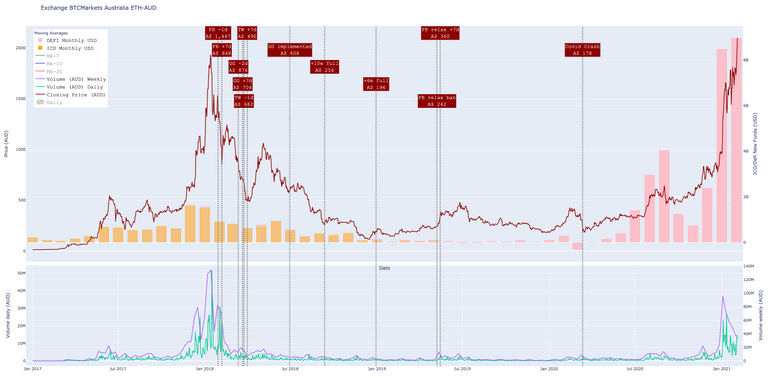 This is just a screenshot as the interactive charts are HTML, produced by @brianoflondon's amazing self taught Python skills.
---
To give you an idea of the immense amount of material I've filed to support our claim, have a look at this 5 volume Court Book I complied to bring everything together.
Just like an army is only as good as its logistics, a legal case is dependent on its evidence and file management of huge amounts of material.
The preparation requires 100x as many hours as the clash in the Courtroom.
If I was billing my time at an hourly rate for a lawyer of my seniority and experience and @brianoflondon's time at a similar rate for consultant then getting to this stage would have already cost well over $1 million.
---
Andrew Paul Stuart Hamilton v Facebook Inc. & Google LLC NSD899/2020
Court Book Table of Contents
Volume 1
| Page | Description |
| --- | --- |
| 1 | Interlocutory Application: Leave to Serve and No Adverse Costs Order |
| 4 | Applicant Submissions for 11 Sep 2020 Interlocutory Hearing |
| 13 | Applicant Submissions for 30 Oct 2020 Interlocutory Hearing |
| 17 | Applicant Submissions for 18 Dec 2020 Interlocutory Hearing |
| 21 | Applicant Submissions for 5 Mar 2021 Interlocutory Hearing |
| 27 | Complete List of Authorities as at 1 Mar 2021 |
Volume 2
27 Aug 2020 Affidavit of Andrew Hamilton
Page
Annex
Description
1
Affidavit
7
Annex A
AG's Hague service guide
15
Annex B
Facebook Address for Service NSD 246/2020
17
Annex C
Google Address for Service NSD 816/220
19
Annex D
Facebook 2019 Annual Report
129
Annex E
Alphabet 2019 Annual Report
228
Annex F
Andrew Hamilton CV
236
Annex G
19 Mar 2018 Letter to ACCC
240
Annex H
31 July 2018 Letter to ACCC
6 Sep 2020 Affidavit of Andrew Hamilton
Page
Annex
Description
1
Affidavit
5
Annex A
Facebook Statement of Rights and Responsibilities
10
Annex B
Facebook Terms of Service
18
Annex C
Facebook Ad Ban Policy 30 Jan 2018
22
Annex C1
Facebook Ad Ban Policy 30 Jan 2018 (alt copy)
26
Annex D
Facebook Ad Ban Announcement 26 Jun 2018
31
Annex E
Facebook Ad Ban Announcement 8 May 2019
34
Annex F
Facebook Ad Ban Policy 8 May 2019
35
Annex G
Google AdWords Terms and Conditions
40
Annex H
Google Ad Ban Policy June 2018
41
Annex I
Google Ad Ban Policy 26 Sep 2018
44
Annex J
Google Ad Ban Announcement Sep 2018
45
Annex K
Google Ad Ban Policy 7 Jun 2019
50
Annex L
Google Ad Ban Policy current
54
Annex M
Google Terms of Service 31 Mar 2020
68
Annex N
Google Terms of Service 25 Oct 2017
73
Annex O
Internet of Blockchains (Web 3.0) Article
9 Sep 2020 Affidavit of Andrew Hamilton
Page
Annex
Description
1
Affidavit
3
Annex A
ACCC acknowledgement of receipt
Volume 3
10 Dec 2020 Affidavit of Andrew Hamilton
Page
Annex
Description
1
Affidavit
9
Annex A
Nanopool ETH earnings
13
Annex B
Exodus Wallet ETH transactions export
17
Annex C
Cryptocurrency holdings 31 Dec 2017
18
Annex C1
BTC Markets - ETH price & volume chart
19
Annex D
BTC Markets ETH transactions
20
Annex E
St George ETH sale deposits
21
Annex F
Acorn purchase with ETH
23
Annex G
Grant Hamilton Crypto Advisory Marketing Material
29
Annex H
HiveBuzz Screenshot
30
Annex I
30 Jan 2018 Daily Steem Stats Report
56
Annex J
Steem Statistics
57
Annex K
Steem Sales Bittrex & Finance
na
Annex L
ACCC Digital platforms inquiry - Final Report (lodged separately)
61
Annex M
Google response letter regarding cartel claim
62
Annex N
Facebook crypto ad disapproval message
64
Annex O
DOJ Google Anti-trust lawsuit statement
na
Annex P
Mark Zuckerberg Senate testimony (video file emailed separately)
Volume 4
1 Mar 2021 Affidavit of Andrew Hamilton - Part 1
Page
Annex
Description
1
Affidavit
11
Annex A
Bitcoin White Paper
20
Annex B
Ethereum White Paper
55
Annex C
ETH Price and Volume Charts
58
Annex C1
Google Ad Ban Media Report - 14 Mar 2018
59
Annex D
GDAX Flash Crash explanation
63
Annex E
ICO Charts
Volume 5
1 Mar 2021 Affidavit of Andrew Hamilton - Part 2
| Page | Annex | Description |
| --- | --- | --- |
| 69 | Annex F | List of completed ICOs |
| 124 | Annex G | USA 2017 IPO total raise media report |
| 125 | Annex H | ETH Price and Volume Charts with ICO monthly raise data |
| 128 | Annex I | Bancor statements re ICO |
| 134 | Annex J | DeFi Pulse - DeFi top Projects and value locked in DeFi |
| 136 | Annex K | ETH Price and Volume Charts with ICO & DeFi data |
| na | Annex L | Interactive ETH Charts - HTML format - Separate file |
| 138 | Annex M | Facebook Subsidiaries - Exhibit 21.1 to 2019 Annual Report |
| 140 | Annex N | Alphabet Subsidiaries - Exhibit 21.1 to 2019 Annual Report |
| 141 | Annex O | ASIC Extract - Google Australia Pty Ltd |
| 146 | Annex P | Facebook Revenue Recognition - page 64 of 2018 Annual Report |
| 147 | Annex Q | Google Revenue Recognition - page 55 of 2018 Annual Report |
| 149 | Annex R | User comments on cryptocurrency ad disapprovals |
---
Please vote for my Hive witness. (KeyChain or HiveSigner)