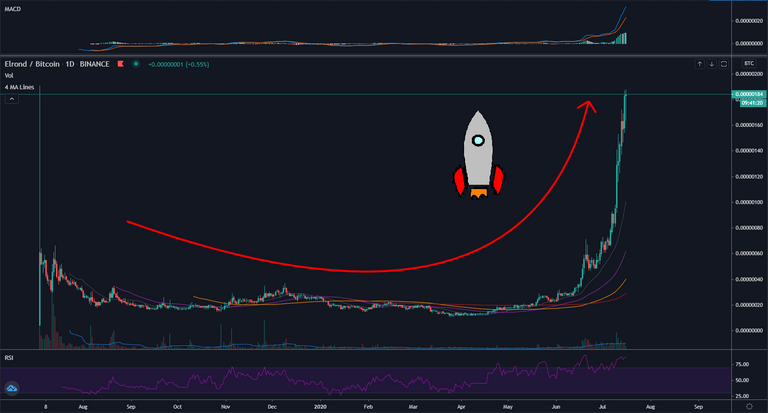 Hello everyone!! This is LJ on the house for your daily price analysis of interesting cryptos out there. 😀
I hope everyone is having an awesome time.
For this segment I would like to discuss about the recent move of Elrond or ERD against BTC.
This is really very impressive move, and the price is already at an all time high and it seems it doesn't want to stop yet.
As we can see, it is already up 1,653% from its bottom!! That is a thousand percent gain!! That is a massive massive move!!
This really feels like the last bull run of altcoins. Hehe.
The momentum is still really picking up and the buying pressure is really really strong.
But in these prices, I would really be taking profits already because as we can all see, it is already over stretched and sooner or later, this will have a correction.
This crypto is really one of the leading movers in the crypto industry in terms of price.
But still, the important about this is that we should be cautious if we are planning on purchasing and participating in this massive move. We should have a really good plan if we want to participate and have a really disciplined cut loss in place to prevent us from having a big downfall because the volatility of this coin is really big.
So its better to be safe than sorry.
As always, stay safe in investing or trading guys. And always have the discipline and proper risk management in place.
Have a good one everyone! 😀
Cheers!! 😀