In today's top gains we have Siacoin, the most serious decentralized cloud storage project.
While trading a little above 200sat yesterday, it skyrocketed to 425sat  before correcting to 300sat, and still showing signs of strength.
This crazy rise is due to the listing of two new pairs on the biggest Korean exchange: SC/BTC and SC/KRW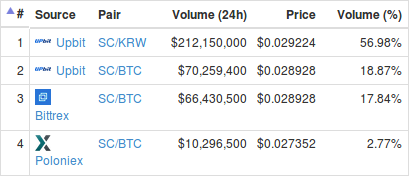 The most notable thing is how big the part of the total volume percentage UpBit now represent for Sia: 75.85%! Poloniex looks like YoBit with only a 2.77% share of the volume.
This is a great reminder that there is still a lot of available money to come in many coins, and in the cryptosphere in general: There is virtually no limit!
Remember to comment, vote, and resteem.