Seit einigen Tagen herrscht bei uns der Winter. Eine ordentliche Menge des weißen Pulvers hat das Land bedeckt und bedingt durch die stetigen Minusgrade, aktuell etwa -10°, bleibt der Schnee auch liegen, ohne nach kürzester Zeit in Matsch zu transformieren.
Die Kids sind mega happy, mein Wauzi ebenfalls. In diesen Zeiten ist jedoch Pfotenpflege angesagt, denn das Salz, welches en masse auf den Gehwegen und Straßen verteilt wird, ist recht aggressiv.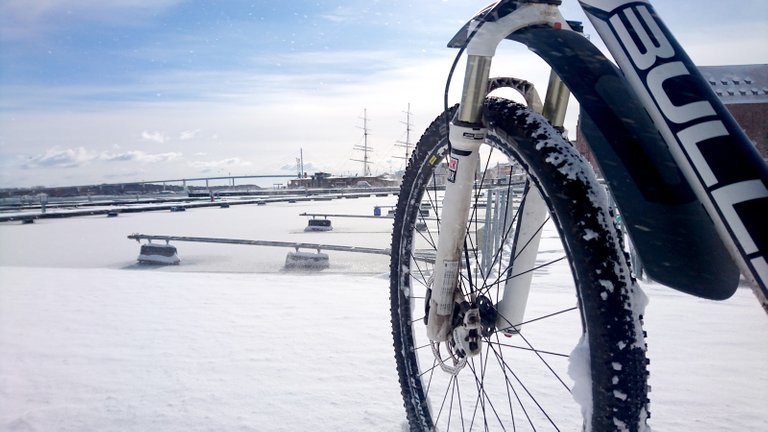 Auf dem Bike hat man bei diesen Gegebenheiten irre viel Spaß. Auch, wenn ich auf Glanzleistungen in der zurückgelegten Distanz verzichten muss, so ist die kleine Stadtrunde dennoch sehr herausfordernd. Dreißig Zentimeter Schnee müssen durchfahren werden; Also kämpfe ich mich mit aller Gewalt durch die Masse, während das Hinterrad mal nach links, mal nach rechts ausbricht. Um das Gleichgewicht halten zu können, bedarf es Übung. Die macht ja bekanntlich den Meister. Und aus dem Grund geht es bei mir auch recht gut vorwärts. Bin zum Glück noch nicht hingefallen.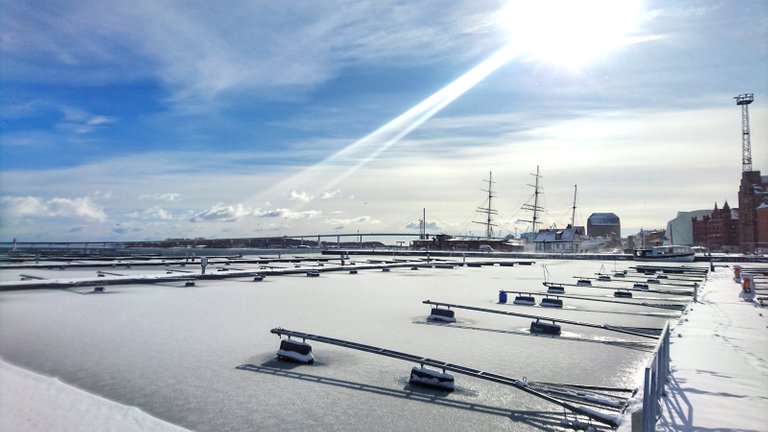 An der Sundpromenade wird's dann richtig spannend. Arktischer Wind weht vom Wasser her aufs Land und man erlebt gefühlte Temperaturen von etwa -17 Grad. Das macht sich insofern bemerkbar, als dass die Augenlider sich quasi sofort miteinander verkleben, das Gesicht spürbar erlahmt und die Extremitäten, hauptsächlich Zehen und Finger, trotz Schutzkleidung erstarren.
Das Ganze kann ich mir dann etwa 4 Kilometer antun und mache den Schlenker in die Innenstadt. Das nächste Café lockt mit einer heißen Tasse des koffeinhaltigen Getränks, an dem ich mich erwärmen kann.
Für größere Touren bedarf es Spezialequipment, welches ich bereits zu 75% zusammengestellt habe. Mal sehen, was da zukünftig noch geht :)
Mit frostigen Grüßen
Obvious
PS: Deinen netten Kommentar werde ich upvoten. Wenn du meinen Beitrag resteemst, werde ich einen Blick auf deine Beiträge werfen und jene upvoten, wenn sie mir gefallen.
---
[EN]
We have been in winter for a few days now. A good amount of white powder has covered the country and due to the steady temperatures below zero, currently about -10°C, the snow stays on without transforming into mud after a short time.
The kids are incredibly happy, so is my dog. In these times, however, paw care is called for, because the salt, which is distributed en masse on the sidewalks and streets, is quite aggressive.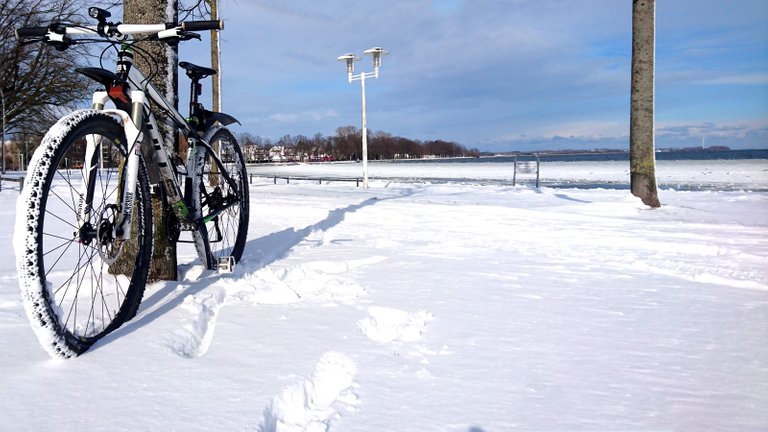 On the bike I have a lot of fun under these circumstances. Even if I have to forego brilliant performances in the distance, the small city tour is still very challenging. Thirty centimetres of snow have to be ridden through; so I fight my way through the masses with all my might, while the rear wheel sometimes breaks out to the left, sometimes to the right. It takes practice to keep the balance. As we all know, practise makes masters. And that's why I'm doing quite well. Luckily I haven't fallen down yet.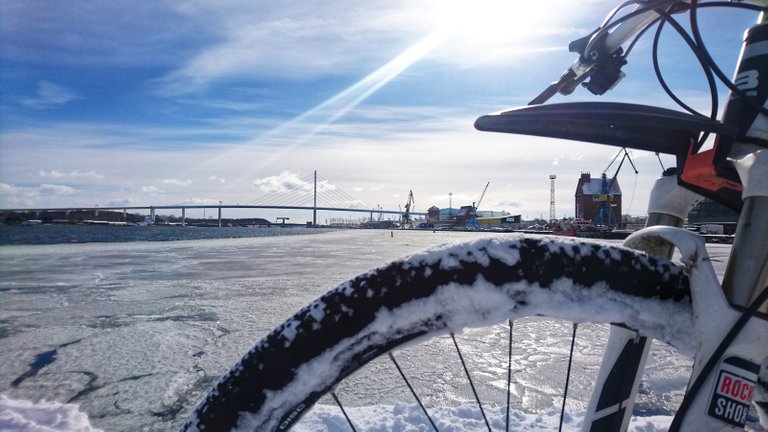 The promenade is really exciting. Arctic wind blows from the water to the land and one experiences temperatures of about -17 degrees Celsius. This is noticeable in that the eyelids immediately become stuck together, the face noticeably slackened and the extremities, mainly toes and fingers, solidify despite protective clothing.
I can do the whole thing to myself then about 4 kilometers and make the move in the city center. The next café has a hot cup of the caffeinated drink where I can warm up.
For larger tours I need special equipment, which I have already put together to 75%. Let's see what's going to happen in the future:)
With frosty greetings
Obvious
PS: I will upvote your nice comment. If you resteem my post, I will take a look at your posts and upvote those if I like them.