Dear Hiveans,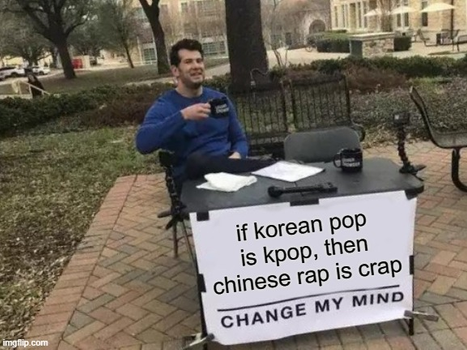 Today I'd like to share some charts from a presentation I recently held at my job. These are about China.
China's demography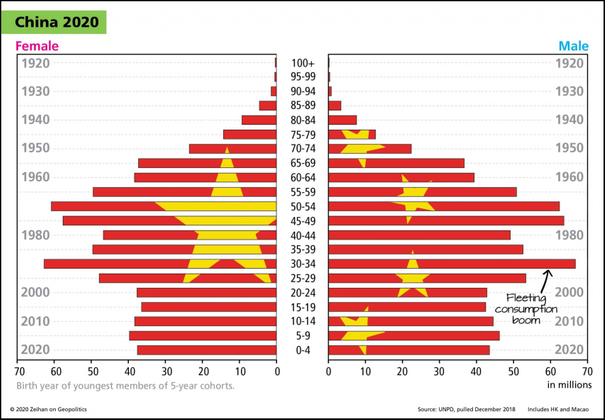 This is the consequence of the one-child policy, and will have severe economic repercussions (less consumption, less capital, smaller workforce).
Money supply M2 for the Eurozone (green), the US (blue) and China (red)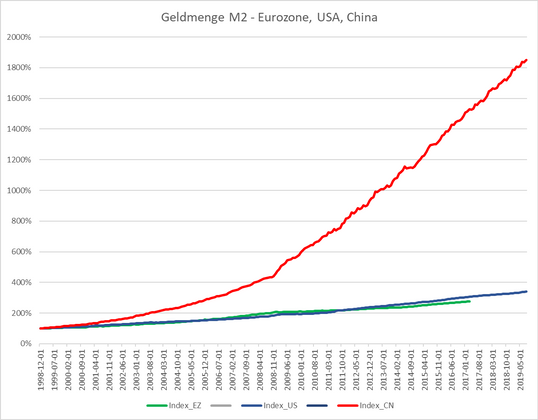 Contribution of real estate to Chinese GDP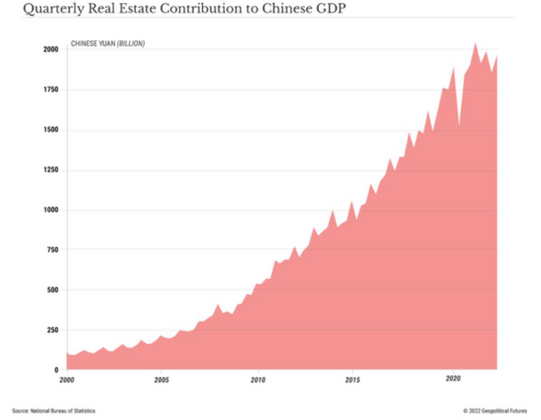 China average yearly wages (in CNY per year)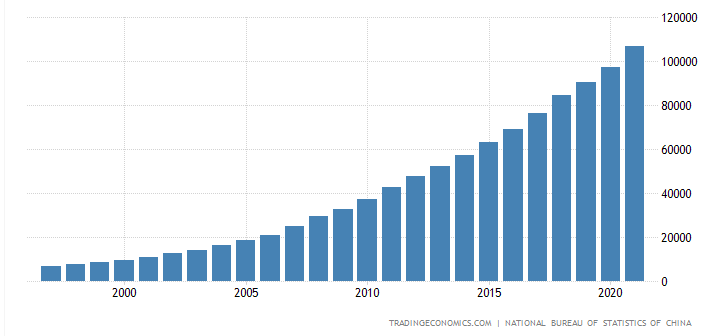 With these wage increases China is no longer price competitive internationally. I wonder where these jobs will go? Mexico? Thailand?
Further issues are
China's zero-covid policy (which impeded the immunization of the people) with devastating economic consequences,
China's oil dependency on the Persian gulf (China has a demand of around 14 million barrel per day, but produces only 3-4 mbpd), and
China's dictatorship which is highly dependent on the whims of Xi Jinping.
In my opinion we will see the collapse of China in the years to come, way worse than Japan's decline since 1989, and perhaps as bad as or worse than the end of the Soviet Union. I hope China will go down peacefully and gracefully.
Have a great day,
zuerich
---
Liebe Hiver,
heute möchte ich einige Diagramme aus einer Präsentation zeigen, die ich kürzlich bei meiner Arbeit gehalten habe. Es geht um China.
Chinas Demographie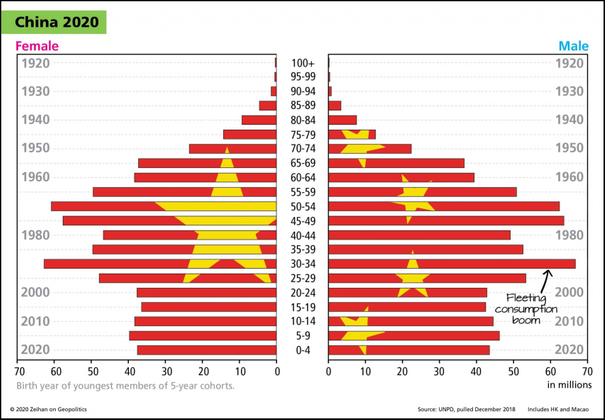 Dies ist die Folge der Ein-Kind-Politik und wird gravierende wirtschaftliche Auswirkungen haben (weniger Konsum, weniger Kapital, weniger Arbeitskräfte).
Geldmenge M2 für die Eurozone (grün), die USA (blau) und China (rot)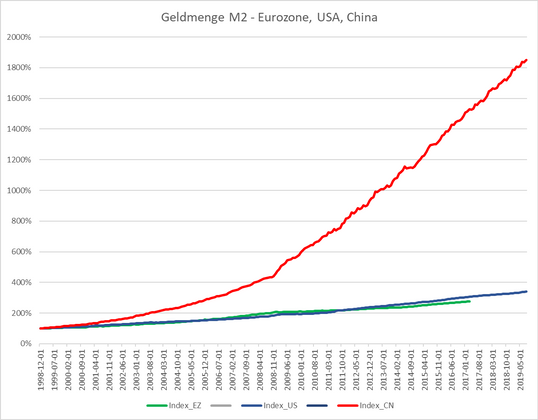 Beitrag des Immobiliensektors zum chinesischen BIP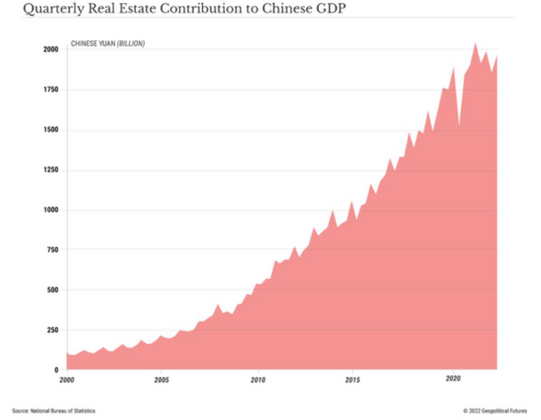 sieht mir sehr nach einer Blase aus.
Chinesische Durchschnittsjahreslöhne (in CNY pro Jahr)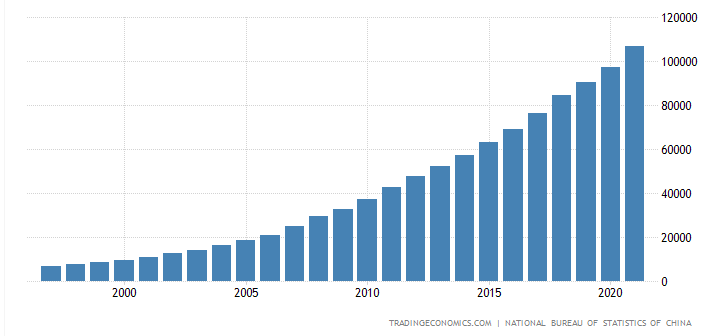 Mit diesen Lohnerhöhungen ist China international nicht mehr wettbewerbsfähig. Ich frage mich, wohin diese Arbeitsplätze gehen werden? Mexiko? Thailand?
Weitere Probleme sind
Chinas Null-Covid-Politik (die die Immunisierung der Bevölkerung verhindert) mit verheerenden wirtschaftlichen Folgen,
Chinas Ölabhängigkeit vom Persischen Golf (China hat einen Bedarf von ca. 14 Millionen Barrel pro Tag, produziert aber nur 3-4 mbpd), und
Chinas Diktatur, deren Funktionalität in hohem Maße von den Launen Xi Jinpings abhängt.
Meiner Meinung nach werden wir in den kommenden Jahren den Zusammenbruch Chinas erleben, der weitaus schlimmer sein wird als der Niedergang Japans seit 1989 und vielleicht genauso schlimm oder schlimmer als das Ende der Sowjetunion. Ich hoffe, China erlebt einen friedlichen und würdevollen Niedergang.
Have a nice day,
zuerich
---
Queridos Hiveanos,
Hoy me gustaría compartir algunos gráficos de una presentación que hice recientemente en mi trabajo. Son sobre China.
La demografía de China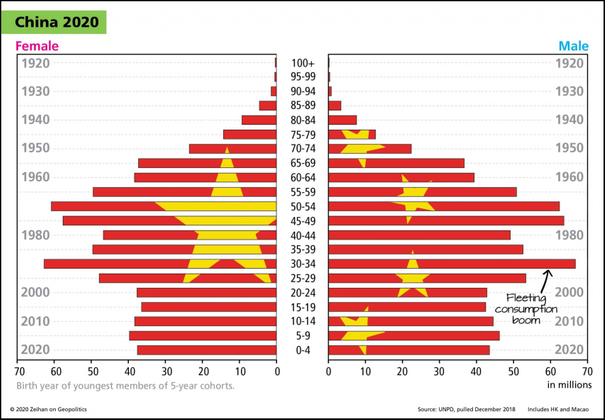 Esta es la consecuencia de la política del hijo único, y tendrá graves repercusiones económicas (menos consumo, menos capital, menor mano de obra).
Oferta monetaria M2 para la zona euro (verde), Estados Unidos (azul) y China (rojo).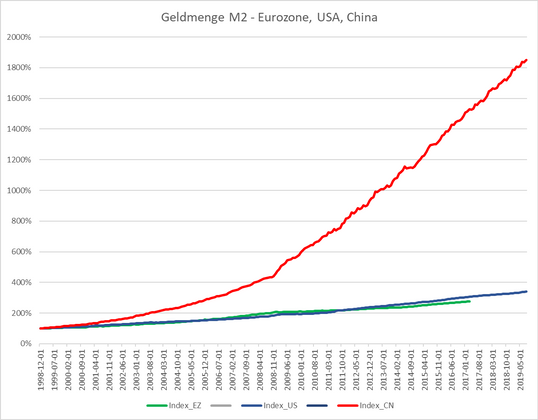 Contribución del sector inmobiliario al PIB chino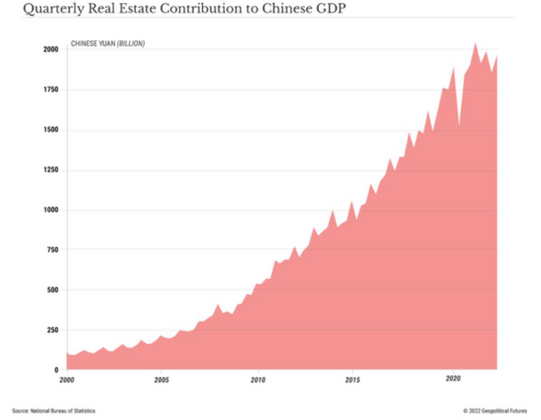 Salarios medios anuales en China (en CNY por año)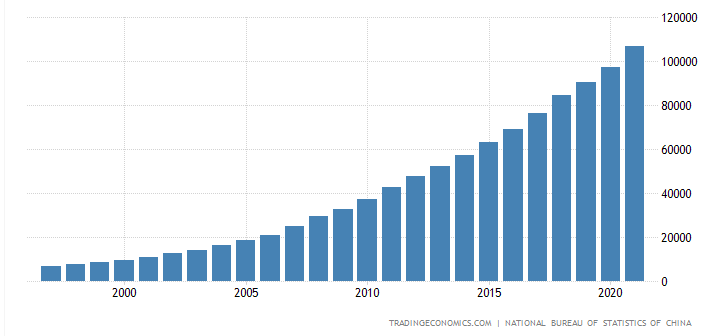 Con estos aumentos salariales China ya no es competitiva en precios a nivel internacional. Me pregunto a dónde irán estos puestos de trabajo. ¿A México? ¿Tailandia?
Otros problemas son
La política de cero covacha de China (que impidió la inmunización del pueblo) con consecuencias económicas devastadoras,
la dependencia petrolera de China del golfo Pérsico (China tiene una demanda de unos 14 millones de barriles diarios, pero sólo produce 3-4 mbpd), y
la dictadura china que depende en gran medida de los caprichos de Xi Jinping.
En mi opinión veremos el colapso de China en los próximos años, mucho peor que el declive de Japón desde 1989, y quizás tan malo o peor que el fin de la Unión Soviética. Espero que China se hunda pacíficamente y con gracia.
Que tengan un buen día,
zuerich