I have released the page HIVE Monitor (https://primersion.com) 2 days ago. It shows the total earnings of witnesses of the last week / the last 24 hours and shows some statistics about transactions performed on the HIVE blokchain.
In the last few days I have been working on a few bug fixes and I made the backend more robust. Also I have been working on a new feature for easily finding your inactive witness votes.
Witness Votes
By voting for a witness you are showing that you trust that person to sign a block and thus keep the blockchain safe and stable. Every HIVE user can vote for 30 witnesses. It can be quite hard to find the "right" person to vote for and also to keep the votes up-to-date.
This is why I introduced this new feature to help you find your votes for witnesses, which are inactive: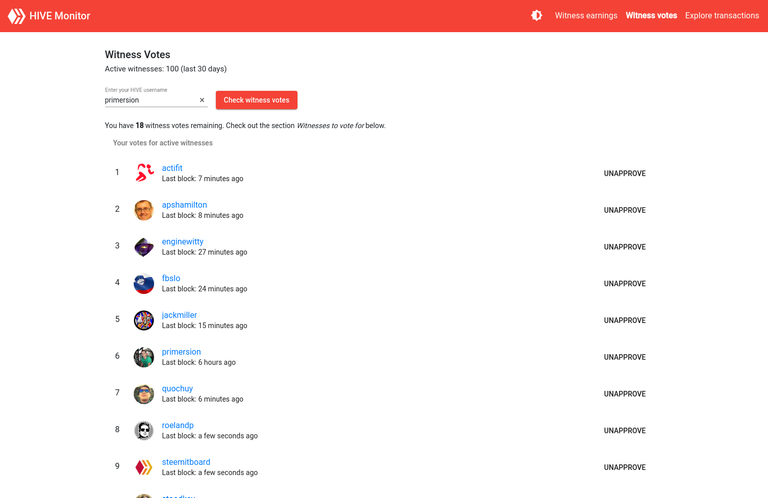 You can navigate there by clicking on the menu "Witness votes". On the top of the page you will see how many witnesses were active in the last 30 days, which are only 100 currently. Below that you may enter your HIVE username and click on "Check witness votes":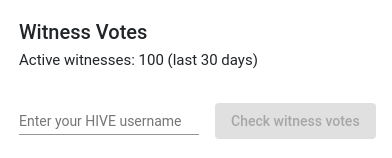 After the list is loaded it will show how many votes you have remaining and your currently active witness votes.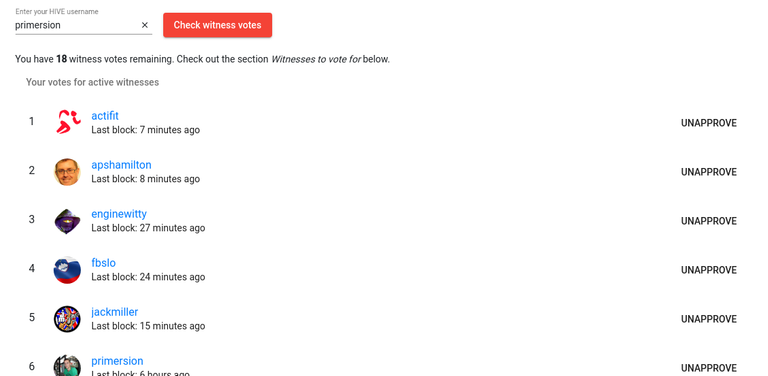 On the right you can "unapprove" a vote if you like to do so. Below the list of your active votes you can find all other active witnesses that you can vote for by clicking on "approve" on the right side: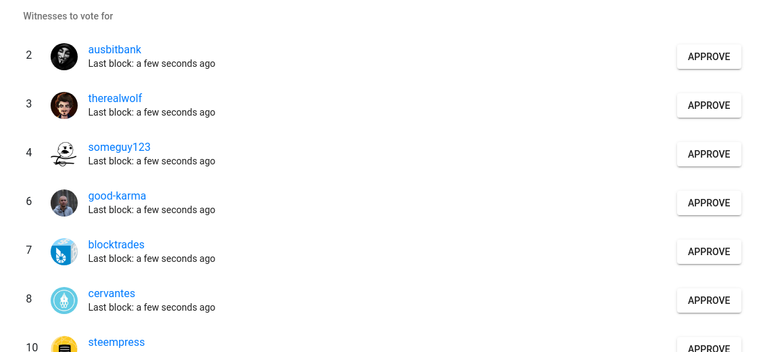 Inactive Witness votes
If one of the witnesses you voted for is inactive, this is equivalent to not voting at all. That is why it is important to keep your votes updated, to show your support for a witness. The most important feature is shown right on the top. If one of your voted witnesses is inactive, a red list will popup, showing them and allowing you to "unapprove" them on the right side:

@roelandp ;)
This means you will be seeing your inactive witness votes right away and you can remove them and vote for another witness. The approve and unapprove operations use HIVE Keychain if you have it installed and otherwise a new tab will take you directly to Hivesigner: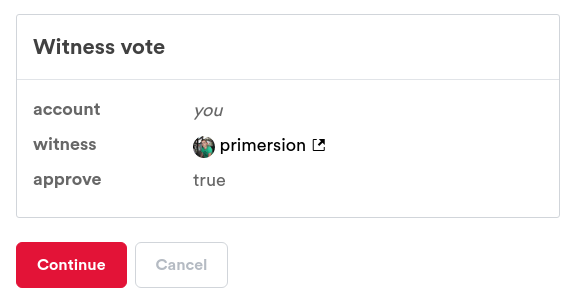 So please head over to https://primersion.com/witness-votes right now, check if you are voting for an inactive witness and update your votes.
---
If you like what I am doing please consider voting for me as a witness. To do so head over to https://primersion.com/witness-votes, enter your HIVE username, find my name towards the bottom of the list and click APPROVE or use Hivesigner to vote for me.