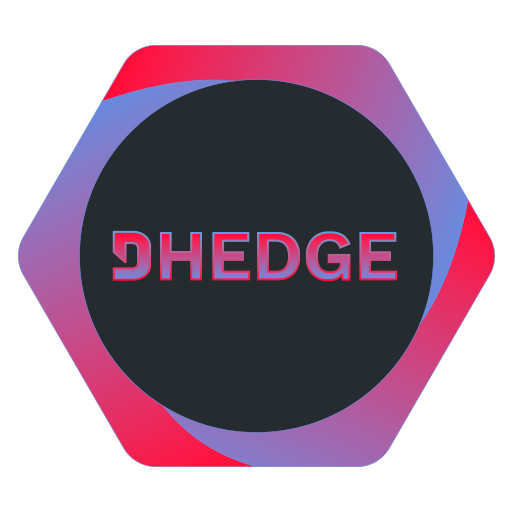 DHEDGE Alpha is the first phase (or round) for the token
DHEDGE on hive-engine
. During Alpha you can mint new DHEDGE by sending supported tokens to
@discohedge
on hive-engine, or HIVE / STEEM directly to
@discohedge
(it will mint for HBD and SBD, but it will pretend it is HIVE or STEEM,
so don't do that!
)
New DHEDGE tokens are minted based on the value of the token received vs the current high value of DHEDGE (DHEDGE value for this is based on total assets held by DHEDGE accounts vs supply of DHEDGE)
The end goal of the ALPHA phase is to have everything built for DHEDGE Beta and the majority of DHEDGE tokens bought back by @discohedge either via hive-engine market, Dcity market (cards for DHEDGE) or through swaps. (yup, before Alpha ends you will be able to swap DHEDGE for other tokens through the discord bot)
If you don't care much about what's going to happen for the next round, don't need to know what makes it tick, and only want to know the bare details about this round, scroll to the bottom section labeled "So we are in Alpha, How Do I Get The Best Out Of DHEDGE This Round?"...


What's running now?


@ecoinstant did a write up recently that can help new users get used to using our discord bot, as well as highlighting some of our growth.... It can be found here: https://peakd.com/hive-167922/@ecoinstats/dhedge-shows-tremendous-25-growth-in-asset-backed-value-amid-continous-updates.


You can pop in our discord and try out the DHEDGE discord bot by using !dhedge.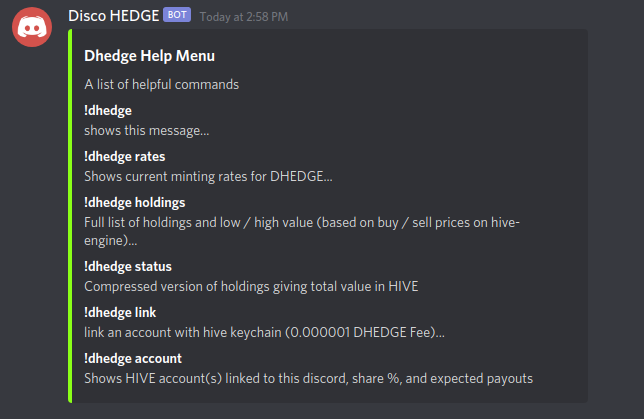 A trading bot is trading in selected markets gathering profit in SWAP.HIVE, this goes towards increasing our Asset Backed Value as well as towards hourly buybacks.
Curation tools are running on STEEM, BLURT and HIVE, earning rewards and increasing our Asset Backed Value via our staked balances. These are one of a kind created specifically for DHEDGE.
Automated weekly payouts are running in HIVE and SWAP.EOS (SWAP.EOS payments may switch and get added to HIVE payouts at a later date) sharing lease income and token income from tokens like GAMER, EPC, BRO, and others.
A buyback bot is buying back tokens from the market every hour based on our calculation of the low end value of DHEDGE.
The Road To DHEDGE Beta:


To open up Beta we need to achieve two main goals, and that will be to remove decisions (or most of them) from my (@taskmanager's) hands and place them into the hands of a bot that is controlled by each users DHEDGE balance, and have most DHEDGE bought back or swapped back into @discohedge for a reset.


User settings will be expanded, and grow to allow users to effect what's happening within the fund via these settings. These settings will control a portion of the trading bot during Alpha, but be expanded for beta to decide weights in what we are trading at any given time.


Voting from our discord will be tested, to be used for decisions outside of what will be covered by user settings.


Balances will be built up to allow users to swap out their DHEDGE to selected tokens as a means of taking profit besides the hive-engine market. Users will be able to get a swap rate from our discord, as well as limits, be able to input the amount they want to trade and the bot will generate a browser link for keychain to approve the transaction. We will start with swaps to HIVE, STEEM, BLURT, EOS and ARCHON (maybe a few other hive engine tokens), and then expand to include BTC, DOGE and more...


Control of our dcity will be turned over to a bot run by users who opt in to have their share decide the fate of our Dcity. Opted users will have a say on what cards we keep, what we sell, if we sell for DHEDGE or for other tokens, who we vote for each presidential round, and decide how we spend our daily budget of SIM from card income.
The Reset At The End Of Alpha (end of round 1):


Once the conditions are met to begin reset procedures, to make the reset fair, first minting will be closed and a buyback rate will be locked in at least 1% above the last mint rate of the round.


After that, weekly payouts will be reduced to increase buybacks and push for a higher Asset backed Value before close. Once our low end ABV (asset backed value) is higher than our locked in buyback rate, we will start to carefully let go of some of the tokens we are willing to let go until the next round, and putting all of that towards buybacks.


A bot will then scan the markets of our held tokens looking for an opportunity to liquidate selected assets with the condition being enough SWAP.HIVE must be obtained to buy the remainder of DHEDGE held by outside accounts at the buyback rate, and execute the trades accordingly.


Once the market bot has finished it's magic, we should be left with enough SWAP.HIVE to buy the remainder of DHEDGE, while still keeping some assets for DHEDGE Beta to start with a proper running swap service, as well a portion of our held dividend tokens (like BRO and GAMER) still held to give weekly payouts at the start of DHEDGE Beta a boost.


At this point we will send out the last payouts of round one, and include warnings that it's time to sell or swap your DHEDGE before the reset, and then the last buyback order will be placed where it will remain until everyone sells in or the market times it out.


A market timeout or full DHEDGE return will trigger the start of DHEDGE Beta and users can then buy back in with the first sale going for around 0.250 HIVE / DHEDGE and will adjust based on asset backed value from there.




So Why Reset Between Alpha And Beta And How Long Until Reset?


The main reason is this will allow a more fair competition for getting DHEDGE while they are at the lower rates. Another reason is the difference between the MVP that's here today will be quite a bit from what will be running for Beta.
This also gives users a chance to take profit by selling on market when the conditions are right knowing there will be a chance to buy back in at 0.25 HIVE at a later time after reset.
To get everything set up and running, plus tested and most DHEDGE returned at a profit for our users will take from 4-9 months.


So we are in Alpha, How Do I Get The Best Out Of DHEDGE This Round?


You can buy yourself a chunk of DHEDGE from the market or join our discord and use the !dhedge rates command to see supported rates and tokens. (these rates could change based on market conditions of each token so don't use this screenshot, go get fresh rates from the discord)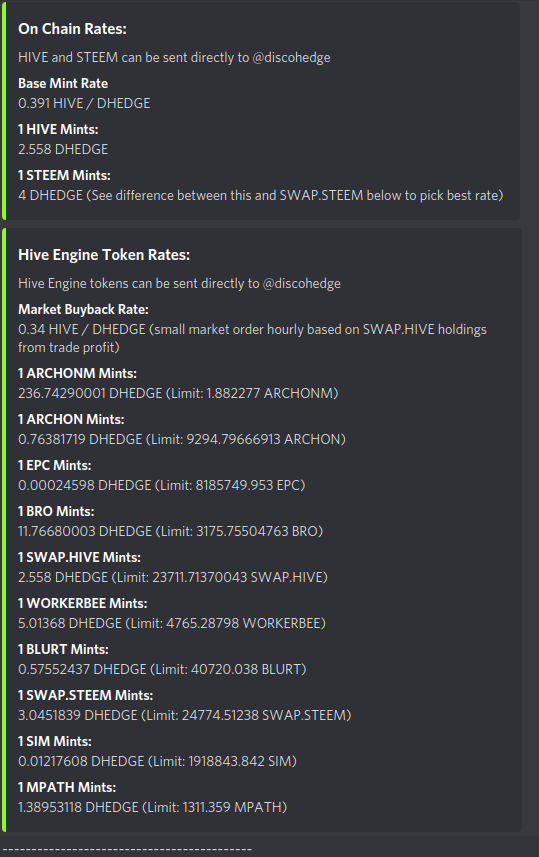 Once you have some, enjoy weekly payouts to your HIVE and Hive-engine wallets and when the market is at a price that makes you smile,
hit that sell button without shame and wait until the next round