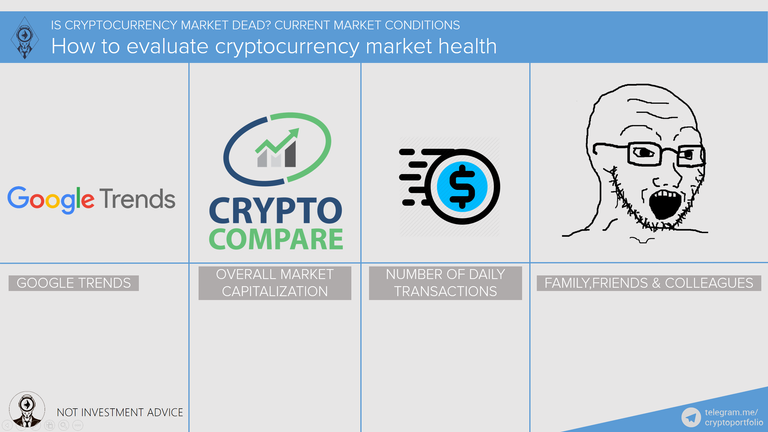 Good day everyone.
Is Cryptomarket a walking dead? Let's find out! I have some interesting numbers we can use to test the health of cryptocurrency market. For now, I can tell that current market conditions are not that exciting as they were recently. And there is a noticeable outflow of people from cryptocurrencies. But based on recent news, cryptocurrencies are just starting to be used. European commission to release blockchain framework, my country (Russia) will use blockchain to protect presidential elections data, China proposes to build national crypto trading platform, and Cambodia thinks of issuing its own cryptocurrency.
In order to test our patient's pulse, we will use Google Trends. It is one of the best tools for analysing how interested people are in different topics at any given point in time.
Then we'll see what is up with the correlation between the google trends' key words and capitalizations.
Number of daily transactions is like a blood in the veins. It will be tested today too.
Finally, it is also possible to see many people who were extremely excited about certain cryptocurrencies before, silently come back to their normal lives. Hordes of people were trying to earn some easy money. But hype train stopped, passengers went to work. It is normal as every boom turns into bust. Now is the time to collect our thoughts and start productively contribute to our communities.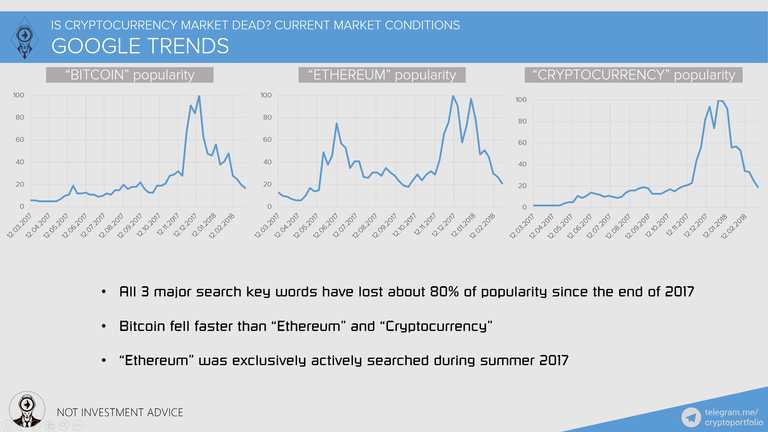 Google trends is a great tool to see how interested people are in certain topic at any given moment of time. I advise everyone to use it so you understand whether hype is here or not. From those three graphs we already can assume that there was a huge spike in popularity of cryptocurrencies at the end of 2017. Has bear trend come back? Let's see…
• First of all, all 3 major search key words ("Cryptocurrency", "Bitcoin", and "Ethereum") have lost about 80% of popularity since the end of 2017
• Bitcoin fell faster than "Ethereum" and "Cryptocurrency". I think it is due to the fact that Ethereum, generally, is much more interesting project with a lot of cryptoassets being built on top of it
• "Ethereum" was exclusively actively searched during summer 2017
As you can see, from looking at those 3 graphs, cryptocurrencies are still of general public interest, but the peak point of interest is already behind us. Soon I will show you how important media coverage is for cryptocurrency price change.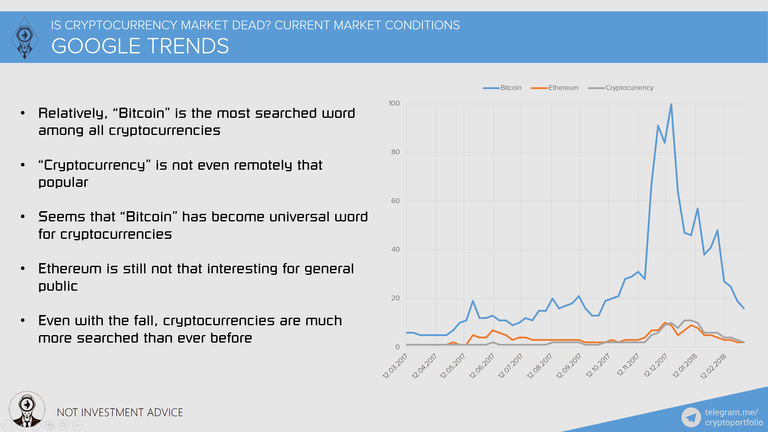 On the right part of the slide, there is a popularity comparison of different search words. Yep, the leader is still undisputable.
• Relatively, "Bitcoin" is the most searched word among all cryptocurrencies
• "Cryptocurrency" is not even remotely that popular
• Seems that "Bitcoin" has become universal word for cryptocurrencies. Usually, a lot of speculative capital flows straight into this cryptocurrency
• Ethereum is still not that interesting for general public as Bitcoin but ETH remains the most actively developed project among all cryptocurrencies
• Even with the fall, cryptocurrencies are much more searched than ever before
So, here we go. The market is much more alive than it was one year ago. Isn't it cool?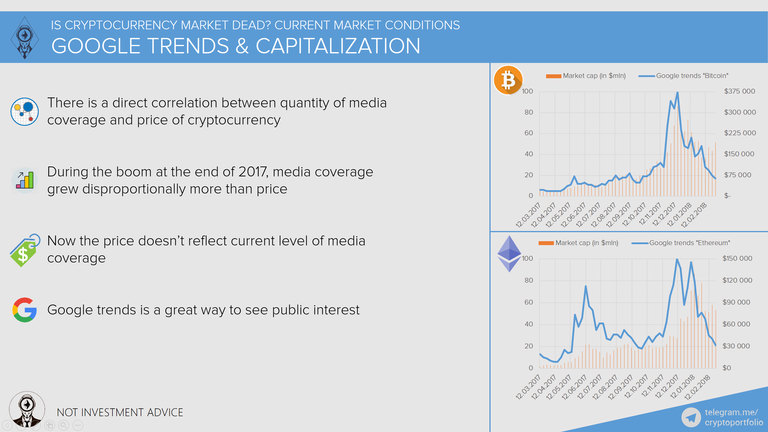 BEHOLD! The amazing graphs done by Dan! (Countdown from 5 to 1)…
On the right part of the slide you can see the market capitalization of Bitcoin and Ethereum and their levels of media coverage. Correlation between media coverage of cryptocurrency and its price is staggering. It shows that a lot of speculative capital went into cryptocurrencies recently.
• There is a direct correlation between quantity of media coverage and price of cryptocurrency
• During the boom at the end of 2017, media coverage grew disproportionally more than price
• Now the price doesn't reflect current level of media coverage. Google trends show sharp decrease of media coverage, while cryptocurrencies are still valued quite high
• Google trends is a great way to see public interest. Use it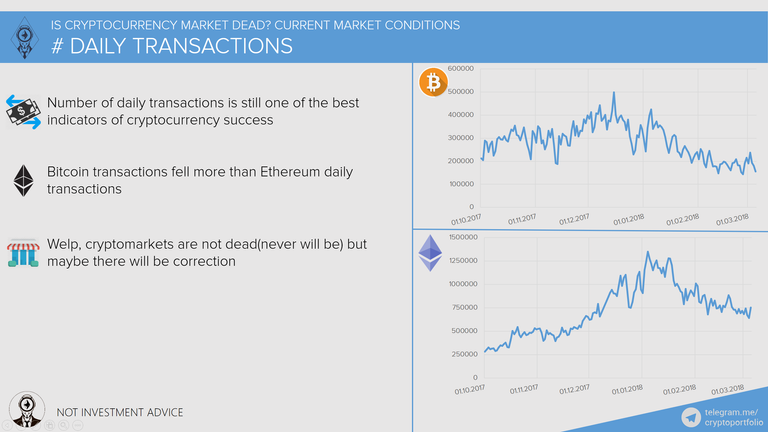 Finally, daily transactions!
• Number of daily transactions is still one of the best indicators of cryptocurrency success
• Bitcoin transactions fell more than Ethereum daily transactions. Bitcoin transactions fell from 500k to 150k, while Ethereum transactions fell from 1300k to 750k. Ethereum is much easier to use nowadays
• Welp, cryptomarkets are not dead(never will be) but maybe there will be correction soon due to decreased interest for general public