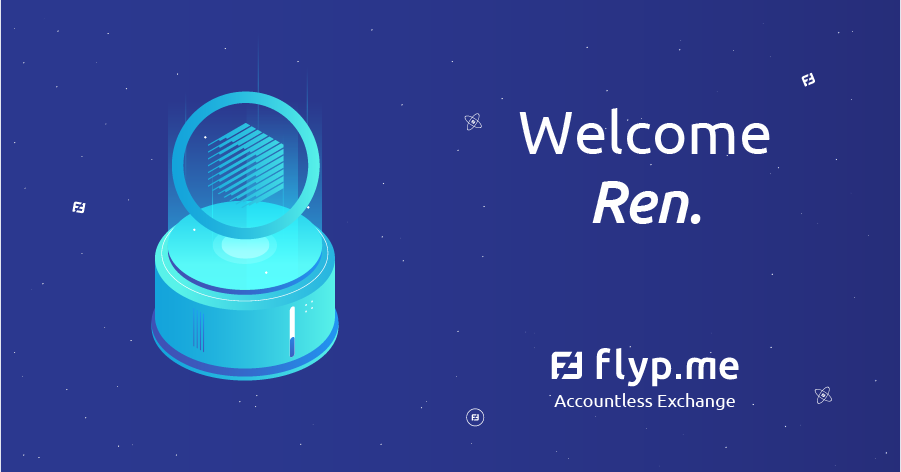 Decentralized finance is taking the cryptocurrency industry by storm, with the REN Protocol leading the way. REN Protocol is an exciting interoperability standard for #DeFi projects — all of which revolves around its REN token.
Now, you can buy and sell REN at Flyp.me, an instant crypto exchange that doesn't require an account to use. With REN Protocol's heavy focus on privacy and liquidity, the pairing between REN and Flyp.me couldn't be better or more well-timed.
Getting a bag of REN using Flyp.me is blazing fast, happening within moments from the convenience of your wallet — just follow a few quick steps and you're done!
Go to Flyp.me — select the cryptocurrency you will use to exchange, then enter your REN wallet destination address and the amount to be exchanged.
Enter a refund address for the cryptocurrency wallet you are exchanging from (ie. if trading with LTC, enter an LTC wallet address).
Send cryptocurrency to the Flyp.me transfer wallet address.
Voila! Flyp.me will automatically & securely send REN to your destination wallet.
Flyp.me never asks for your private keys or any other personal information. It's all about trading crypto without the baggage of other exchanges!
Why should you add REN token to your portfolio? Well, there are a million reasons, but we'll give you two.
REN Protocol is driving #DeFi
REN Protocol started out building what it called dark pools — hidden order books that gave traders on exchanges a layer of privacy. That's because, since the beginning, REN Protocol developers have been about maximizing decentralized finance by boosting privacy measures.
What's with the focus on privacy?
Current financial and data paradigms have created epic private data pools that store everything from your date of birth to running shoe preferences. In 99.999% of cases, the client with which you're dealing doesn't need to know anything about you — except whatever you are qualified or unqualified for what you're trying to do.
The REN Protocol sMPC takes the basic right for parties to retain their data while enabling them pathways for mutual exchange, and even use, of decentralized data and financial exchange.
In a nutshell, two parties can cooperate with each other, even using one another's technological infrastructures, without revealing any of their data to one another.
The possibilities from such cross-compatible workouts are endless, bringing on a new era of liquidity.
REN Protocol Token (REN) Is a Rising Decentralized Finance Asset
If you've been watching Coinmarketcap over the past few months, then perhaps you've been blinded by the REN token as it burns across the sky on its way to the moon.
The REN token has risen multiple times over, giving investors audacious returns since the start of the year. With the focus on decentralized finance well and truly heating up, REN is primed to stay in the spotlight.
Speculation aside, the REN token is used to pay fees to darknodes — validators on the REN Protocol network — and to get a good place in line for running computations. As network usage increases, the pressure on REN as a digital asset will increase, making this crypto one to HODL for the future.
Pick up REN without an account or time-consuming verification measures at Flyp.me, the most trusted instant exchange for accountless transactions.
About Flyp.me
Flyp.me is the professional tool for instant crypto trading. There is no registration necessary and no hidden analytics tracking you. Moreover, Flyp.me does not control users' funds, so your private keys are not at risk of being held on third-party services.
Flyp.me currently supports over 30 cryptocurrencies and is continuing to add more: Bitcoin, Ethereum, Zcash, Augur, Litecoin, Syscoin, Pivx, Blackcoin, Dash, Decred, Dogecoin, Flyp.me Token, Gamecredits, Peercoin, Aidcoin, 0x, Vertcoin, Basic Attention Token, BLOCKv, Groestlcoin, DAI, Power Ledger, Enjincoin, TrueUSD, Cardano, Storj, Monero, Maker, TetherUS, DigiByte, USD Coin, MANA, Enigma, Aragon, Chainlink, and now REN.
Connect with the community on Telegram, Twitter and Facebook.