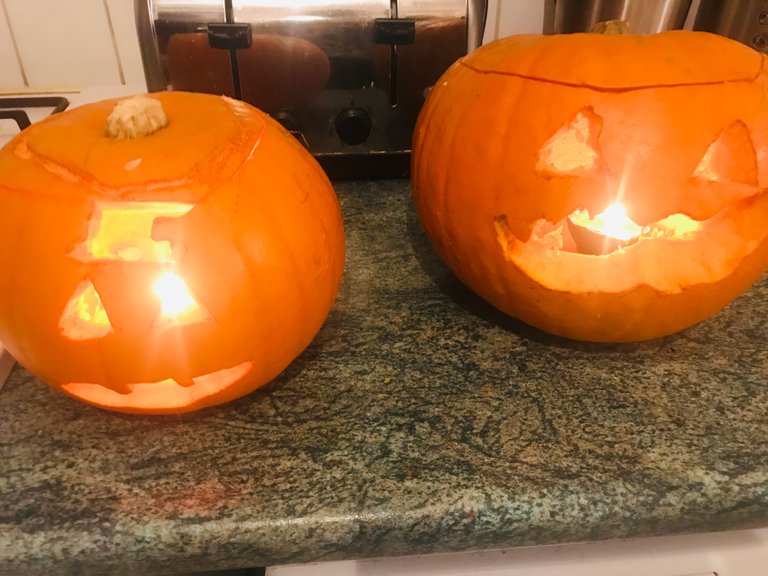 I don't like horror
I'm not a big fan of Halloween. As a child I liked the concept and always wanted to have a Halloween party and watch scary movies. Then I watched a few and realised I don't like horror films. My sisters are big horror movie fans and have dragged me to the cinema to watch the latest scary film. They laughed about it afterwards, I was freaked out for weeks! I don't like the idea of celebrating the macabre and the dark. Instead I prefer to celebrate the light, for example it was the Hindu festival of Diwali on the weekend and I celebrated with my family and went all out for the kids.
Trick-or-treating /Begging
However, ever since my kids have been old enough to understand the concept of trick-or-treating they have wanted to go. Mainly because of the American films and TV programmes that they watch where Halloween is a big deal and everyone joins in. In the past whenever my kids have asked me if we could go trick-or-treating I responded exactly like comedienne Gina Yashere's mum in this clip: https://www.facebook.com/ginaisfunny/videos/1853326261383947/
It just seems like going round begging for sweets and I don't really want my kids involved in that. Particularly because we lived in Tower Hamlets in East London and I wasn't really sure what would end up in their baskets if they went round trick-or-treating!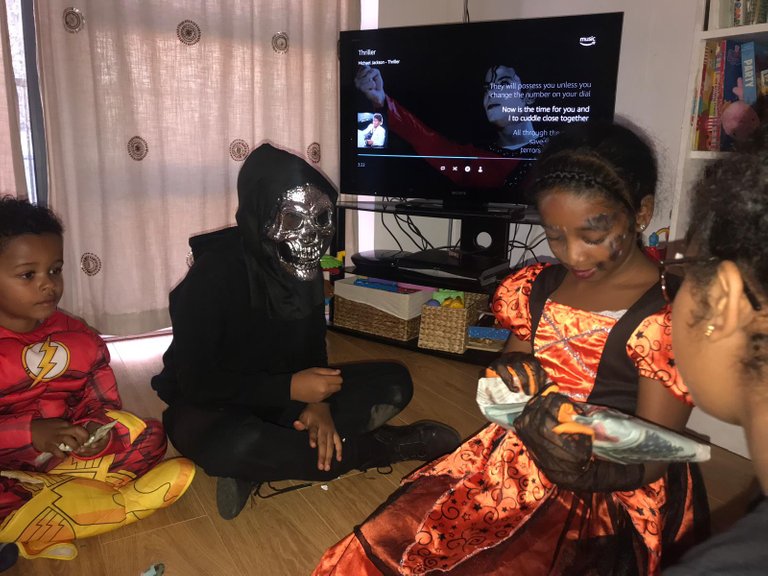 I threw a Halloween party
Last year I so badly didn't want my kids to go trick-or-treating that I threw them a Halloween party at home.....yes despite the fact that I don't like Halloween or anything vaguely spooky! I made scary food, like witches finger sausage rolls, scary potato heads with a green slime dip, scary stuffed peppers with their brains falling out and a spider web caramel tart. We played apple bobbing and a Halloween themed pass the parcel. Then we watched the "Goosebumps" movie.The kids absolutely loved it and so did their cousins and friends. It reminded me of when I was 10 years old (the time when I actually did Halloween!) and my Auntie threw a Halloween party for me, my sister and cousins. We sat around eating green jelly pretending it was slime and telling scary stories. It's one of my best childhood memories. Remembering that time made me realise that the spooky and macabre side of Halloween is not really that serious for kids. They just get excited about dressing up, scaring each other and eating as many sweets as they can!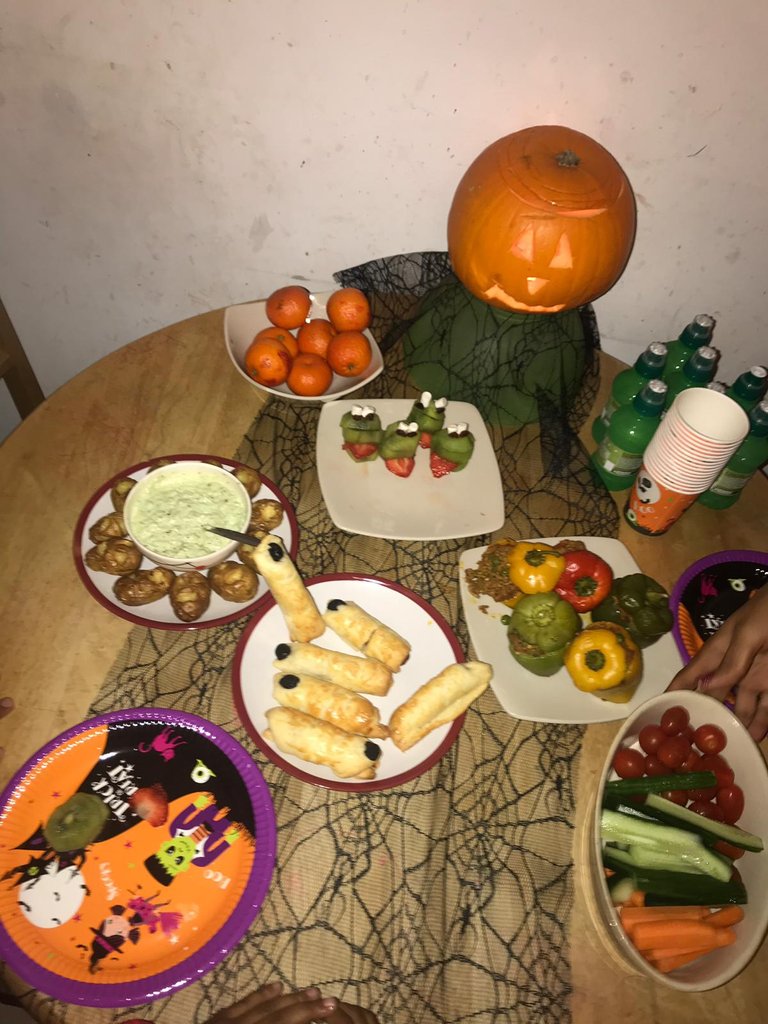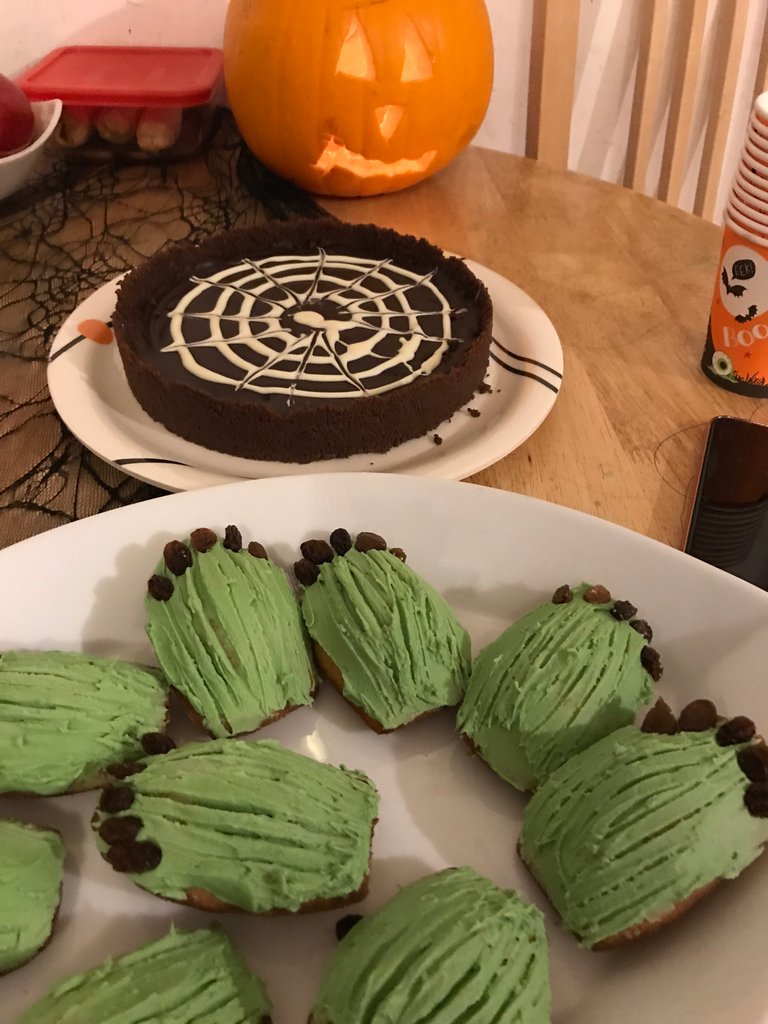 I finally said yes
This year even though my husband was still on that "No, go to bed!" vibe like Gina Yashere's mum (he is African after all!) I actually went one step further in trying to make my kids happy/walk all over me and took them trick-or-treating. Mini Me 2 wasn't feeling very well so she stayed at home with hubby handing out sweets to kids that knocked on our door. Mini Me 1 was shocked that I actually said yes to taking them and Mini Me 3 forced herself to keep her eyes open way past her bedtime so she could go trick-or treating. She really nailed that glazed eye zombie look!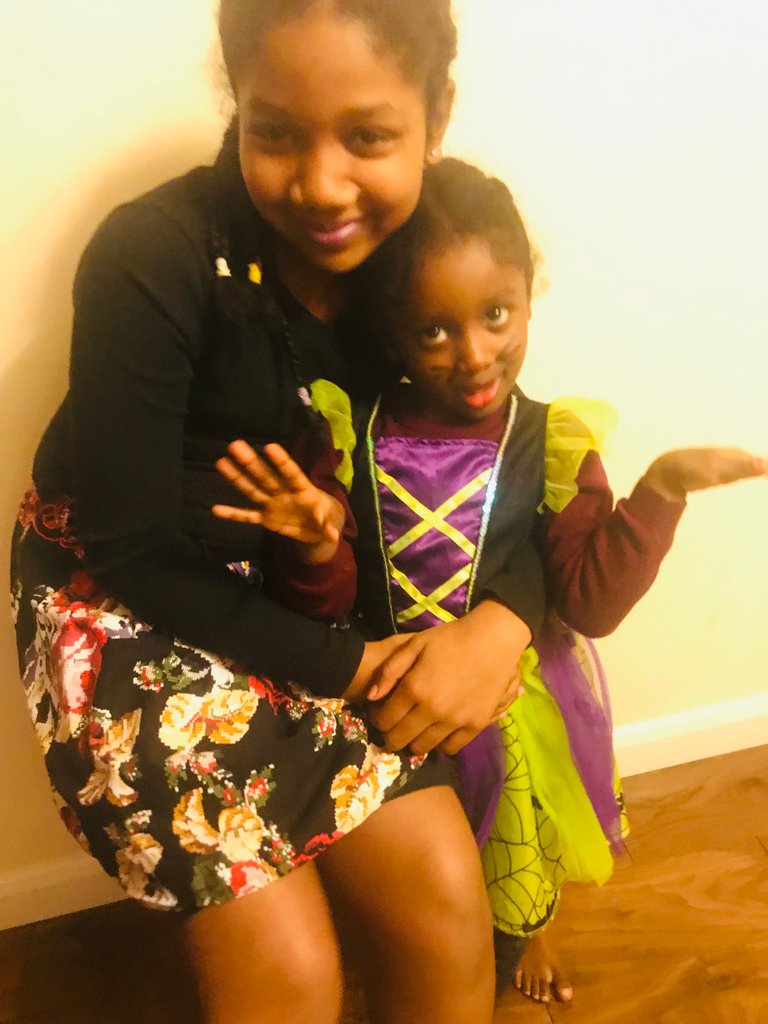 Getting to know the neighbours
One of the reasons that I decided to be more open to celebrating Halloween this year is because we now live in a house in the suburbs instead of an inner city flat on the fifth floor. This makes it easier to actually go trick-or-treating and it seems a little safer to take the kids around after dark. I have to admit that although it wasn't quite like in the American movies, there was a buzz around the area as parents were out and about taking their kids begging...erm, I mean trick-or-treating. There were groups of teenagers going around too and everyone was dressed up. We only went to the houses that had Halloween pumpkins outside or Halloween decorations and some people had really gone to town! There was one house with a Ghostbusters light display in one of the windows. It was pretty impressive. I realised that going trick-or-treating is also a good way to get to know your neighbourhood and your neighbours. You get a sense of the wacky ones, the generous good natured ones, the ones who just don't want to join in, and the ones you want to stay away from.
Kids went to bed happy
My kids had a good time and went to bed happy. I must have gotten carried away by the festivities because I even suggested to my husband that we watch a horror film. I was thinking more "Goosebumps" rather than "Pet Semetary" but anyway he flatly refused because he knows what I'm like. I'm secretly glad he did.
MummyImperfect x