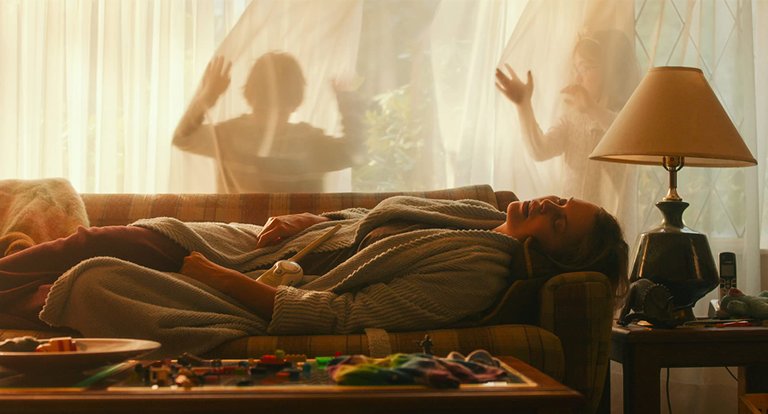 ---
Movies are accustomed to taking us into a moment of dramatic labour, whether driven to emotion or tingling chaos. In Tully, the main character is calm when his water breaks. The night before the birth she used to play mobile phone, while the post-birth baby is born, just while touched the bed of the baby, while the husband sleeps soundly in the hospital room. Maybe this form of "habit" considering that baby named Mia is a third child. Withdraw a few days, a woman had warned not to consume caffeine, a suggestion that is not ignored by our protagonist. Marlo (Charlize) instead of being ignorant of her future baby. Probably based on two previous experiences, caffeine has no effect on it, The birth of a child that many people consider grace seems common to Marlo and Drew (Ron Livingston). One, this process is not their first time. Two, Mia's birth is the beginning of all the hassles and trouble sleeping due to midnight cries. Pessimistic even depressive, but with the collaboration of director Jason Reitman (Up in the Air, Juno, Young Adult) and Diablo Cody as a scriptwriter (Juno, Young Adult, Jennifer's Body), this film no doubt produces a stack of laughter. Many movies talk about parenthood, but Tully is not the most film. Because in most films, Marlo will be brought to prove that as a tough woman he is able to take care of Mia alone, and Jonah (Asher Miles), his son who develop developmental disorders, can study in public schools like a "normal" child.
Although it is an ode to motherhood, while showing off the strength of a mother, Tully also stated that if taking the process of caring for children through the "easy" in the form of help from others is not a problem. Here, the help comes from Tully (Mackenzie Davis), a nanny at night, who is specialized in keeping babies in order for their parents to have time to rest. Tully and Marlo are like polar opposites. Through his joy, passion, and extensive knowledge, Tully becomes the dynamo that moves (re) Marlo's life, while Mackenzie's own energy performance is the dynamo that animates the titular character, Marlo's sparks may dim in almost every situation, but in the movie, there is no more glowing performer than Charlize Theron. Most of Diablo Cody's writings are sharp-mouthed people who never abandon variations of sentences to throw sarcasm. And Theron, as he once showed through Young Adult (2011) perfectly good acting it. But the best aspect of his acting comes from a non-verbal moment. Her frustration was strong, so rich in how she responded to people's talk. Not to mention the transformation associated with his body, where Theron gained weight nearly 25 kg so that the point when Marlo depressed until reluctant to care for himself looks convincing. Want to know how extreme Theron's transformation? The film is taking pictures starting September 22, 2016, aka just about 4 months after The Fate of the Furious (2017).
Jason Reitman not only brings comedy instincts, as well as dynamic stereotypes, especially when his movie features a Marlo routine. The routine may be monotonous, but not with the aesthetics of packaging, accompanied by a great sound. Regarding the audio department, it is interesting to observe the rows of songs used. So many songs, though the majority only sounds a fraction of a second. One of the most prominent versions of Beulahbelle for You Only Lives Twice owned by Nancy Sinatra. Whether it's Cody or Reitman's idea, but looking at the lyrics, the original song is James Bond's theme song of the same title is also a shrewd tease of surprises that await at the end of the duration, When a similar twist is often used by other films as a mere power of shock, in Tully-even if full of holes in the logic-shock order it brings out something that many of us may have experienced. We are difficult to escape from ourselves in the past, especially when the past we regard as a "golden era". For Tully, that's not the manifestation of "fail move on", because let's face it, getting older is not encouraging. Like the story Tully tells Marlo about the ships that replace one by one, the figure of our past is still us, not a different human being. And do not forget, we've been a figure that we consider better, which all its advantages can be useful to face today's difficulties.
Twist above can only succeed if the husband's character does not give enough attention, to the extent of detailing important facts that fill the life of his wife. Drew is definitely not a mean husband. he loves Marlo, and when asked questions about family conditions including his wife, he will steadily answer, "all is well". He's just a clueless guy, (unfortunately) like so many other husbands out there. As a man who wants to berk 
---
RATING (7/10)

---

Don't forget, give your feedback in the comment section

--- ---