Hah! I'm long overdue for a food post!
Been ages since I posted food......
And we Malaysians love our food!
Ask any Malaysian...
One definite thing we all missed during the quarantine period was our street food... EVERYONE must have been dreaming of all their favourites, while putting up with their own cooking! 😄
Well, maybe just me
Many were experimenting with all sorts of online recipes and sharing them on social media... - you mean you weren't...?!! 😏
Anyway, now that dining out is allowed... last Sunday this was what we did ~ sis, niece and I... we indulged... in all our tea time goodies! And we Malaysians have lots of tea time goodies...
Being multi-racial gives us that advantage! 😉😁
Without further ado... salivate read on...
---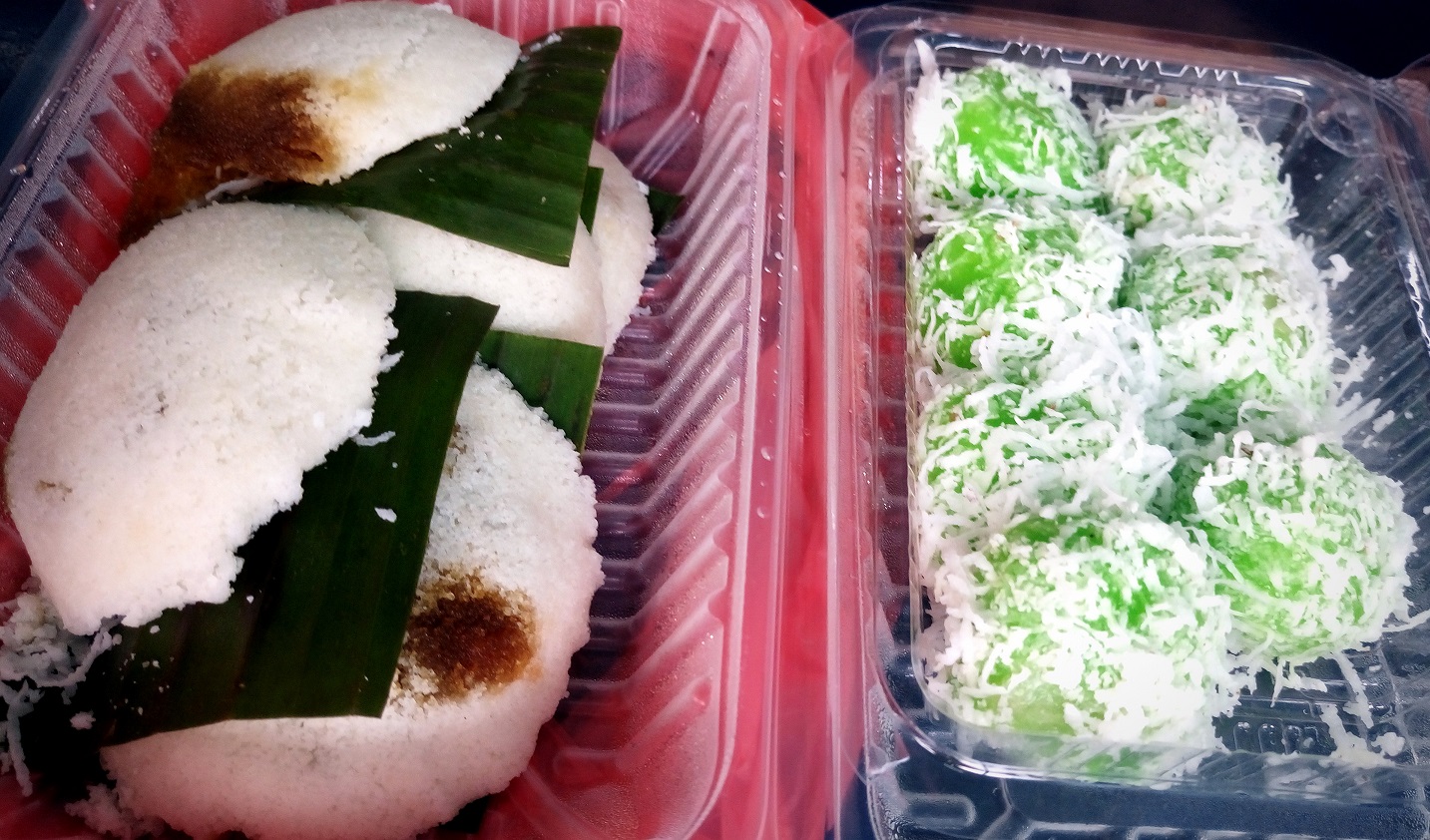 First of all, giving niece the license (and money!)
to go buy the goodies may have been a mistake...
Albeit a delicious one!
She has many favourites.... many...
Not that we don't appreciate it
We ended up stuffed after our "indulgence"!
'Putu Piring' and 'Onde onde' in the photo above are two
More on them below
---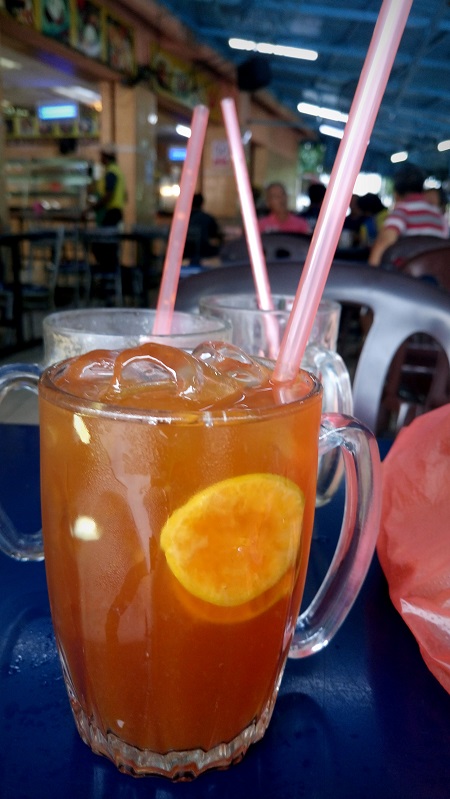 Before we start...
We are seated at our local neighbourhood hangout...
Our mamak, who isn't really 'mamak' but a (Hindu) Indian eatery that serves everything a mamak restaurant does!
See the confusion...
Never mind!
(Read the 'mamak' link above and you might see the light)
Why here?
Because it's in the immediate neighbourhood
Because we're comfortable here - like our second-home comfortable
and because they like us!
So much so they let us (and all other customers) bring other food there and just order their drinks
They make wonderful drinks btw
They know we love them so, and will eat their food at other times anyway!
As the photo hints, I have my iced lemon tea in front of me...
---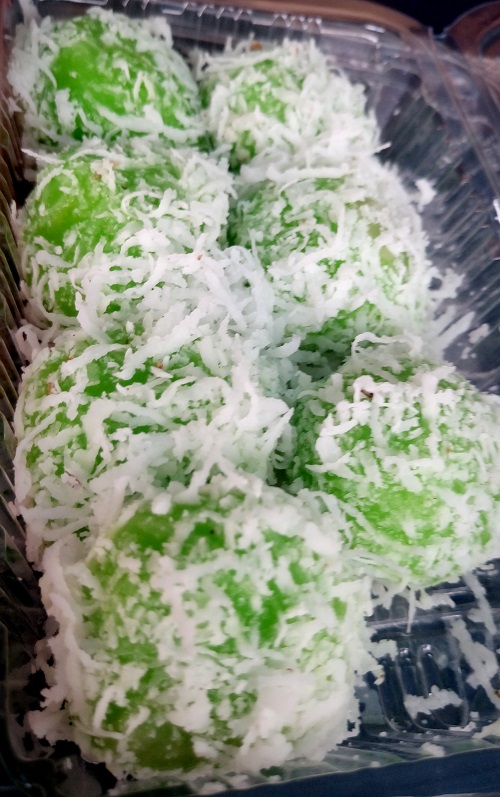 'Onde onde'
Is a type of 'kueh'/'kuih' -
Snack, is the easiest explanation of what a 'kuih' is
Kinda rice cake / mochi ball rolled in scraped coconut with hidden palm sugar!
DON'T BITE IT!!!!!!
Just put the whole thing in your mouth and be ready...
Bite it, chew it... and keep your mouth closed!
Lol...
You will either get an explosion of liquid ecstasy from the palm sugar,
or a chunk of the palm sugar to nibble on
Biting it would cause the explosion to occur outside your mouth
(and most likely all over yourself!)
😂
Don't say I didn't warn you...
The colour is usually natural from screwpine ('pandan') and maybe with a little help from some food colouring
---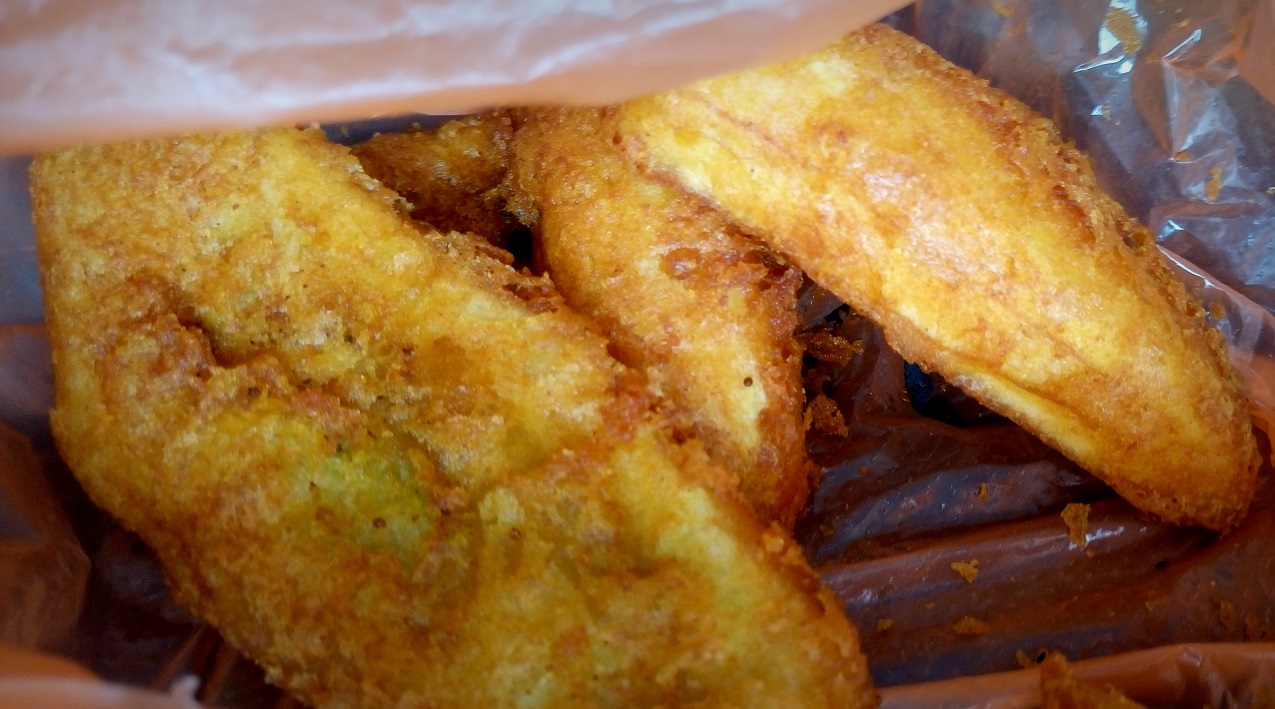 'Pisang goreng'
Banana fritters (deep fried)
We have many types of bananas and many types of batter
Crispy crunchy, or feather light tempura-style even!
Errr.... obviously I caught this shot a little late
Fast hands make fast disappearing food...
Ohhh, I forgot to mention that these 'kuih' are usually street food sold at a row of stalls that pop up most evenings a short distance away from our mamak
See the convenience...?!! 😏
---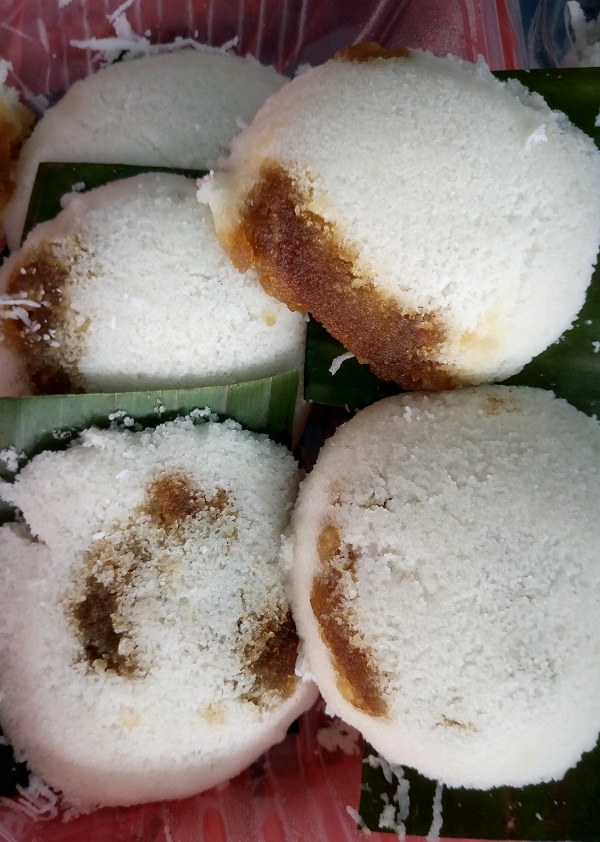 'Putu piring'
Made from rice flour steamed with a mix of shredded coconut
and palm sugar
Somehow same ingredients as onde onde, but comes out tasting completely different!
Looks different too, doesn't it!
Served sitting on a little bed of coconut,
on a little square of banana leaf
---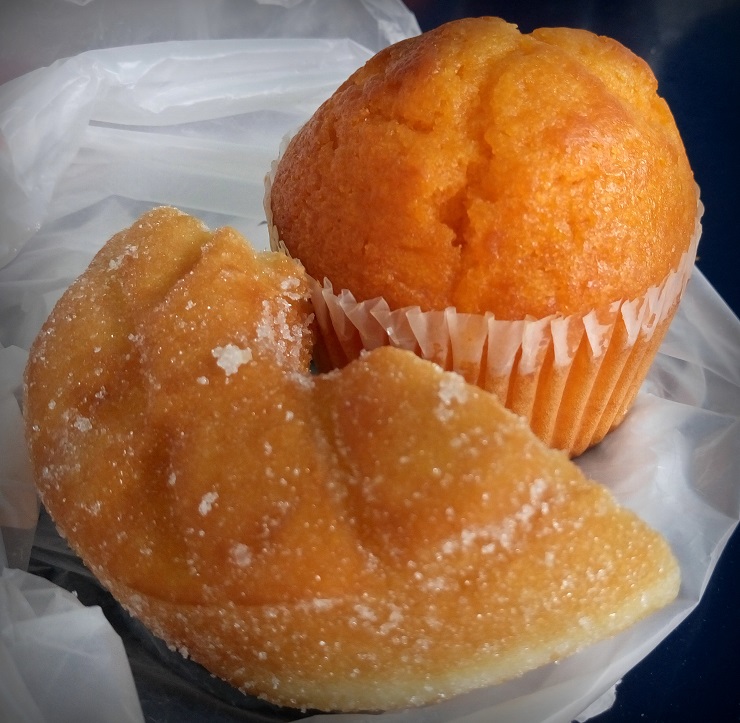 My half share of a regular doughnut and an orange muffin!
Drat! That's not totally Malaysian
(How did this get here?)
Well, it qualifies as it was what we had for tea on Sunday too... 🙄
---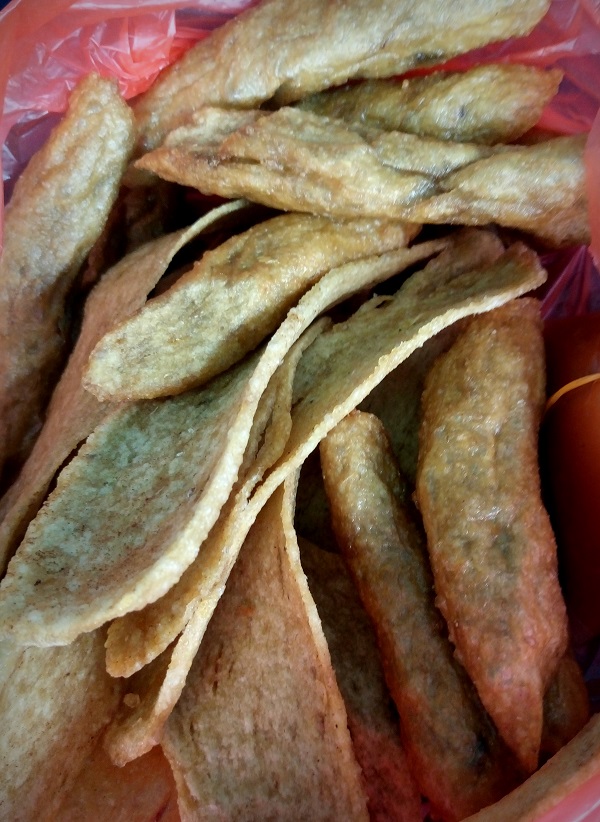 'Keropok lekor'
A fish cracker snack made with fish and sago flour,
originating from the east coast of peninsular Malaysia
You can't miss it if you're in the area...
Cut in two styles
Chunky and crunchy long slices
They each have their loyal following
(I like the crunchy slices better, but will eat both!)
Eat it dipped in the sweet chili sauce provided
---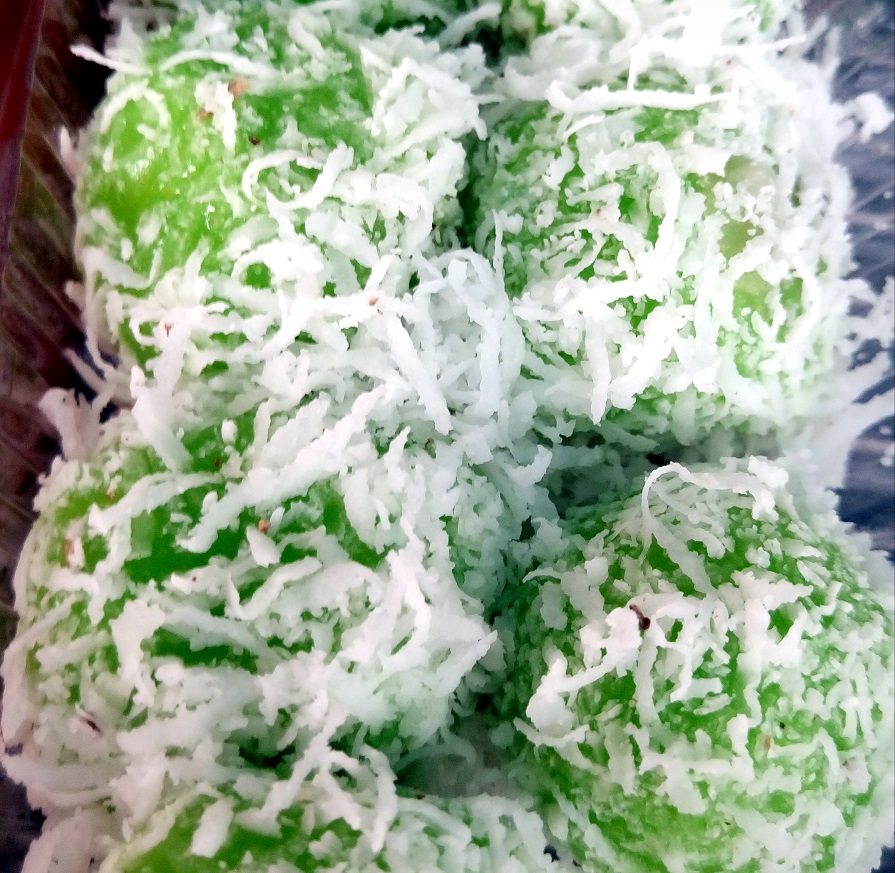 One last look at the tantalising onde onde...
Yummm....
There are tons more other types of 'kuih'
And we might just have another session next Sunday... 😋
---
Captured with SONY Xperia M5 | ©images & text my own | click image for fullscreen view
---
---



Qurator is now on HIVE!