This is my meal for today.  
I mean, I have not only cooked for myself, but I have also prepared a meal for my father, my sister, my brother, my sister-in-law, my little niece, and my little nephew. 
So dinner for seven, including myself. 
I visited a local supermarket, where I bought 1 kilo of freshly cut pork steaks and ½ a kilo of rustic sausage, just to add some extra flavor to the meal. I had already 500 grams of rigatoni pasta in stock, so I didn't need to buy any. 
I marinated the pork steaks with some oregano, salt, olive oil, and lemon, and put it under the oven's grill to get a nice brownish color on the top. After 15-20 minutes, I added the rustic sausage, cut in smaller pieces.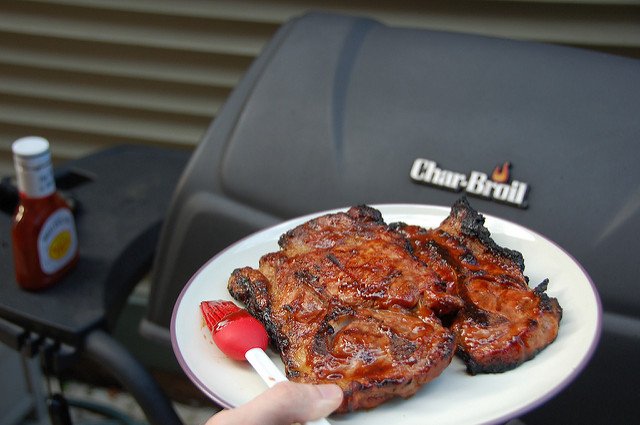 Image originally uploaded by Herkie on Flickr.com and reused under Attribution-ShareAlike 2.0 Generic (CC BY-SA 2.0) Creative Commons License
 
At the same time, I set water to boil, and added some salt and a drop of olive oil in it. When water started boiling, I added the pasta, turned temperature down, and boiled it for about a quarter of an hour (I like my pasta well boiled). 
Then I strained the pasta into a colander, and after that, I turned the pork and the rustic sausage the other way round, in order for them to get cooked on the other side, as well. 
When they were finally cooked, they were well done. 
For salad, I prepared some homemade beetroot salad with garlic. Delicious! Some sauvignon blend wine made the perfect combination for this meal. 
Because it's summertime, it's time for watermelons, and we all shared a large sweet-tasting watermelon after the main meal!