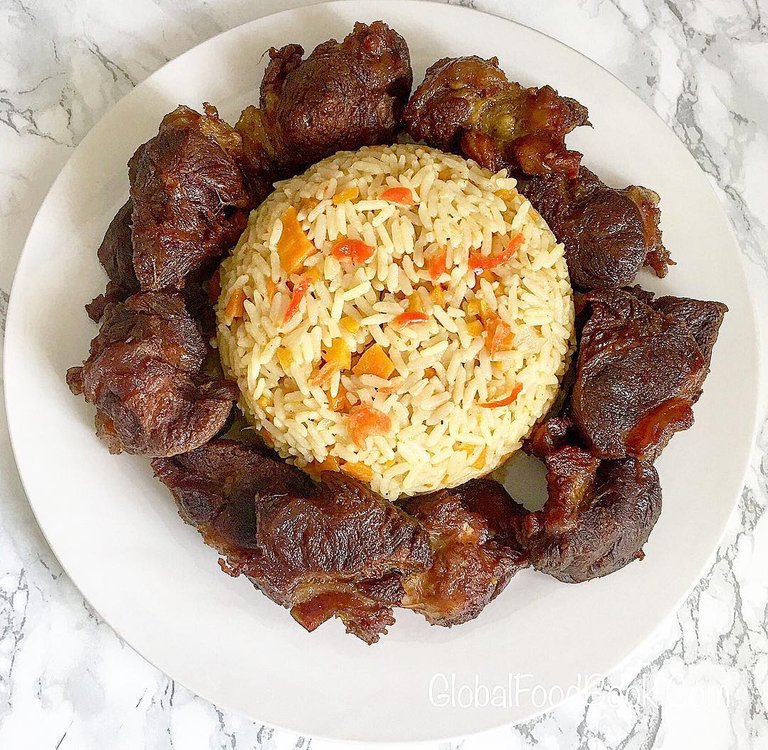 This coconut carrot rice with fried beef is a perfect 👌 meal for you, your family and your friends!
Don't miss out on this as the dish is so tasty 😋 flavourful and tantalising.
Ingredients
2 cups of Rice
1kg Beef
Salt to taste
1 Onion (sliced up)
6 Carrots 🥕 (peeled and chopped)
1 tsp. (Thyme, Curry and turmeric powder)
1 cup of coconut milk
3 tsps. Coconut oil
3 chicken stock cubes
Frying oil for the Beef
1 red pepper (diced)
Method
Wash the Beef 🥩 and season with thyme, curry, turmeric, salt, pepper, half of the sliced onion and chicken stocks.
Cook the Beef until done then bring the meat down from the heat.
Deep fry the Beef until golden brown in colour then scoop them out from the oil.
Meanwhile, parboil the rice, wash and set aside.
Add the coconut milk in the pot containing the beef broth.
Allow to boil then add the parboiled rice, stir, add more spices to taste.
Cook until the rice is done.
While the rice is cooking, slightly heat up the coconut oil in a saucepan, add salt and the remaining onions then sauté.
Add the carrots then stir-fry for 3-5 mins.
Bring down the sautéed carrots from heat.
Pour the carrots into the rice pot and stir properly to mix.
Bring down the coconut carrot rice from heat and serve with the fried beef.
Bon appetite!
Check out my other rice recipe published on steemit via https://steemit.com/food/@globalfoodbook/coconut-fried-rice
Find out the outstanding benefits of rice via https://steemit.com/health/@globalfoodbook/outstanding-benefits-of-rice-you-need-to-know