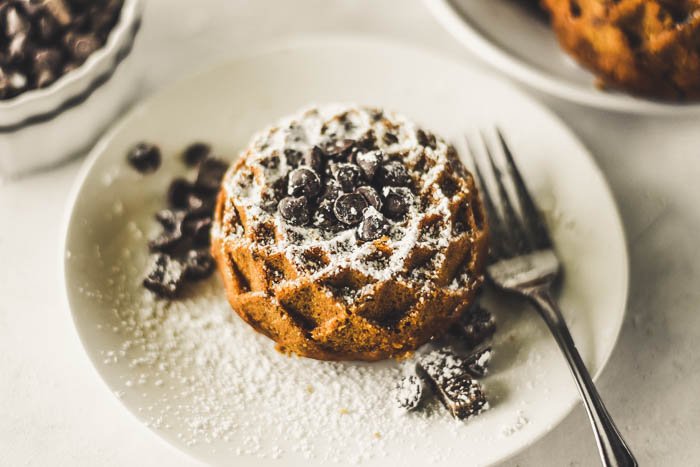 It's February so we're making things a bit healthier and tryna be be good, ya know? These adorable little cakes are perfect for a healthy treat or snack with coffee. They are simple to make and look so elegant when sprinkled with a little bit of powdered sugar.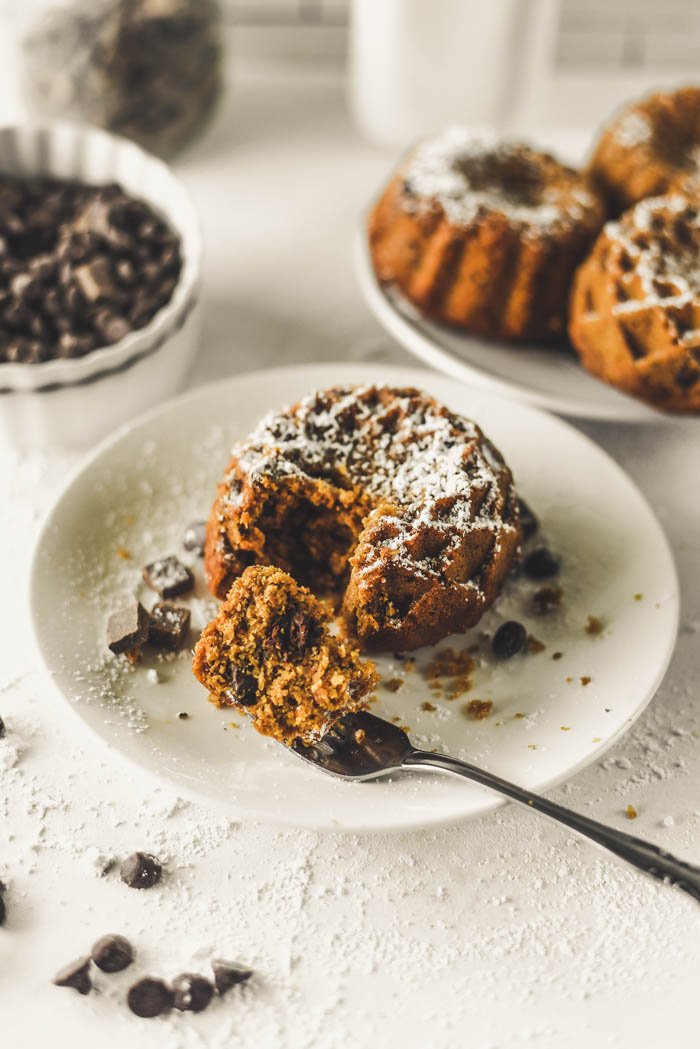 Before I get into this recipe though, can I point out something guys?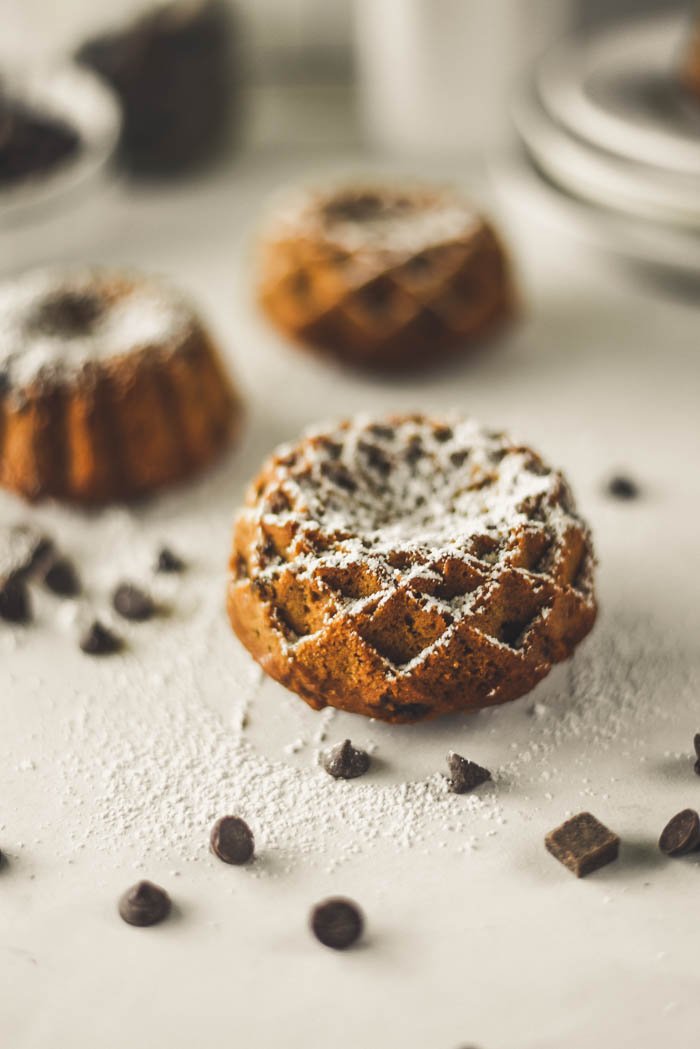 So I started cooking and baking very young, I've been a food blogger for years, worked at restaurant for a good minute, (serving and working in the kitchen), worked in a bakery, and I've been vegan for about 3 years. Maybe that much familiarity with food and ingredients gives me an advantage in understanding basic food allergies/ways of eating, but my goodness! The funny thing that never fails to surprise me is how often the average person gets confused between vegan and vegetarian, or even vegan and gluten free.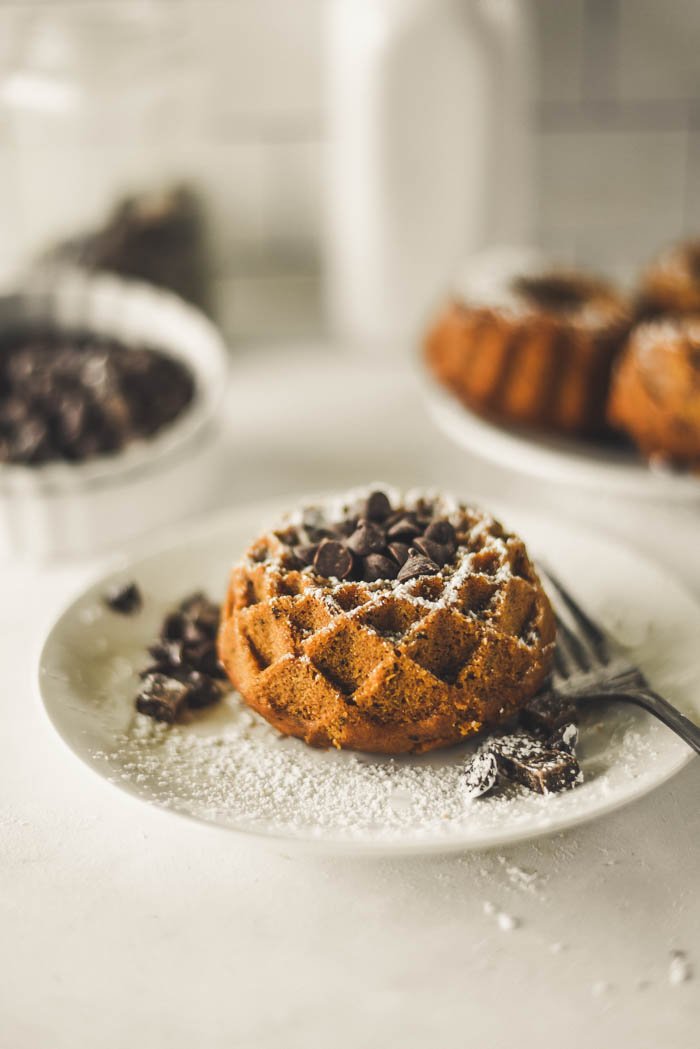 I mean, I understand the first one might be confusing but vegan and gluten free are so different. I once had a head chef tell me that I should try his soup of the day because he made it vegan……it was a broccoli cheddar soup……facepalm. Just saying, please leave a comment if you've run across this same misunderstanding. Sorry for the tangent, just having a moment over here.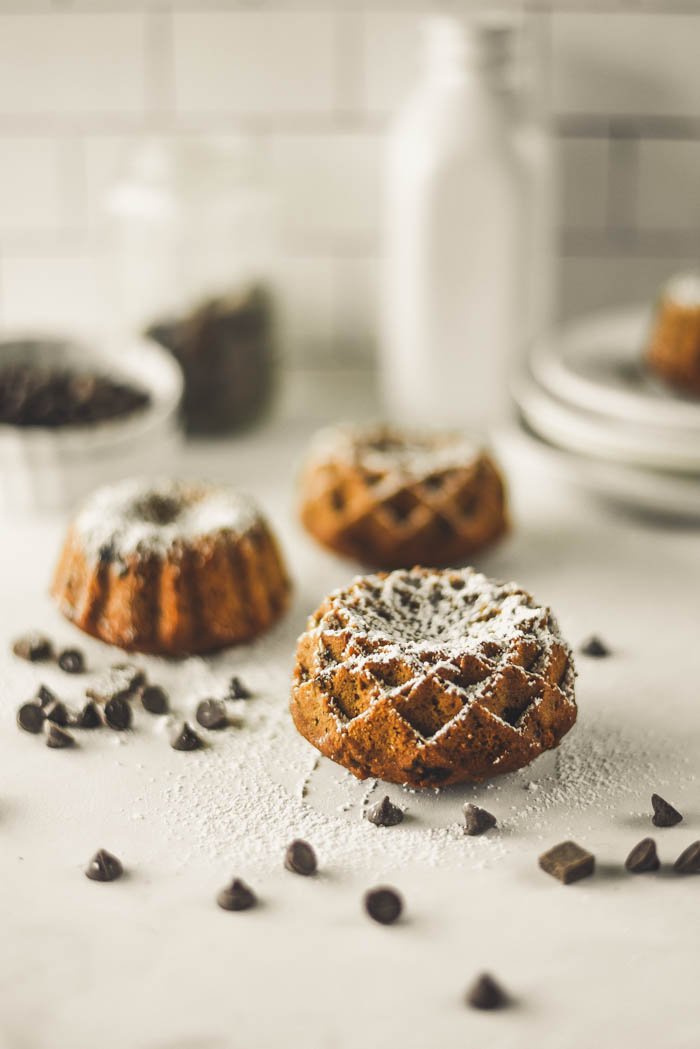 Okay, let's talk about this cake.
I made you a totally non-dry (trying not to use the word moist so often. ;P) delicious, melty chocolate chip filled, mini cake with no dairy, eggs, or wheat. Honestly, it's not as hard as some people might think to bake without those things and still get a decadent result. These cakes are proof of that. They have no oil and almost no refined sugar except what small amount is in the chocolate chips.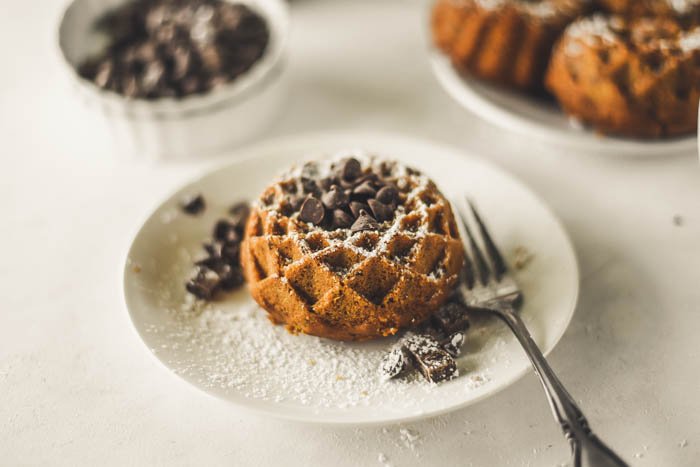 Yes, the texture you get with gluten free flours is going to be a little different than refined white flour but personally I really enjoy the difference. These save well for days afterwards and if you don't want to use mini bundt pans (I used these Nordic Ware Micro Mini Bundts) you can bake these into muffins that are just as delicious.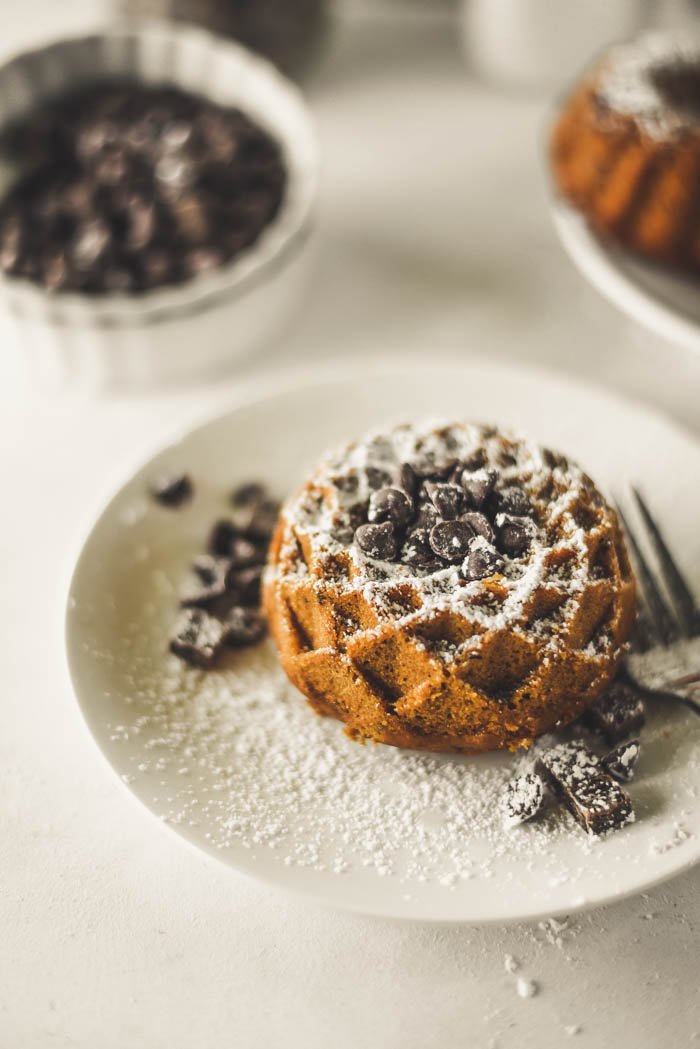 If you decide to try this recipe I am always excited to know what you think. Oh, and don't forget to tag me on Instagram if you share a photo. 😉
--Mini Chocolate Chip Bundt Cakes (Vegan+GF)--
These adorable little cakes are perfect for a healthy treat or snack with coffee. They are simple to make and look so elegant when sprinkled with a little bit of powdered sugar.
Prep Time 15 minutes
Cook Time 35 minutes
Servings 5 cakes
--Ingredients--
DRY
1 cup coconut sugar
1 cup almond flour
2 cups brown rice flour
3 tablespoons arrowroot starch (or cornstarch)
1 teaspoons baking powder
1/2 teaspoon salt
2 cups dairy free semi-sweet chocolate chips
WET
1 cup almond milk (or any plantbased milk)
1/2 cup aquafaba (liquid from a can of garbanzo beans)
2 teaspoons vanilla extract
optional powdered sugar for sprinkling on top
Instructions
In a medium mixing bowl combine dry ingredients and mix together until evenly mixed. Set aside.
Preheat oven to 350 degrees F (180 C) and if you're using muffin tins, line with paper liners. If you are concerned about the cakes sticking to the bundt pans you can spray them lightly with cooking spray (I didn't need to do this). Stir the wet ingredients together until mixed then add in the dry and stir until the batter comes together.
Bake for 25 -35 minutes, depending on your oven, until toothpick comes out clean. Remove from oven and allow to cool.
When cakes are completely cool, carefully loosen from pan and place on a plate or tray. Sprinkle with powdered sugar if desired and serve.
Recipe Notes
These are the pans that I used Nordic Ware Micro Mini Bundtsbut you can find many other options online or in stores.