Hey Steemians!
It's been a bit since I shared something from the kitchen and I have been meaning to put this on the blockchain for years (I'm not sure if I did or not)but when I cook, I tend to not measure anything or if I do, I have a bunch of bits of papers full of scribbles that just eventually gets lost or thrown out. I know...I got issues...lol. This is pretty simple to make, since it's still fresh in my mind, I might as well put it in a post and share it with you.
Many of you know by now I moved from eastern Canada to the west over a decade ago, although I have made it my home here, there is a few humble delicacies that no donair or pizza shop can get quite right so I had to adjust and learn to make them at home to satisfy that craving. How do they fail? Well the meat isn't spicy enough and that sauce...eww...the sweet sauce they make is gross, I don't know what they do, it requires like 5 ingredients! What about the tzaziki sauce...keep that crap away from my donair! The west is weird y'all. If eastern Canada makes it wrong, I don't want to be right!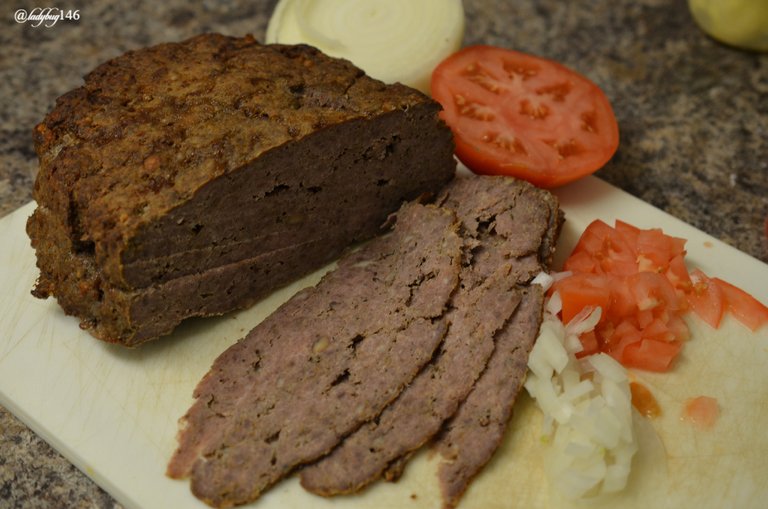 If your on a diet, sorry about your luck, your probably going to gain 5 lbs looking at the pictures, if you are ready to clog your arteries, you are just in luck this is a heart attack in a meal but it's SOOO GOOOOD. It's best to make/cook the meatloaf the day before and store it overnight to get the nice thin sliced meat like at the local shop without destroying the loaf, this is a really important part to remember. This recipe makes a lot of meat but 2 of us ate it in 4 days, shelf life about 5 days. The meat can also be sliced and frozen for quick future use or half the recipe. I'll share the donair recipe first and then the garlic fingers after, they use the same sauce.
DONAIR RECIPE
MEAT:
4lbs of medium ground beef
1 cup of breadcrumbs
3 tsp onion powder
2 tsp each dried oregano & chili powder
1 tsp each celery salt, regular salt, pepper, ground cayenne pepper, garlic powder, cinnamon, paprika
SAUCE:
1/3 cup carnation milk (you will end up using most of the can, best to make the sauce fresh every meal or soon thereafter)
1/3 cup of granulated sugar
1 tsp garlic powder
1/2 tsp onion powder
1 tsp white vinegar
TOPPINGS:
Pita bread
onions & tomatoes (about 1 slice chopped of each per donair)
lettuce (optional)
shredded mozzarella cheese
INSTRUCTIONS
MEATLOAF
Mix all the ingredients listed for the meat together in a large mixing bowl and make sure you massage the spices well into the meat. The more you hand mix, the more you breakdown the meat and it will give you a nice uniform small grain loaf like the donair shops or deli counters rather than actual meatloaf. To taste test, just fry up a bit of a patty in a frying pan then adjust seasoning to your liking.

Allow the meat to rest for half hour then mix it some more breaking it down further then pack well in an oven safe 2.5 qt pan ( around 8 x 10 inch). Tap the pan on the counter a few times to fill air pockets and press the meat down then place in pre-heated oven at 300 degrees for 1 hour.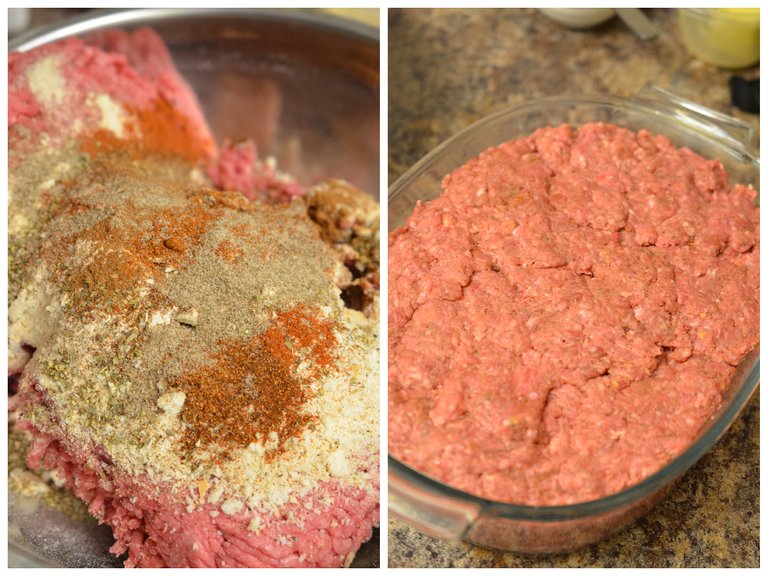 After an hour (no rush if your a few minutes late) remove from oven, drain the grease and flip the loaf upside down on a baking sheet lined with parchment paper (it will be easier to clean the pan) and place back into the oven for another hour. My new oven is terrible and my loaf wasn't cooked fully after so I turned the heat up to 350 for an additional 20 minutes. The best way to tell when it's cooked, the juices coming out into the pan will be clear.

Can you use a leaner cut of meat? You can I suppose but you wont get the same texture, the loaf wont stick together as well to cut, the meat will be a bit dry. Your call but I wouldn't. It seems like a lot of meat uncooked but it shrinks a good deal. Once your meatloaf is cooked, let it cool then store overnight it's tempting but don't cut into it or it will likely fall apart.
SAUCE
In a bowl, mix together the sugar, onion and garlic powder then add 1/3 cup of carnation milk and mix until the sugar is dissolved, don't forget the edges. Once the mixture is uniform, quickly whisk in 1 tsp of vinegar until it thickens up into a sauce. Be quick to mix the vinegar or it will create clumps. You can refrigerate the left over sauce for the next day but it starts to deteriorate after that why it's best to make in smaller batches as needed. No cooking required for the sauce.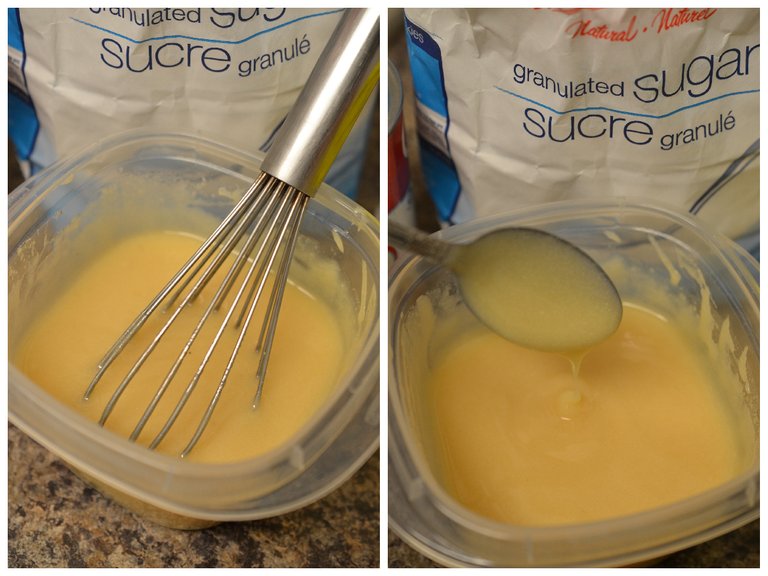 ASSEMBLY
Cut topping vegetables and set aside, cut meatloaf into thin slices with a really sharp slicing knife (it will make things so much easier with a freshly sharpened knife). In a medium pan on medium heat, add butter or cooking oil and the sliced meat, add the pita bread on top and cover with a lid (fuss free way to heating the bread). Cook until the meat is warm and has that browned outside we all love from the donair shops.

Cover the pita with donair sauce, add the meat and top with lettuce cheese and other veggies, add more sauce on top if you want. Enjoy!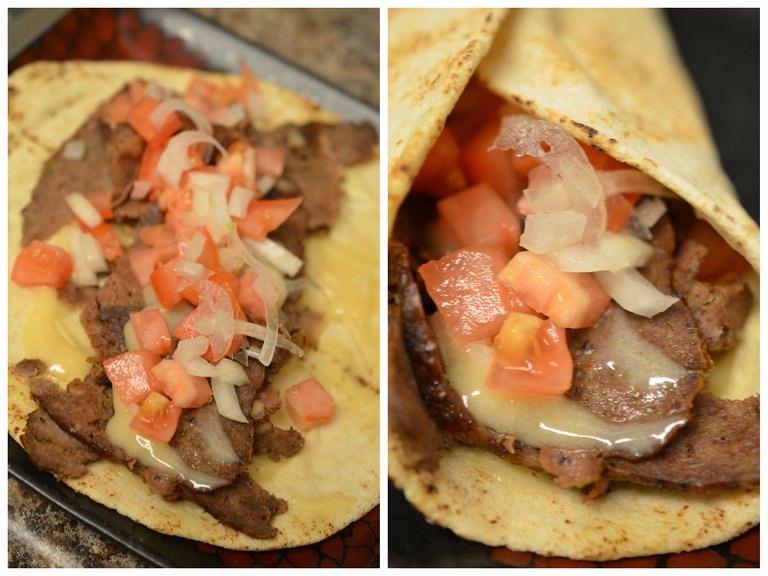 The donair meat can also be used to make a donair pizza by replacing pizza sauce with donair sauce and onions and mozzarella, topped with chopped tomatoes after it's cooked. It can be made into an oven toasted sub in the same fashion, possibilities are endless.
GARLIC FINGERS RECIPE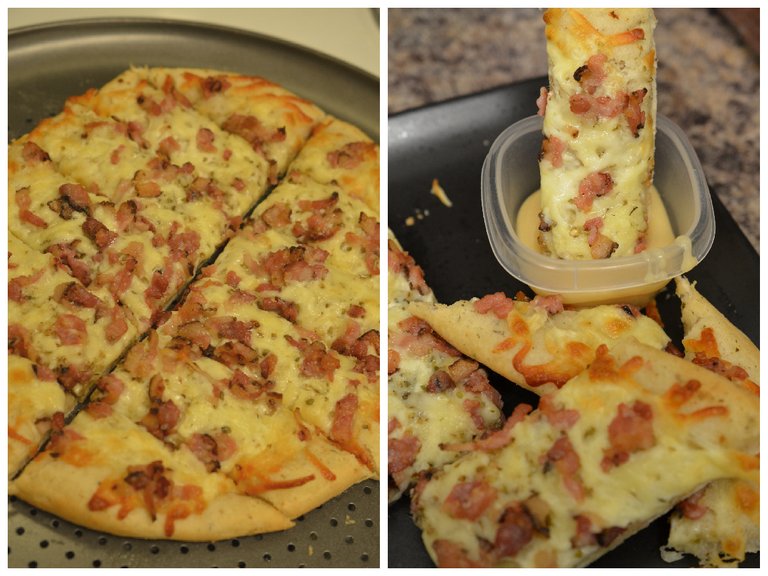 We don't need to re-invent the wheel on the dough, it's pretty strait forward and there is tons of recipes already out there so here is a link to the one we use or you can use your favorite or cheat and get pre-made dough. We add pizza seasoning, oregano and onion powder to the dry ingredients for the dough to add extra flavor but that's optional. Don't worry if you can't spin the dough, I can't either more like I haven't tried, all with the rolling pin. We don't grease our pan because this is already pretty greasy but using a non stick round perforated baking sheet with no edges work well. I noticed the recipe doesn't call for a second rise for the dough, I generally shape for my pizza and cover with a warm damp towel for an additional half hour for a fluffier crust.
https://www.allrecipes.com/recipe/257199/thin-crust-pizza-dough/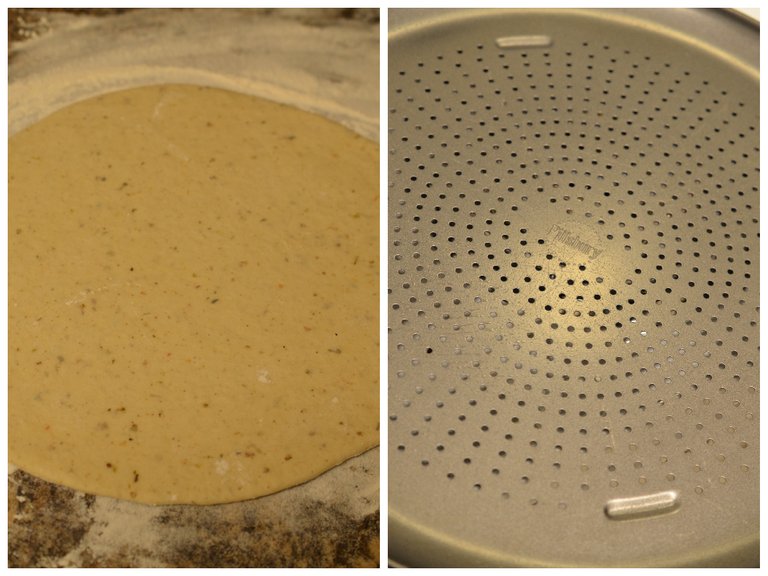 Half of the dough makes about a 9 inch diameter and perfect to share 2 people. If only cooking one dough at a time, you can refrigerate the other half in a sealed container for up to 2 days, allow room for the dough to rise more even after it's stored, allow it to warm up again before rolling it.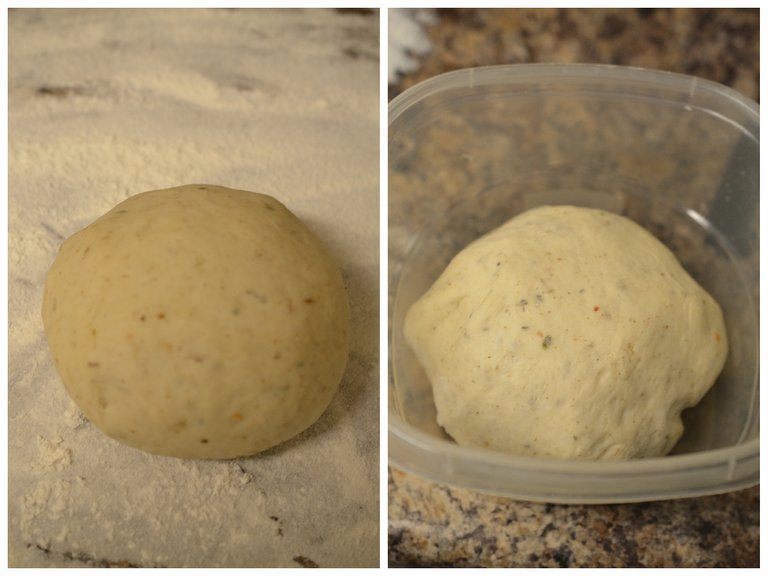 For the toppings (one 9 inch garlic finger/ half the dough) , you will need:
3 full length strips of uncooked bacon cut into small pieces

garlic butter (homemade or store bought)

shredded mozzarella or pizza blend

powdered parmesan cheese (not the grated kind)

Cook the pre-cut bacon in a pan until the fat is rendered, in other words, half cooked or it will burn in the oven, if you skip this step, then you will have bacon grease bread...eww. Set aside and allow it to cool. Pre-heat oven to 425 degrees.

Cover the dough with softened garlic butter, it helps to put chunks on the dough and put it in the oven to melt the butter for a minute while it's preheating. It will make it easier to spread without tearing the dough. Add mozzarella cheese over the dough, I'll leave that up to you, don't let anyone tell you what is too much cheese on your pizza, be generous! Sprinkle parmesan cheese and top with the half cooked bacon crumbs.

Cook until the cheese bubbles and crust turn golden, about 12-14 minutes depending on your oven, keep an eye out for that sweet spot. You may have to rotate it halfway to make sure it cooks evenly. Remove from the oven, cut into strips (one in the middle and 2 on each sides then across in half) and serve with a side of donair sauce for dipping.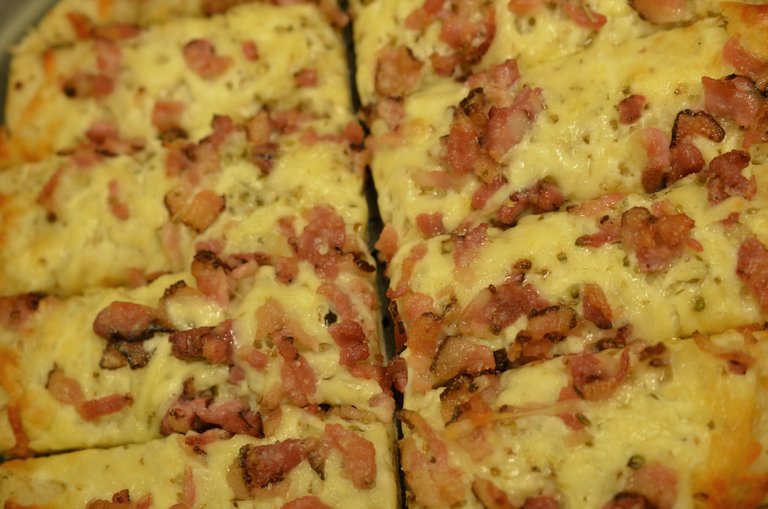 Obviously you don't have to eat both at the same time but they do go well, great if your hosting a small get-together or for a fun home made pizza party...Sharing is caring!!
Bon apetit! X🐞X