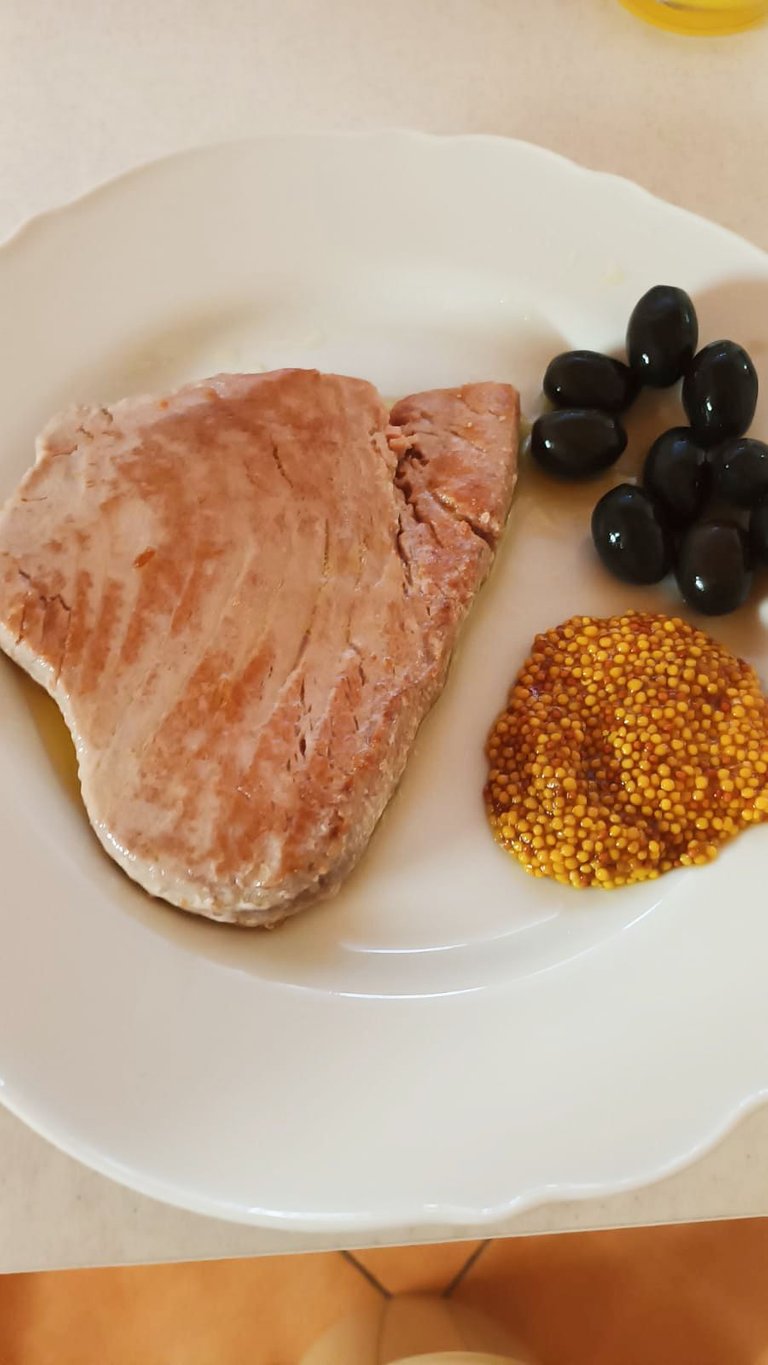 One of my friends, when asked what his favorite food was responded:
Pizza!
His answer shocked everyone in presence.
He could have said: "Janjetina, Fuži sa tartufima, Pašticada, Brudet, Pečeno, Tuna Steak, Teleća koljenica, Bakalar, Juneće obrazine, Pršut i Paški sir, Soparnik, Crni Rižot, Bijeli Rižot, Sarma... he could have even named the most basic of basics, Čevapi".
But no! He said: Pizza. He said Pizza...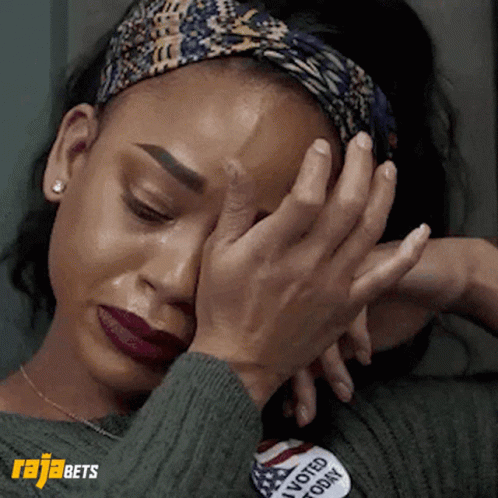 Needless to say... from that point on, he was dead to us.
In grief we sent his family flowers and he was never to be heard from again.
See, us Croatians, and people from Balkans in general, take our food very seriously. As much as I loved Hivefest and Amsterdam, the food I ate there, I have to conclude, is what gave me COVID. 😅
Sorry @roelandp hahaha.
I was alone home today and I wanted to treat myself a bit with one of my favorite foods. Tuna steak.
And just to be clear I have to state that this isnt the tuna that is served in USA or in the north of Europe. I once tried that tuna. They sell North Atlantic tuna in LIDL.
Never in my life have I seen a bigger difference in food quality between two meals prepared the same way from the same meat.
Adriatic sea tuna tastes like heaven. The North Atlantic tuna tasted like salted cardboard.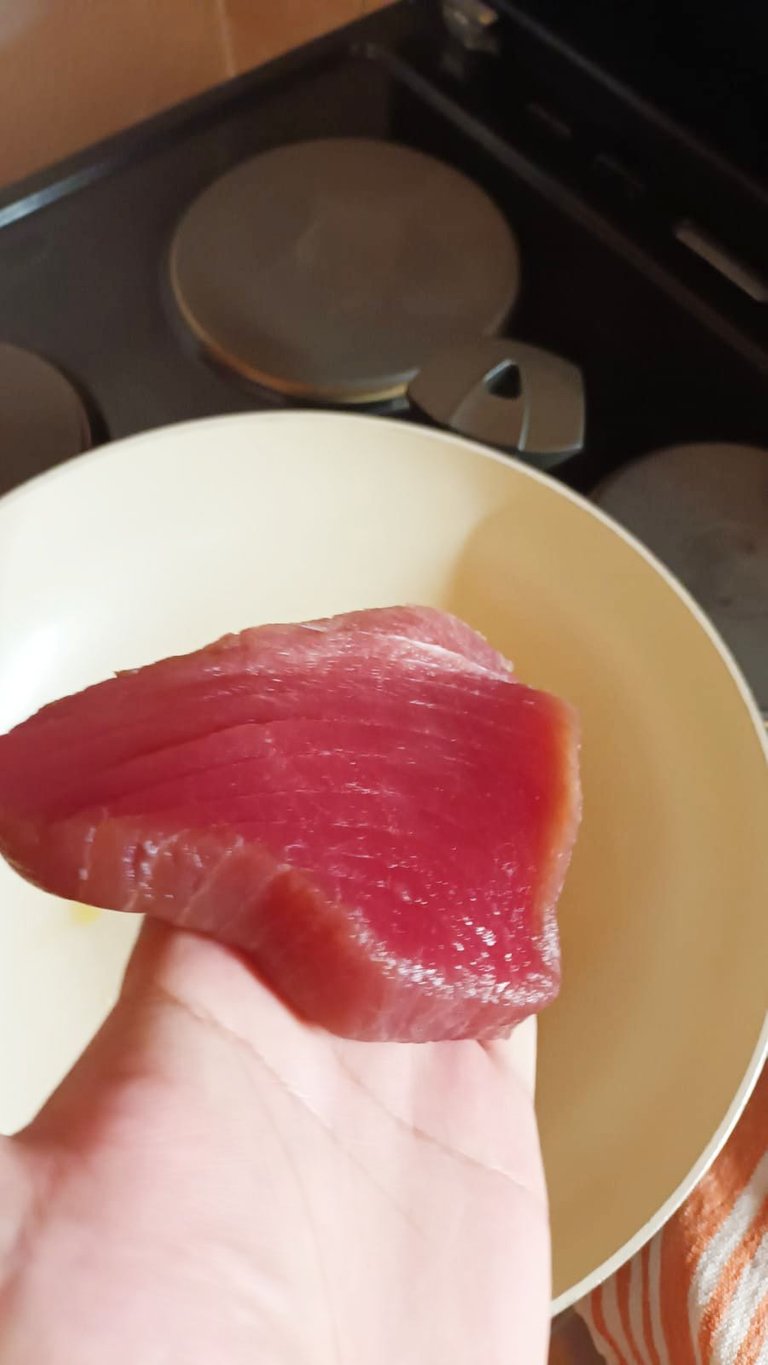 When I call this Croatian fast food I mean it. The process is extremely simple.
I throw some home made olive oil on a skillet. (Wok in this case)
Heat it.
Throw in the tuna.
A few drops of vinegar.
Flip once after 1 minute.
Throw some more olive oil on it. If in doubt, throw some olive oil on it.
Done.
All this took about 2 minutes. If you went to your local McDonalds to get a BigMac you would be waiting in line far longer and would be eating... well... you know what you would be eating.
And of course no meal is complete without my 3 favorite condiments.
Black olives
Gourmet gold bean mustard.
The best non-craft black beer in the world: "Tomislav."
Before anyone mentions Guinness... just dont. Ill be sending your family flowers as well.
Black tinted water is not beer.😘
Guinness is probably the only beer I threw in the trash after 1 sip entirely disappointed at myself for falling for the hype.
Im lying... when I was in USA 10 years ago, I tried Bud Lite. But that I threw out the car window.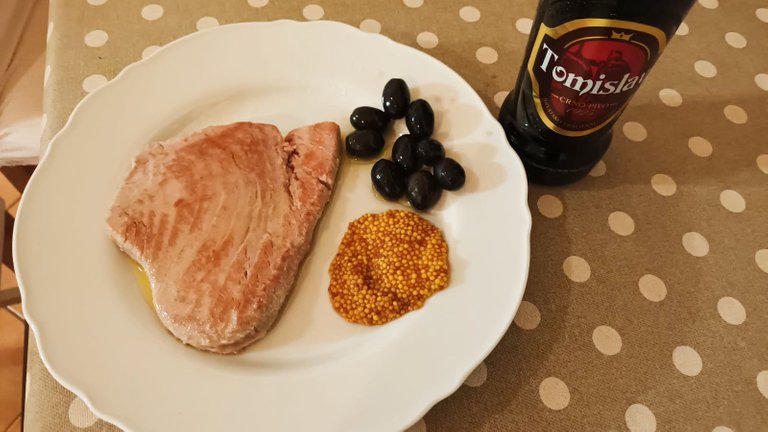 TOTAL COST: $6 USD
TIME SPENT: 2 minutes