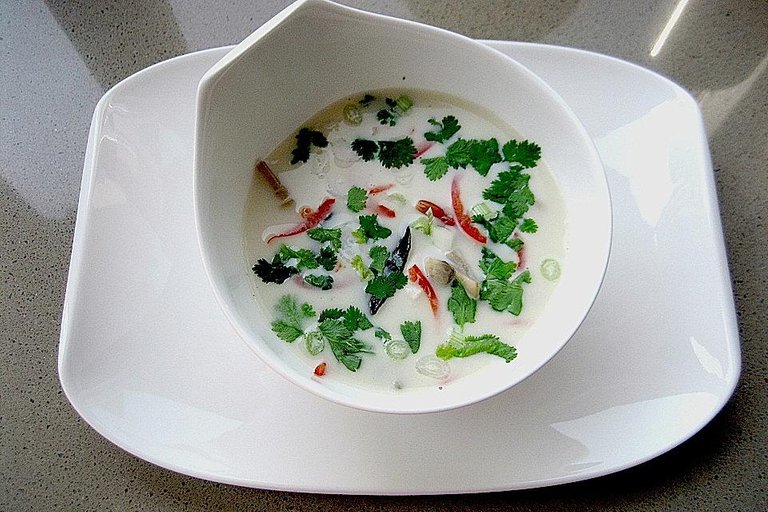 Hey everyone, i want to start to share with you some of my favorite thai meals. I got most of the recipes from my mother-in-law, who is thai herself.
So Today there is Tom Kha Gai.
You need
2 cans of coconut milk, 400 ml each
¼ liter chicken broth
5 stalks of lemongrass
7 cm galangal, peeled, sliced
3 chillies, whole, red
3 tbsp fish sauce
8 kaffir lime leaves (Bai Magrood)
400 g chicken breasts, cut into small cubes or strips
150 g mushrooms, quartered (or fresh straw mushrooms)
2 lime(s), the juice
Fish sauce, to taste
1 teaspoon palm sugar, maybe a little more (or refined sugar)
For the garnish:
Coriander greens, plentiful
5 spring onions (Thai), cut into 2 cm pieces
2 red chili peppers, without seeds, cut into thin strips
Preparation
Cut the lemongrass into 4 cm pieces and pound lightly with the back of a knife. Bring the broth and half the coconut milk to a boil and add the lemongrass, galangal, magrood leaves and chilies, season with the fish sauce and simmer for 10 minutes.
Add the mushrooms and cook for another 5 minutes, then stir in the chicken and cook on low for a few minutes, it needs to stay tender. Add the remaining coconut milk and season with lime juice, sugar and fish sauce. Arrange in bowls and garnish with chili strips, spring onions and coriander.
The soup should taste freshly sour and slightly salty.
Variants:
Replace the chicken with 500g diced fish fillet or with 500g mushrooms.
Sea fish with firm meat or catfish and zander are suitable fish if you prefer a more delicate fish taste.
Annotation:
Lemongrass, galangal and magrood are seasonings and are not eaten. If you don't want to separate during the meal, fish them out of the soup with a slotted spoon before adding the mushrooms.
The complete preparation should take about an hour.
I hope it works and you enjoy it.