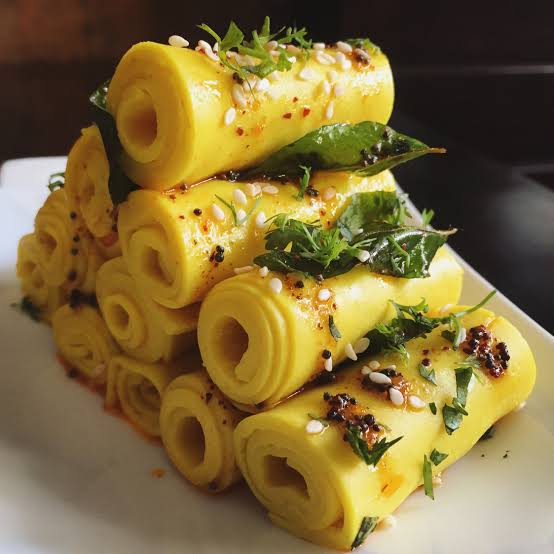 Dear friends,
I hope you all are safe and enjoying the new year. Today I am here to share with you a healthy vegan delicacy, 'Khandvi.' This is a high protein snack. Let me tell you why. This delicacy contains gram flour, yogurt, buttermilk, and coconut. So, this dish contains- 1. folic acid,2. calcium,3. vitamin B1, 4. phosphorous, 4. fiber.
Did you know friends gram flour has a higher protein content than wheat flour? As I mentioned, it contains folic acid. It helps to improve the rapid growth, multiplication of red blood cells in the bone marrow. Gram flour is very effective for diabetics.
Yogurt and buttermilk- helps in digestion, as yogurt contains good bacteria. During diarrhea, dysentery if you have yogurt with rice, it's miracle medicine. It also helps in weight decrease, great for the heart, and supports building immunity.
Coconut- Fresh coconut has immersed fats, but most of it is medium-chain triglycerides(MCT), which boost weight loss. Coconut ameliorates cholesterol levels in the body. It also increases the action of insulin discharge and reducing boosted blood sugar levels.
Khandvi fulfills 13% of our daily lacked nutrients. It is essential for every cell of our body directly from the resistant cell to the cell of the skin, hair, nails. Protein also associates with the regular of several metabolic movements; and the creation of the digestive ferment. As well as hormones similar; estrogen, progesterone, testosterone. This dish is also advantageous for pregnant women. I hope this is a piece of helpful information. So, friends, let start making Khandvi.
Ingredients:-
For the batter-
1.Gram flour- 1-1/4cups.
2.Yogurt- 1cup.
3.Buttermilk(chaas)-3.25cups(or as required).
4.Ginger-green chili paste- 2tsp.
5.Turmeric powder-1/2tsp.
6.Asafoetida-A pinch.
7.Salt- To taste.
8.Oil- As required for greasing the thali or(plate).
For Seasoning Khandvi:-
1.Mustard seeds-1tsp.
2.White sesame seeds- 2tsp.
3.Asafoetida-1/4tsp
4.Curry leaves-10-12 leaves.
5.Red chili powder-1/4tsp.
6.Green chili-2(chopped).
7.Oil- 2tbsp.
For garnishing:-
1.Coconut-3tbsp(grated).
2.Cilantro leaves-2tbsp(finely chopped).
Preparation Method:-
Step 1- First, take 3 steel thalis or steel plates and grease them with sufficient oil from both sides.
Step 2- Take a mixing bowl. Add yogurt and buttermilk, ginger-green chili paste, salt, asafoetida, turmeric powder, and make a smooth batter.
Step 3- Next, add gram flour to the mixing bowl. Whisk well to combine gram flour with yogurt buttermilk mixture. Make sure there shouldn't be any lumps. So keep stirring until getting a smooth batter.
Step 4- Take another bowl and mix grated coconut and cilantro leaves. Keep aside.
Step 5- Place a non-stick pan on medium-low flame. Pour the batter and start stirring. Keep stirring continuously with a wooden spatula; there shouldn't be any lumps.
Step 6- Once the Khandvi batter will start thickened, take a small portion, and spread on the greased thali. Once the batter cools down, try to roll it. If it's not rolled out, then you have to cook the batter a few more times. It will take hardly 18- 20 minutes. The batter shouldn't be too thick.
Step 7- Once you get the proper consistency, spread a thin layer of batter on greased thalis. Let them cool a little cooled. Cut the 5-6 inch strips of khandvi with the help of a kitchen knife.
Step 8- Spread coconut and chopped coriander leaves mixture in every strip of khandvi. Roll the strip and set them aside on a plate.
Step 9- Now, Place a Tarka pan on medium flame. Add 2tbsp of oil. Once oil is heated, add Mustard seeds, sesame seeds, asafoetida, curry leaves, red chili powder, chopped green chilies. Saute till aromatic and curry leaves change color.
Step 10- Pour this mixture evenly over the khandvi rolls. Garnish with remaining coconut and cilantro leaves.
Step 11- Now Khandvi is ready to serve with coriander mint chutney.