For our paella, we used a mix of chicken, chorizo and seafood. You can do all three like me, pick your favorites or leave them out completely and make a vegetarian version. It's totally adaptable to your personal tastes. For the seafood, we used a mix of a white fish, jumbo shrimp, and clams.These seafood items pair perfectly with the spicy chorizo and moist chicken. Cook time is about an hour so it's fairly quick for such a fancy meal!
Ingredients
olive oil
1/2 small sweet onion chopped
2-3 cloves garlic
1 package ground chorizo
3-4 heirloom tomatoes chopped (or one 14 ounce can whole peeled san marzano tomatoes
1 (8 ounce) jar roasted red peppers, sliced
1/4 cup white wine
2 cups jasmine or basmati rice
4 cups chicken broth
2 small skinless chicken thighs or breast
1/3 cup green olives
1 teaspoons spanish smoked paprika
1 teaspoon salt + pepper to taste
pinch of saffron
16 ounces fresh seafood
juice of 2 lemons
fresh chopped parsley
*Instructions
Use a large skillet (we actually have a pan for this dish). Allow the skillet to heat and once hot add the olive oil, onion and garlic. Season with salt + pepper while those cook for about 5 minutes. Add the chorizo and cook until just browned and crispy. After add the tomatoes and red peppers. Continue cooking another 5-10 minutes.Add the wine to deglaze the pan and then stir in the rice, cooking until toasted, Slowly pour in the chicken broth and the chicken, green olives, paprika, salt + pepper and saffron. Cover and cook until chicken is done 15ish minutes.Meanwhile, toss the seafood with a little oil, salt + pepper. After the chicken is cooked throw in the seafood and cook until the seafood is cooked through and the rice fluffy. Finish with lemon and fresh parsley.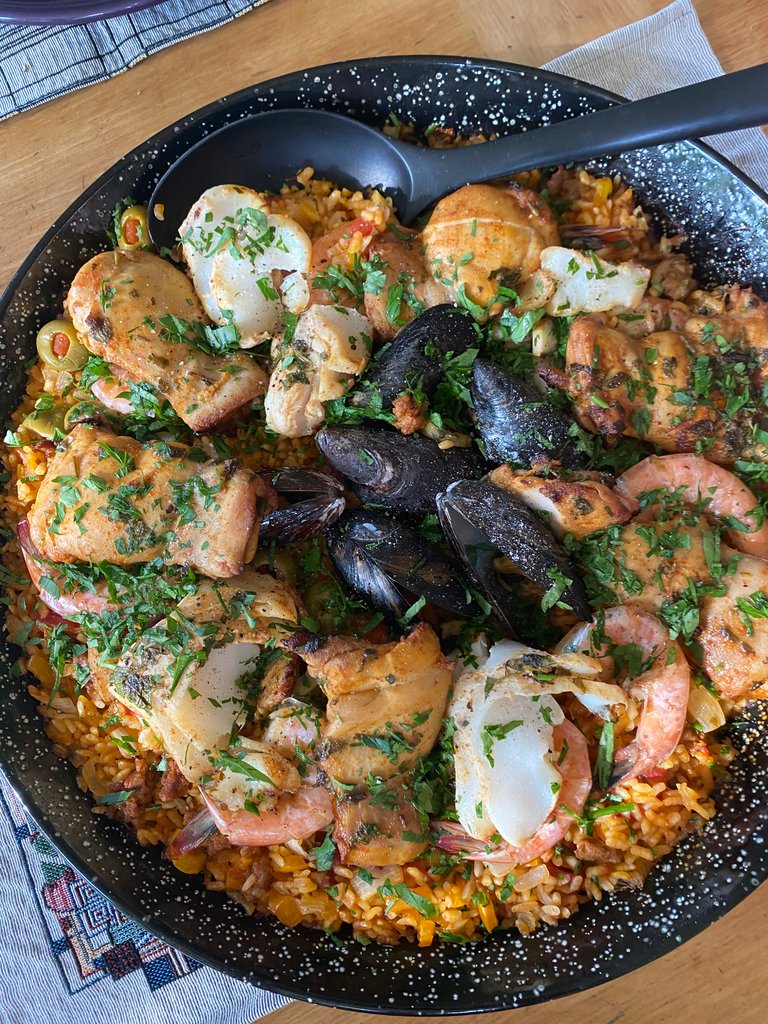 The beer pairing for this meal is a Sour Double IPA. Gamma3Dux has a trio of Cascade, Chinook, and Centennial in the dry-hop give which creates a full-bodied sour ale that cuts through the strong and meaty paella flavors.
This beer is a orange/reddish color that matches the meal. Its got a nice white head that leads to some lacing on the glass. Its a fancy beer for a fancy meal.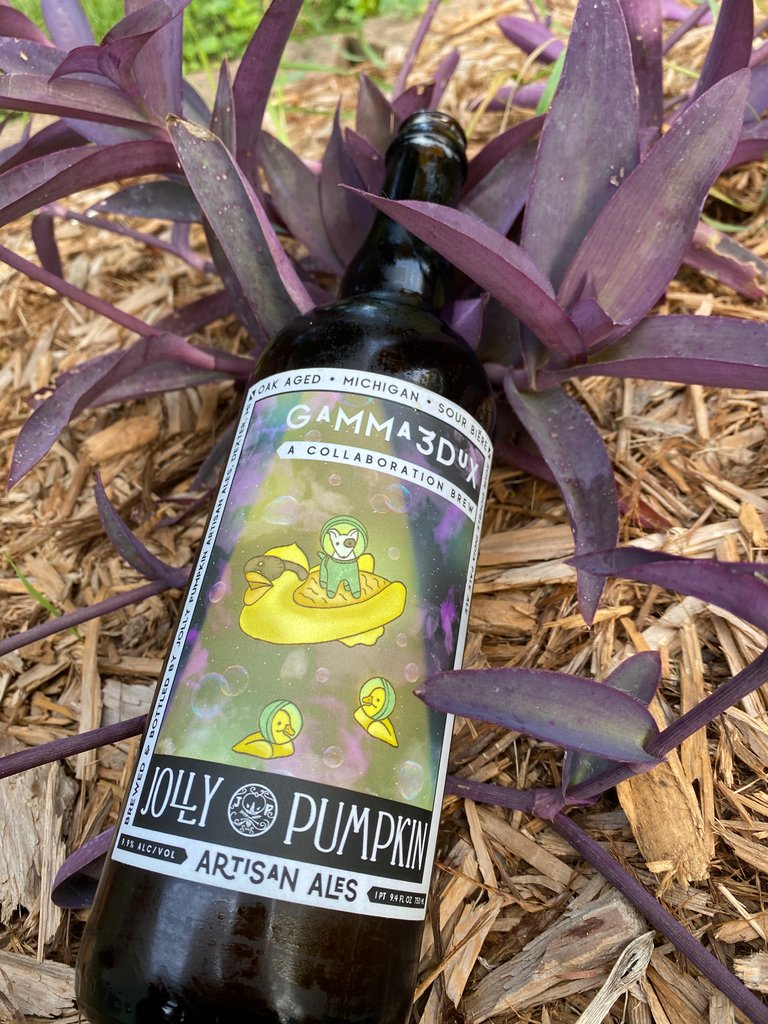 The aroma is earthy with some notes of fresh fruit and bold citrus. There are some dank hops and pine notes that are almost woody.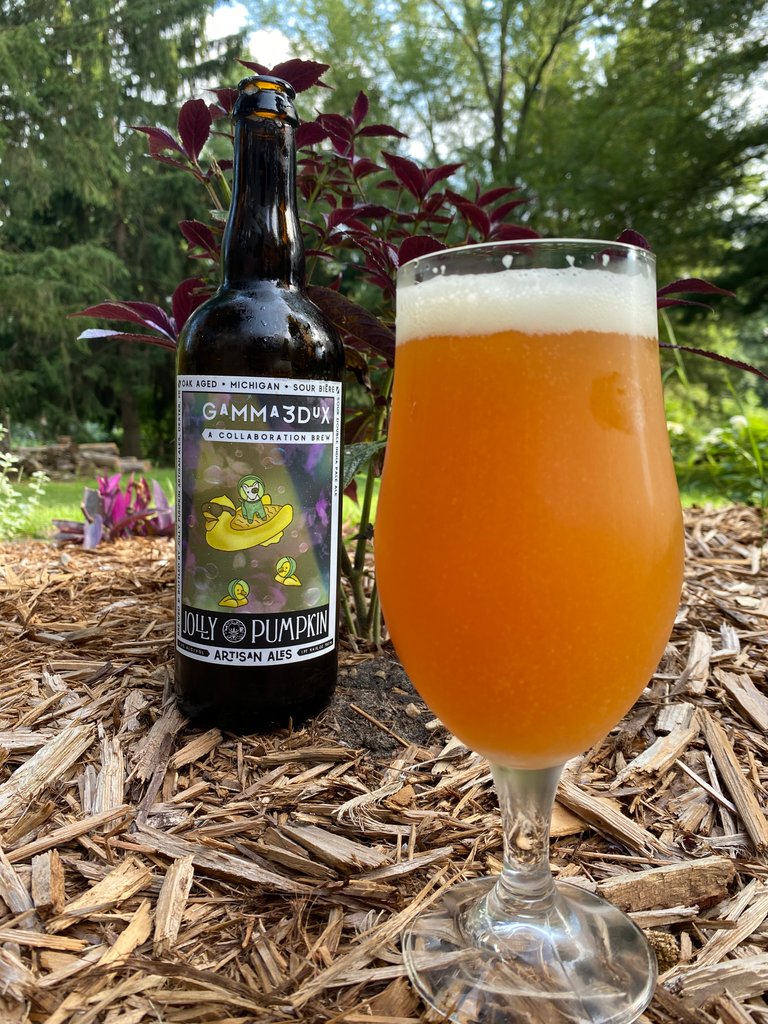 The flavor has similar notes as the aroma, but they are deeper and more complex. The notes of juicy melon, and sour ruby red grapefruit are laced thought the start, middle and end. I get more deep notes of apricot or raisin which is adds character. The more woody cedar and oak notes are delicious as well. There was less sour funk than most of their beers. The beer has some body which adds to the fancy drinking experience. I like the level of carbonation, but i will say the bottle was under a lot of pressure when I opened it. Overall, this beer was prefect for a meal filled such complex and developed flavors. I highly recommend matching sour beers with seafood dishes.
Cheers!