EUR/GBP shot higher on Monday, breaking above Friday's high, at around the 0.9100 barrier. Overall, the price structure remains of higher peaks and higher troughs above the upside support line drawn from the low of April 30th, and today's move confirms the continuation of that uptrend. What's more, the rate is trading above all three of our moving averages on the 4-hour chart, and thus, we would consider the near-term outlook to be positive.
If the bulls are willing to stay behind the steering wheel, we may see them aiming for the 0.9225 zone soon. That zone acted as a resistance back on March 26th. They may decide to take a break after testing that zone, thereby allowing a small retreat, but if they quickly jump back into the action, we would see decent chances for the 0.9225 hurdle to break, something that would pave the way towards the high of March 25th, at around 0.9275.
Shifting attention to our short-term oscillators, we see that the RSI emerged above 70 and continues to point north, while the MACD lies above both its zero and trigger lines, pointing up as well. Both indicators detect strong upside momentum and corroborate our view for some further near-term advances in this exchange rate.
In order to start examining the case of a decent correction to the downside, we would like to see a dip back below 0.9080, which is near last Tuesday's high, and also marks today's low. Such a move may encourage declines towards the 0.9020 zone, the break of which may extend the slide towards the crossroads of the 0.8990 support and the upside support line taken from the low of April 30th.
EUR/GBP 4-hour chart technical analysis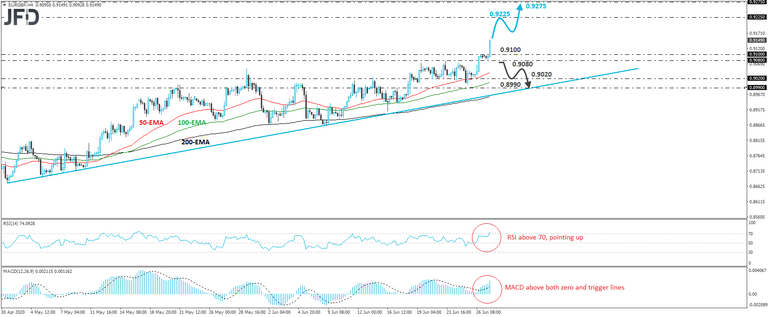 EUR/GBP 4-hour chart technical analysis

Original Post