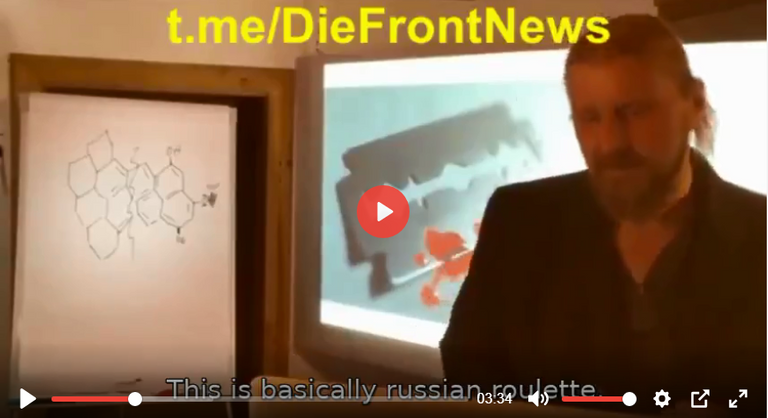 A screenshot of the first video linkied below
Yesterday I was linked the following video in which Dr. Noack detailed his claim that the graphene oxide found by researchers in jabs was in fact graphene hydroxide, which he described as nanoscale razor blades.
I then saw the following video which claimed he had been murdered only the day after the above video was published.
I do not claim to have verified any of this information, and for all I know it is not factual in whole or part. However, I find the graphene hydroxide hypothesis credible explanation for the instant collapse, or relatively swift demise, and cardiovascular injuries resulting in extensive bruising and other dramatic effects, observed in some of the jabbed.
Given the claim of Dr. Noack and his immediate death, just as mandatory jabbing of children is being undertaken, I have provided this information as I have found it so that folks will have it and can themselves act on it as immediately and to the degree they feel appropriate.
I will look for more information and do my best to ascertain it's veracity and relevance, but that will take time that in the present circumstances could prevent some from being alerted in a timely manner.
I am struck once more that free speech is an existentially important human right, and that censorship kills people.
If these claims are true, Dr. Noack has been killed to censor him.
Please do not mistake my providing these videos as claiming they are factual. I do not. I find the hypothesis credible, and will continue to seek more information that is necessary to confirm the claim. For the stated reason that time is pressing and people should have the opportunity to consider this safety signal, that appears to have been censored with extreme prejudice, I provide it as is, for you to verify, consider, and act on as you see fit.
Live and prosper.