Did you ever hear about the game Skiddle? - I didn't!
Last week when Elena and I went to play Minigolf in Langwied we saw this game for the very first time!
Skiddle or PitPat is a recreational sport consisting of a combination of mini golf and billiards, also known as obstacle billiards. It was developed by the Wagner brothers from Ingolstadt, Germany in 1984. Systems were installed and operated in Germany (around 100) and Austria (40) as well as in the Netherlands, Belgium, Sweden, France, Italy, Spain, Denmark and Switzerland.
Just like at Minigolf the game includes 18 different tables with obstacles such as sloping hurdles, double jump, diamond,volcano and others. The aim is to push the hard rubber ball into the hole of the table with just a few takes of the cue.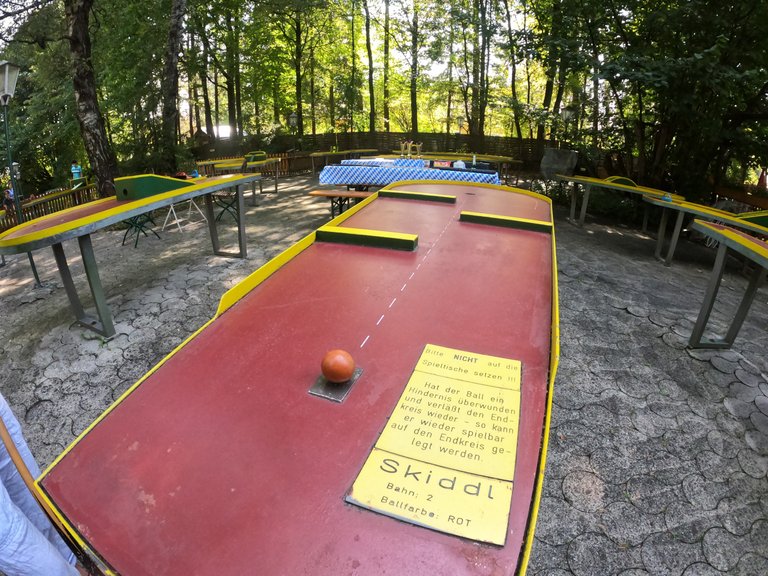 There are balls in 3 degrees of hardness, which are assigned to the respective tables. The player with the fewest attempts wins the game.
Rules of the game
1.The prescribed ball should reach the goal with as few hits as possible. Each push counts as a point.
2.The maximum number per table is 6 points, except table 5, which has a minimum of 2 and a maximal of 8 points.
3.If an obstacle has been properly overcome, the ball is played from its new position. If the ball is unplayable on the board or on the obstacle, it may be placed so that it can be played for the next push.
4.If a ball leaves the table, it must be played again from the kick-off point.
Some of the tables have additional rules. But if so, it is always explained very well.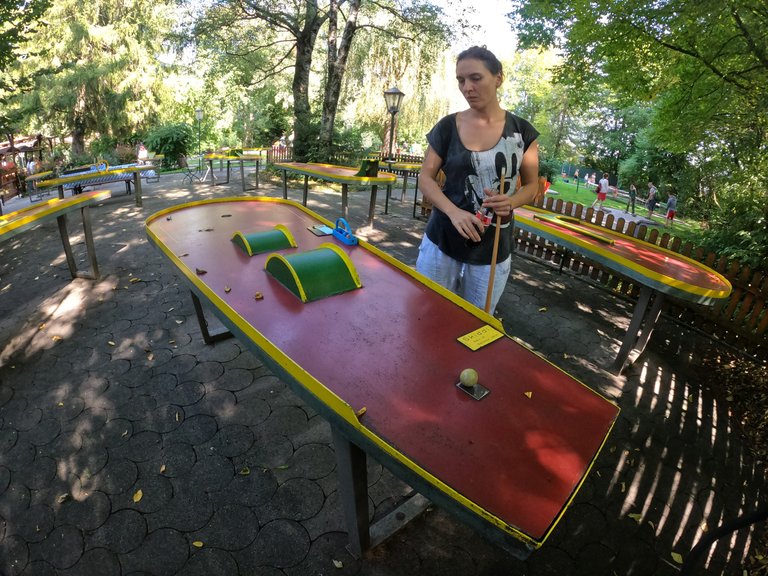 As we never had played that game it was a lot of fun, but still not that easy. While doing the first round some guys arrived and watched us play.
They must have thought that we are not too bad, because a few minutes after they asked us to join the Skiddle Tournament, that would be happening just 30 minutes after.
We didn't have plans yet, so we accepted the challenge ;) - Playing Billard quite often we did have a fair chance to not be last and win the toilet paper haha.
So 30 minutes later we both were assigned to a different team. In total, we had 14 participants, playing in a group of 3 at each table. Every player had to pass all 18 wholes 3 times. Then the points would all count together. The participant with the lowest total of points (attempts) would be the winner, the second lowest second, etc..
That said, we started to give our best!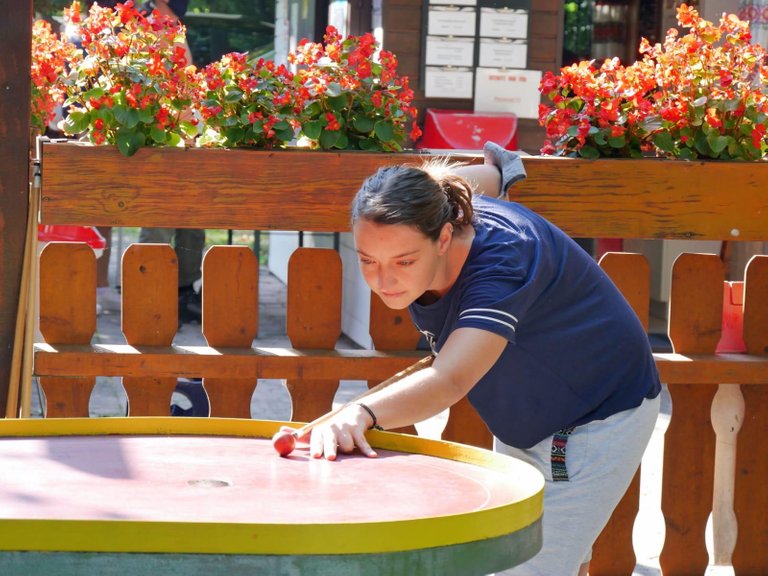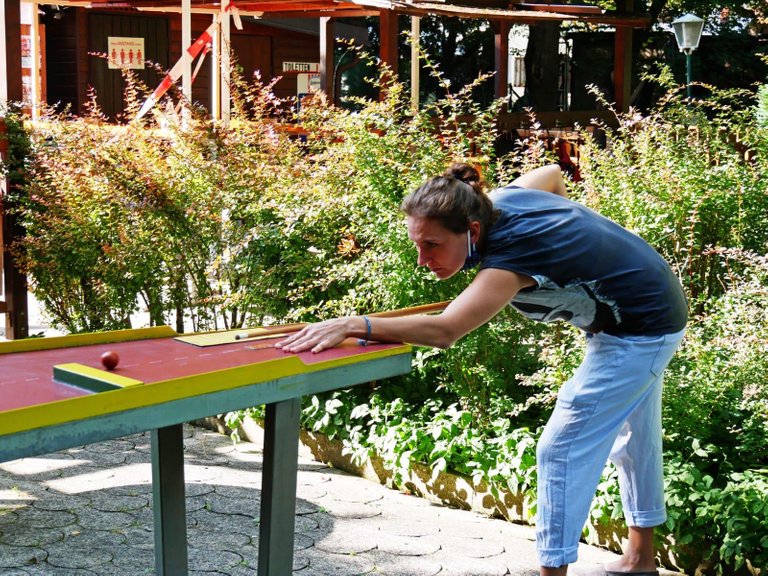 The first round I was quite happy with my game. I had reached 38 points which were not too bad. I was on a head to head race with another guy in my group, which pushed me forward and kept me motivated.
Also it helped a lot to play with professionals. They knew all about the little insider information about each table like what ball to use best, what angle and pase in order to be the most efficient.
We had a lot of fun and learned a lot at the same time!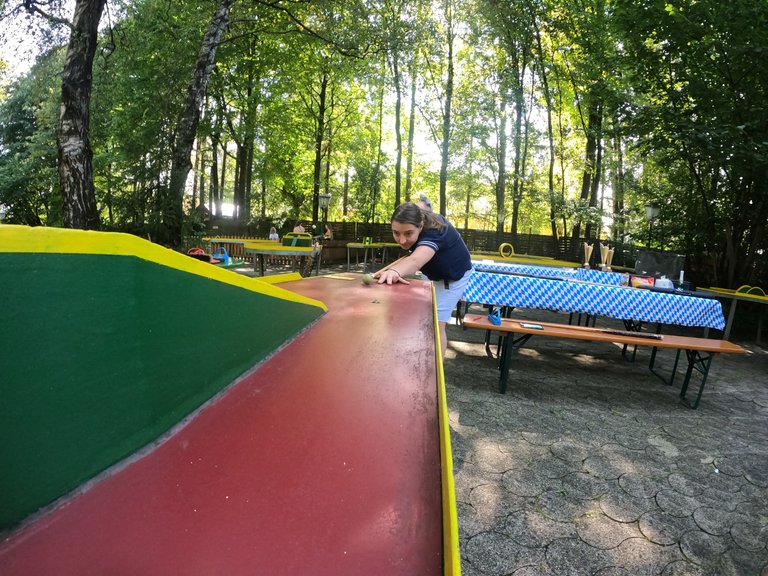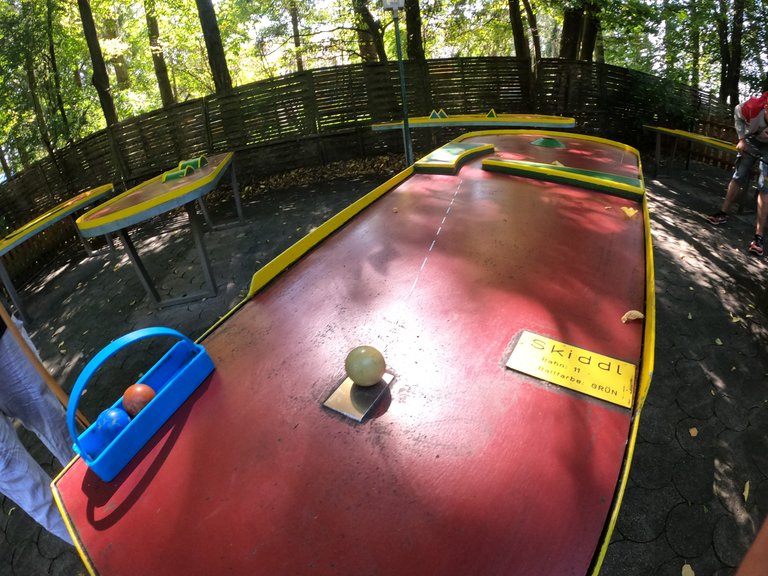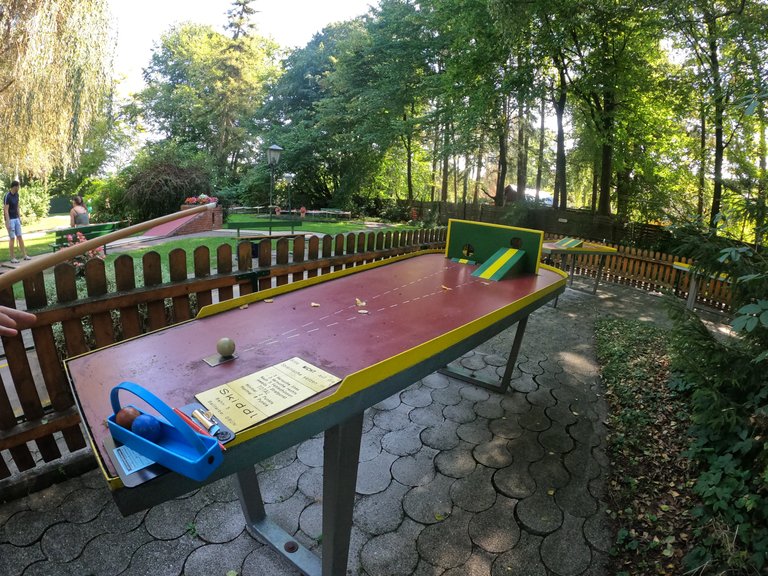 In the second round, I had to start at each table, so I couldn't watch the others playing first, but I again reached 38 points.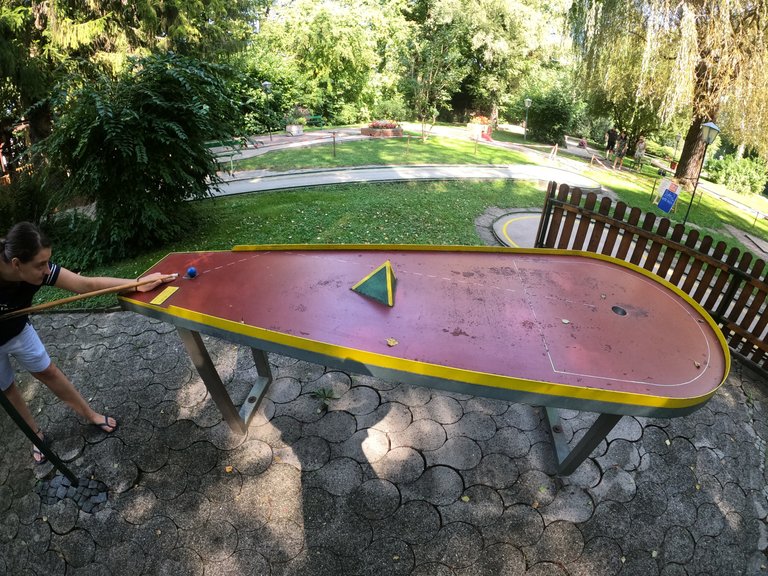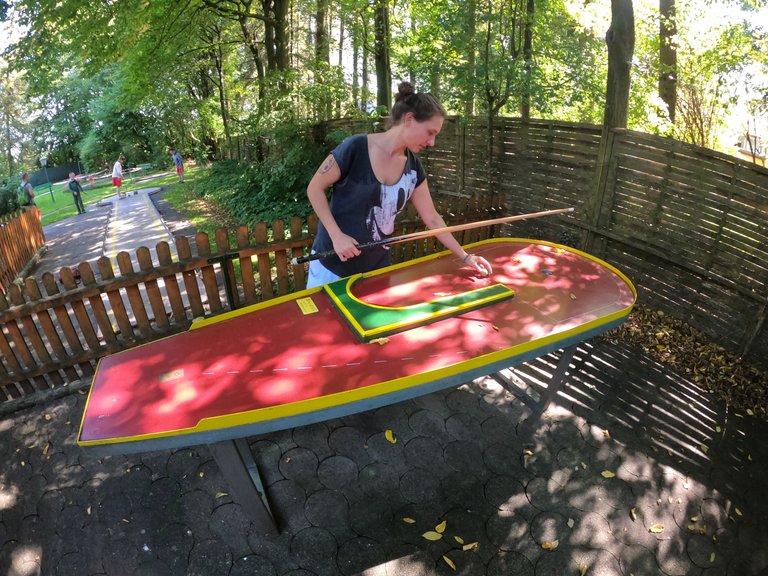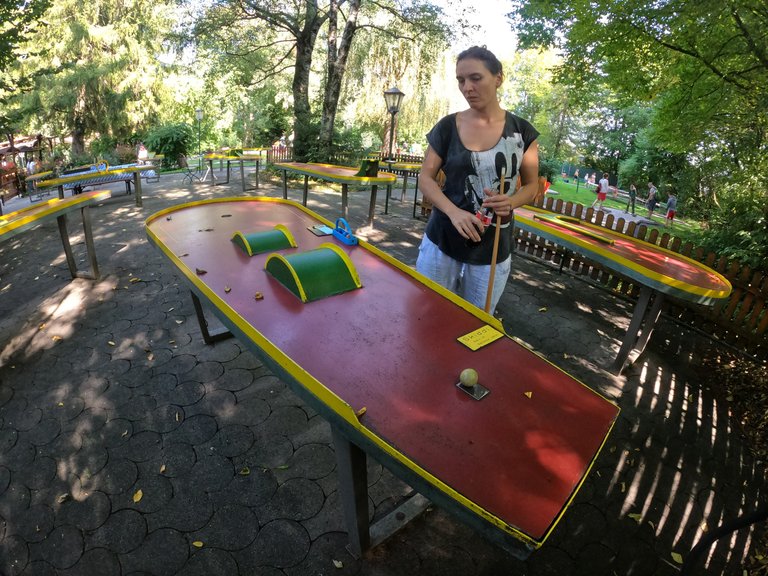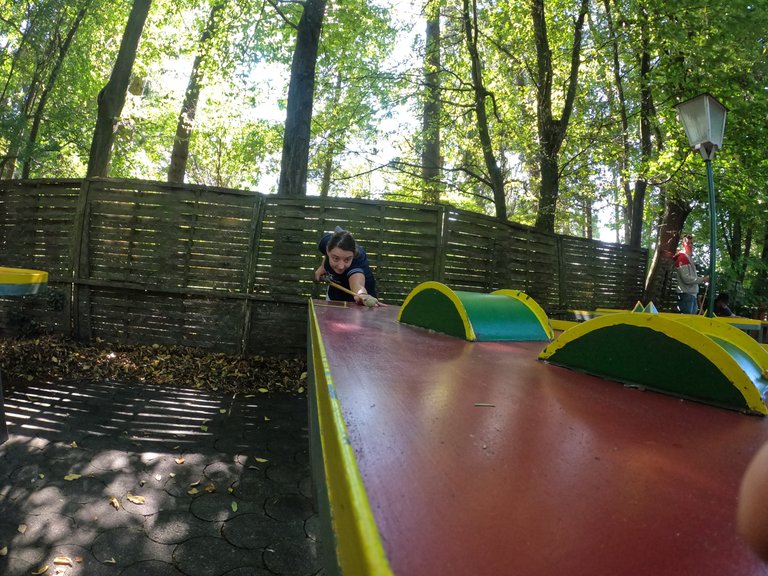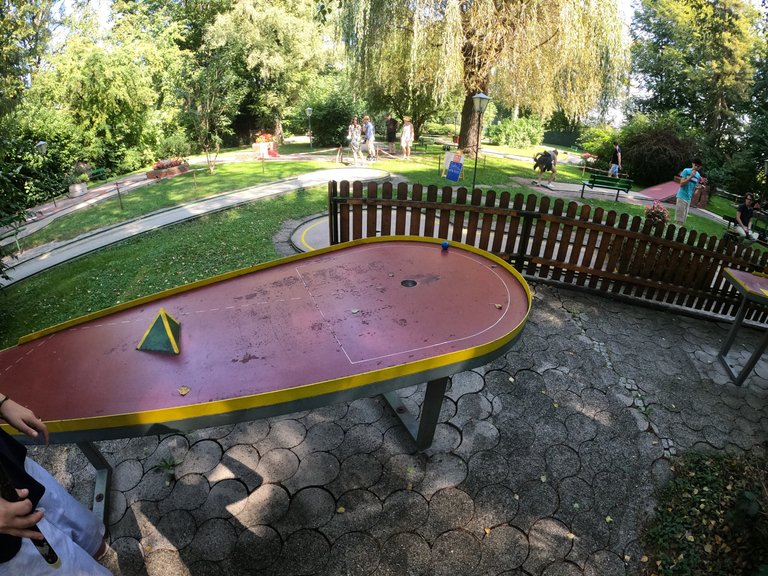 My last round was my best with 34 points. So in the end I could have been better, but since we were playing for our very first time it was still very good!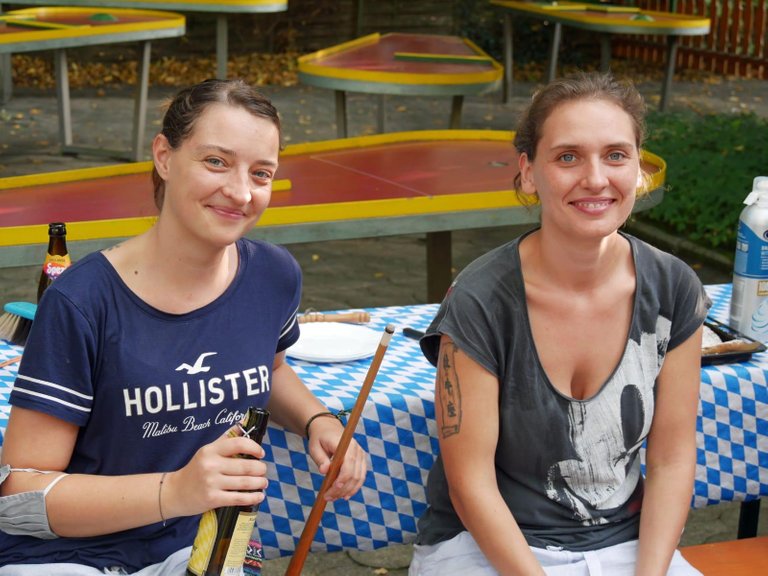 In the end, Elena and I landed at place 8 and 9 in the ranking with a total of 106 and 110 points each, so we could be very proud of ourselves :)
The first 3 received a fancy winners cup, the fourth pasta, the fith meat sauce and the 6th toilet paper 😂 The last one received a bottle of sparkling wine.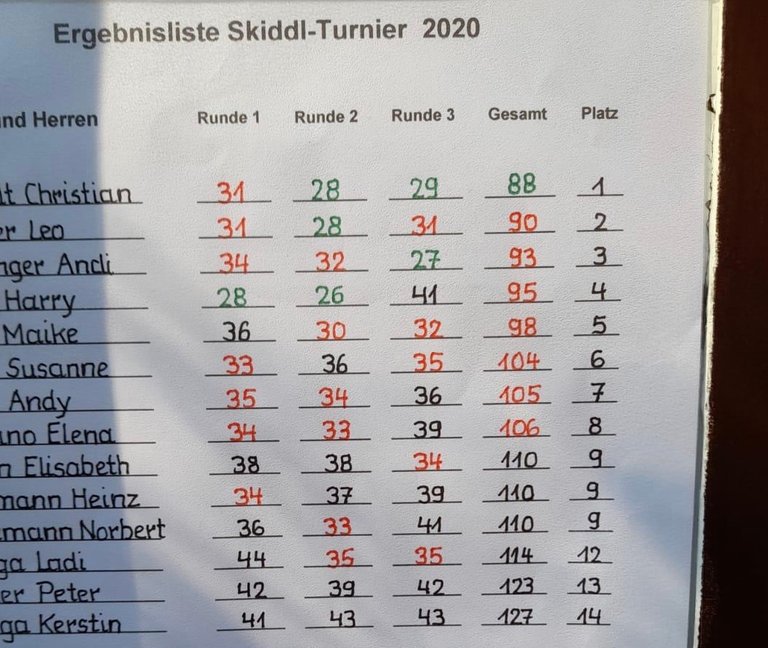 We had a lot of fun that day and are already looking forward to the tournament next year ;)
I am very curious if anyone has ever seen a game like this somewhere in the world! If yes please let me know, I wanna know all about it haha!
Until then, enjoy watching the video: