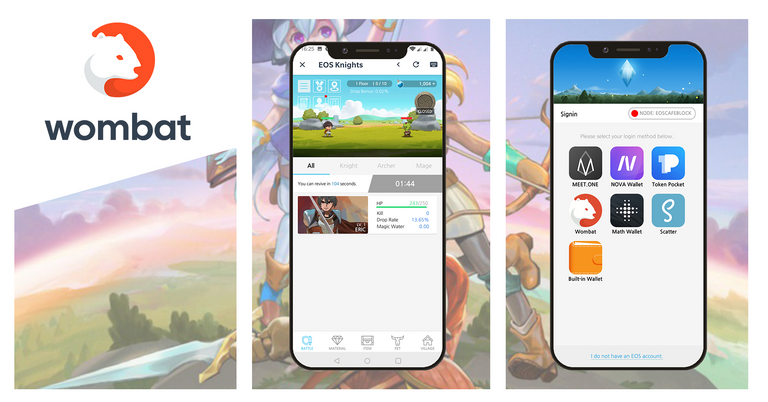 We are thrilled to announce our new partnership with EOS Knights! EOS Knights is a RPG mobile game and with more than 20.000 users the most successful game on the EOS blockchain. Gamers who want to play EOS Knights for the first time can now easily open up an EOS account with Wombat for free and within seconds. Users can either play the EOS Knights web-version in Wombat directly or just use Wombat to sign transactions in the EOS Knights App (as shown in screenshot).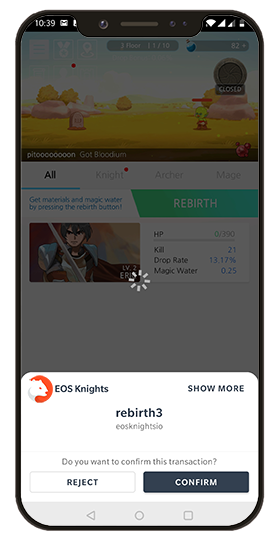 Alexander Gutjahr, CTO of Wombat, says: "It is great to see how entry barriers of the EOS eco-system get reduced by combining high-quality games like EOS Knights and state-of-the-art dApp browsers like Wombat. We are very grateful to the EOS Knights team who did a great job to integrate Wombat into their game. Now it is possible to easily play EOS Knights without any prior blockchain knowledge and especially without the burden of taking care of CPU, NET and RAM. This helps blockchain adoption in general and EOS adoption in particular."
To kickstart the new partnership there will be a sponsored EK Cup tournament starting soon with a total reward of 200 EOS. Every player can participate and will start with the same prerequisites. So even if players just started to play EOS Knights they have the same chance to win the EK Cup as more experienced players with high-level knights. To get your first knights and your first EOS account you can download the Wombat app for free in the Google Play Store (iOS version will follow soon). To get a quick overview of the game and some recommendations on how to get started we recommend the beginner's guide on Steemit. It might be a little outdated but it is still the best beginners guide out there. Enjoy!
---
Stay tuned for the upcoming partnership announcements and sign up for our newsletter, follow us on Twitter or join the discussion on Telegram. We've got you covered!