This posts aims to explain MoneyMatchGaming's(MMG) Lino Points(LP) Reward System and our new LP Bounties in a format that competitors and potential sponsors can review at their disposal.
In 2019 MMG has begun to utilize Lino points(LP) to fund and reward an ecosystem of competitive online gamers. The Lino point, or LP as we call it at MMG, is gamified and used for: entry/payment, donations, rewards/prizes, and gifts/giveaways.
MMG Discord - https://discord.gg/7annda8
MMG Website - https://moneymatchgaming.com
MMG Dlive.tv- https://dlive.tv/moneymatchgaming
MMG LP Rewards System & LP Bounties
---
Content
I. What is LP? (Why should you bother?)
II. What is Dlive.tv? (Why not Twitch?)
III. How can You earn LP
IV. What are LP Bounties?
V. Claiming Prizes with LP
VI. How do I Donate LP?
VII. How Can I see My LP?
VIII. What's A Lino Account?
IX. How do I transfer LP to another account
X. What do I need to create an account
XI. How Often Are Bounties Available?
---
I. What Is LP
LP Stands for Lino Points, a token awarded to content creators and viewers on Dlive.tv, which runs on the Lino Blockchain (currently in testnet).
Each Lino Point is worth approximately 1.2 cents USD. To convert your LP to USD (cash), users of Dlive.tv may obtain 2000 total LP or more and then visit the "Get Paid" tab at the top of their Lino Account, once logged in. To find your Lino Account, click your Avatar icon in the top right corner of the browser (only available on desktop at the time of writing).
---
II. What is Dlive.tv?
Dlive.tv is a live streaming platform, much like Twitch.tv or Mixer, except it operates on a blockchain. Using blockchain technology and protocols, Dlive.tv is able to help content creators and viewers earn income from spending time and engaging on the platform.
---
III. How Can I Earn LP?
Aside from Donations and Content Bonuses(for streamers), both streamers and viewers have the ability to unlock treasure chests, which gift users between 1-5 Lino per chest. Up to one chest may be unlocked each minute, and the bar to unlock the chest will accelerate the more a user talks in a streams chat.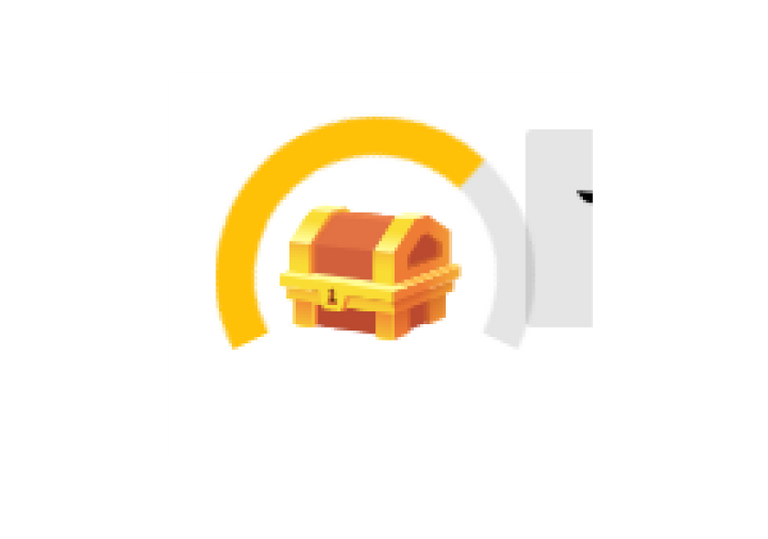 Unlike Twitch.tv or Mixer, Dlive.tv take no cut from donations gifted on the platform. Instead, the blockchain takes those (extra 9%) funds and redistributes them to a pool of people that have locked points. Anyone with a Dlive.tv or Lino Account can lock points.
For a breakdown a more detailed breakdown of donations, content bonus and locked points rewards, visit this link in the Dlive.tv blog.
---
IV. What Are LP BOUNTIES?
LP Bounties are are essentially challenges that if completed will result in a LP(lino) reward for whoever claims the bounty.
While most Bounties can be claimed at no cost to the players, such as in MMG's default 3/5/10 LP Arena, where players are rewarded LP based on their win streaks on stream, some Bounties will require that a player wishing to attempt a Bounty first make a donation to the stream, as is the case in MMG's BO3 and BO5 Bounties.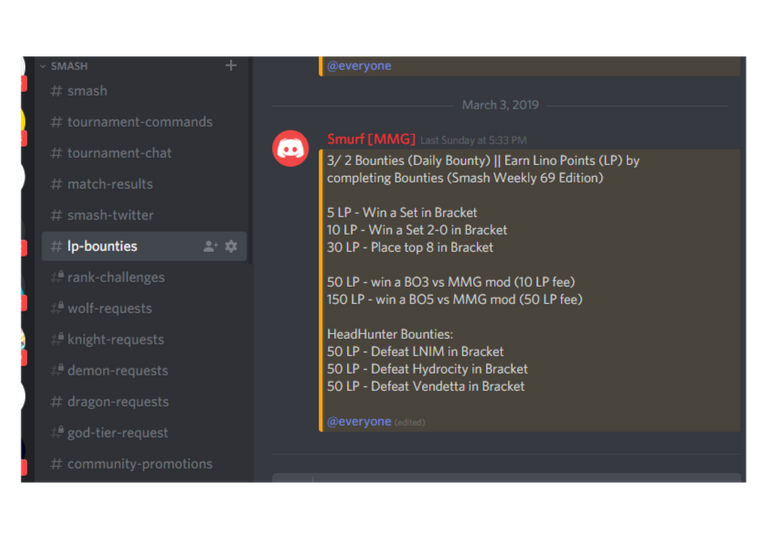 Most Bounties take place on stream(LP Arenas), with the winner being recorded for a reward by MMG admins. For Bounties that take place off stream, please submit your results to an MMG Admin in the form of video evidence(images accepted case-by-case). For Bounties in bracket, MMG admins will simply use a player's reported results.
Example of Bounties: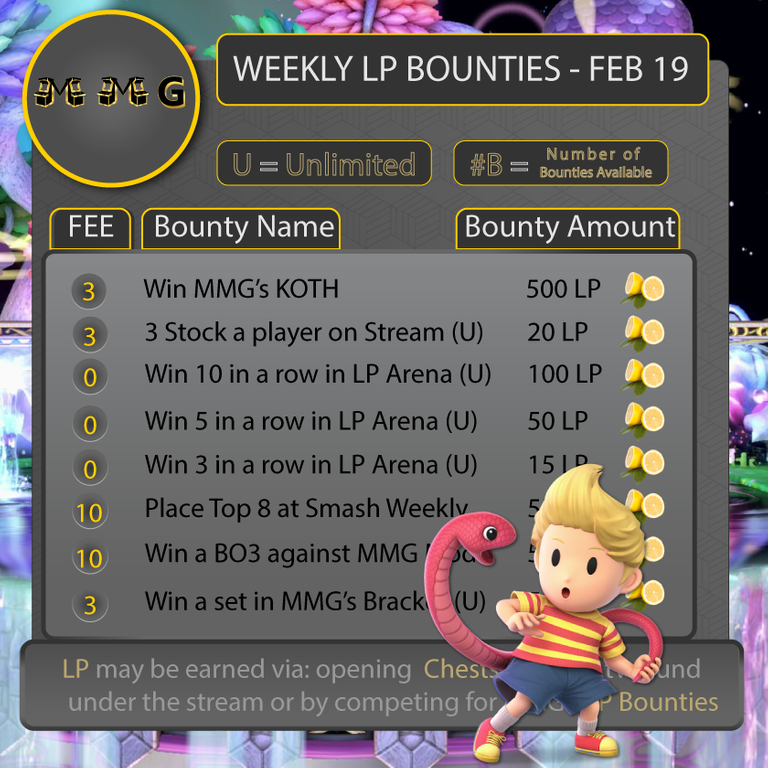 ---
V. Claiming Prizes With LP (Lino Points) - MMG's LP Rewards System
If you are a registered in MMG's Discord as an LP Brawler (min. Tier requirement) and also Follow MoneyMatchGaming on Dlive.tv at Dlive.tv/moneymatchgaming, you are Eligible for MMG's LP Rewards System.
MMG's LP Rewards System allows for registered players to submit LP to MMG via donation (during live stream), or transfer(off stream using your Lino Account). Players may submit the following amounts to claim a Prize:
500 LP Bronze Tier Prizes
$5 USD via paypal, $5 Amazon Gift Card, $5 eShop Gift Card
1000 LP Silver Tier Prizes
$10 USD via paypal, $10 Amazon Gift Card, $10 eShop Gift Card
2000 LP Gold Tier Prizes:
$20 USD via paypal, $20 Amazon Gift Card, $20 eShop Gift Card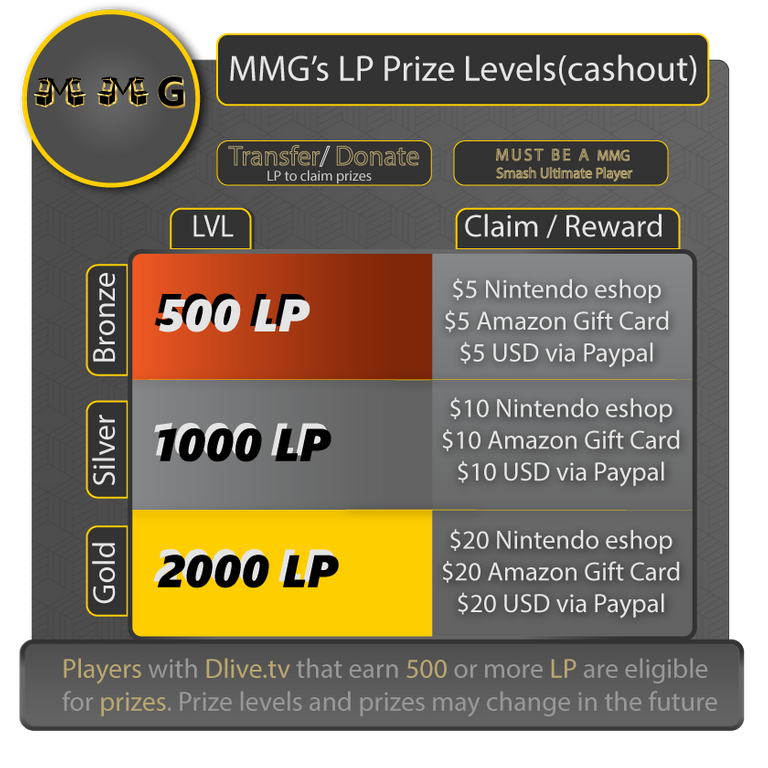 When submitting for a prize be sure to follow this steps: Get an admins attention, DM on discord with your email related to paypal or the email you'd like your gift sent to. If the stream is up also notify the the streamer in chat, letting them know you'd like to claim a prize. Continue by submitting the amount of LP related to the Prize Tier you are interested in claiming. If you are submitting for a prize via Lino Account transfer, we ask that you also DM an admin via Discord, as well as specify the Prize Tier and Prize in the memo field of the transfer.
---
VI. How Do I Donate LP?
To donate LP (Lino) to MoneyMatchGaming or any other stream on Dlive.tv (once you've earned some via Chests, Streaming, or bought some using Paypal) locate these graphic beneath the live stream, which represent a specific amount of Lino(LP): Lemon(1 LP), Ice Cream(10 LP), Diamond(100 LP), and Ninjaghini(1000 LP). Click on a graphic to make a donation of of the designated amount.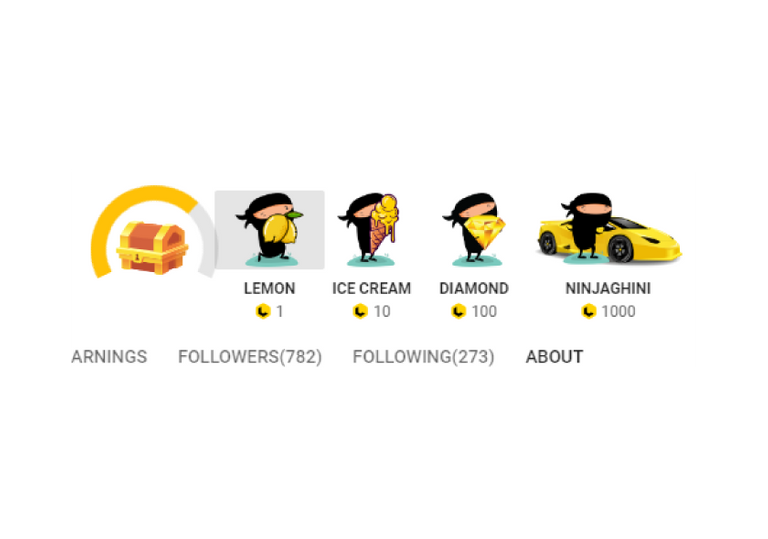 If you are using the mobile app, you'll find the graphic or similar by tapping on the giftbox(near the chat) when viewing a stream.
---
VII. How Can I See My LP?
There are multiple ways to view your Lino points(LP).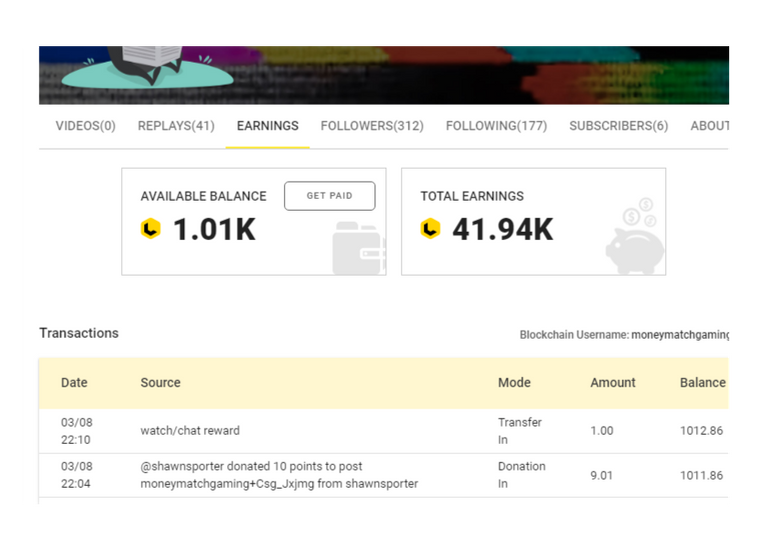 First we will cover Desktop access: to view how much LP you have on Desktop, go to you personal channel, where you would host viewers if you were streaming, underneath the stream click the 'Earning' tab. The second way on Desktop, is to click your Avatar icon in the top right corner, which will activate a dropdown menu. Click on 'Lino Account' in the dropdown menu. You'll be prompted to login to your Lino Account (using the same info you use to login to DLive). Once you've logged in you'll be able to see your total of Lino, as well as your accounts transaction history and other cool tabs which I encourage you to check out.
For those wishing to see how much LP (lino) they have while using the Dlive.tv mobile app, click 'Get Lino' on your profile, or visit a stream and click the giftbox in the bottom right corner (next to chat).
---
VIII. What's A Lino Account?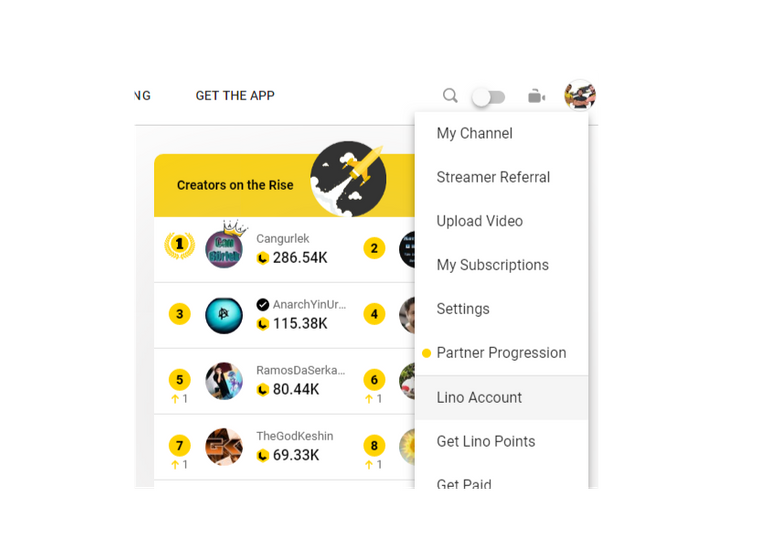 Your Lino Account is your official Account on the Lino Blockchain. Think of this as your digital wallet, and one of the main differences from platforms like Twitch.tv. This is where MMG will be sending your rewards for things like placing at events or claiming LP Bounties. This is where all of the donations and rewards you gather are stored.
You can login to your Lino Account to: claim daily rewards (for streamers and those with locked points), lock points, get paid, view your account history/earnings, and manage important information. It goes without say that you should be very careful with your Dlive.tv and Lino Account info, as losing it can result in losing your earnings.
---
IX. How Do I Transfer Lino(LP) To Another User?
It's your lucky day, I've made a video covering this topic that's only 2 minutes long, view it here.
To transfer Lino to another account, first login to your lino account. Once logged in you'll automatically start in the 'Transfer' tab, this is where you want to be. Enter the 'Blockchain Name' of the user you'd like to send LP to, this may differ from their display name. To see someone's Blockchain Name, visit their channel on Desktop and hit the earnings tab. After you've entered the users Blockchain Name in the 'Recipient' field, enter the amount you'd like to transfer in the 'Amount' field, and leave a memo with any info you'd like to relay about the transfer in the 'memo' field(optional). Hit send and you're all set. Let the page refresh to see the update on your account.
---
X. What Do I Need To Create An Account?
You'll need an email address and a phone number to create an account. If you don't have a physical phone, I'd suggest creating a 'google voice' number for free, using google.
After you've created your account, be sure to follow MoneyMatchGaming. Not only does this ensure that we can find your account to reward you, and is a requirement for rewards, but it also helps MMG grow on Dlive.tv so that we can earn more, which we then give back to the community.
---
XI. How Often Are Bounties Available?
Bounties are available during All MMG Smash Ultimate events and Arenas. Specific Bounties are also available unrelated to MMG live streams or MMG in general.
---
---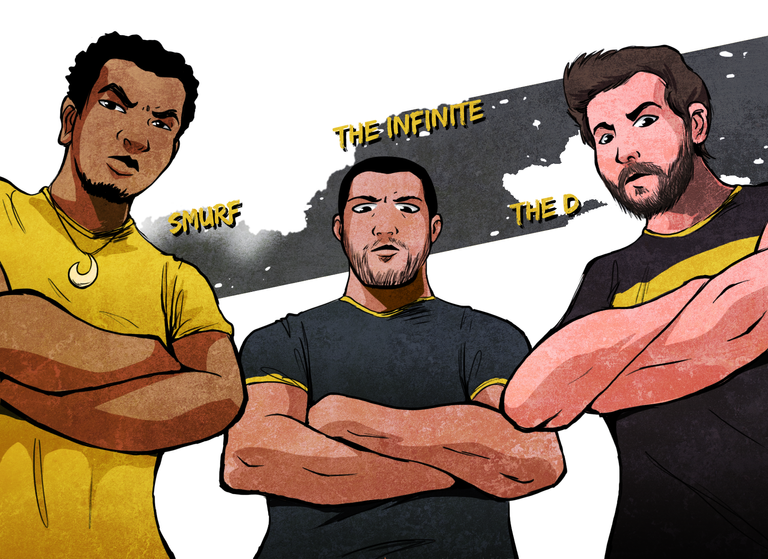 If you're interested in MoneyMatchGaming events, or maybe you're interested in sponsoring, stop by our Discord server or any of our social media and we'd be glad to here from you. :)
Donate SP to Support our Blockchain funded Esports Events
---
5 SP
---
10 SP
---
25 SP
---
50 SP
---
100 SP
---
250 SP
---
500SP
---
1000 SP
---
1500 SP
---
2000 SP
---
2500 SP
---
5000 SP