MMG Tournaments will be moving to a bi-weekly status, for Smash Weekly. With so many Smash orgs moving online, we feel our tourneys have remained competitive(AF), however the prize pools have remained at $35, which has become too low at our size(social reach). We feel like the current "meta" of the scene is bigger prize pools or you can't break 100 attendees, and so -- this is a new era for MMG events.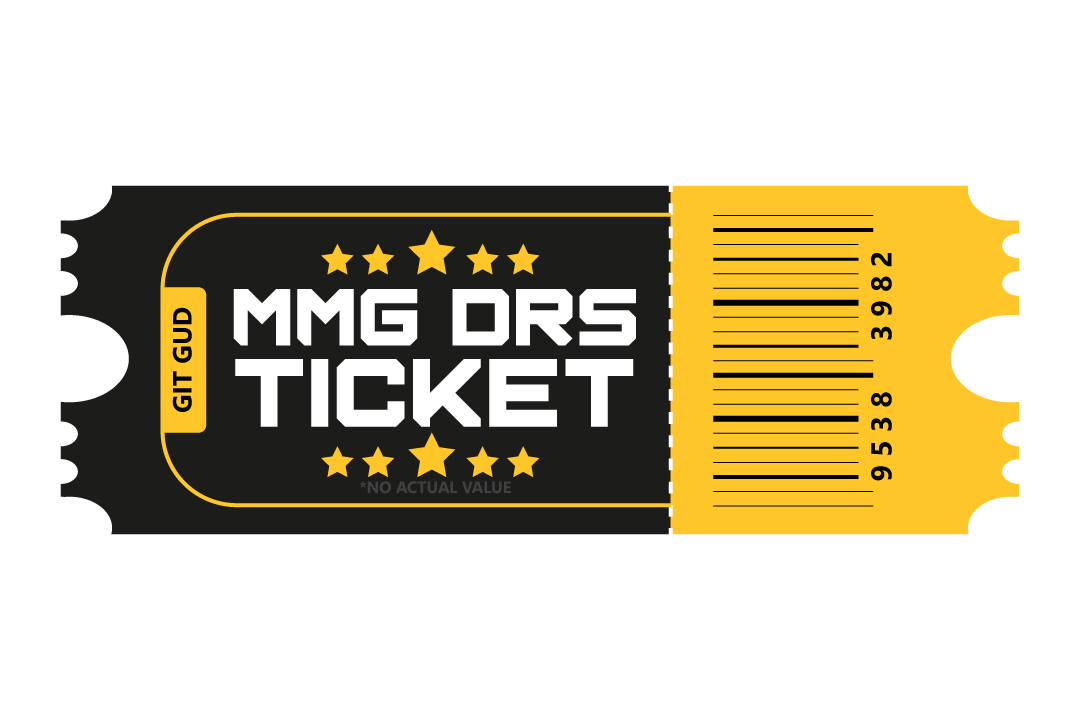 Fear not, your bois are prepared to knock your socks off!
Bi-Weekly $100-$1000 SSBU Prize Pools
Bi-Weekly Smash Weeklies will have a $100-$1000 Prize Pool and be Sub($) / Ticket entry only. Unlike many others, we plan to take the earnings of the tournament and split it into 3 pools: paying players (before anything else), hold for next tourney(should there be excess), and investing in MMG's future. The total prize Pool for these Bi-Weekly events will grose no more than $1000 paid to players for SSBU.Furthermore, no funds collected will be used on anything other than the Prize Pool until it reaches its $1000 max.
Tournament Entry Fee = $3.50, Sub or 350 Tickets (250 Ticket Early bird special!) Subbing on Dlive = 850 Ticket Bounty Subbing on Twitch = 500 Ticket Bounty (You must be registered in our rewards system to claim tickets)
Payouts:
Payouts will be made to the top 8 players, with all registered in "Adventurer's" in #quartermaster channel, eligible for per round bounties.
Payouts above the $100 prize pool (from subs/ entry fees) will be rewarded initially as tickets and paid out within 1 month of the event (goal being 7 days).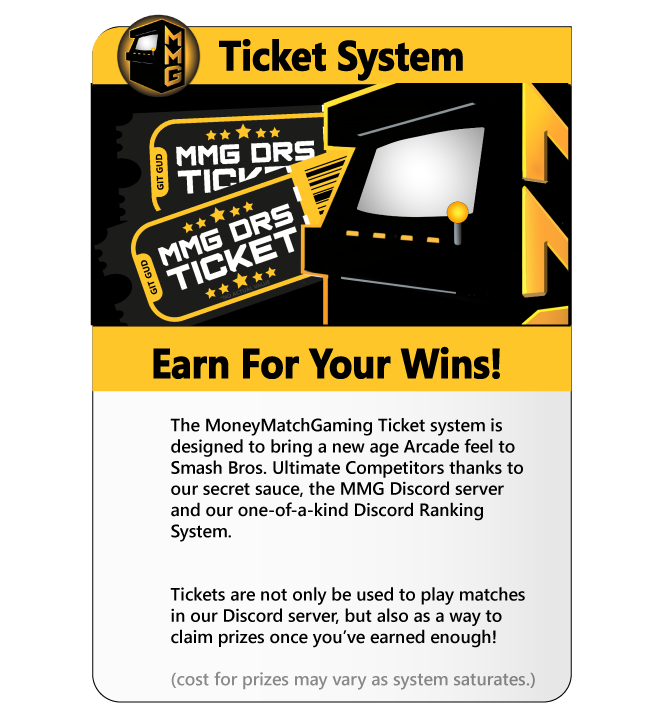 Player with Tickets
For players with Tickets, Ticket entries that are not associated with a Sub to MMG on Dlive or Twitch will not add to the prize pools total.
If you don't have tickets or have never heard of such things, "Tickets" are points in MMG's Matchmaking & Rewards system. Tickets are basically our way of tracking community engagement. You won't have any if you never play or engage, and if you have enough you can claim a prize. This is the MMG Arcade Model.
You can earn Tickets by competing in matchmaking(24/7 run by bot in discord), competing in live stream arenas (on win streaks), playing in our tournaments (per round bounties), or by doing what we call "Quests". Quests are a way for community members to earn Tickets without playing in a match. Essentially, Quests are "social engagement" bounties, here at MMG.
(Any way that you can earn Tickets can also be referred to as a "Bounty".)
Tier Based Tournaments - Coming Soon
Okay, so now that we've cleared the air on us moving to Bi-Weekly tourneys, we have one more BIG announcement to make. TIER BASED TOURNAMENTS!!!!! Yep, this one has been in the works for about 2 years now, but with our bot moving into it's Smashgg integration phase, we feel it's time to start these Tier(skill/ ranking levels in discord) based tournaments. Much like earning bounties, each tier will offer a higher prize pool for winning it's tournament, and you may only participate in tier's you have earned access to.
I kind of want to just leave it at that. More information on Tier based tourneys will be rolling out over the next week, so stay tuned.
If you have questions, don't hesitate to write us a comment or ping/dm an admin in Discord.
(If you're registering for the rewards system admins can speed up this process, just ping)
Git Gud