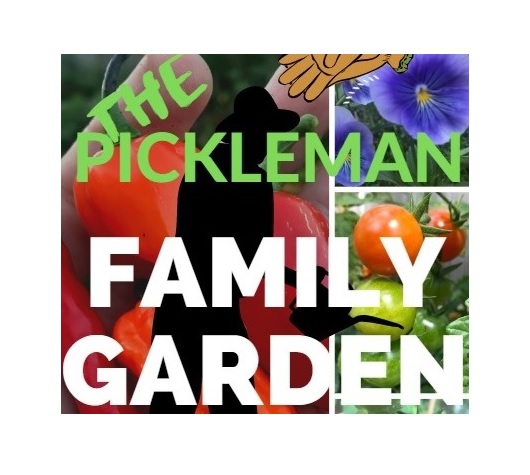 A few years ago, I began reclaiming lawn space, building raised boxes, and blogging about my adventures in gardening. I think this is year 6 of the ever-growing garden that officially launches late May every year. The community that
@GardenHive
has become is for us green thumbs and I think you should check out the intro post here
https://hive.blog/hive-140635/@gardenhive/the-garden-selfie-collection-happy-christmas-to-all-the-amazing-hive-gardeners
if you haven't yet. My friends
@sanjeevm
@thebigsweed
@farm-mom
and
@plantstoplanks
are among many in the thriving community and showcasing how they get their gardens to thrive.
This week, it has been 3 weeks of hot and vacation since the last update, and things are getting eaten!


How We Doin'?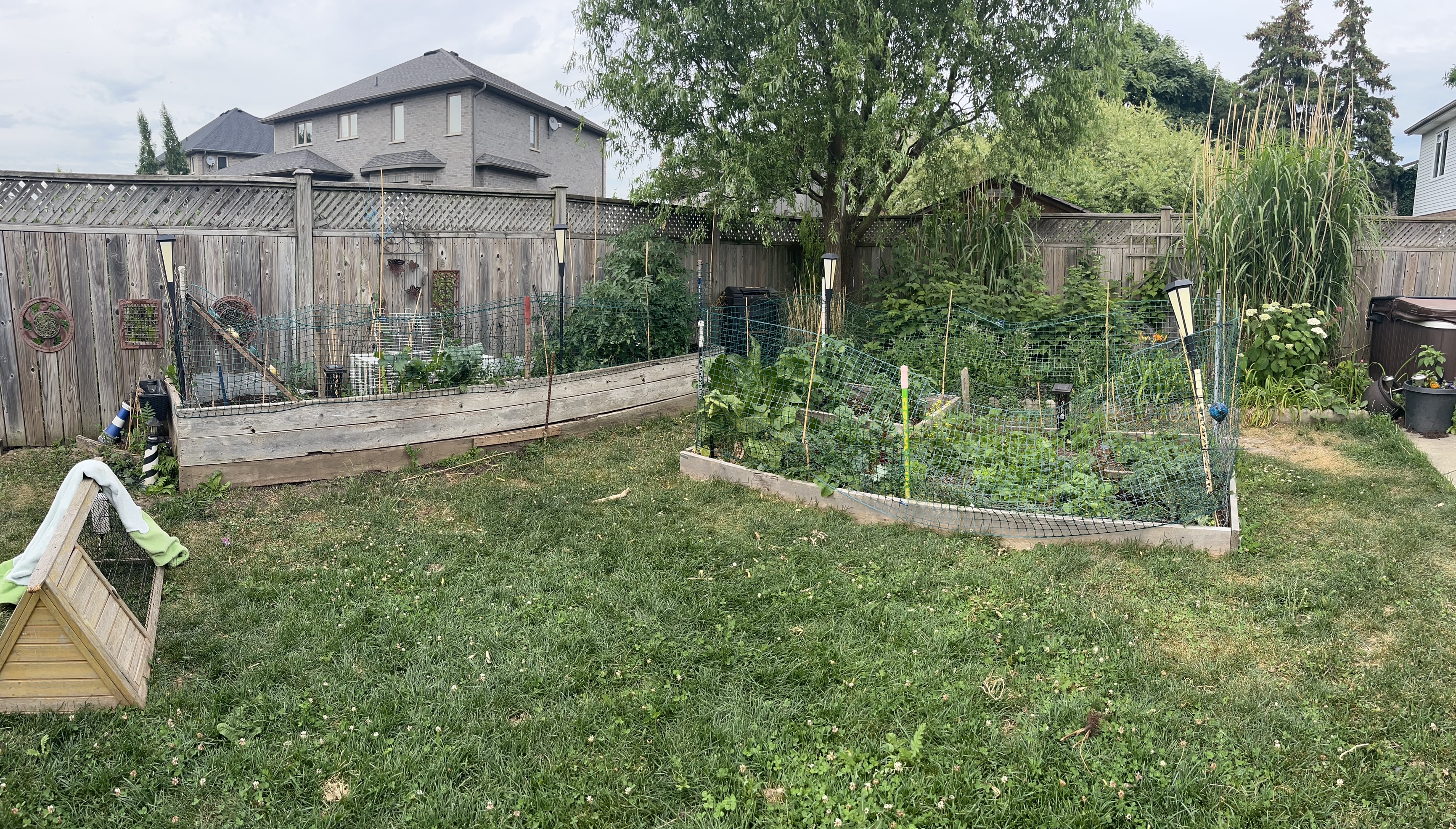 Here is how we were 3 weeks ago. Growing nicely, freshly weeded and recovering from a dry couple weeks.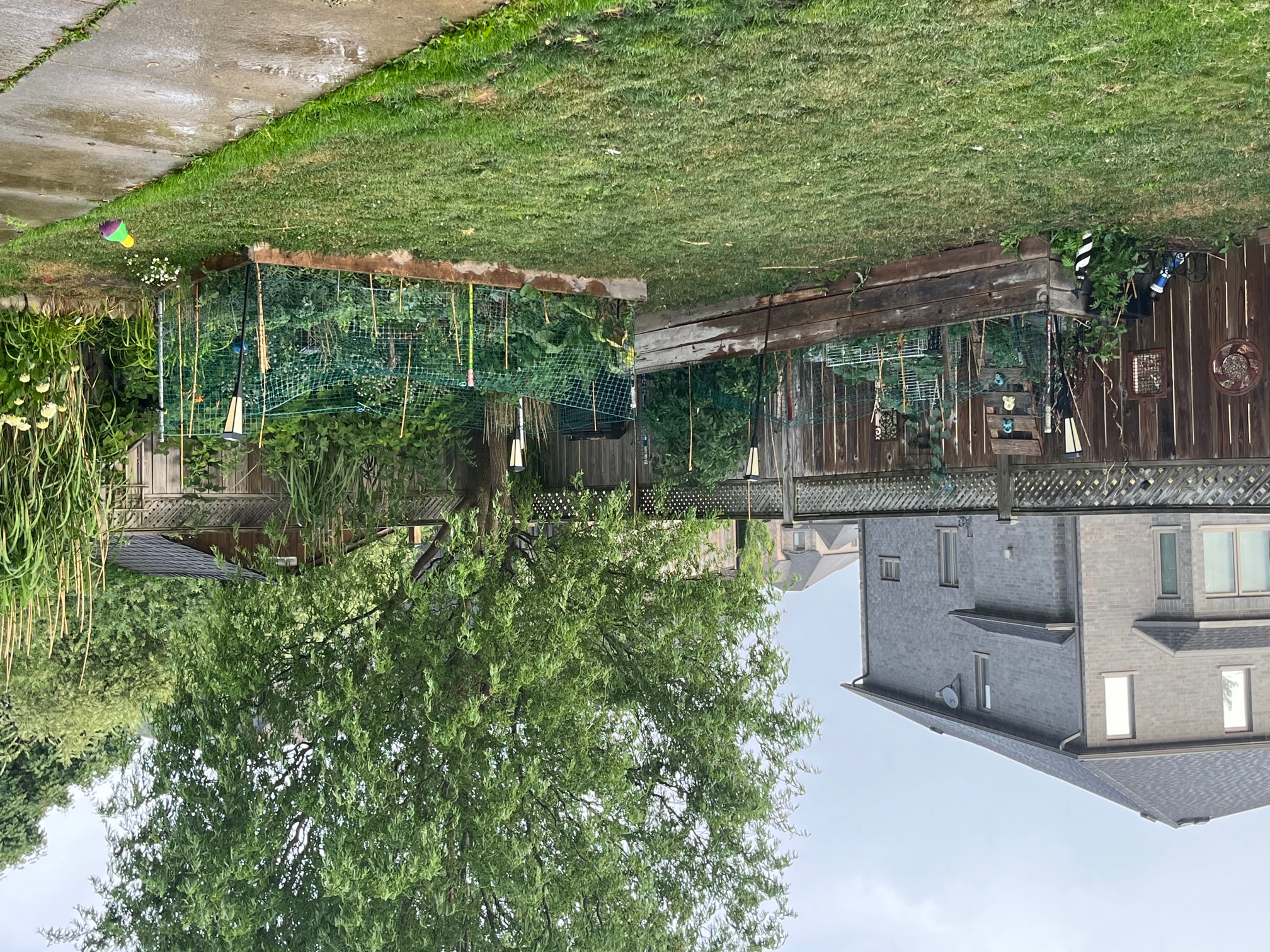 Here we are after a fresh rain and a full rain barrel to carry the garden through the dry days.

Mint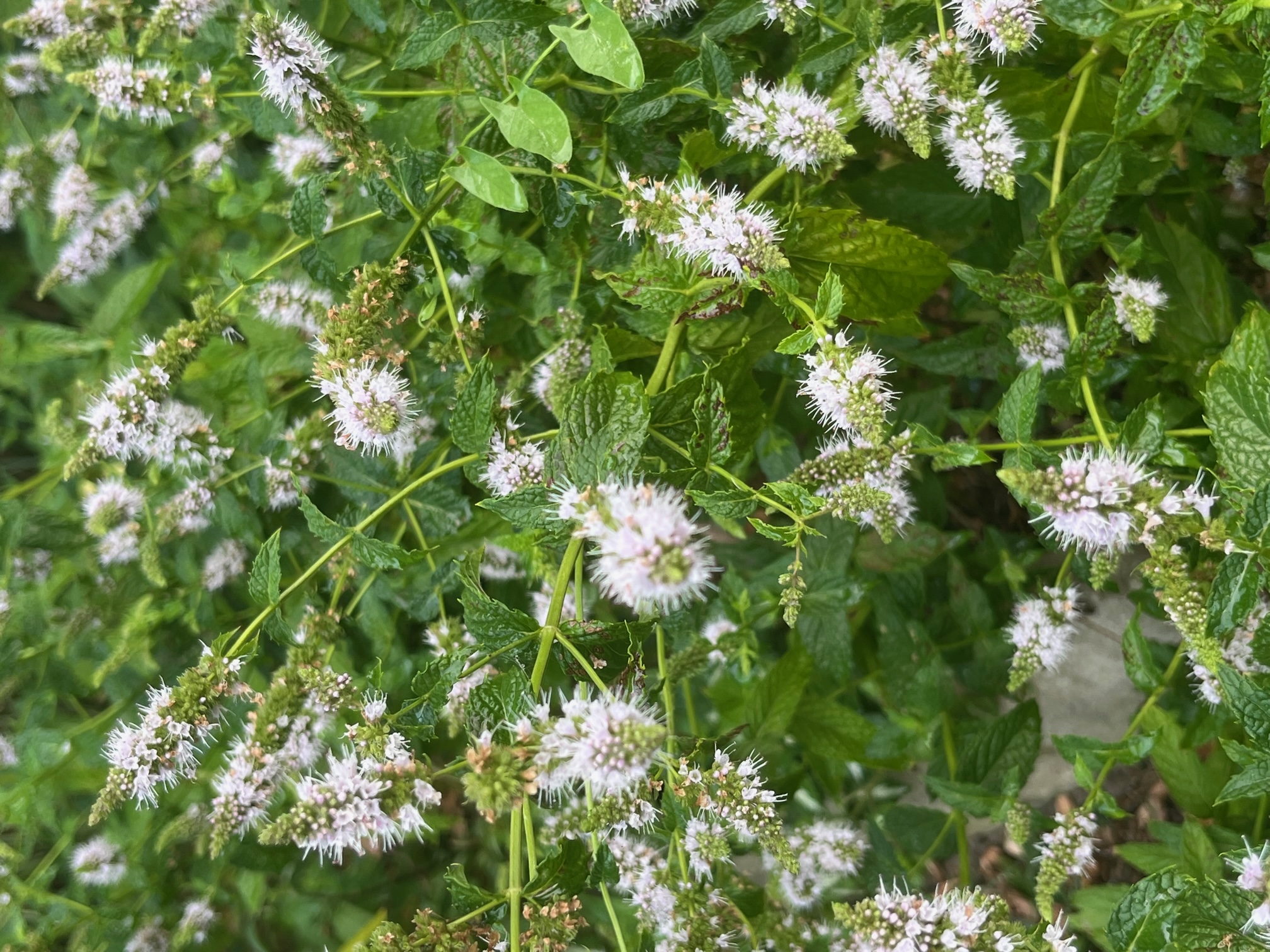 I have chocolate mint, spearmint, and this peppermint which has flowered and gone to seed a little early this year. The dog runs through it constantly and makes the backyard smell like toothpaste. Very good in soda water and tea as well!

Potted Peppers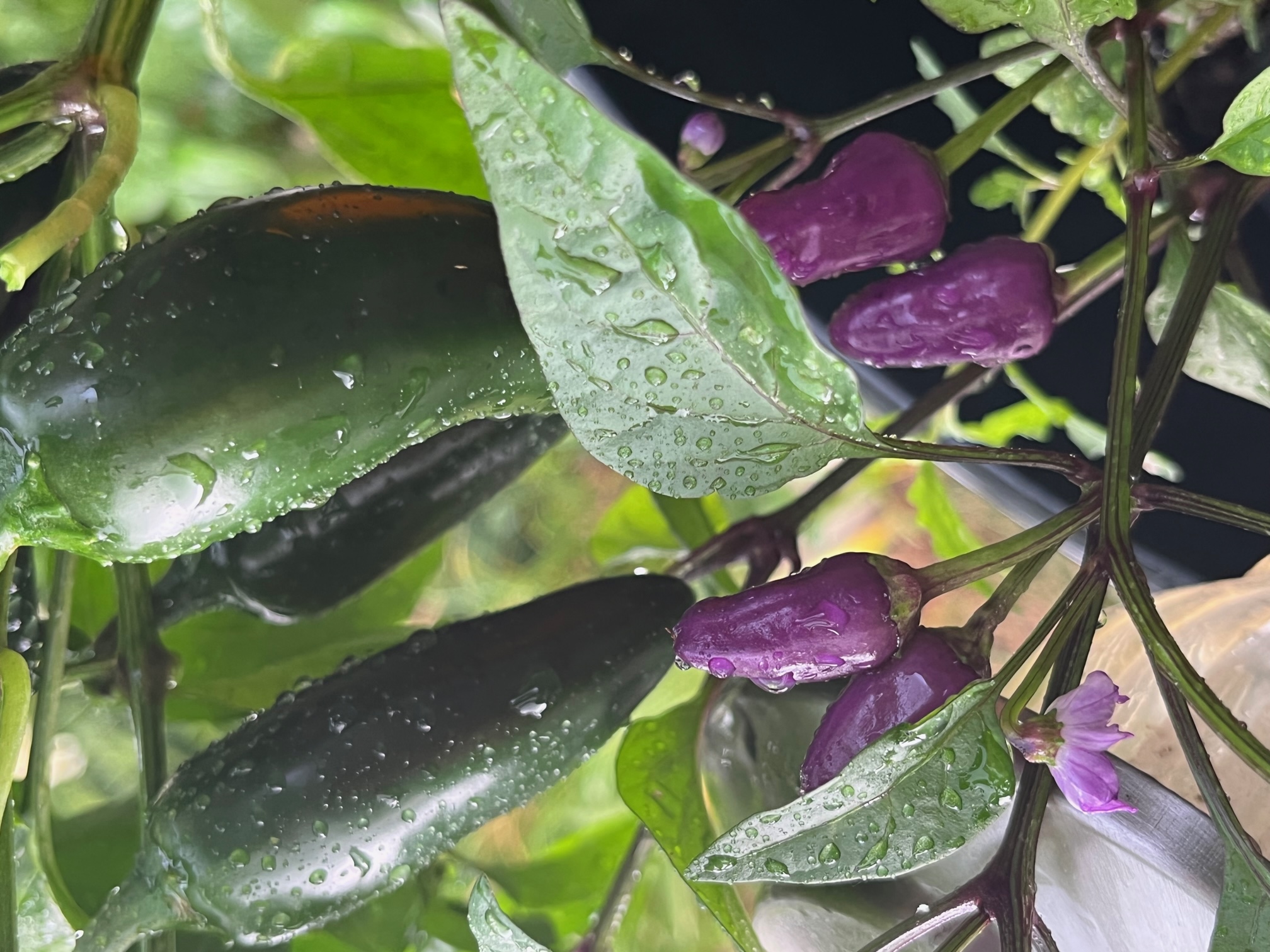 I have a whole raised garden box dedicated to peppers. Everything from sweet to maliciously hot. These are jalapenos snuggled up against a Chinese hot pepper plant that happens to be kicking up some neat purple peppers!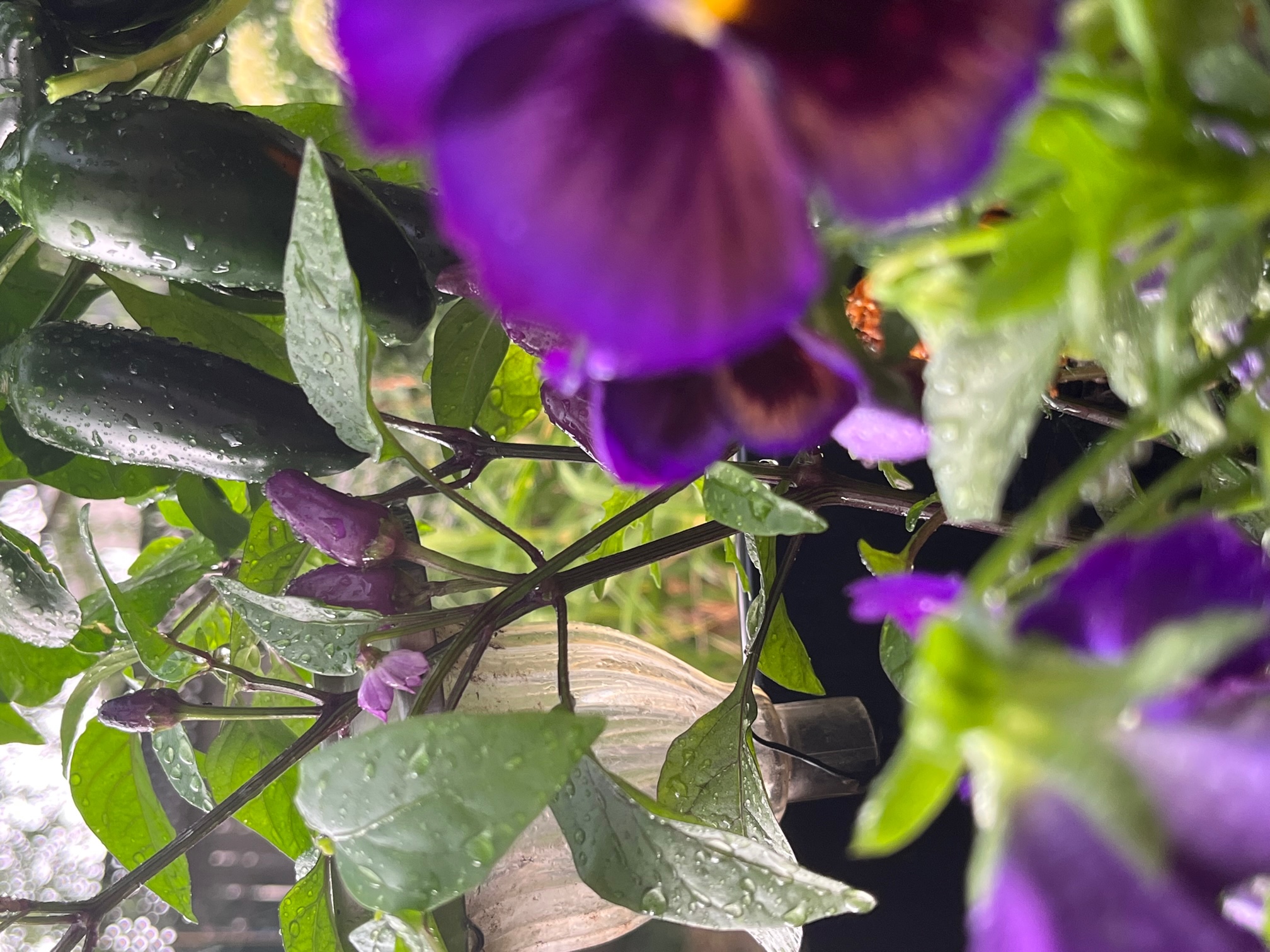 They are a little too small to have harvested or tasted any of them yet but they sure go nicely with the purple panzies in the same pot!

Pepper Box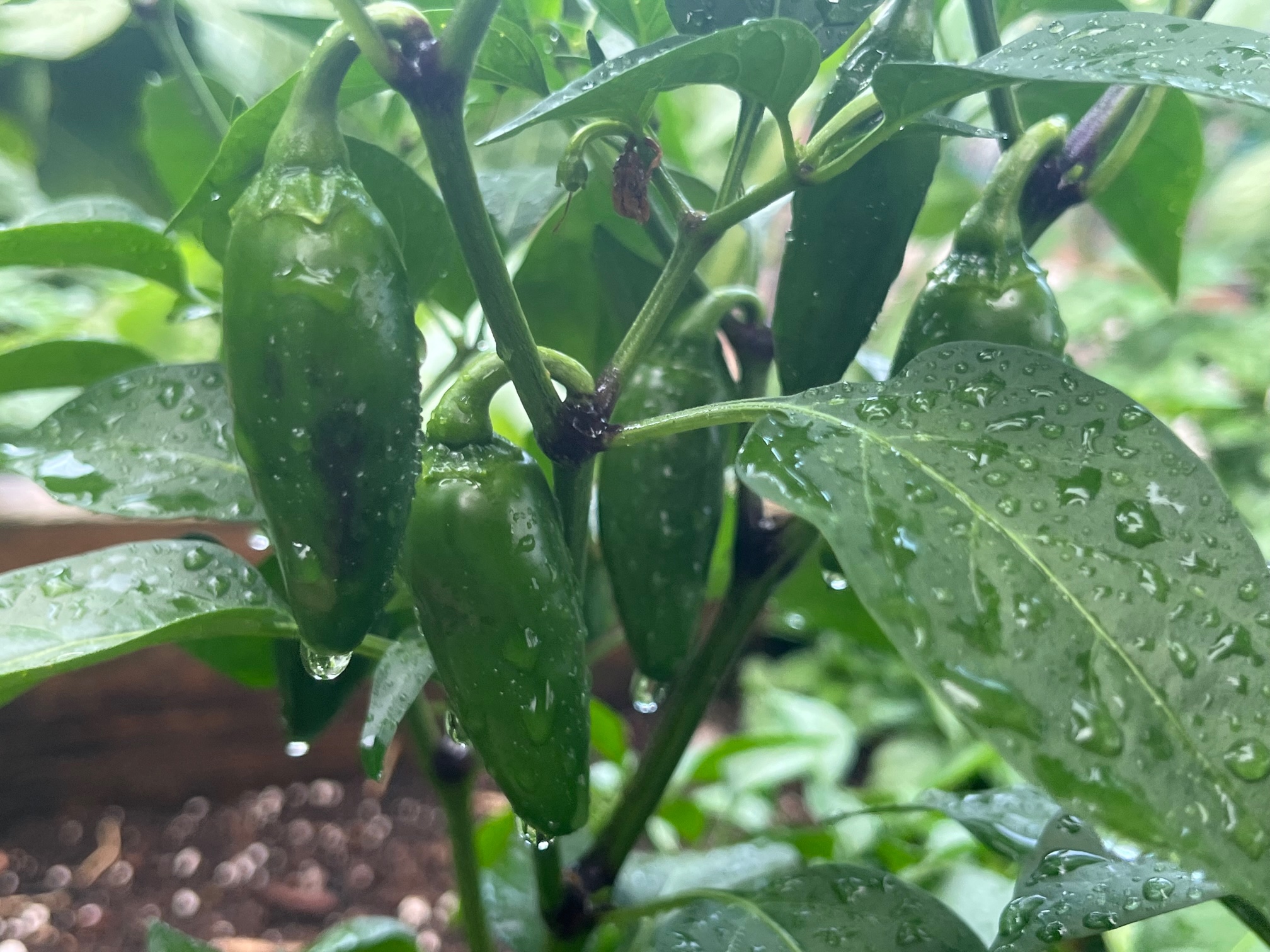 Speaking of the pepper box, there are a couple jalapeno plants that are about to start dropping yummy hot peppers. I also have ghost peppers, carolina reapers, some habaneros and a distinct lack of chili peppers this year for some reason I cannot recall.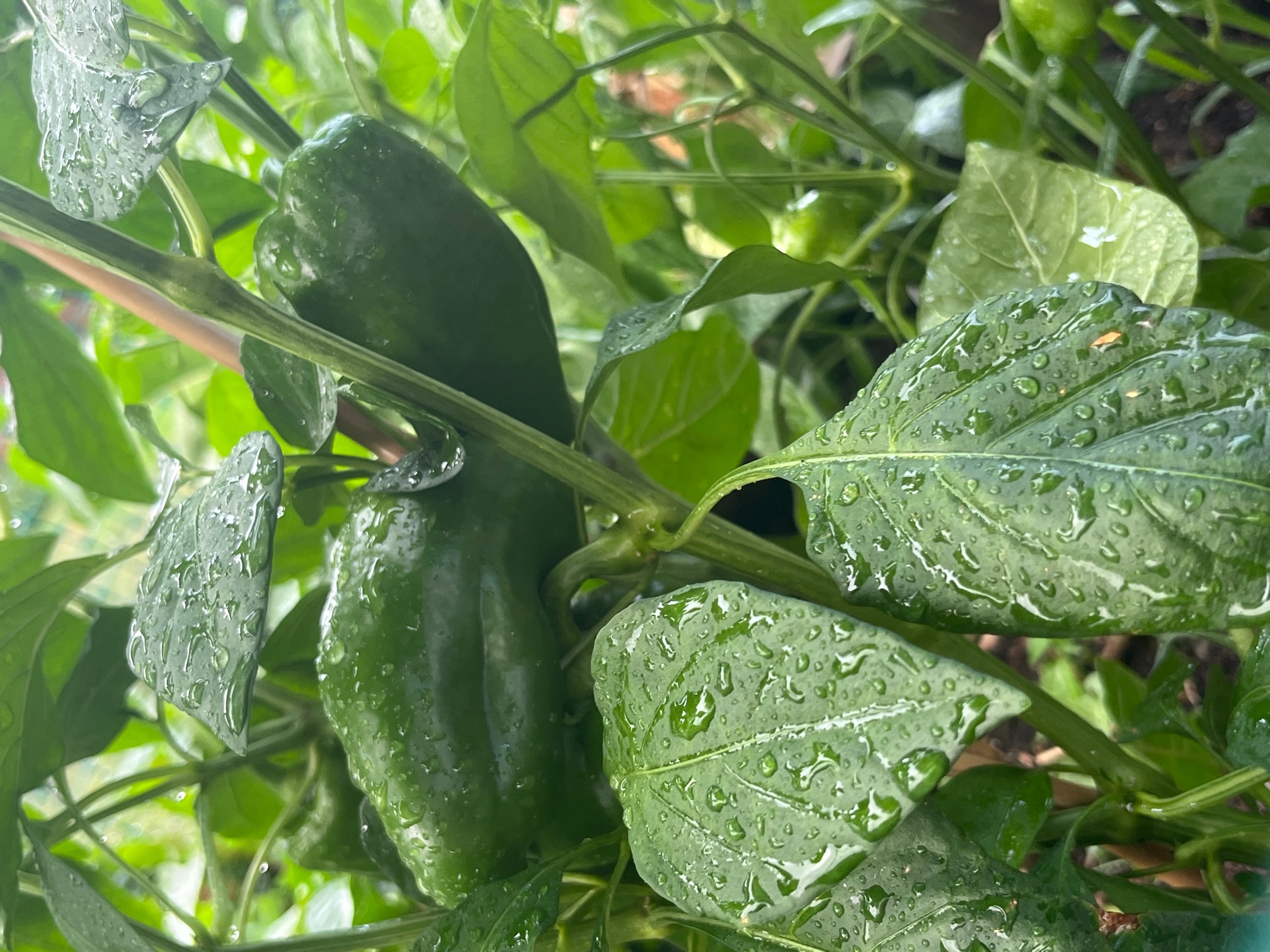 I also surprised myself by forgetting I planted sweet green peppers in the box with the hot ones. I was hoping my bumper crops of hot ones would translate to sweet ones, and magically some of the spice would make it into the green ones. Maybe a week away from the first sweet green pepper.

Tomatoes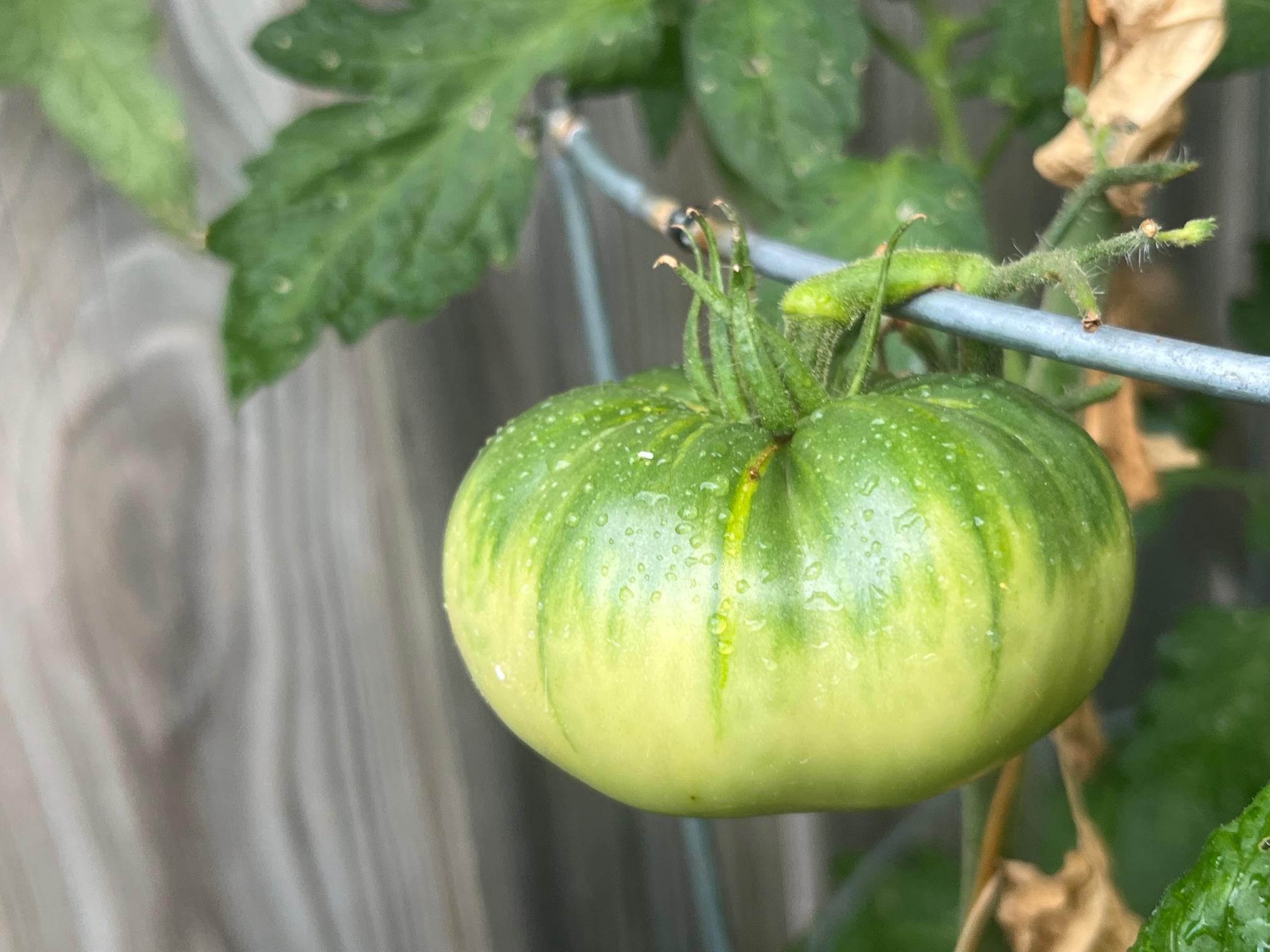 Because of the untimely early season rainless period falling on my 10-day vacation, the tomatoes are a bit of a challenge so far this year. There are a few beefsteak and early girls growing but I haven't had a red one yet.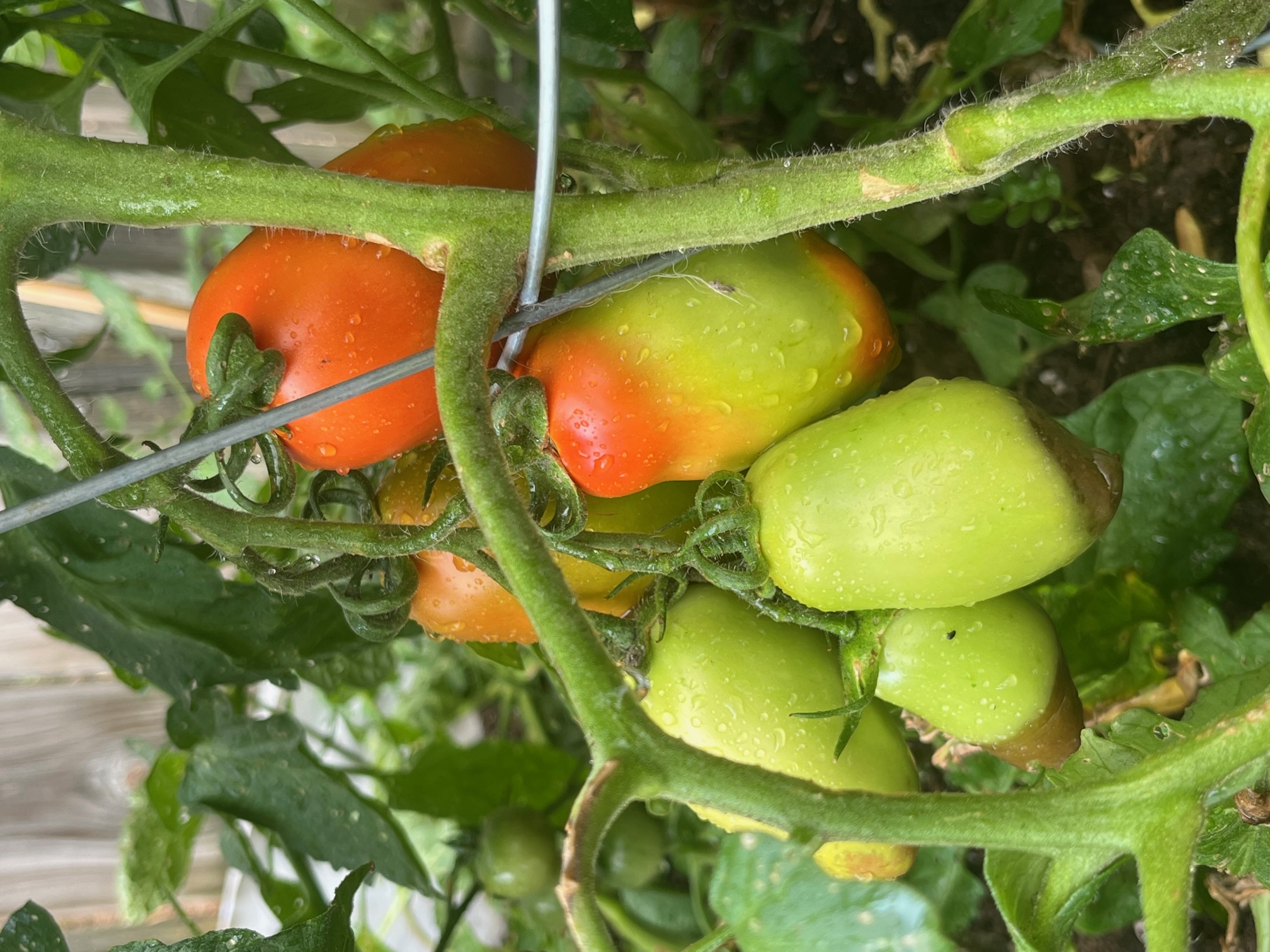 The romas are coming along nicely and we have had a few red ones for sauces which is nice. The bottoms of many of them seem to be turning brown for some reason. Stunts the growth but I have been knocking the bottoms off and the rest seems fine. Anyone know what causes this?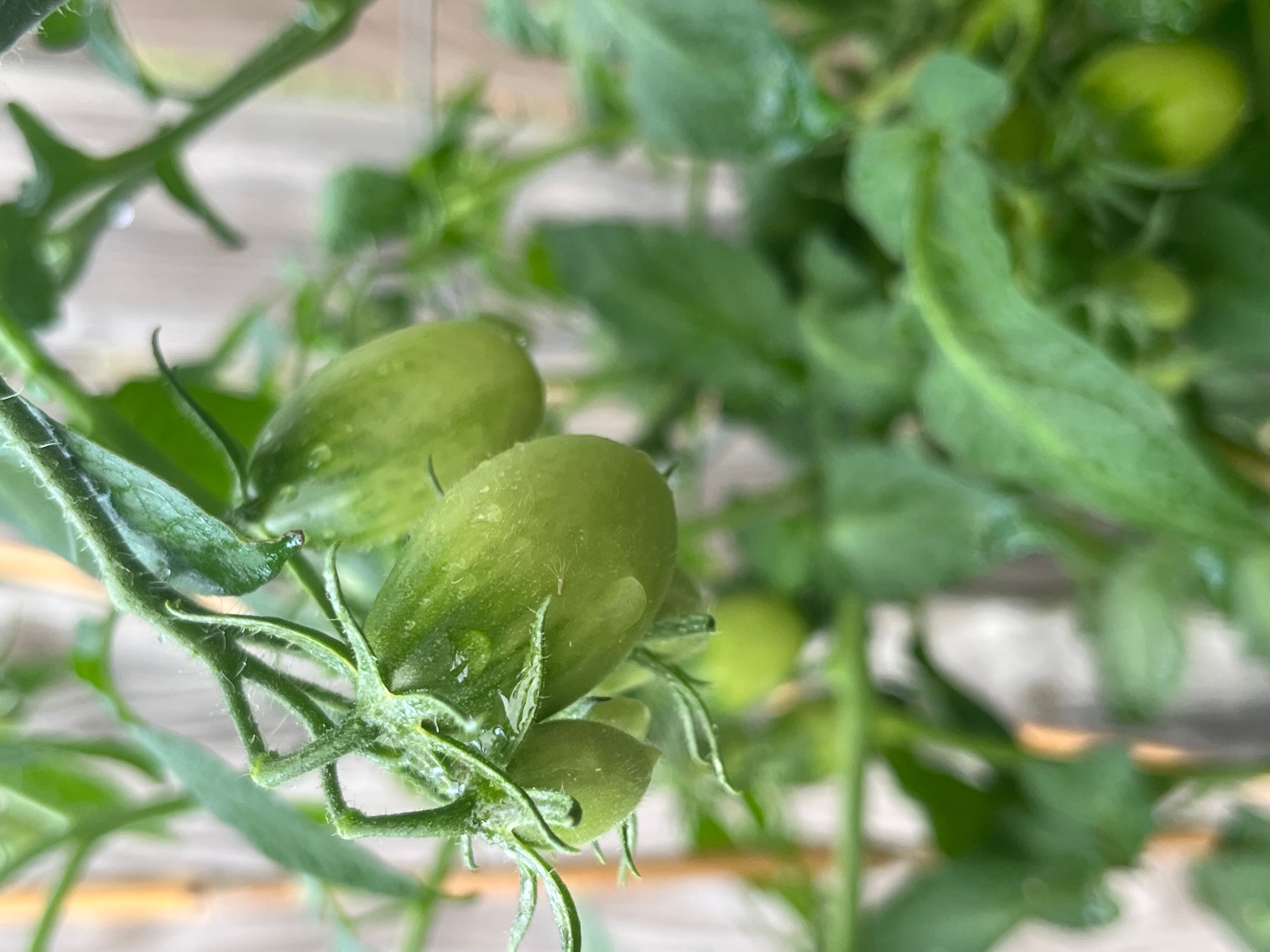 I planted a few Grape tomatoes this year and they seem to be popping out some good small ones that are as tasty but a little more elongated than the cherry tomatoes.

The zucchinis are a mystery this year. They exploded out of the gate and I had to prune the huge leaves so that they wouldn't block the sun from all of the other plants. Now, they seem to be curling in on themselves, dropping blooms but not yet producing the yellow Italian squash! I will have to keep an eye on them to see if I am just being impatient.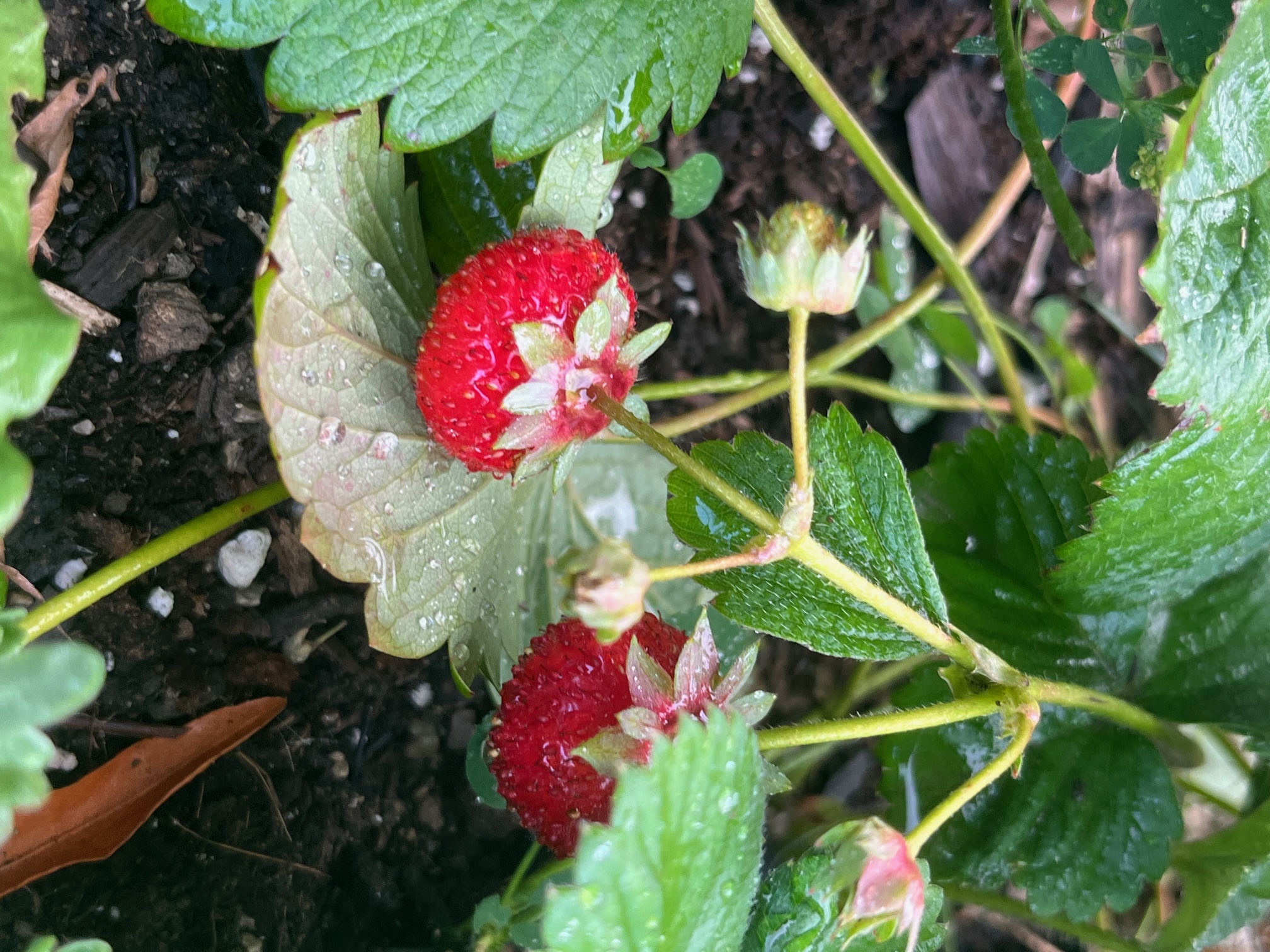 We have had a good year with berries so far. Strawberries seem to be thinning out but a second wave of smaller berries it popping. The blueberries are growing but not fruiting and I may add a bunch of new plants next year to help with cross pollination. Raspberry bushes are still expanding but finally producing many big berries. The mulberry tree in the front yard is also producing plenty so it is a good year for berries.

Pickles!?!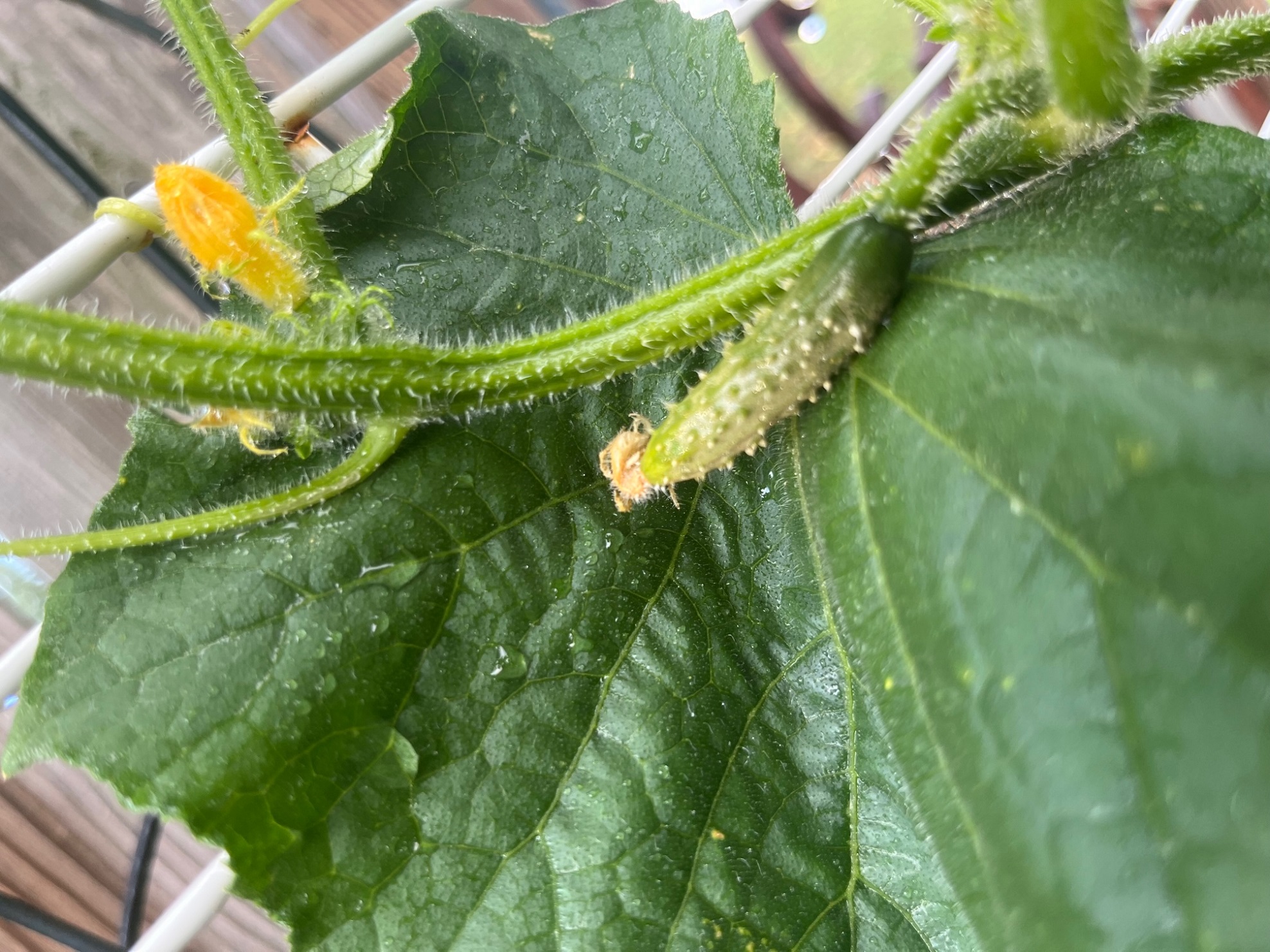 The last couple years have not been good for cucumbers or pickles for us. A few years ago we did awesome but the last 2, sprouts were eaten by birds or other critters. Not a single cucumber plant survived. This year I planted them in a repurposed guinnea pig cage to see if I could protect them long enough for the critters to eat the sprouts.
It is working! Not only did a half dozen plants make it, they are climbing all over the cage and starting to grow up the fence. I have harvested an 8-inch cucumber, have another almost ready, and am seeing all kinds of pickle cucumber sprouts!
Not only will I finally be able to live up to my namesake in the garden, I may actually get to ferment some garden pickles, and turn others into hot pepper relish which is my jam!


Besides that, I have some really neat hanging baskets planted from seed this year, plenty of herbs, a lettuce garden that looks like the amazon, and some nice herbs. I will have to get back to you weekly so I can document the progress and share the stories of learning to grow.


Mom started me along my path of growing stuff when I was a kid. Motivated by so many blockchain blogging gardeners, I figured I would plant and share and learn as I reclaim as much grass space as I can. It has turned out to be a fruitful experience and I hope to inspire others to sow and grow no matter what your location or experience level is.
Then, blog about it using #gardenhive tags as we network and curate the journals of other green thumbs, outdoor enthusiasts and fresh whole foodies.
Wherever you are...JUST GROW!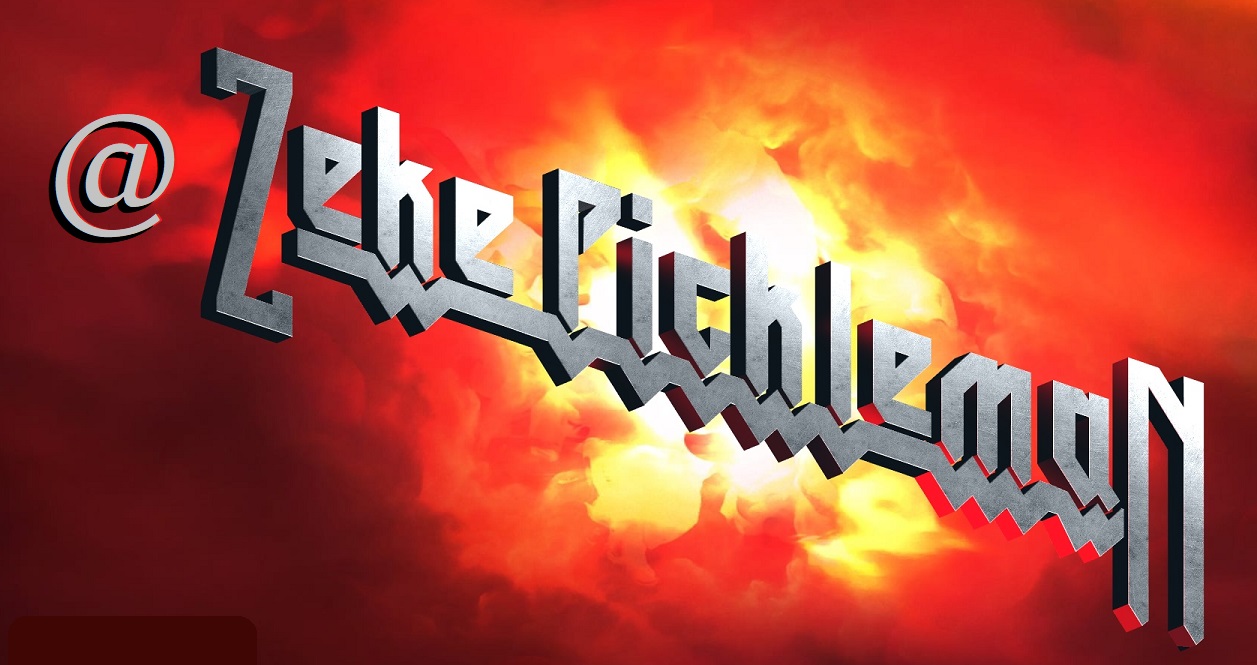 JOIN US ON DISCORD
SUBSCRIBE TO THE LIFESTYLE LOUNGE COMMUNITY HERE
JOIN US ON TWITTER

I am honoured to curate for:




Any surprise growth in your garden this year?