Hello, and welcome to da garden, eh!
Well, it seems that the end of July is upon us now, and it seems to have gone by pretty fast this year. It's been a pretty good growing season so far in this local area. We've had enough rain to keep the garden watered for the most part, but not so much as to cause problems. I haven't had any problem with keeping my rain barrels supplied with water for those times when I need it for the garden, but I haven't had to use the rain barrel water as much as in some past years when it was dry a lot.
The garden has been growing quite well this year. I haven't had too much problems with bugs yet, although I do need to spray the underside of the yellow squash leaves with neem oil to get rid of some bugs that have been starting to cause problems with the leaves.
I'm growing Bloody Butcher field corn this year. It's not a sweet corn, it's normally used for flour, but we us it to make hominy. It gets about 12 feet tall, so it's pretty impressive. I'm about 5 feet, 11 inches...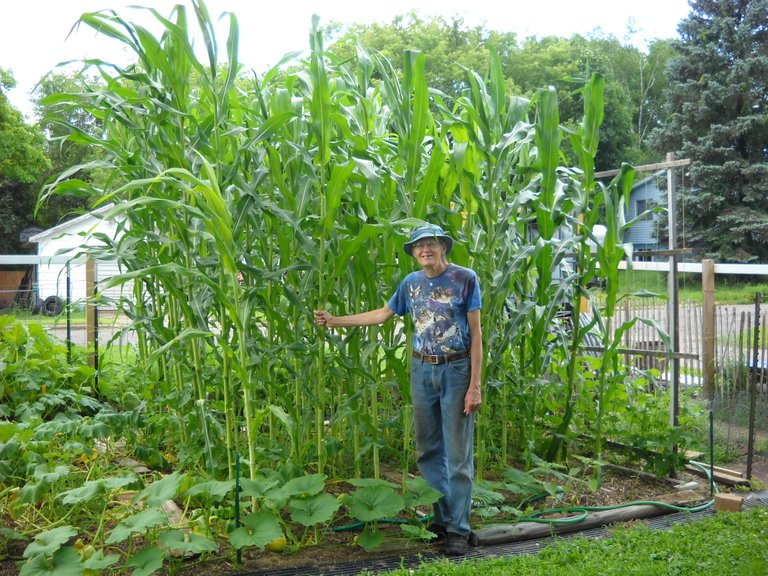 The potatoes are doing well this year. It's mid season and the plants are looking really good.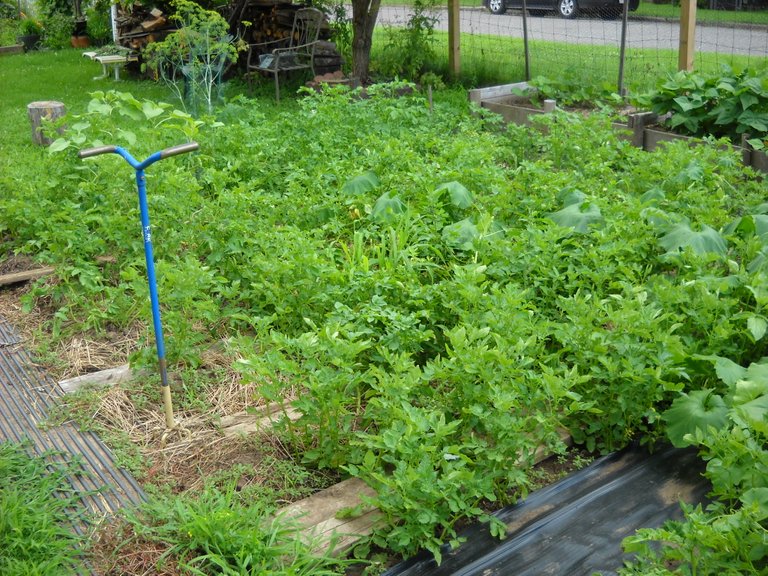 The heirloom Pottimarin squash vines are growing all over the garden, and putting on a fair amount of squash. They're a a bit odd in that they tend to wilt in the direct sun, but then perk back up in the evening.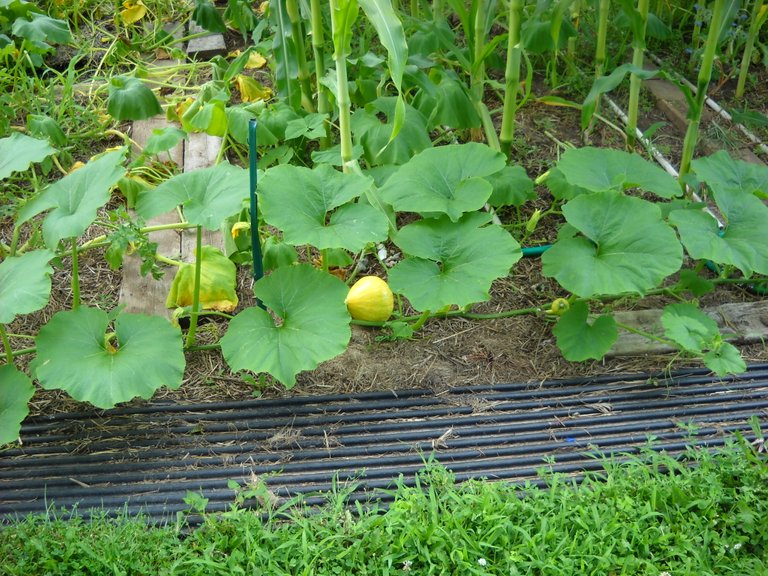 The Hidatsa dry bean plants are climbing the trellis nicely now. There's also some bean plants climbing the corn stalks, but they don't get as much sun as the plants on the trellis, so they're a bit slower.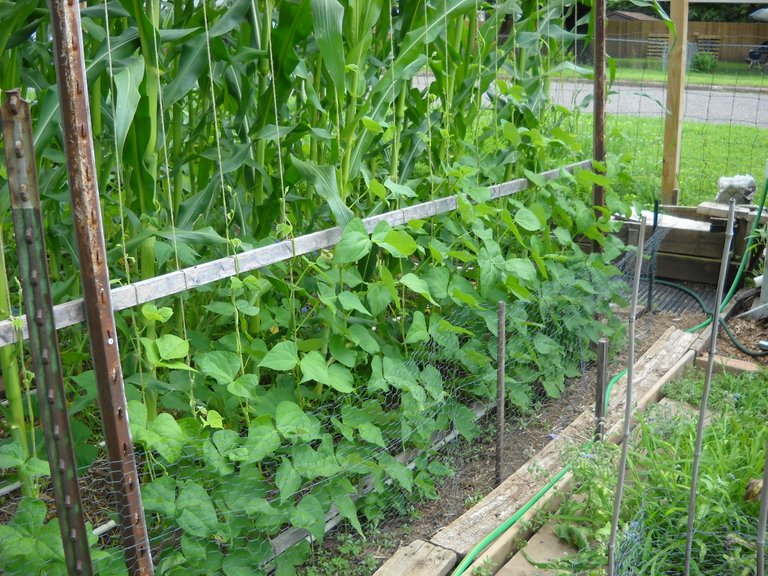 The carrots seem to be doing quite well so far. I haven't checked to see how the roots are doing, but the tops are certainly doing well.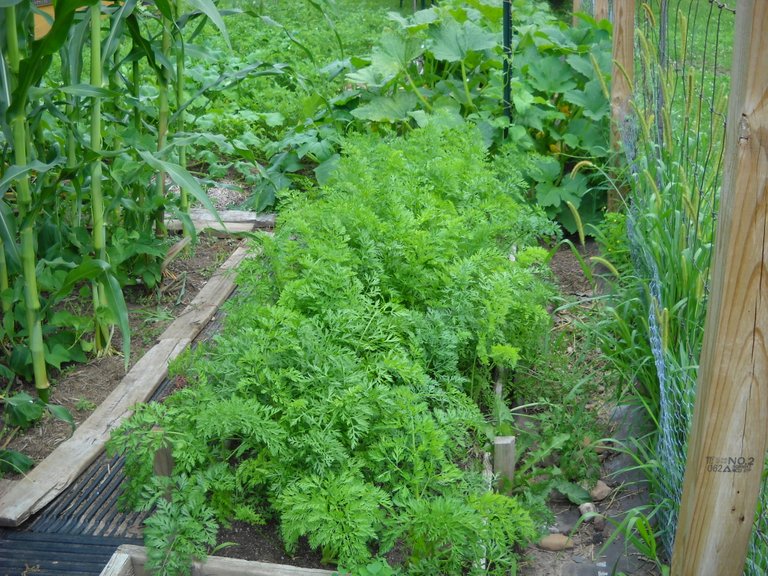 The yellow summer squash are continuing to produce squash. I'll be canning my first batch of squash soon. There's lots of flowers on the vines still. You can see some of the leaves that have been affected by the bugs, they're turning yellow.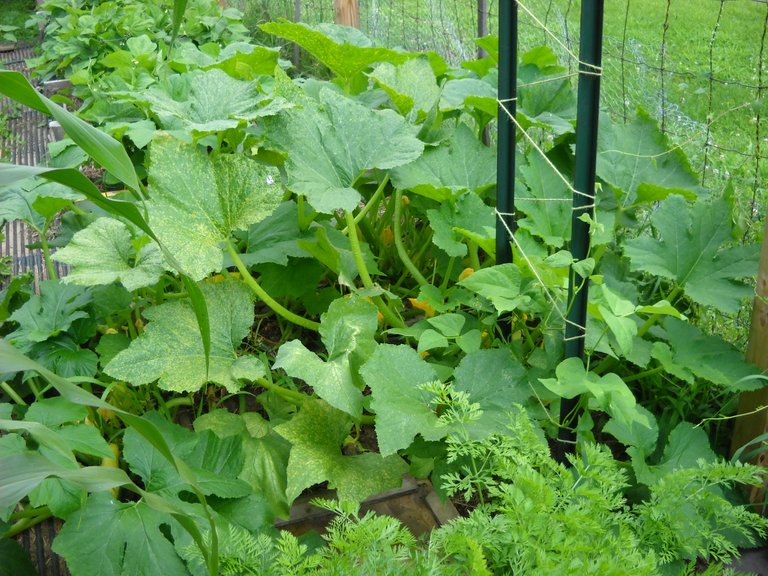 The green bean plants are doing well for the most part. There's a few small plants because of the replanting where seeds didn't sprout the first time. I have a few beans that are ready to pick now, but they're just starting.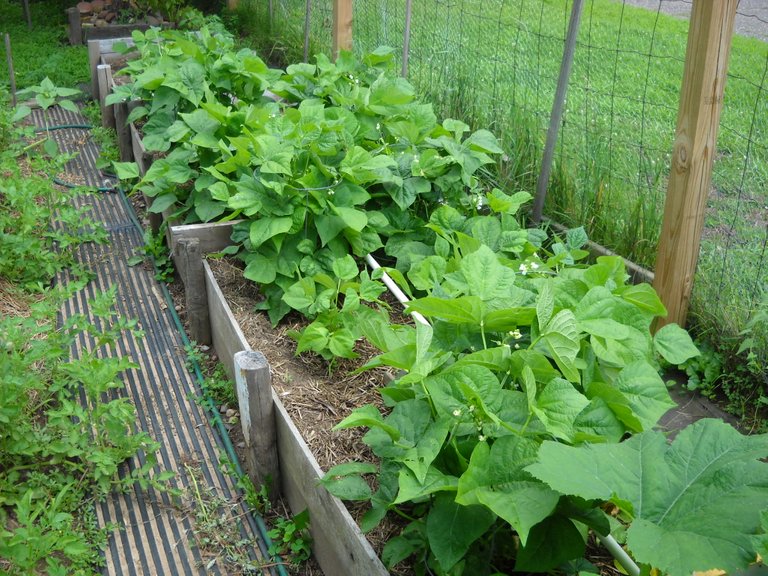 The red potato plants are getting closer to the end of their life cycle. These are a short season plant, and they're usually done growing by the end of August, if not before. I'll probably be able to dig some nice red potatoes in a couple of weeks.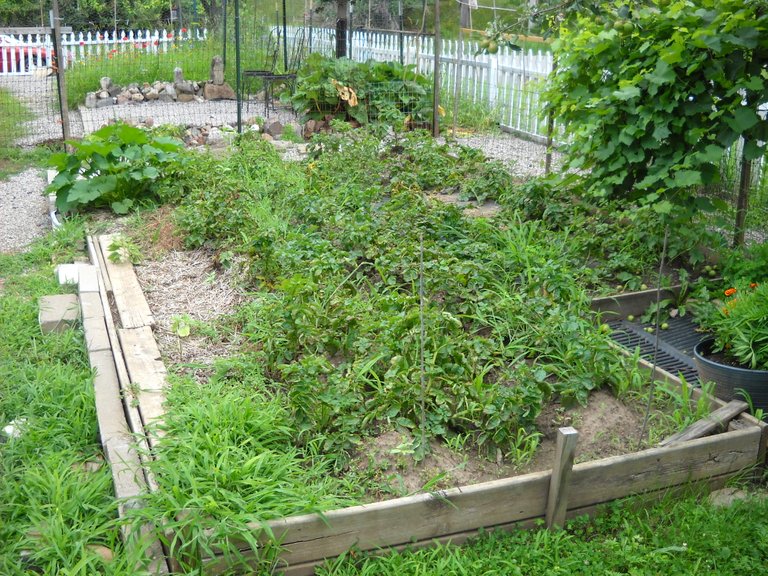 The yellow beans have done really well for me this year. These are a bush variety and I like to grow them in big containers. It makes them easier to pick. You do have to pay more attention to their water needs when you grow them in containers.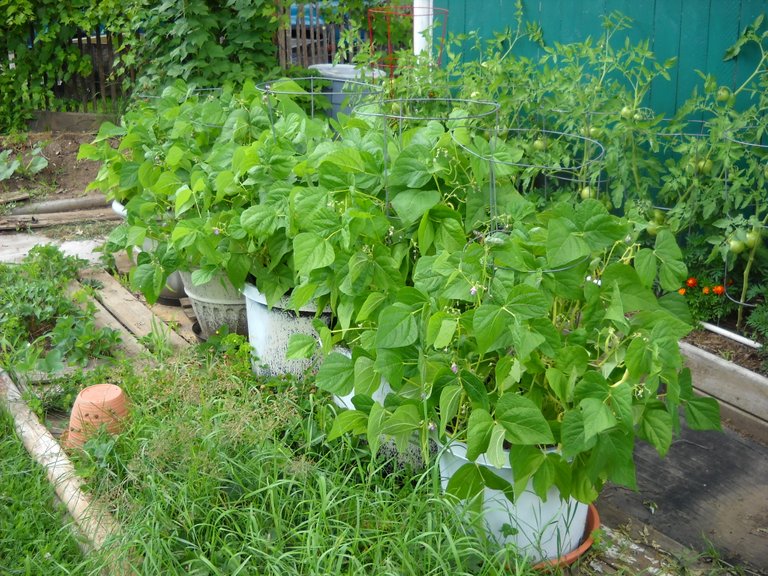 I picked my first harvest of yellow beans a couple of days ago. Not a bad first harvest, considering how many plants I have.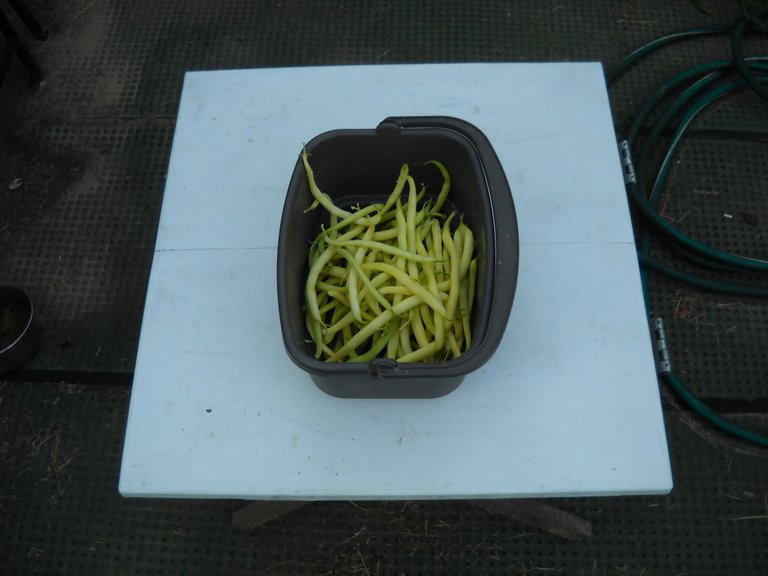 The tomato plants in the raised bed are doing ok, but I think they get too much shade in this location. I have to remember that for next year. They have a fair amount of tomatoes, but not as many as they could have. Some of the flowers just didn't get pollinated for some reason this year.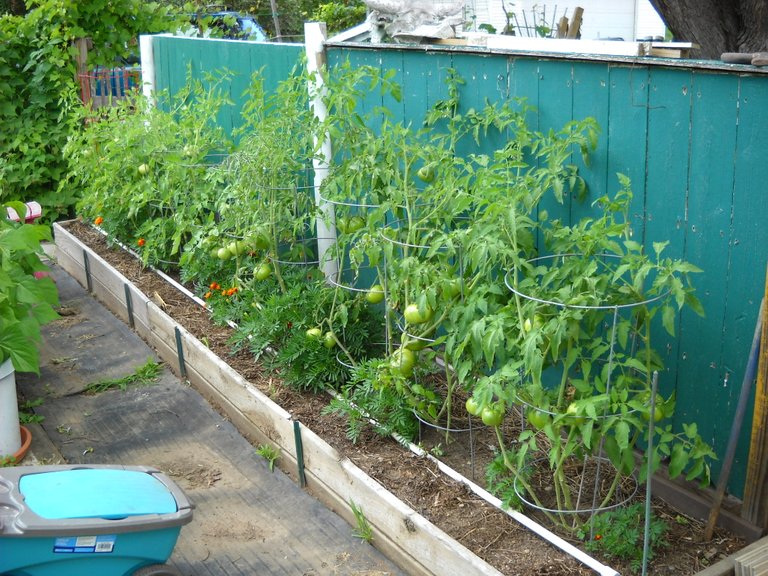 Last picture.
The greenhouse tomato plants have done quite well this year. There seems to be a lot of tomatoes on most of the plants. I have noticed a few tomatoes with blossom end rot. That seems to be a lack of nutrients in the soil. Since I have to feed these plants every couple of weeks, I've been adding a calcium magnesium supplement to the plant food to help with that problem.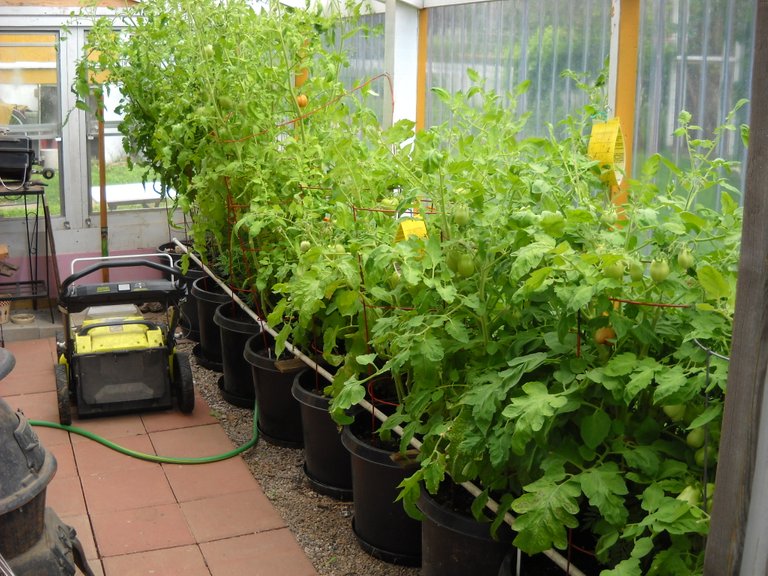 I will need to pick beans again tomorrow, both yellow and green beans this time. I expect to be canning my first batch of pints of beans within the next couple of days after that. It looks like I'll be canning a batch of quarts of summer squash in the next few days also. It's that time of year now.
Well, that's all I have for this garden journal update.
Thanks for stopping by to check it out!