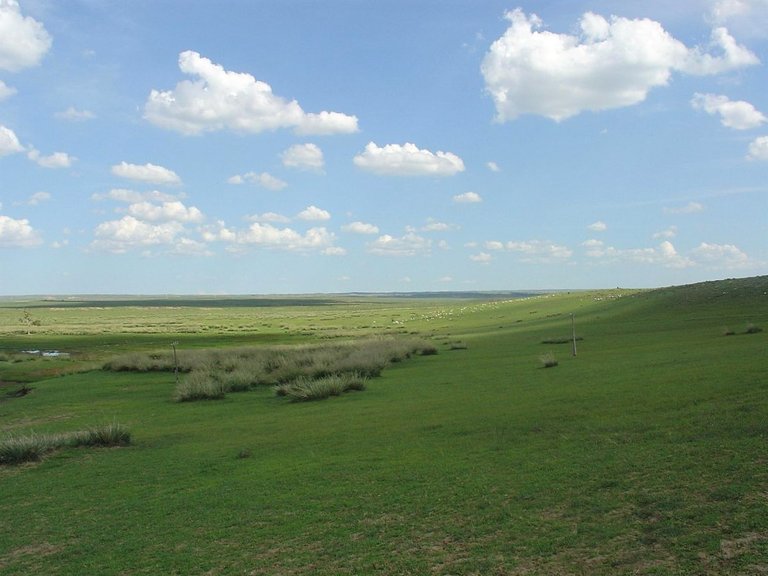 The Altaic or Uralic language group has been controversial among linguists, but there certainly seems to be some shared convergence between some of these languages that span the Eurasian continent. When you first hear these far-flung countries mentioned together, it seems incredible that Mongolian, Korean, Turkish, and Hungarian would share some common roots. But when you consider the extent of the Mongol Empire in the 13th and 14th centuries, any existing language similarities start to make more sense.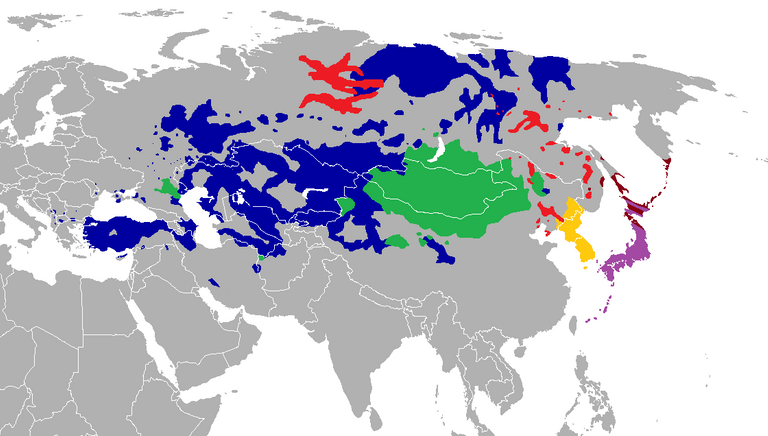 Altaic languages. Source: Creative Commons via Wikipedia.com by Fobos92.
At its peak, the Mongol Empire spanned the largest contiguous portion of land of any historical empire. More than the Roman Empire. More than Alexander the Great. More than the Qing Dynasty. Only non-contiguous empires like the British and Spanish Empires spanned more of the globe, but not in one connected chunk of land. The Mongols presided over a huge swath of Planet Earth from nearly one side to the other on its biggest continent. It covered 16% of the world's landmass and 25% of its population.
The Mongol Empire's famous postal/intelligence system could carry messages from east to west throughout these lands. The system used relay stations where fast riders would carry the message 20-40 miles (32-64 km) to the next station, where it would be handed off to the next carrier. When Genghis Khan died in 1227, the news spread from Mongolia to his forces in Central Europe in just 4-6 weeks. That would seem slow in today's world, but was a remarkable feat in the 13th century, displaying a communications speed which would not be equaled again for centuries.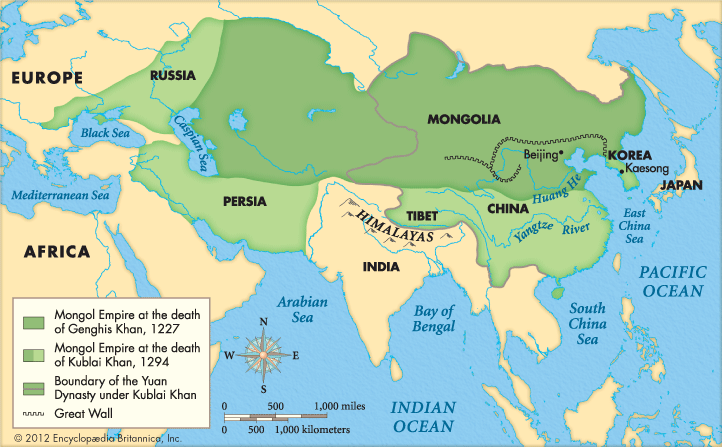 Mongol Empire's extent in the 13th and 14th Centuries. Source: Encyclopedia Brittanica.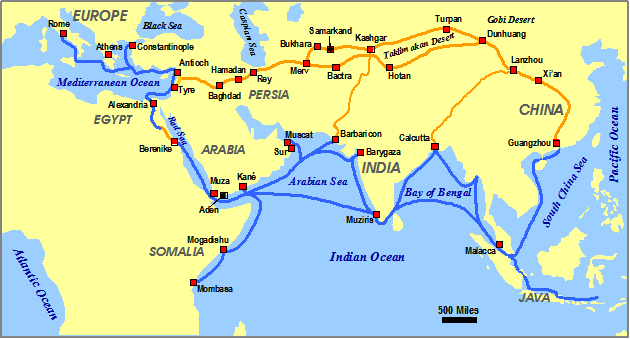 The Silk Road. Source: Silkroutes.net.
In all of the books and histories about the Mongol Empire and the Golden Horde, there are many reasons given for the Mongols' domination over this land during that period in history. They certainly had superior technology with their mastery of horses and of warfare. They had political methods of unification. But in the end, those pretty much boiled down to Pax Mongolia, just as the Roman Empire's peace was called Pax Romana. There was an uneasy peace born from the Mongols' quick and utter domination, an offer the subject peoples could not refuse.
But one factor is not given enough weight in history. It is the geography of most of that Empire's territory. We know that the Mongols had some toruble conquering places that had heavy mountains (Afghanistan, Pakistan) or were separated from the mainland by water (Japan). And when you look at that particular swatch of land they did dominate from eastern China all the way to Hungary, there is a lot more east-west in it than north-south.
In fact, if you Google a term called "Eurasian steppe" (also known as the Great Steppe), the map you see correlates pretty closely with both the Mongol Empire and its Silk Road. I think of Central Asia as having some pretty large mountain ranges, and it does, but this belt of steppe land runs pretty contiguously all the way through with few interruptions. Like the Great Plains in North America, the Patagonian steppe in South America, or the grasslands of Southern Africa or Eastern Australia, this is a wide open territory.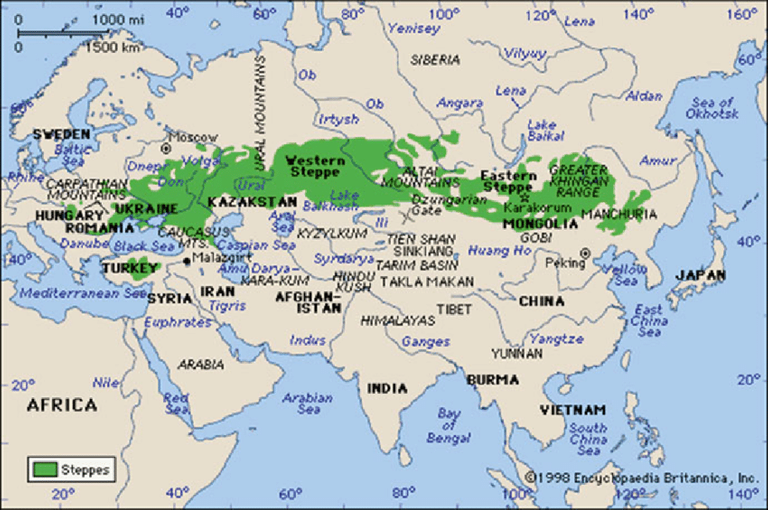 Map of the Eurasian Steppe. Source: Encyclopedia Brittanica.
The Eurasian steppe is a long belt of grasslands, shrublands, and savannah. In other words, it was and is mostly open plains. And it stretches from its beginnings in Hungary, Romania, and Moldova, all the way through Ukraine, Kazhakstan, Russia, the Xinjiang region in China, and continuing through Mongolia to Manchuria. In other words, once the Mongols had unified their tribes and perfected their formula of horses and plains warfare under Genghis Khan, there was little to stop them from continuing through that unbroken swatch of open land all the way into Europe. Yes, there are mountains like the Urals and Carpathians, there are large rivers bisecting portions of the land, and there are near deserts like the dry region in the Kazakh steppe. But these obstacles were surmountable and beyond them, the plains continued from Manchuria in eastern China all the way into Hungary in Central Europe.
That fairly unified geographic belt was the heart of the Mongol Empire. It became the heart of the Silk Road's main branch for centuries thereafter. And as much as any other factor, it helps explain how Mongolia's Golden Horde was able to conquer so much territory and perfect that dominance over a wide region in just a few short years.
References:
https://en.wikipedia.org/wiki/Eurasian_Steppe
https://en.wikipedia.org/wiki/Altaic_languages
https://en.wikipedia.org/wiki/Ural%E2%80%93Altaic_languages
https://www.britannica.com/place/Mongol-empire
https://en.wikipedia.org/wiki/Yam_(route)
http://ipfactly.com/mongol-empire-yam-route/
https://www.businessinsider.com/the-10-greatest-empires-in-history-2011-9
https://en.wikipedia.org/wiki/Mongolian-Manchurian_grassland
http://www.silkroutes.net/orient/mapssilkroutestrade.htm
Top image: The steppe in Manchuria. Creative Commons via Wikipedia.com by Shizhao.