Hey guys! Yesterday we had an official stream from Gods Unchained team where they announced more details including the first champion that will be a new avatar for Light called Lysander, Champion of Light, also we got to see a couple of new cards that will be added to the Olypian tribe synergy and a late-game War spell.
I will focus this post mostly on cards and how they could potentially impact the meta so if you want to get more information about other things they announced you can watch VOD of their official stream here.
They also released a lot of lore lately and if you are interested you can find it here: Chapter 1 and Chapter 2
Just to make it clear, the current versions of the cards aren't final and they will likely go through some changes, before or after the release of the set, this is just a theorycraft, more as a "what if" conversation.


Okay, so without further ado let's take a look at new cards:
Athenian Guardian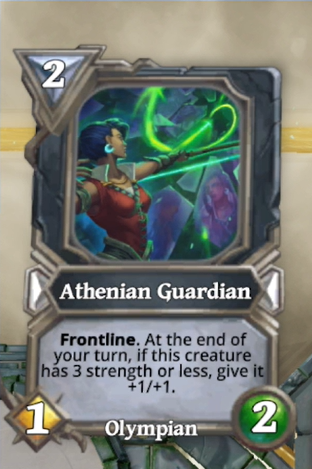 At first glance, this card screams OP to me. I mean, if we compare it to a Shield Maiden, a 2 mana 2/3 Frontline, this is the same card with an upside. Because the turn we play Athenian Guardian and pass a turn she will buff herself into a 2/3 but in the next two turns it will go up to a 4/5!! I don't get it why is this the case, but wait... there is more. I would assume that this card fits really well in Light decks so healing can enable her to survive more easily through many turns and buffing her health even more is starting to sound crazy. An interesting combo with her would be Reformation because it sets her strength back to 1 and gives 1 health so that she can continue ramping up. I can't imagine this card getting reworked a bit, maybe costing 3 mana with 1 more health or something like that.


Vengeful Lokhagos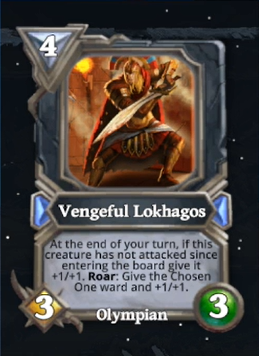 This one looks interesting. Basically a 4 mana 4/4 with a Roar that buffs the Chosen One. The ongoing effect incentivizes patients but still, it's an okay card even if you don't wait for a single turn to attack so I think it might be a powerful one also. Because of the Chosen One mechanic, I would assume this is a Light card even though it looks like a neutral. Vengeful Lokhagos doesn't require synergy to be good so we might see it played a lot in Light decks but having that Olympian tag gives her a bit of additional power in potential future Olympian decks that we can clearly see cooking up with all new Olympians getting introduced. It will most certainly see play outside of the Chosen One archetype because this mechanic work even without that God Power and buffing something in your deck with Ward and +1/+1 is always a good thing.


City Therapon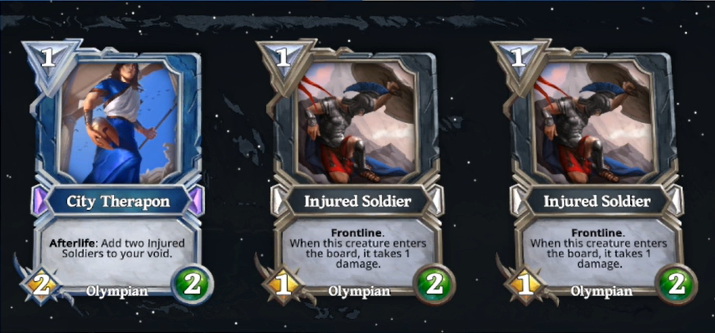 City Therapon is an average 1-drop with a 2/2 body that will be supporting the Olympian archetype very efficiently. By itself, when this card dies and goes to the void it activates Empire's Footman that then becomes a 2 mana 3/1 Protected and buffs future Spartans and Furies, it even works well with Hallowed Keeper that we don't see at all currently being played in the meta. If this is going to become a thing, we will see a lot of Light's Levys and Umber Arrows in the meta to counter this effect in an attempt to slow down the Olympian strategy. A downside I can see we this card is versus early Pyramid Warden where you will have lower chance of getting a good revive after it dies but aside that this is a decent inclusion in any Olympian deck.


Lysander, Champion of Light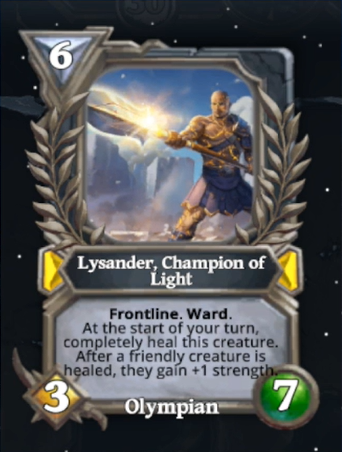 The most exciting reveal I would say is, of course, a Champion of Light which is a legendary creature for Light god. 6 mana 3/7 Frontline and Ward is pretty good but healing completely at the beginning of each turn is nuts, not only that but he buff any creature that gets healed with +1 strength. It's easy to say that it will be hard to remove this card from the board if you don't have any board control when it's played because you can't just damage it and finish it off the next turn and Ward complicates this even further. Frontline is good and it feels kinda necessary to a card like this to make it weaker, yes weaker. Because if you had a possibility to hide this behind another creature with Frontline the value it would be able to produce would be unfair. Golden Harpe will be a nice combo with this card as it will be spawning 2/2s instead of 1/2s, comboing that further with Odysseus can give some crazy boards really fast.


Trial of the Innocents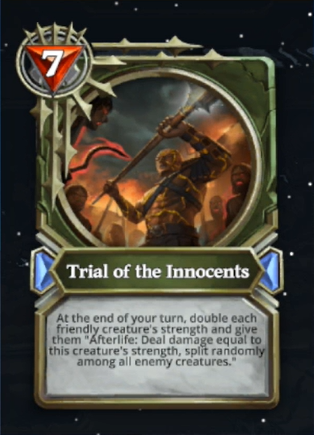 The last card on the list doesn't have anything synergistic with Olympians and it's a late-game War spell that is somewhat confusing to me as what its actual purpose is. Cards that cost 7 mana are usually taking up the whole turn to play for more than half of the game so they always need to do something impactful. That's why we see a lot of Demogorgons, Ashen Drakes, and similar cards that do something useful the turn they are played on in the 7 mana slot. This card, on the other hand, doesn't do anything meaningful for you immediately and also requires a setup and presence on the board and a higher strength creature. The requirement for this card to work stack up but the card doesn't give you much in return. Yes, buffing your creatures with this does force your opponent to remove them before further developing a board but since you kinda "lost" 7 mana a card while doing so they will still be able to reapply the pressure and start winning on the board regardless. I just feel like if you already have some board presence that further developing your board would be much more useful than spending your turn and a card to potentially reset the board even though it looks unlikely that it is going to happen.

A New Teaser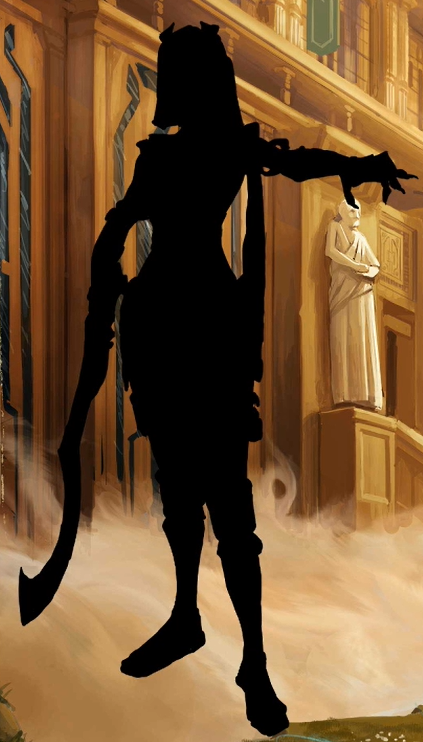 They teased us the next champion they will reveal in the next stream. It looks like Anubian so my guess is that this will be a Death champion, my second guess would be Deception, I doubt it could be anything other than that. What do you guys think?

This is it unfortunately for the card reveals, I hope we get more soon. It seems like they will be pushing Olympian tribe into the meta, we will probably see that for Anubians and Amazons too and I hope for those tribes that we don't have any synergy for yet like Guild, Mystic, Wild and Dragon. Does anyone else think that Athenian Guardian is OP? Any combos you see might be used with these cards? Leave a comment below.
Useful tools for Gods Unchained statistics, meta, deckbuilding, leaderboards, etc. :
https://unchainedstats.com/
https://gudecks.com/
Markets:
https://gu.cards/
https://tokentrove.io/GodsUnchainedCards
https://opensea.io/assets/gods-unchained
Custom cards generator tool:
https://www.gucustom.cards/
Gods Unchained discord channel:
https://discord.gg/G8YAWcX
Thank you for reading!
,z3ll