From the year 2000
A coin from Argentina, face value is 5 pesos, interesting that this coin has never been worth only five peso since it was made. The currency there has been in free fall since the year after this coin was minted, accelerating more rapidly in recent years. Five pesos today is worthless than US twenty cents, pun intended.
This is the last gold coin of a handful purchased in October. If you look through all of my posts thus far, you will see a total of nine gold coins for which I paid only $1594 (a total of 48.7gr). None of them was bigger than a quarter, but just three of the five rare Saint George British Sovereigns could fetch the amount I paid for all of them.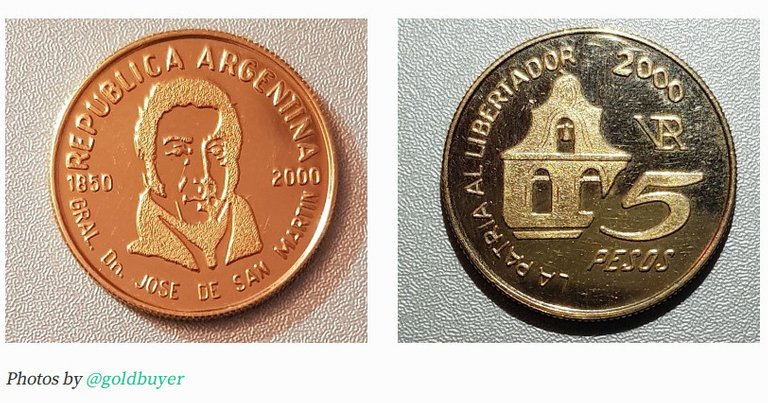 The color of the coins is the same, they look different because of the light source and angle of the lens (for relief).
This one coin is just 7.8 grams of .999 (99.90% pure) gold. At the time of minting, this was worth well over $200 dollar and has stayed in the $200-300 range to this day.
Pure gold, marked .9999 or 99.99% pure, is worth $1222 per ounce at the current published N.Y. Comex price. A farce really. When gold prices go down, I wonder if my paper dollars have gotten thicker or heavier? Maybe they buy more things than yesterday. Fine gold, marked .999 purity, costs a bit less but is slightly more durable at 99.90% pure.
Anything is better than just plain paper.
Cheers