Sibearian Husky Fun at the Beach - Ready to Drink Salt Water.
My bud Rex, making a good subject always as the sun sets. I shot these photos on my Samsung Galaxy S7 and edited them in Adobe Lightroom, which I am trying to get better at.. The overexposure on the water made it really hard to get the look I wanted on Rex here in this first picture. I hope to get a digital SLR soon because I know a polarizing filter would help a lot. If any photographers have any Lightroom tips, please comment and let me know. I chose these photos for @photocontests topic of the day which is Golden Hour Photography. This is one of my favorite categories.
Rex is a weirdo, and is eagerly walking towards the water to get a drink. Yes... you read that right... my dog drinks salt water. I've tried to stop him, but he doesn't care to listen. I have had Rex since he was 6 months old. A family on Craigslist had just had a baby and couldn't deal with both so I took this monster off their hands.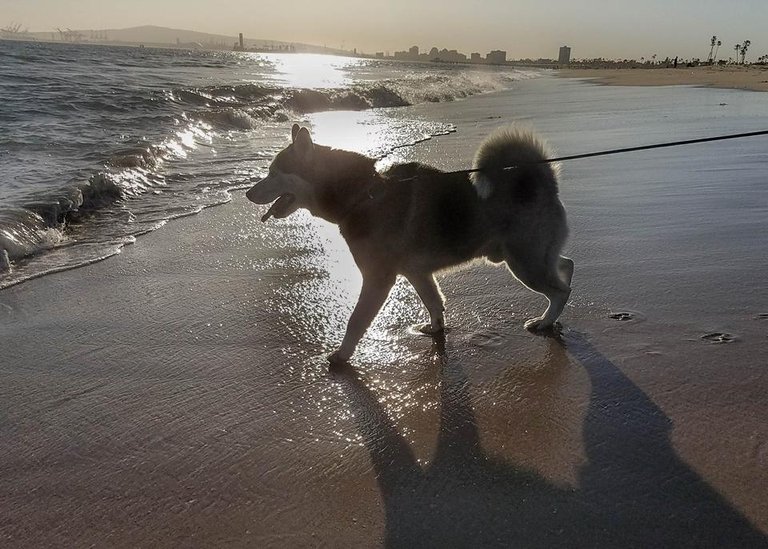 Rex Enjoying the Long Beach Water and Having a Quick Shake
Somehow caught this action shot of this shakey boy. The glare on the water was a little easier to deal with in this shot and I think the exposure was better in general. Rex is a great dog but he gets waaaaay too excited around a bunch of dogs at once, so I only take him to the edge of the dog beach, and at hours when not many other dogs will be there. He is also very neurotic and sneezes around 20 times a day, and shakes like this all the time. He's a weird cookie.

LA River Bike Path Walk - Bonus Portrait Shot
This is a shot from a different day I took walking along the Los Angeles River on the bike path near Long Beach. I don't care for it as much as the last two but in the spirit of #goldenhourphotography, I decided to include it as well. He was sitting calmly for once, which is rare, so I snapped this quick portrait shot. Rex is 5 years old now, but still has the full energy of a puppy. He could run for hour a day and loves to play. A city dog through and through, walks along the beach, walks through the city, or even drives in the car, are all fun for him.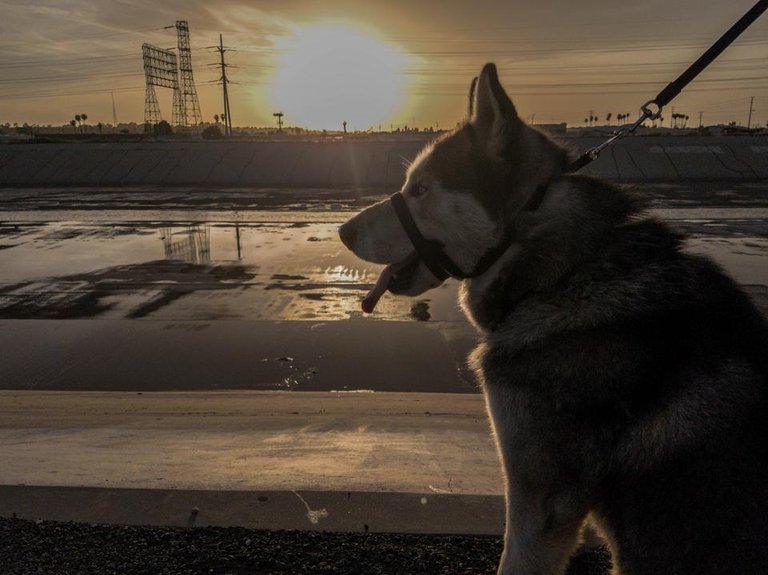 Join the 365 Day Photo Challenge With Me!
If you are just reading for the first time, I am trying to do a 365 day photo challenge - 1 photo per day for 365 days - on Steemit. I invite you to join the challenge, and try to post one picture (at least) per day, and write a little about it. The only rule is that it has to be a photo you took. The goal is to work on consistently putting content out, trying to stick to a regular posting schedule, and connect with more people on Steemit. I hope this is a good way to gain, and get to better know my followers. Starting out as someone new on here, minnow or whale, it can be hard to motivate, or come up with an idea of what to write. Hopefully this is an easy way to get past that! I hope you will join me, but if not, feel free to comment or follow my adventures!
Check Out My Recent Posts and Follow For Daily Content!