This is my story for the Hivebuzz Halloween Badge!
Read on if you dare!
When I was growing up, we lived in a haunted house. A benevolent spirit, but playful non the less. Footsteps through the house, banging on the wall and things moving on their own was a common occurrence in our house. We once had a fork fly off the kitchen counter and across the room. It always scared my friends when they would stay over, but never seemed to phase me. I had always heard the ghost but I had never actually seen it. Until I was 13.
When I was 13, trying to be the cool kid was THE THING. So instead of trick-or-treating that year, I begged my folks to let me have a Halloween party instead. I was so excited I got to invite all my friends, girls and boys. We bobbed for apples, carved pumpkins, played games and danced around thinking we were hotter then potato chips.
Towards the end of the night, the boys suggested we play "murder in the dark". Like hide-n-seek, but you turn every light off in the house and the person whose it (you pull papers from a hat so no one knows whose it) "murders" people when they find them, until everyone is found, the last to be found is the winner, "the survivor". Its quite fun when you're an older kid but don't want to play the normal boring hide-n-seek.
So we all joined in to play. My folks sat outside on the patio to give us the run of the house; except the upstairs which was just my parents master bedroom. That was off limits. We pulled our papers, I wasn't it. We turned off all the lights and the game was on! I ran through the house trying to find a good spot to hide, where I wouldn't be found; where I might win. I picked the staircase, thinking since the upstairs was off limits, maybe the stairs wouldn't be checked. I thought I was smart. I sat there in dark and silence, listening to my friends scream as they were found.
Soon, I began to get that prickling feeling on my skin, when something feels off. When all the hair stands up on your neck, as if you are being watched....when your instincts tell you to RUN. Since I had been sitting in the dark for awhile, my eyes had adjusted a bit and I looked around nervously, trying to see who might be near me. It seemed as if I was alone, none of my friends were near me. So I looked in the the only other direction available, up.
Slowly, lifting my head upwards I could see the railing that ran along the upstairs hall leading to the master door. As my eyes searched the area, I noticed right above me, hanging over the railing, was someone looking straight at me! But this someone seemed like a shadow, all blackness, fuzzy even. The eyes seemed to glow and whoever it was was gripping the railing as if they were about to toss themselves over it right on top of me. The dread that washed over me was overwhelming. I could feel a sense of despair and anger, something I had never felt before coming in contact with the spirit in our house. I screamed in fear and ran to the nearest light switch, ending the game. I had goosebumps all over and felt chilled to the bone.
Everyone came to the stairs, curious to see what had happened. With everyone there, I had a bit more confidence and I ran upstairs to see who the culprit might be, thinking one of my friends had broken the rules and went upstairs, that they had tried to scare me. Yet, no one was up there and everyone was accounted for. I had no answer to who I had seen leaning over me in the dark. The only answer was I had finally witnessed the ghost that haunted our house. Maybe it had wanted to play too.
It intrigued me that seeing the apparition caused such a sense of dread and fear in me, that it had scared me so. That seeing things move, hearing footsteps when alone and the like had never scared me before but that had. Maybe it had been that we set the stage with the game we were playing or being in total darkness. Maybe being so close to All Souls Day(Nov 1), it had been clearer, more on our plane then usual and that caused more of the feelings attached to the spirit to come through.
Its all assumptions as we will never have a scientific answer. So its about what you choose to believe because until we also cross over, everything supernatural will always be truly unknown.
I hope you enjoyed my little creepy ghost story and have a Happy Halloween everyone!
Trick-or-Treat!!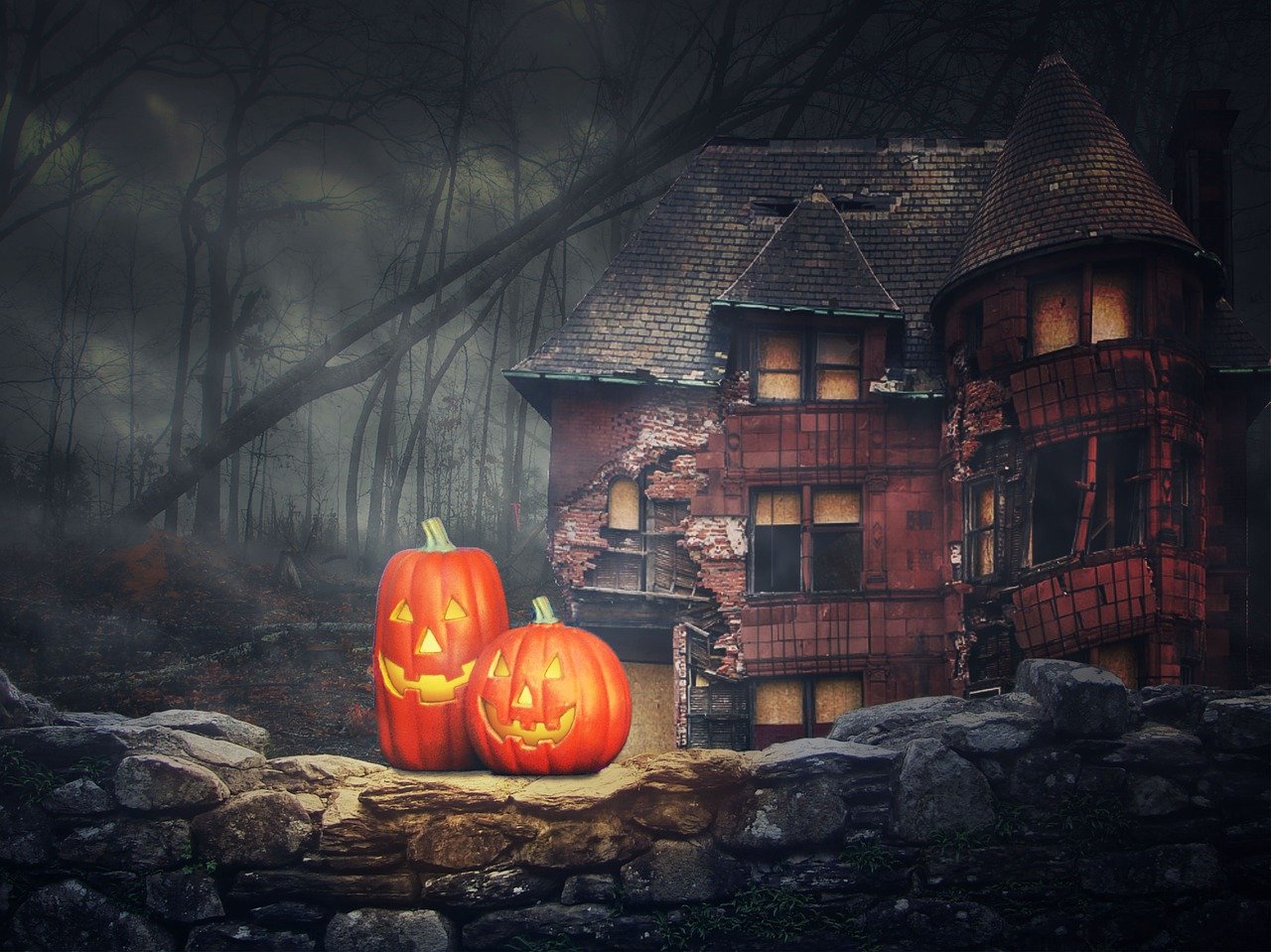 (photo from pixabay user Dieterich01: https://pixabay.com/photos/halloween-pumpkin-ghosts-2899638/ )