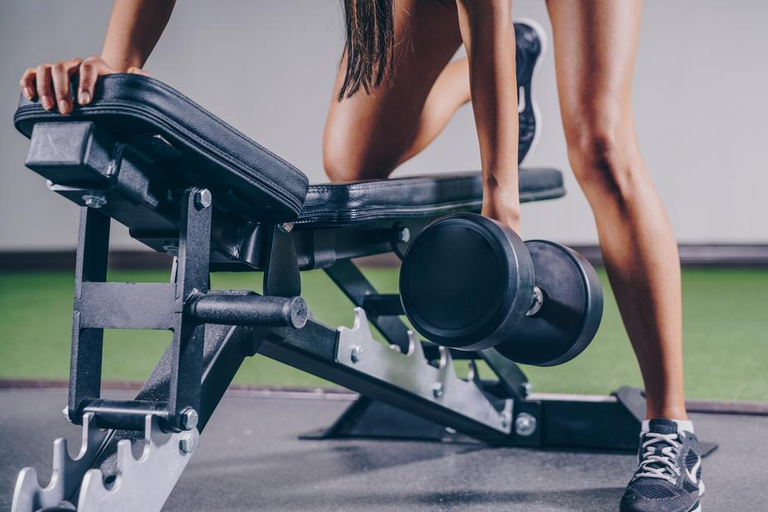 Aging is a scary thing for us mortal beings. Therefore, increasing and maintaining a decent muscle mass is one of the best ways to say goodbye excess body fat and improve your overall fitness, particularly as you age. Muscle training is still more popular for men and women seem to concentrate mostly on cardiovascular exercises. Many reasons might have held you from incorporating a muscle training session in your routine, but it is never too late to start, here are the reasons to finally start:
1. YOU LOSE BODY FAT
It is undeniable that weight training builds muscle, as your lean muscles increases your metabolism will as well. Having a higher metabolism means that you will burn more calories all day long, isn't calorie loss a big topic amongst us women? For a woman who strength trains two to three times a week for two months, studies have found that she will gain approximately two pounds of muscle and will lose around 3.5 pounds of fat. For each gained pound of muscles, around 40-50 additional calories are burnt per day, and the "afterburn" effect can continue for more than 24 hours after you finish your workout. More body muscles equal more fat loss, who doesn't like the sound of that!
2. YOU GAIN STRENGTH WITHOUT BULKING
Many women think that if they go muscle training they will look like the hulk or in physical term will bulk too much. Don't worry ladies, this is simply a misconception because it physically cannot happen to you. Bulking can only happen with certain amounts of testosterone which women do not have. Women have 10 to 30 times less testosterone than men and gaining size from strength training is another challenge in itself. Instead, we ladies, develop muscle definition and strength without the looking like our Marvel's green monster.
3. YOU DECREASE RISK OF OSTEOPOROSIS
Research has shown weight training can increase spinal bone density to create a strong and healthy spine, however, it won't make you taller if that was what you wished for. Weight training increases bone density, which helps in reducing risks of fractures and broken bones. It also increases strength in connective tissues and joints. Strong joints, ligaments, and tendons are vital for injury prevention. Having strong muscles and connective tissues will make your daily lives and routine exercises much more pleasant and increase your performance in other sports. Is this your path to the gold medal?
4. YOU BURN MORE CALORIES
Weight training has been proven to raise your metabolism for up to 24 hours after a workout. The more intense the workout the more calories are burned. After an intense workout there is more Excess Post-Exercise Oxygen Consumption, or EPOC, meaning there is an increase in oxygen consumption, helping break down fat stores in the body.
5. YOU CAN IMPROVE YOUR POSTURE AND REDUCE BACK PAIN
Weight-training will strengthen your back, shoulders, and core, helping to correct bad posture so that you can stand taller, with shoulders back and spine straight. A stronger back and core will also prevent lower back pain.
6. IT ENHANCES YOUR MOOD AND REDUCE STRESS
Exercise and weight-training release endorphins. Endorphins are neurotransmitters that prevent pain, improve mood, and fight depression. An increased in endorphins naturally reduces stress and anxiety. Endorphins also stimulate the mind, improving alertness and boosting energy. Weight-training can brighten your entire day or help you combat a bad one.
7. YOUR BUTT WILL TONE UP!
Not to get too superficial here, but weight training exercises can perform miracles on your butt. Three exercises have proved this time and again when it comes to a firmer, more shapely butt: barbell squats, dead lifts, and hip thrusters. These moves are extremely effective for strengthening and toning the glutes, helping to sculpt your butt like no other exercises.
While you should aim for a caloric deficit at first, if fat burning is your goal, you'll eventually get to the stage where you can actually eat more because you've turned your body into a fat-burning machine. Eat all you want, stay lean, yes please!
8. YOUR BONES WILL GET STRONGER.
Bone mass begins to decline gradually with age, but women are four times more likely than men to develop osteoporosis. Weight training builds bone density, and the National Osteoporosis Foundation recommends weight training two or three times per week to build and strengthen bones.
9. WEIGHT TRAINING FIGHTS HEART DISEASE.
Weight training strengthens not only your muscles but also your ticker. The American Heart Association (AHA) recommends weight training at least twice per week to improve heart health. The AHA also advises that lifting weights can reduce the chances of people having another heart attack.
10. YOUR WORKOUTS WILL BECOME MORE ENJOYABLE.
No matter what stage you're at—a complete beginner or fairly experienced gym-goer—you can achieve rapid gains in strength through weight training. This will leave you excited and absolutely buzzing.
With other forms of exercise, it's hard to see noticeable results as quickly. The initial progress in strength will please you and make your workouts more enjoyable. This means you're more likely to stick with the program in the long run and see noticeable changes in your body.
11. WEIGHT TRAINING STRENGTHENS THE MIND.
Probably the most underrated benefit of weight training is how amazing it is for the mind. A healthy body means a healthy mind because the two are absolutely connected.
Exercise releases endorphins—feel-good chemicals in the brain—to boost your mood and relieve excess stress. Staying committed to a weight training program and experiencing these benefits regularly helps maintain a more balanced you.
12. A STRONG WOMAN, IS A CONFIDENT WOMAN!
"WEIGHT TRAINING CAN ALSO LEAD TO MORE CONFIDENCE AND BODY AWARENESS."
Lifting weights increases functional fitness, which makes everyday tasks such as carrying groceries, lifting things up at work, and picking up heavy suitcases much easier.
Regular weight training can make you 50 percent stronger in six months. Being strong is also empowering! Not only can weightlifting improve your physical strength, but it can also help you build emotional strength by boosting self-esteem and confidence.
You've probably heard that cardio and low-impact exercises such as yoga help improve mood, but weight lifting has the same effect. The endorphins that are released during aerobic activities are also present during resistance training!
13. A HEALTHY HEART, A HEALTHY MIND
More than 480,000 women die from cardiovascular disease each year, making it the number-one killer of women over the age of 25. Most people don't realise that pumping iron can also keep your heart pumping.
Lifting weights increases your "good" (HDL) cholesterol and decreases your "bad" (LDL) cholesterol. It also lowers your blood pressure. The Journal of the American Medical Association reports that people who do 30 minutes of weight lifting each week have a 23 percent reduced risk of developing heart disease compared to those who don't lift weights.
Now girl, woman, mother, go hit that gym and enjoy seeing your muscles define over time. You will see the positive changes very quickly!
Original content at Holifit by Coach Lauren