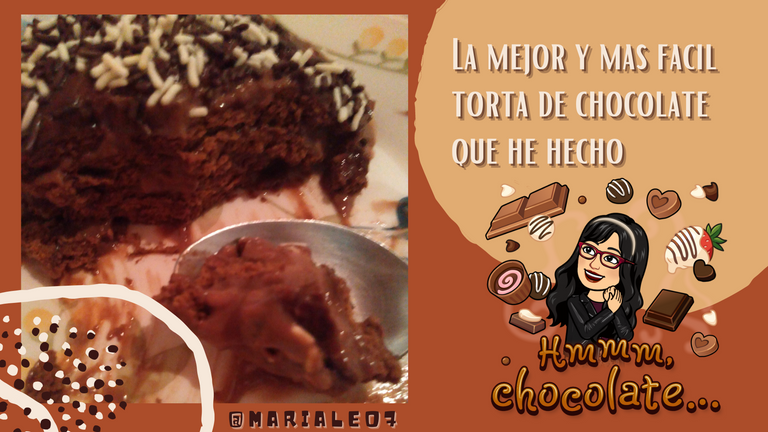 ¡Saludos comunidad HiveFood!
Estoy de vuelta por aquí para compartir una deliciosa Torta de Chocolate que definitivamente es la mejor y más fácil que he hecho y la verdad es que hasta yo misma me sorprendí pues no imaginé que sería tan buena.
En primer lugar diré que esta torta es básicamente lo que toda la vida conozco como marquesa de chocolate o torta fria, pero esta vez se me ocurrió la idea de hacerla 100% chocolatosa, pues como saben la torta fría lleva galletas maria pero para esta receta encontré en el mercadito de aquí cerca de mi casa galletas maria de chocolate, así que de una las agarre para ver que tal quedaba.
Los ingredientes que usé fueron los siguientes:
| 1 litro de leche | 2 cajas de mezcla para pudín de chocolate | 3 cucharadas de chocolate en polvo |
| --- | --- | --- |
| 1 paquete de galletas maria de chocolate | Chispas de chocolate para decorar a gusto. | - |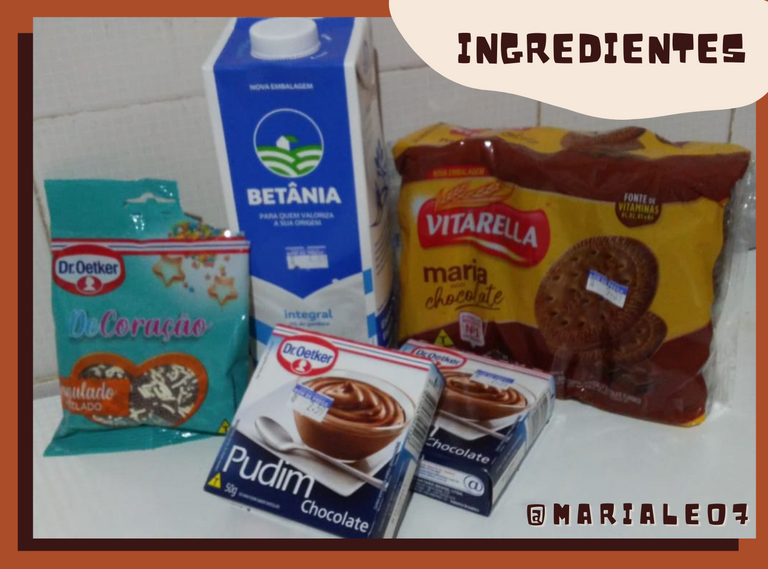 Preparación:
Prepare la mezcla del pudin de chocolate conforme a las instrucciones de la caja: en 1 litro de leche disolver el contenido de los dos sobres de mezcla para pudín y le agregue además 3 cucharadas de chocolate en polvo para que quedara más fuerte el sabor del chocolate. Cocine a fuego bajo hasta que hirviera y espesa y está listo.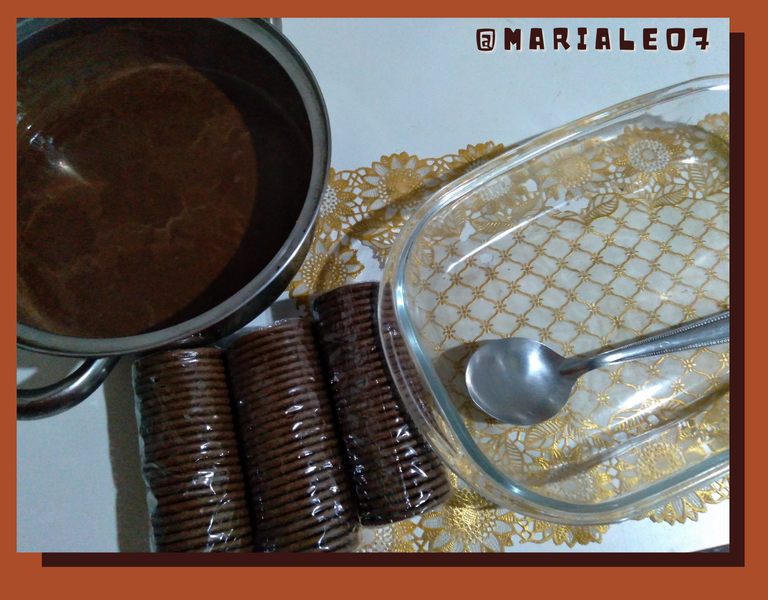 En un molde fui armando mi torta haciendo capas de pudin y de galletas hasta completar el molde. Decore con chispas de chocolate que tenía, y lleve mi torta al refrigerador por unas 3 horas o hasta que esté fría y consistente para servir.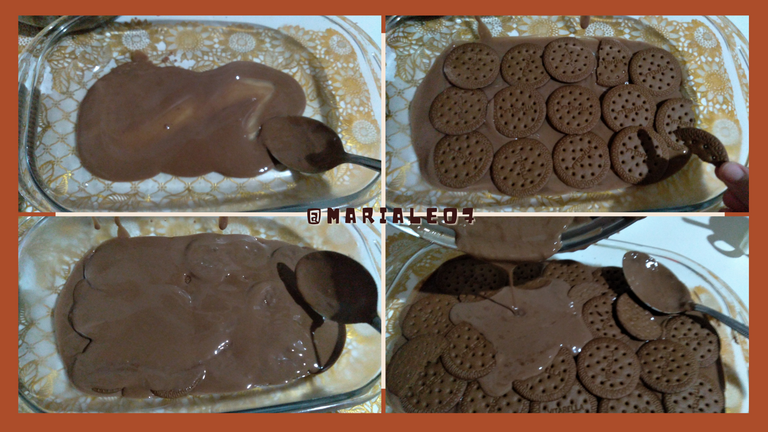 Las galletas absorbieron bastante la humedad del pudin y le dio la consistencia de masa de torta, super suave y cremoso y con mucho sabor a chocolate, de verdad que me sorprendió pues no quedo como la clásica marquesa o torta fría que las galletas maria se sienten bastante, más bien esta torta me quedo como un delicioso brownie frío y no quedo empalagoso.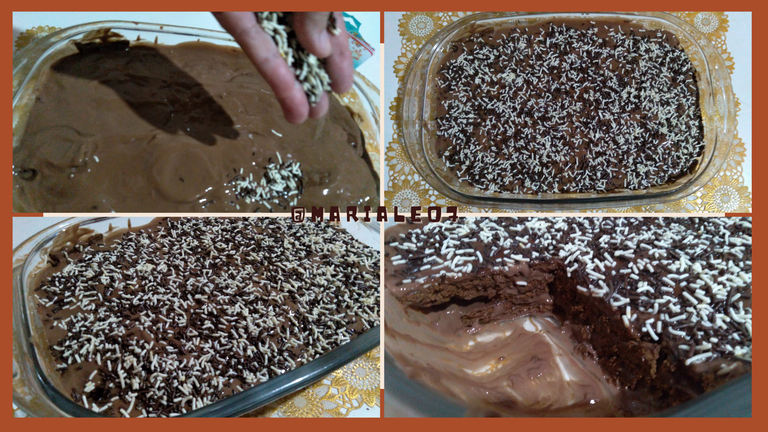 Y esa fue mi torta de chocolate más fácil y sabrosa de toda mi historia haciendo tortas jeje, y estoy segura de que la repetiré mil veces porque además no hay que hornear (mi horno se daño) asi que es una solución perfecta para el postrecito de domingo.
Eso es todo por ahora, feliz semana a todos.
Todas las fotos son de mi propiedad, ediciones en CanvaPro

Greetings HiveFood community!
I'm back here to share a delicious Chocolate Cake that is definitely the best and easiest I've ever made and the truth is that even I was surprised because I didn't imagine it would be so good.
First of all I will say that this cake is basically what I have always known as chocolate marquise or cold cake, but this time I came up with the idea of making it 100% chocolatey, as you know the cold cake has maria cookies but for this recipe I found chocolate maria cookies in the little market near my house, so I grabbed them to see how it turned out.
The ingredients I used were the following:
| 1 liter of milk | 2 boxes of chocolate pudding mix | 3 tablespoons of chocolate powder |
| --- | --- | --- |
| 1 package of chocolate maria cookies | chocolate chips to decorate as desired | - |
Preparation:
Prepare the chocolate pudding mix according to the instructions on the box: in 1 liter of milk dissolve the contents of the two sachets of pudding mix and also add 3 tablespoons of chocolate powder for a stronger chocolate flavor. Cook over low heat until it boiled and thickened and it is ready.
In a mold I assembled my cake making layers of pudding and cookies until the mold was complete. Decorate with chocolate chips that I had, and take my cake to the refrigerator for about 3 hours or until it is cold and consistent to serve.
The cookies absorbed enough moisture from the pudding and gave it the consistency of cake batter, super smooth and creamy and with lots of chocolate flavor, I was really surprised because it was not like the classic marquise or cold cake that maria cookies feel quite, rather this cake was like a delicious cold brownie and it was not cloying.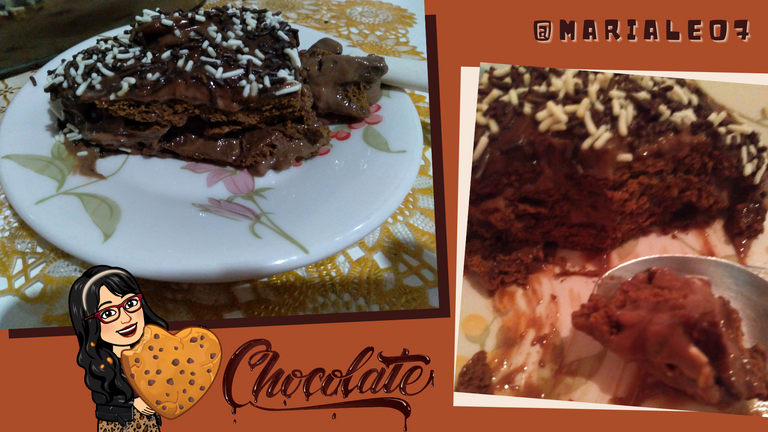 And that was my easiest and tastiest chocolate cake of all my history making cakes hehe, and I'm sure I will repeat it a thousand times because there is no need to bake (my oven is damaged) so it's a perfect solution for Sunday dessert.
That's all for now, happy week everyone.