---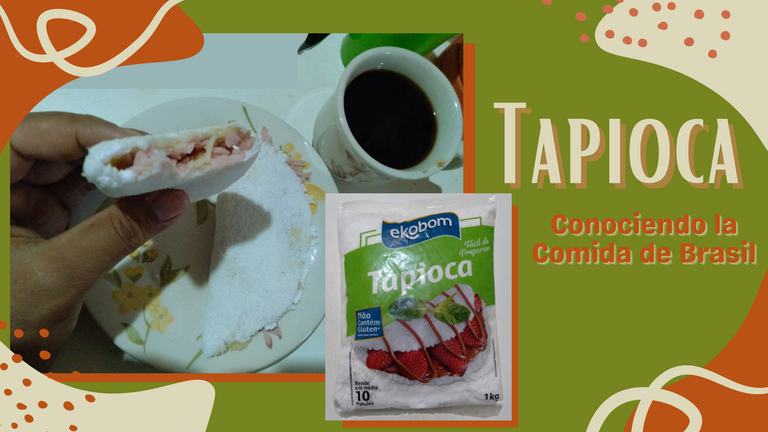 Saludos Comunidad de Hive!!
Comparto con ustedes un video que hice para mostrarles un plato típico del Nordeste de Brasil, el país donde vivo actualmente, se trata de la Tapioca. Allí en el video pueden ver una introducción sobre qué es la Tapioca, de qué vegetal se produce y cómo se prepara para el consumo diario.
La tapioca es un producto ancestral de origen indigena que se obtiene del procesamiento artesanal de la raíz de la yuca, también llamada aquí en Brasil como aipim, mandioca, macaxeira y muchos otros nombres que varían de región en región.
La tapioca es la fecula o almidon de la yuca o mandioca, también se le conoce como goma de tapioca, que se obtiene al procesar la raíz de la yuca, triturando y exprimiendole un líquido que luego se deja asentar y de allí se obtiene la fecula o almidon y con eso luego se prepara la Tapioca, tambien llamada tapioquinha o Beiju.
La tapioca es un alimento muy saludable, pues aunque tiene alto contenido calórico también aporta fibra, es libre de gluten, de grasas, sodio y no se necesita agregar grasas para prepararse.
La preparacion consiste en esparcir la goma de tapioca en un sarten caliente, este polvo se va a convertit como en un galleta seca de color blanco parecida a lo que en venezuela conocemos como casabe. Puede comerse con diferentes tipos de rellenos, tanto dulces como salados
Espero sea de su interés y agrado conocer comidas brasileñas, que de cierta forma son únicas en esta región, aunque sus orígenes están relacionados con la historia de la conquista de América cientos de años atrás, cuando se juntaron culturas indígenas, africanas y europeas en esta parte del mundo.
Las imágenes y video de la receta son de mi propiedad y autoría, ediciones hechas en CanvaPro.com y la aplicación para edición de videos Capcut.
Imágenes obtenidas de Pixabay: ↗️
Greetings Hive Community!
I share with you a video I made to show you a typical dish from the Northeast of Brazil, the country where I currently live, it is Tapioca. There in the video you can see an introduction about what Tapioca is, from which vegetable it is produced and how it is prepared for daily consumption.
Tapioca is an ancestral product of indigenous origin that is obtained from the artisanal processing of the cassava root, also called here in Brazil as aipim, cassava, macaxeira and many other names that vary from region to region.
Tapioca is the fecula or starch of the cassava or manioc, also known as tapioca gum, which is obtained by processing the root of the cassava, crushing and squeezing a liquid that is then allowed to settle and from there you get the fecula or starch and then prepare the Tapioca, also called tapioquinha or Beiju.
Tapioca is a very healthy food, because although it has a high caloric content it also provides fiber, it is free of gluten, fats, sodium and it is not necessary to add fats to prepare it.
The preparation consists of spreading the tapioca gum in a hot pan, this powder will become like a dry white cookie similar to what we know in Venezuela as cassava. It can be eaten with different types of fillings, both sweet and savory.
I hope you enjoy learning about Brazilian food, which in a way is unique to this region, although its origins are related to the history of the conquest of America hundreds of years ago, when indigenous, African and European cultures came together in this part of the world.
The images and video of the recipe are my property and authorship, editions made in CanvaPro.com and the video editing application Capcut.
Images obtained from Pixabay:
Imagem de Roberto Sousa Mrsdesign por Pixabay
Imagem de feraugustodesign por Pixabay
Music: Tropic Anno Domini Beats

---

---



---
▶️ 3Speak