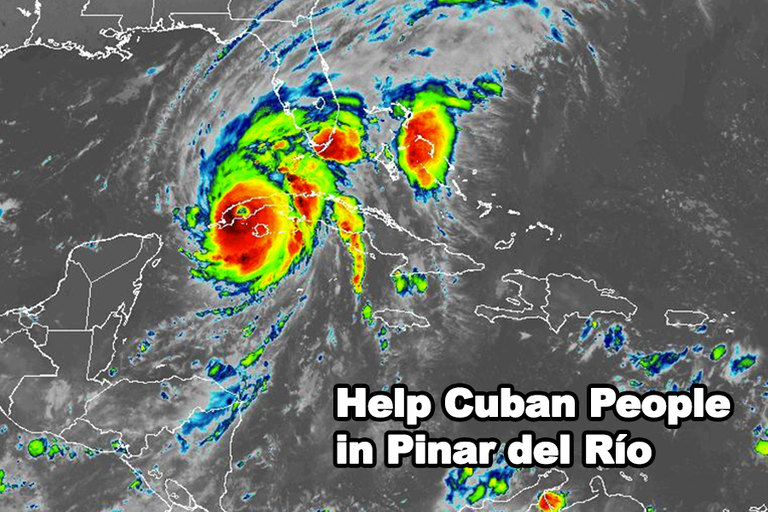 Hola Hivers, hoy tenía preparado un post sobre emprendimiento, creo que era uno muy bueno, pero dada las circunstancias en que amanece una parte (la más desfavorecida) de mi país, afectada por un Huracán Categoría III, no puedo hacer más que intentar hacer algo por ellos.
Hi Hivers, today I had prepared a post about entrepreneurship, I think it was a very good one, but given the circumstances in which dawns a part (the most disadvantaged) of my country, affected by a Category III Hurricane, I can not do more than try to do something for them.
Es por eso que a través de este Post, estoy pidiendo ayuda a la comunidad de #Hive para que todo aquel que pueda y quiera, done $HIVE o $HBD para la compra de alimentos, medicinas, ropa y otros materiales que ayuden a las personas de la provincia de Pinar del Río a recuperar un poco de lo que han perdido tras el paso del Huracán Ian.
That is why through this Post, I am asking for help to the #Hive community so that everyone who can and wants to, donate $HIVE or $HBD for the purchase of food, medicines, clothes and other materials that will help the people of the province of Pinar del Rio to recover a little of what they have lost after the passage of Hurricane Ian.
Para donar, envíe la cantidad que desee en $HIVE o $HBD a @cubees poniendo en el memo "SOSCuba".
To donate, send the amount you want in $HIVE or $HBD to @cubees putting "SOSCuba" in the memo.
@cubees (https://cubees.xyz) es un emprendimiento fundado por mí, que ayuda a los hivers cubanos a cambiar sus recompensas por moneda local y divisas. Escogí su cuenta para no utilizar la mía personal. Pero todo lo que se recaude estará controlado por mí y por el equipo de HiveCuba.
@cubees (https://cubees.xyz) is a startup founded by me, which helps Cuban hivers to exchange their rewards for local currency and hard currency. I chose their account so as not to use my personal one. But everything collected will be controlled by me and the HiveCuba team.
Las imágenes hablan por si solas. Pinar del Río necesita ayuda, por nuestra parte, la comunidad de @hivecuba, @manuphotos (su líder) y este servidor hemos hecho nuestro aporte. En todo momento esta campaña de donaciones será supervisada y acompañada por la Comunidad HiveCuba, siendo @manuphotos y yo quienes irémos personalmente a Pinar del Río en la próxima semana a entregar la ayuda a los activistas que la distribuirán.
The pictures speak for themselves. Pinar del Rio needs help, for our part, the community of @hivecuba, @manuphotos (its leader) and this server have made our contribution. At all times this donation campaign will be supervised and accompanied by the HiveCuba Community, being @manuphotos and I who will personally go to Pinar del Rio next week to deliver the aid to the activists who will distribute it.

Por mi parte, tengo experiencia en este tipo de campañas, ya que durante la crisis de COVID-19 tuve el agrado de dirigir y participar en una de ellas que llevó por nombre AirdropCuba con la que se recaudaron más de $2,000 dólares en criptomonedas para ayudar a personas y personal médico en las ciudades de Matanzas y Pinar del Río. En el siguiente enlace puede ver los reportes de las donaciones: https://airdropcuba.medium.com/
For my part, I have experience in this type of campaigns, since during the COVID-19 crisis I had the pleasure of leading and participating in one of them that was named AirdropCuba with which we raised more than $2,000 dollars in cryptocurrencies to help people and medical personnel in the cities of Matanzas and Pinar del Río. In the following link you can see the reports of the donations: https://airdropcuba.medium.com/
Cada acción en esta campaña será documentada en este perfil y servirá de reporte de transparencia de nuestro accionar. Así mismo todas las recompensas de este post irán dirigidas a @cubees la cuenta encargada de recepcionar las donaciones.
Each action in this campaign will be documented in this profile and will serve as a transparency report of our actions. Likewise, all rewards from this post will go to @cubees, the account in charge of receiving donations.
Muchas gracias a todos por leer, se agradece que compartan este post.
Thank you very much to everyone for reading, sharing this post is appreciated.

Todas las imágenes fueron tomadas del reporte de Cubadebate / All photos are taken from Cubadebate report:
http://www.cubadebate.cu/noticias/2022/09/27/minuto-a-minuto-cuba-ante-el-paso-de-ian-ii/