 Buzz! Buzz! Esas han sido las palabras de los twitteros descentralizados. A veces, leer artículos largos resulta un poco pesado si se hace principalmente en un teléfono móvil (como la muela que a veces bajo por aquí 😝), por lo que otros prefieren los mensajes cortos y objetivos. DBuzz, es la alternativa descentralizada a Twitter que resuelve este problema y le da a los twitteros un incentivo mayor por hacer microblogging.
Buzz! Buzz! Those have been the words of decentralized twitterers. Sometimes reading long articles gets a bit tiresome if done primarily on a cell phone (like the grindstone I sometimes scroll down here 😝), so others prefer short, factual posts. DBuzz, is the decentralized alternative to Twitter that solves this problem and gives twitterers more incentive to do microblogging.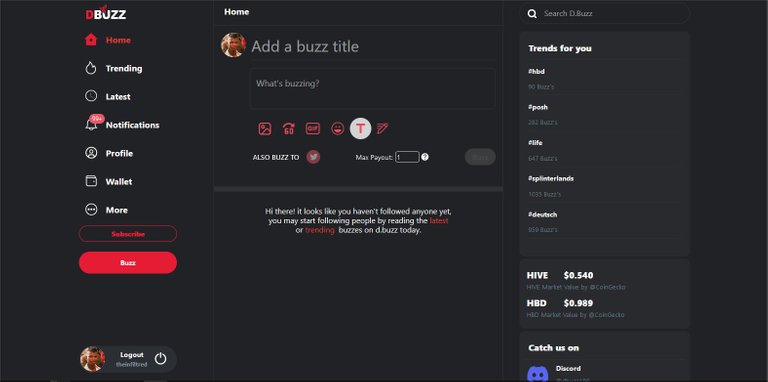 Con una interfaz idéntica y un catálogo de opciones que descentraliza la app, nace DBuzz, un sitio web para twitteros dentro del ecosistema de Hive. Además de las opciones regulares, los botones de Wallet, Trending, Latest y Subscribe son los únicos que se le agregan a diferencia de la del pajarito azul.
With an identical interface and a catalog of options that decentralizes the app, DBuzz is born, a website for twitterers within the Hive ecosystem. In addition to the regular options, the Wallet, Trending, Latest and Subscribe buttons are the only ones that have been added, unlike those of the little blue bird.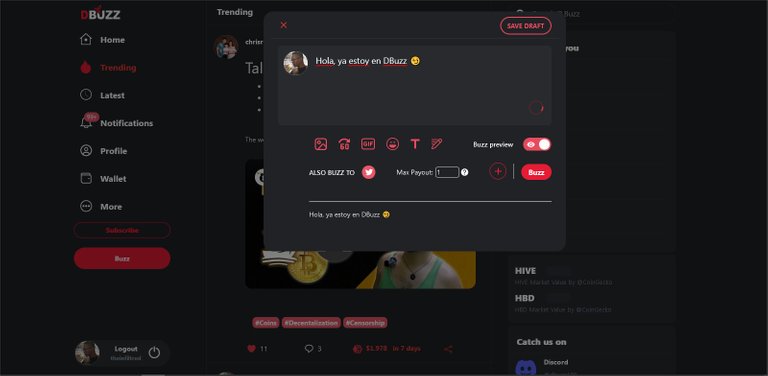 Para twittear (hacer un buzz) no tienes nada más y nada menos que realizar los mismos pasos que los que ya conoces, pero esperaaaa...también puedes postear lo mismo que haces aquí, en Twitter, usando un sólo botón que funciona como un switch. Puedes subir imágenes, vídeos de 60 segundos, gifs, incluso editar tu buzz luego de ser publicado en la blockchain.
To tweet (make a buzz) you have nothing more and nothing less to do than perform the same steps as the ones you already know, but wait...you can also post the same thing you do here, on Twitter, using a single button that works as a switch. You can upload images, 60 second videos, gifs, even edit your buzz after being published on the blockchain.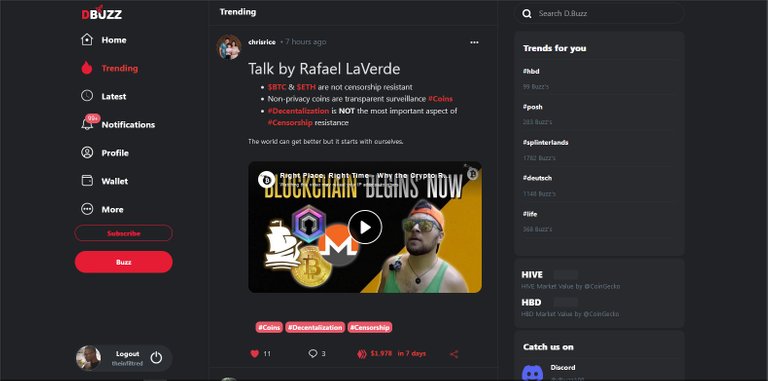 La pantalla principal funciona como la de Twitter, donde puedes ver los buzzes de las personas que sigues y viceversa, pero es en Trending donde está la cosa buena, y la gente publica contenido interesante y repito: corto, objetivo y conciso.
The main screen works like Twitter, where you can see the buzzes of the people you follow and vice versa, but it's in Trending where the good stuff is, and people post interesting content and I repeat: short, objective and concise.

Los incentivos sobre el contenido se dan bajo la misma regla que sigue Ecency y HiveBlog, donde a los 7 días se depositan las ganancias obtenidas por regalías en la moneda HBD de Hive, divida también en Hive Power. Para cobrar el 100% de ellas se debe dejar puesto el MAX PAYOUT en 1, pero en 0 el buzz no será recompensado en lo absoluto. (Esta última opción se puede utilizar cuando el contenido que se comparte no es 100% original y no será necesario referenciar al autor del mismo, pero no se obtendrán incentivos).
Incentives on content are given under the same rule that Ecency and HiveBlog follow, where after 7 days the earnings obtained by royalties are deposited in the HBD currency, also divided into Hive Power. To collect 100% of them the MAX PAYOUT must be set to 1, but at 0 the buzz will not be rewarded at all. (This last option can be used when the content being shared is not 100% original and it will not be necessary to reference the author of the content, but no incentives will be obtained).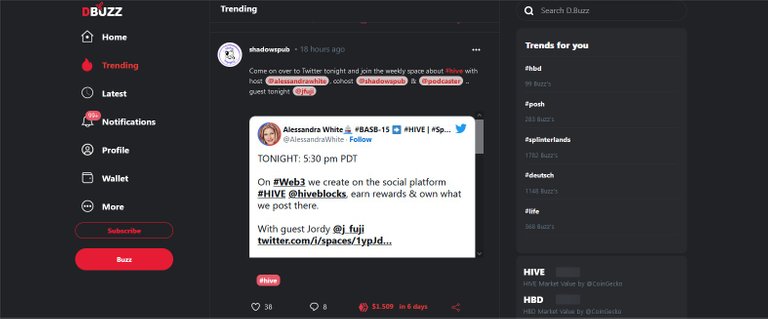 Al publicar aquí, además de generar valor, ahorras tiempo de tener que publicar gradualmente en Twitter, pudiendo crear una estrategia para compartir contenido en ambas apps una sola vez. Además, si lo que quieres es compartir directamente un tweet, podrás hacerlo por sólo compartir el enlace a DBuzz y se mostrará el contenido de éste en forma de artículo.
By publishing here, in addition to generating value, you save time of having to publish gradually in Twitter, being able to create a strategy to share content in both apps by once. In addition, if you want to directly share a tweet, you can do so by simply sharing the link to DBuzz and the content of the tweet will be displayed as an article.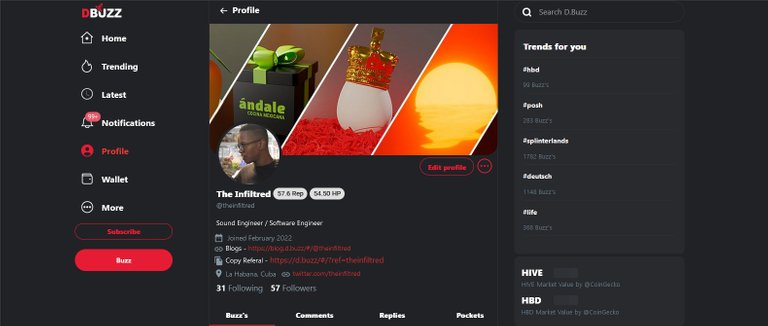 Como la base de datos en Hive es la misma para todas las apps del ecosistema, si ya vienes de Ecency, PeakD o HiveBlog no tendrás que configurar nada en lo absoluto en lo que al perfil respecta, ya que los datos se enlazan automáticamente al iniciar la sesión. Los ajustes de temas, visibilidad de contenido y ahorro de datos son configuraciones adicionales que se pueden graduar a gusto.
As the database in Hive is the same for all apps of the ecosystem, if you already come from Ecency, PeakD or HiveBlog you won't have to configure anything at all as far as the profile is concerned, as the data is automatically linked at login. The settings for themes, content visibility and data saving are additional settings that can be scaled to your liking.

Este ha sido todo por hoy con DBuzz, la variante descentralizada de Twitter. Si estás leyendo esto seguramente tienes un perfil en el ícono azul, y si no la tienes en el ícono rojo ¿qué esperas? ¡Que más fácil no podrá ser para ti! Nos vemos la semana próxima por aquí con más mieles.
That's it for today with DBuzz, the decentralized variant of Twitter. If you're reading this you probably have a profile in the blue icon, and if you don't have it in the red icon, what are you waiting for? It couldn't be easier for you! See you next week with more honeys.
ALL IMAGES ARE SCREENSHOTS OF THE WEBSITE ITSELF