Dunkler Wiesenknopf-Ameisenbläuling ■ Dusky large blue
Phengaris nausithous (Bergsträsser, 1779)
Zum dunklen Wiesenknopf-Ameisenbläuling hatte ich auch schon mehrere Berichte in den zurückliegenden Jahren veröffentlicht. Dieser Falter gilt allgemein als selten. Er ist ein Spezialist, der von der Futterpflanze dem großen Wiesenknopf (Sanguisorba officinalis) und Ameisen abhängig ist. Nur durch diese Symbiose kann der Falter überleben.
I had already published several reports on the Dusky large blue in the past years. This butterfly is generally considered rare. It is a specialist, which is dependent on the forage plant the great burnet (Sanguisorba officinalis) and ants. Only through this symbiosis the butterfly can survive.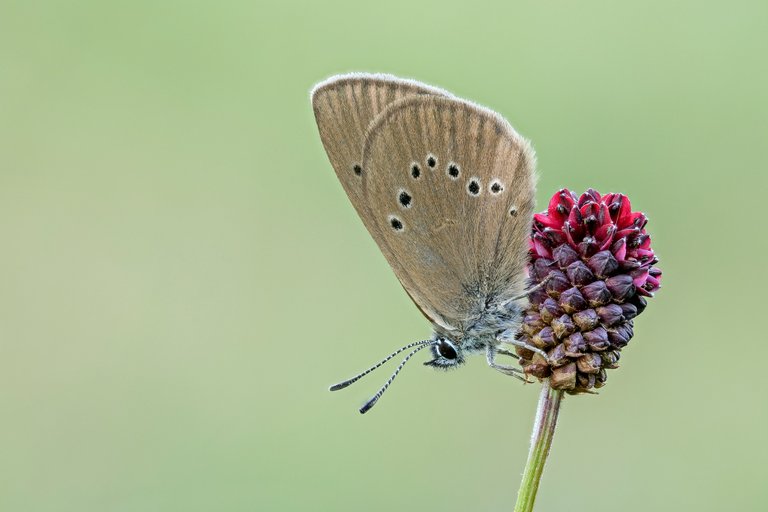 ▲ Click on the image for full resolution ▲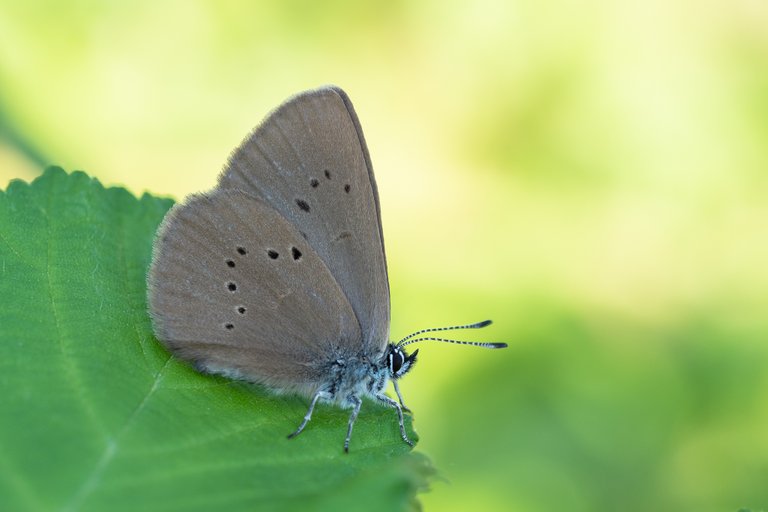 ▲ Click on the image for full resolution ▲
Selten findet man den Falter auf einem anderen Ansitz als auf dem großen Wiesenknopf. Allerdings sonnt sich der Falter gerne am frühen Morgen, um Wärme zu tanken. So habe ich an diesem Morgen mehrere Falter auf den Blättern von Hecken entdeckt.
The butterfly is seldom found on any other seat than the great burnet. However, the butterfly likes to sunbathe early in the morning to get warm. So I discovered several butterflies on the leaves of hedges this morning.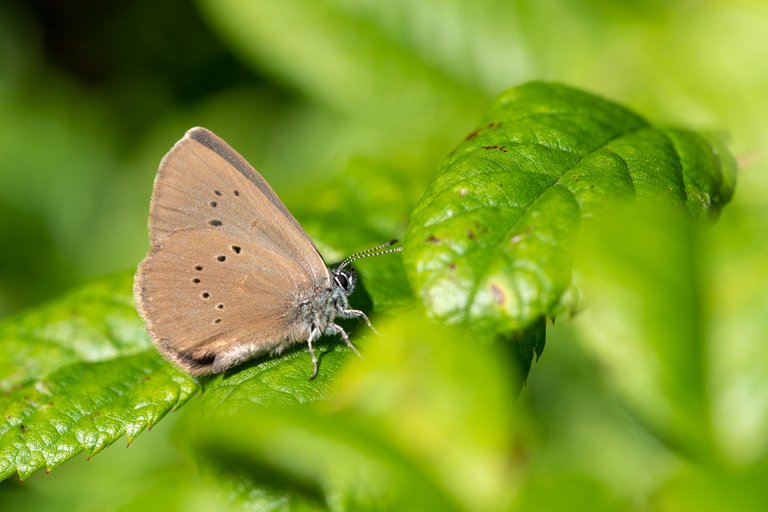 ▲ Click on the image for full resolution ▲
Auf der gegenüberliegenden Seite der Hecke drang die Sonne nur spärlich durch das dichte Blattwerk. Eine Gegenlichtaufnahme wie die nachfolgende, bot sich förmlich an. Da der Falter noch im Schatten der Hecke saß, konnte ich bequem mit meinem Stativ fotografieren.
On the opposite side of the hedge the sun penetrated the dense foliage only sparsely. A backlight shot like the following one was a perfect opportunity. Since the butterfly was still sitting in the shade of the hedge, I could comfortably take pictures with my tripod.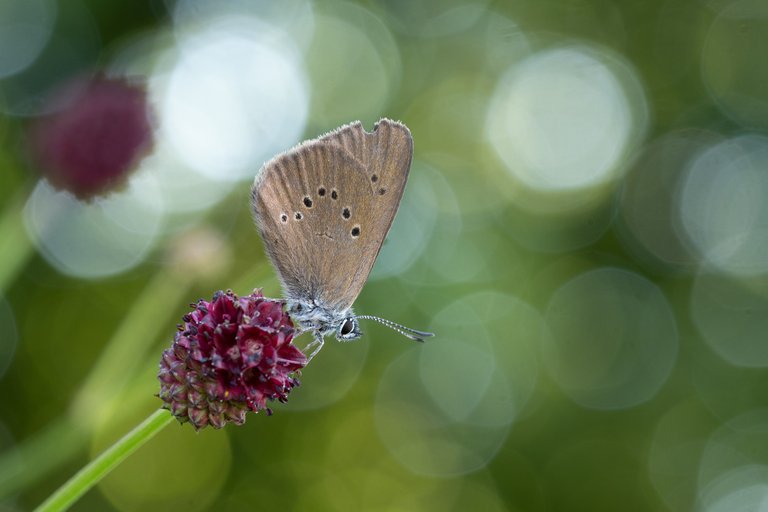 ▲ Click on the image for full resolution ▲
Bei einem Besuch am Abend war die Sonne längst unter gegangen. Reizvoll empfand ich zum Abschluss des Tages zwischen den Wiesenknöpfen, eine einzelne Pflanze vom Blutweiderich (Lythrum salicaria). Sie bildet einen herrlichen Kontrast mit der Wiese und den Wiesenknöpfen. Die Bestände der Ameisenbläulinge sind stabil und lassen hoffen, dass dieser Falter auch in den kommenden Jahren zahlreich beobachtet werden kann.
When we visited in the evening, the sun had long gone down. At the end of the day I was fascinated by a single plant of the purple loosestrife (Lythrum salicaria) between the meadow buttons. It forms a wonderful contrast with the meadow and the great burnet. The populations of the Dusky large blue are stable and give hope that this butterfly can be observed in large numbers in the coming years.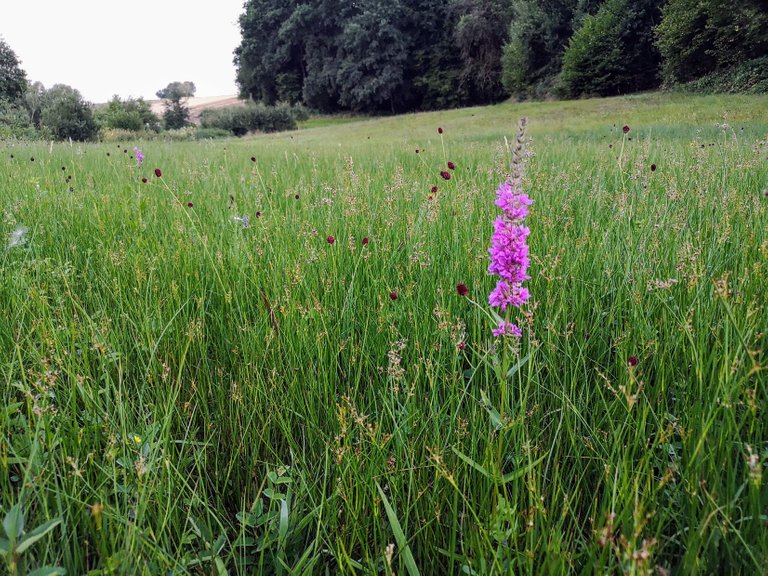 ▲ Click on the image for full resolution ▲
〰️
Mehr Informationen zu diesem seltenen Schmetterling findet ihr hier:
https://peakd.com/deutsch/@faltermann/faszination-ameisenblaeulinge-fascination-large-blue
More information about this rare butterfly can be found here:
https://peakd.com/deutsch/@faltermann/faszination-ameisenblaeulinge-fascination-large-blue
〰️
| | |
| --- | --- |
| Category: | Macro |
| Camera: | Panasonic Lumix DC-G9 |
| Lens: | Olympus M.Zuiko Digital ED 60mm 1: 2.8 Macro |
| Location: | Germany, Bavaria, Lower Franconia, Steinmark |
〰️
Wenn dir mein Beitrag gefällt, freue ich mich über deine Nachricht.
Herzlichen Dank und viele Grüße vom @faltermann 🐛
If you like my contribution, I am looking forward to your message.
Many thanks and greetings from Germany 🦋
🔴 PeakD (Best user interface for the decentralized Hive Blockchain)🔴
🔴 [DE] HIVE FAQ German Community 🔴
🔴 Fascinating Insects Community 🔴