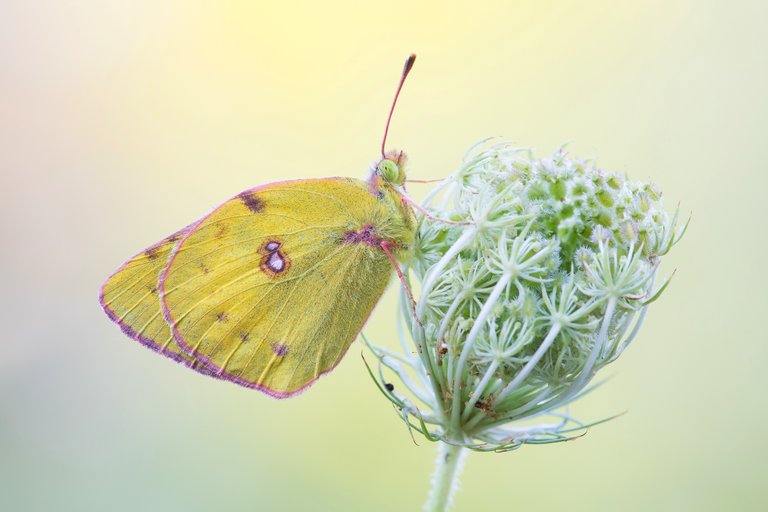 ▲ Click on the image for full resolution ▲
Was kann es Schöneres geben als Schmetterlinge. Mit ihren betörenden Farben bereichern sie die Natur und locken uns Menschen ein Lächeln ins Gesicht. Im Sommer tanzen sie von Blüte zu Blüte und sind aus einer Wiese oder in unserem Garten nicht wegzudenken. Schmetterlinge werden beachtet und geachtet. Ganz anders sieht es mit den Raupen aus. Sie sind der Schrecken vieler Gärtner. In ihren Augen sind Raupen Schädlinge, die man bekämpfen muss. Leider haben viele Menschen ein vollkommen falsches Bild von diesen zauberhaften Wesen.
Aus einem Ei schlüpft die Raupe, um zu fressen und zu wachsen. Dabei wechseln sie meistens fünfmal ihr Kleid, weil es zu klein geworden ist. Als erwachsene Raupe läuft ihre Zeit ab. Die Raupe spürt die Veränderung ganz genau. Sie wird nervös und sucht sich einen optimalen Ort für ihre Verwandlung. Die Metamorphose macht aus der Raupe eine Puppe. Durch biochemische Prozesse wird die Raupe im Inneren der Puppe zersetzt und es formt sich ein völlig neues Insekt. Der Prozess ist abgeschlossen, wenn der Schmetterling sich in der schützenden Puppenhülle komplett entwickelt hat. Dann ist die große Stunde der Geburt gekommen. Der Falter sprengt die Puppenhülle und kriecht heraus. Er pumpt Blut in die Organe. Langsam entfalten sich die Flügel. Jetzt dauert es nur noch kurze Zeit, bis er bereit ist für seinen ersten Flug in ein neues Leben.
What could be more beautiful than butterflies. With their beguiling colors they enrich nature and lure a smile on our faces. In summer they dance from flower to flower and are an indispensable part of a meadow or our garden. Butterflies are noticed and respected. The situation is completely different with caterpillars. They are the terror of many gardeners. In their eyes, caterpillars are pests that must be fought. Unfortunately, many people have a completely wrong image of these magical creatures.
The caterpillar hatches from an egg to eat and grow. They usually change their dress five times, because it has become too small. As an adult caterpillar their time runs out. The caterpillar senses the change very precisely. It becomes nervous and looks for an optimal place for its transformation. The metamorphosis turns the caterpillar into a pupa. Through biochemical processes, the caterpillar inside the pupa is decomposed and a completely new insect is formed. The process is complete when the butterfly has fully developed in the protective pupa shell. Then the great hour of birth has come. The butterfly bursts the pupa shell and crawls out. It pumps blood into the organs. Slowly the wings unfold. Now it takes only a short time until it is ready for its first flight into a new life.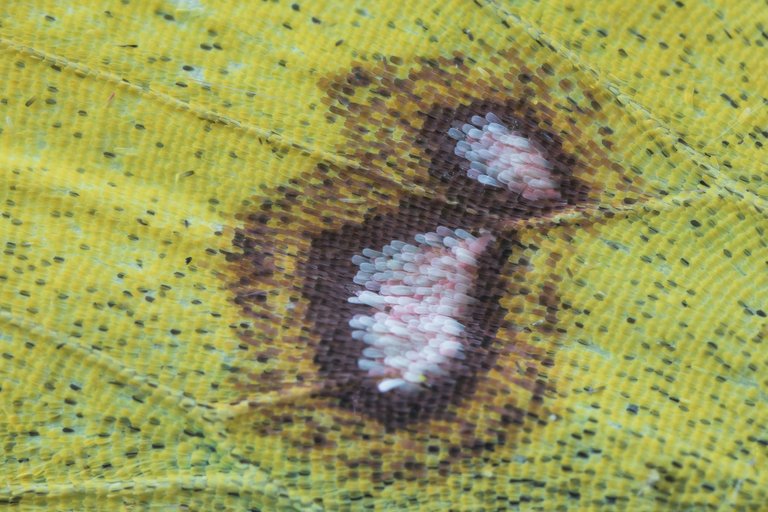 ▲ Click on the image for full resolution ▲
Hufeisenklee Gelbling ■ Berger's clouded yellow
Colias alfacariensis (Ribbe, 1905)
Du willst mehr über diesen Schmetterling erfahren, dann beachte auch diesen Beitrag:
https://peakd.com/deutsch/@faltermann/auf-magerrasen-zu-hause-at-home-on-rough-grassland
If you want to know more about this butterfly, please read this article:
https://peakd.com/deutsch/@faltermann/auf-magerrasen-zu-hause-at-home-on-rough-grassland
〰️
| | |
| --- | --- |
| Category: | Macro |
| Camera: | Canon 5D Mark IV |
| Lens: | Canon EF 180 mm 1:3.5L Macro USM |
| Location: | Germany, Bavaria, Lower Franconia, NSG Kallmuth |
〰️
Wenn dir mein Beitrag gefällt, freue ich mich über deine Nachricht.
Herzlichen Dank und viele Grüße vom @faltermann 🐛
If you like my contribution, I am looking forward to your message.
Many thanks and greetings from Germany 🦋
🔴 PeakD (Best user interface for the decentralized Hive Blockchain)🔴
🔴 [DE] HIVE FAQ German Community 🔴
🔴 Fascinating Insects Community 🔴