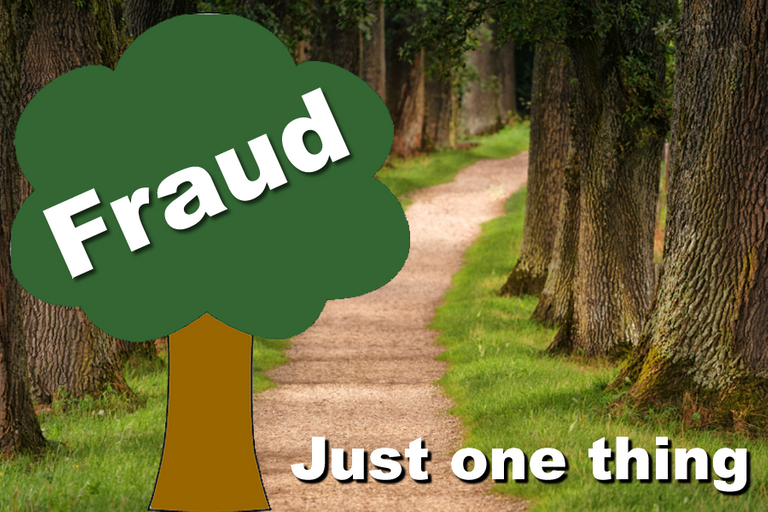 Sometimes it is hard to see the forest because of the trees; effectively this means that we can often get distracted from the big picture because of all the small things that get in the way.
Many of us are trying to make a buck online, some of us trying to make it our primary income and some of us just making it a subsidy to our primary.
Either way, through this process we may just try a bit of this and a bit of that, some of the other and then jump into something new. This process can work for some and not for others.
In amongst that journey we will come across some that are just downright fraudsters. In fact I know of one site that has been defrauding people since 2016. The initial concept seemed like a great idea, as they all do, and many people jumped in, As Founders, quite a prestigious position one would think. A program that shows all the stats and offers founding positions.
I did some investigations at the time, and discovered that the so called owner had already been reported for fraudulent schemes and demonstrated unreliability. However obviously many did not do their research and joined anyway, no small sum, approx $120 at the time
I can see that literally 10's of thousands have joined this program As 'Founders' adds up to a lot of money.
Some 6 years later and they are still offering founder positions, and the program still has not launched. Real or scam? This program most definitely appears to be a scam, in fact the so called owner has fraudulently seconded 100's of thousands of dollars from gullible people who couldn't spend 10 minutes on Google and do their research. (There it is, Research)
Part of the issue with Fraudsters being able to get away with dazzling you with the Trees is because people lose sight of the Big Picture and get side tracked, don't do due diligence to their process and fall for the giant Oak that may fetch a pretty penny but miss all the Massive Cedar trees round the hill.
It is easy for the Frauds to occur, they don't ask much and this in itself opens the door for many to fall for it,
Imagine you offer a program that would give you massive returns for your investment, all you have to do is sign up for $20 now, or even $10, what that? A couple of cups of coffee shop coffee? Easy peasey. Say 1000 people sign up, you walk away with $10000 – and walk away you do, so often online business take no responsibility and those that have been defrauded stay silent because of some sense of pride, or continue to believe that what they have just brought into will eventually give them returns.
Just ensure that what you look at, you do your diligence and research it, find out what you can, don't spend money unless it is a program that will offer you a way of empowering yourself to improve your efforts, don't pay into programs that say you don't have to do anything, that is just a blatant fraud.
We call them scams, and often laugh at being scammed or not, but in reality they are Fraud, someone is securing financial gain from the gullible and then disappearing, often to reappear again under a different guise

This post is part of the 'Just One Thing' Initiative
Just one thing is an initiative borne from @hirohurl and is a way of inspiring others to create a Blog Post every single day by offering a prompt to inspire.
You can ( and I encourage you all to do so) subscribe to the Just One Thing Community using this link
https://peakd.com/c/hive-101679/created
Become an inspired community member
!CTP
!ALIVE
#justonething #alive #AliveAndThriving



The HIVE Guide:
Do you want to have a FREE comprehensive Tool to navigate your way around HIVE
Click the Banner below and start your training today



If you are really looking for a helping hand to developing your business, then there is no better choice than to follow the programs that others have used and continue to use Just Click The Banner below to find out how