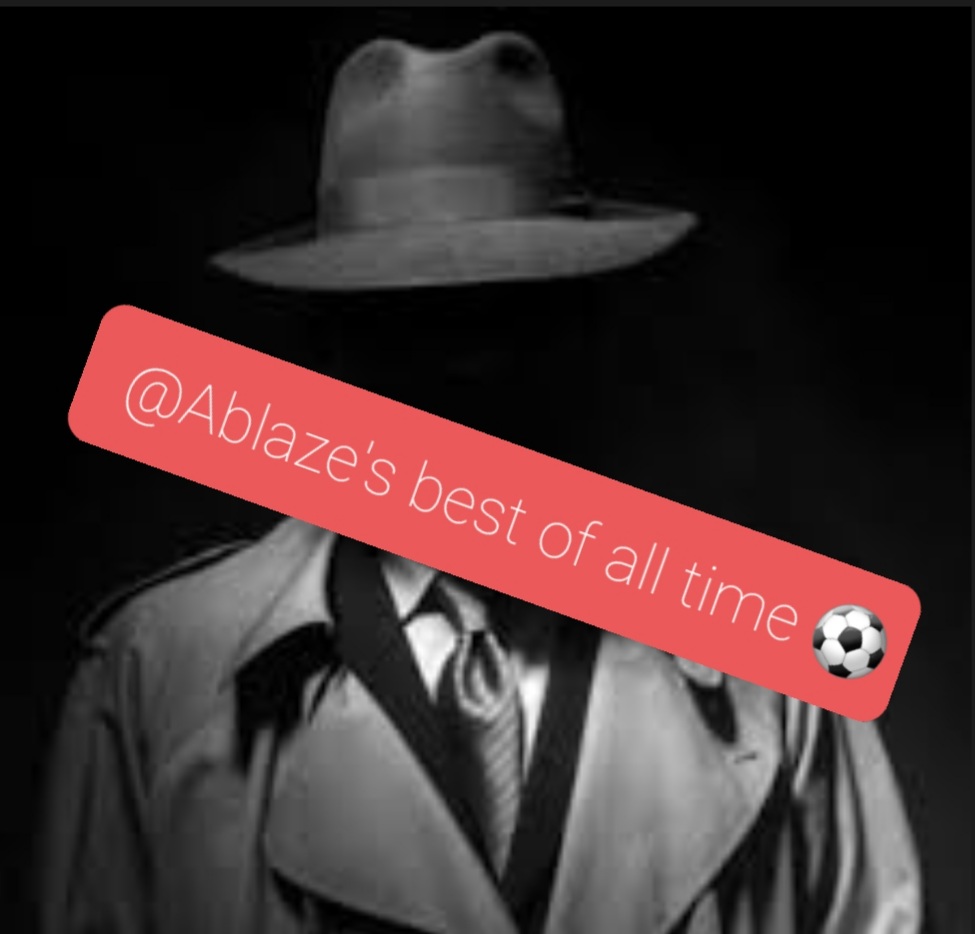 We all post here in the Sports Talk Social community because we love sport. Some of us love football, be it the American version, the English version or even the Irish version, which many of you would not have heard of. The later is called Gaelic football and it is a big deal here in Ireland, as the 32
counties North and South of the border battle it out for the much coveted All Ireland title and Sam Maguire trophy, yes we have names for our trophies, sure they're like a part of the family!
Then we have our cricket lovers and golf enthusiasts. We have surfer dudes, boxing experts and everything in between from tennis players to F1 Motorheads. I'm not sure if I am unusual or typical? Most likely I am somewhere in between, in that I love most, if not all sports or games. So long as someone can win or lose, I'm interested, and often captivated. I'd be known among my circle of friends as *ahem competitive. Nope, that's untrue, extremely competitive would be closer to the mark.
Bearing in mind this broad love of sport, I sometimes decide to post about sporting heroes from bygone years, across various sports. To date I have covered Boxing's infamous Mike Tyson and German tennis powerhouse Steffi Graf. Today, I'm going to post again about a sporting legend, a legend from one of my favorite sports, soccer and this guy is probably my favourite player of all time or certainly on the shortlist. The mystery player is Van the man from Amsterdam! That's right I'm talking about Marco Van Basten.
Simply the best
Thinking about Van Basten is very nostalgic for me actually. It brings me back to the 1980s and the start of my fascination with football.
At this time, the Premier League had not yet been formed, and we had the First Division in England, which had 22 teams way back then. Here is the table from 1987 with the Premier League Champions from 2016 and 2018 facing the chop to division 2. How times have changed.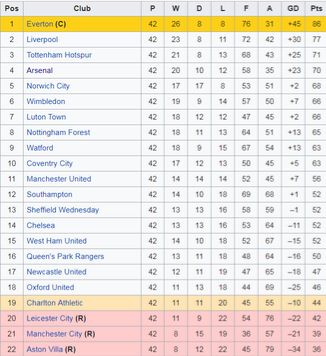 La Liga had a different look to it in 1987 also, with Barcelona languishing down in 6th place behind Real Sociedad, Athletico Madrid, Osasuna and Athletico Bilbao. Real Madrid were still top however, proving just how dominant they were back then - some things never change.
But it was neither of these leagues that held my most avid attention back in those days in the 1980s. The top league at the time was Seria A. We only had 2 television channels at the time, RTE1 and RTE2 and every Monday night, there was a highlights show from the Italian league on RTE2 and I used to look forward to this, like Christmas morning.
The League was adorned with top players like Roberto Donadoni, Diego Maradona, Roberto Baggio, Ruud Gullit, Frank Rijkaard, Paolo Maldini, Careca and of course Marco Van Basten. The trendy Italian cities of Milan, Naples and Turin were attracting the best talent in the world, and Seria A was the place to be.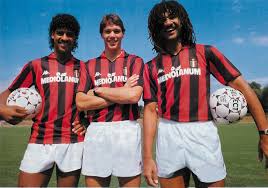 As a child, I would often pretend that I was a famous player while out practicing or playing with my friends, and we would sometimes even commentate on ourselves as we played 🙈 🙉
Ha ha, pretty funny to think back on. It would go something like this:
Maldini picks the ball up from Galli in goals. He sees the run from Donadoni in the middle of the park, who picks out an exquisite pass to Gullit in a dangerous area. Gullit manages to find Van Basten in space. One touch. Looks up. Bang. What a goalllllllllll!!!! Oh my word the fans are going wild!!
Ok, so mostly I probably ballooned it over the bar, and I doubt I even knew what exquisite meant at the time, but sure isn't nostalgia great like that, you can dress those memories up in their Sunday best whatever way you like!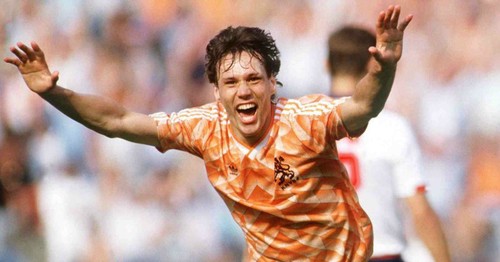 There was one constant however, I'd always have the shots on goal as Marco Van Basten, as he was my favorite player at the time, and I literally thought that sun shone out of his arse! Which is maybe what brought me to be an Arsenal fan soon after 😃
Accomplishments
Ok, take a breath, a sip of tea, maybe have a sit down, as this is a long list! There's not much the Dutch master did not win throughout his illustrious career.
International with Netherlands
UEFA European Championship: 1988
Club with Ajax
Eredivisie: 81–82, 82–83, 84–85
KNVB Cup: 82–83, 85–86, 86–87
UEFA Cup Winners Cup: 86–87
Club with AC Milan
Serie A: 87–88, 91–92, 92–93
Supercoppa Italiana: 87-88, 91-92
European Cup: 88–89, 89–90
European Supercup: 88-89
Intercontinental Cup: 88-89, 89-90
Individual Awards
FIFA World Player of the Year: 1992
UEFA Player of the Year: 1989, 1990, 1992
Ballon d'Or: 1988, 1989, 1992
European Cup Top Scorer: 1988–89
Serie A Golden Boot: 89–90, 91–92
Eredivisie Top Scorer: 83–84, 84–85, 85–86, 86–87
European Silver Boot: 83–84
Dutch Footballer of the Year: 84–85
European Golden Boot: 85–86
World Golden Boot: 1985–86
Bravo Award: 1987
Onze d'Argent: 1987, 1992
Onze d'Or: 1988, 1989
IFFHS World's Best Player: 1988, 1989
World Soccer Player of the Year: 1988, 1992
UEFA Euro 1988: Top Scorer and Best Player with 5 goals
UEFA European Championship Team of the Tournament: 1988, 1992
FIFA 100 (as picked by Pelé): 2004
UEFA Golden Jubilee Poll: #4
Italian Football Hall of Fame: 2012
UEFA Euro All-time XI (published 2016)
A.C. Milan Hall of Fame
The above info on accomplishments was garnered with the help of Wikipedia, so I hope the sources are credible - they are usually pretty good.
Most Iconic Moment
Pick that one out of your net keeper! He has scored his fair share of worldies, but this has to be his best strike ever. It was scored for his country in Euro 1988. What's not to like about it? It was all the more impressive because:
It was the final of the European Championships.

It put them 2-0 up and they went onto win their first and only International soccer tournament as a result of the strike.

The ball was different back then, and it was nowhere near as easy to control and put spin onto.

Look at the height that it drops from, and the concentration on his face as he prepares to enter the history books.

Pause it just before he hits it. Look at where Marco is standing. Look at where the keeper is. Look at the goal. How on earth did he score!!?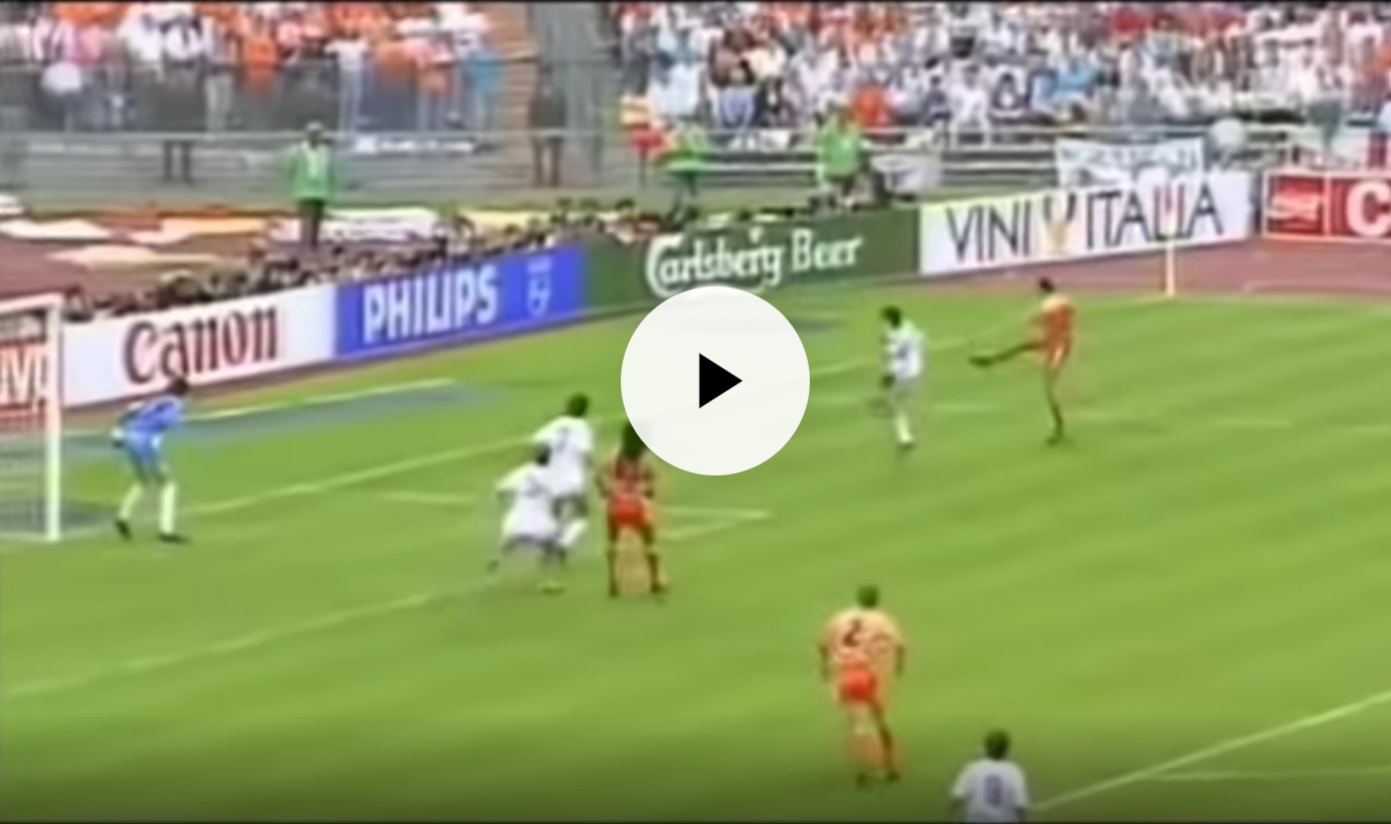 There's not many players living or dead that could do that, and I think I could count them on one hand, maybe even one finger. What do you think? Could anyone else have scored it, when you consider the ball engineering at the time etc. Have your say in the comments below.
Take a bow Marco.
Thanks for the memories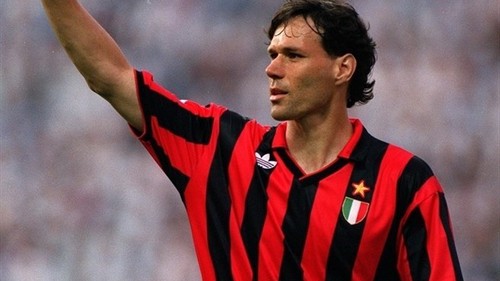 The images used are not my own and the following are the sources:
http://www.acmilan-forum.com
http://www.youtube.com
https://www.football365.com
https://aaeblog.com/2019/06/16/mystery-man/
Peace Out.