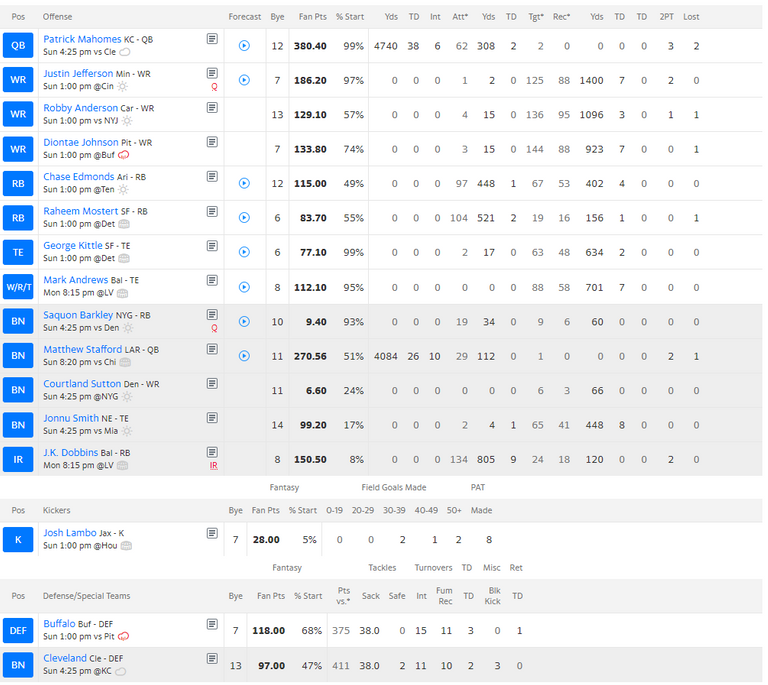 ---
For some unholy reason I decided to tackle the misery head on and I clicked to renew our family fantasy football league. I guess I am just a glutton for punishment. I swore last year that I was done. I was fed up with standing by and watching my team suck week after week. Culminating with the purchase and delivery of two fifths of alcohol to the eventual winner.
I told my family I was done. I was sick of buying booze for everyone else but ourselves. You see, we have been doing this league for close to ten years now and not a single time in the past ten years have my wife or I ever won the championship. In fact, we are the only couple where at least one of us hasn't won at some point.
It's degrading, demoralizing, and downright ridiculous.
I'm over it, my wife is over it, and yet here we are September 8th and I am staring at a fantasy roster that I hope can carry me through the season to the championship and seven delicious bottles of whiskey.
It seems like every year I say I am not going to mess with my pre-draft rankings because many times the person who wins doesn't bother with any of that and they still do just fine. I usually make it about a week after renewing the league before I succumb to the temptation and start to edit things.
As you can imagine, it typically doesn't work out so well for me. This year on the other hand, I think I might be okay. Let's take a dive into my current lineup.
To be fair, I already made two changes to my lineup that you won't necessarily see here. J.K. Dobbins is starting the season on the Injured Reserve list, so I quickly dropped him down to mine. This frees up a roster slot for me in case I wanted to snag some early talent that went unnoticed or undrafted.
I was also a bit perplexed to find that my kicker had already been cut from his team. I didn't have the desire to wait around and see what happened with him, so I decided to pick up a new kicker. I had to wait for the waiver to drop and then I welcomed Josh Lambo to my team. Kickers can be hit or miss, so I am not too worried about this one. I may not even pick up a second one and during his bye week I might just take the zero. It will depend on how my season is going...
Let's talk about the really exciting stuff now... Patrick Mahomes! Yep, that's him right at the top of my roster. I must have had a pretty decent draft pick to be lucky enough to snag him. I know he had some injury issues at the end of last year, but I am hopeful he will drive my team to victory this year.
For my backup quarterback I got a little crazy and opted for Matthew Stafford. My hope is that he can excel now that he is free from the Detroit Lions. I think he has the potential to score some significant points now that he is in California. If the west coast does what they are know to do, the ball will be in the air quite a bit and despite past team results, I don't think there is any doubt Stafford can throw!
I will be honest, most of the other names I am not super familiar with. It only takes one player having a breakout season or others just having above average consistent seasons to bring home the victory. Kittle and Edmonds are probably the two most notable veterans on my list.
I think we all know Defenses can make or break a game. My hope is that Buffalo rides the wave of excitement that they were showing in the preseason. There is a good chance that they could have a dynamite year and I hope I am able to take advantage of that.
What do you think of my roster so far? Did I do okay? Any dead weight I should drop before things get too far out of hand? Let's discuss it in the comments!