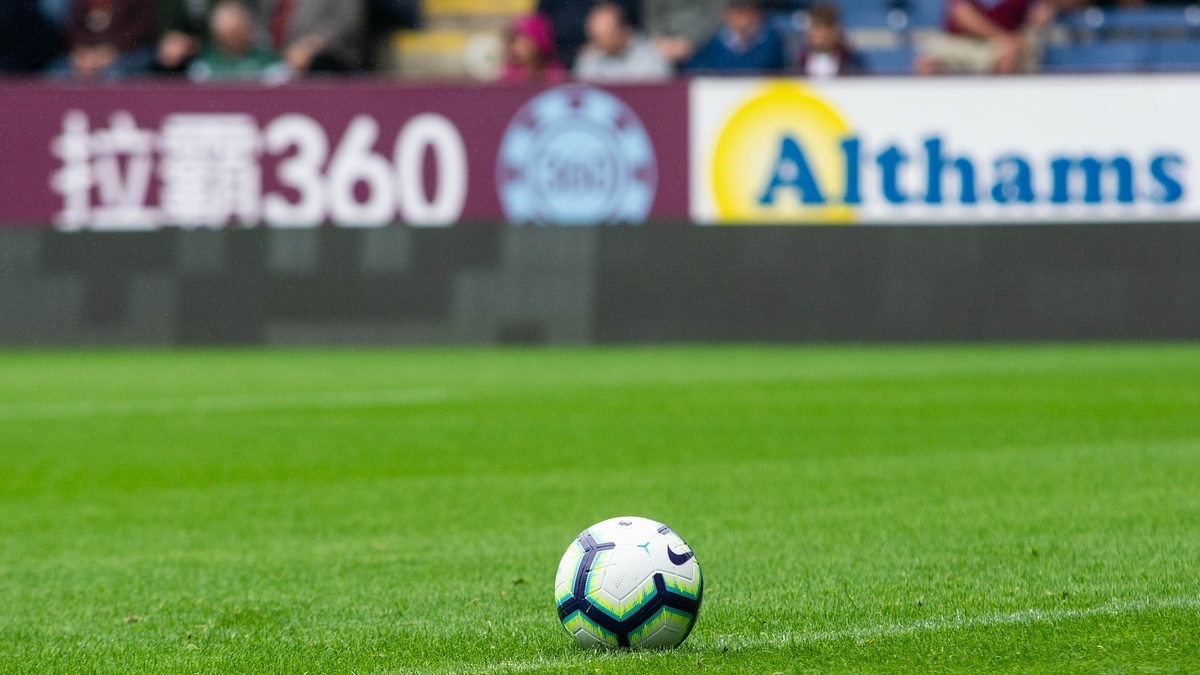 These are previews from matches involving Belgian Teams with all the latest on team news, player form, injuries along with my personal betting angles, ...

It turned out to be a solid Saturday as I had one of the rare bigger bets on the season (also taken on Copytip & shared on the SBC Discord) which ended up as a winner also hitting a small middle cover bet. The 7 final matches of the regular season will be played all at once today. I mostly will be looking at very specific in-game setups instead of pre-game bets. These are my views on all matches today...
---
Club Brugge vs Moeskroen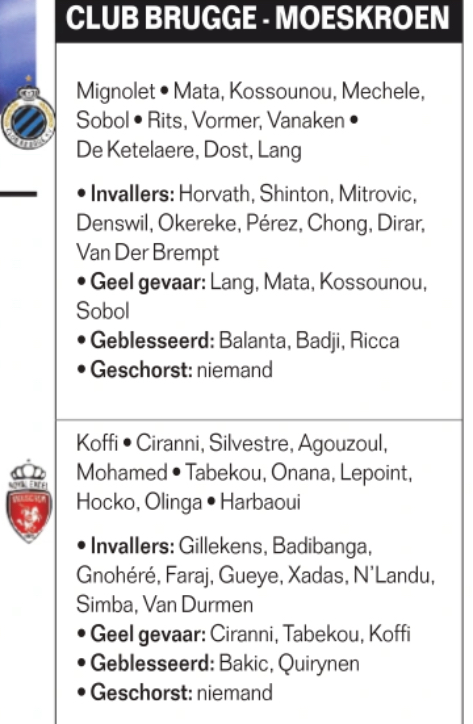 Club Brugge is currently 13 points clear in the lead which would make it 8 to start the playoffs in case they win today. In recent weeks, they clearly dropped some focus due to their major lead but I still have no clue how Anderlecht managed to win from them last week as they seemed to be in total control. Likely there will be some rotation as some players are in danger to miss the start of the playoffs in case they take a yellow card (Lang / Mata / Kossounou / Sobol) while Badji, Ricca & Balanta are injured. I would not be surprised if none of the players in danger of taking a yellow card would start on the bench which likely also won't too much of a difference in the end. Moeskroen if they lose and Waasland wins away against Leuven (4.0+ odds for that to happen) can still drop to the last place for a direct relegation. If anything it's not unthinkable and sealing a point will make sure they get at least a playoff against a 2nd division team. I do expect them to crawl back parking the bus and fall short at the end as Club Brugge seem hungry to set things straight after the loss against Anderlecht. A potential line-up with many names left out along with a start in the match where Club Brugge doesn't find an immediate way to break the defense might just move the line on them to -1.5 at evens or more which is something I would consider taking in-game. For now I stuck to a tiny 0.2 unit bet on
Club Brugge -1.5 @ 1.78
---
Kv Kortrijk vs Kv Mechelen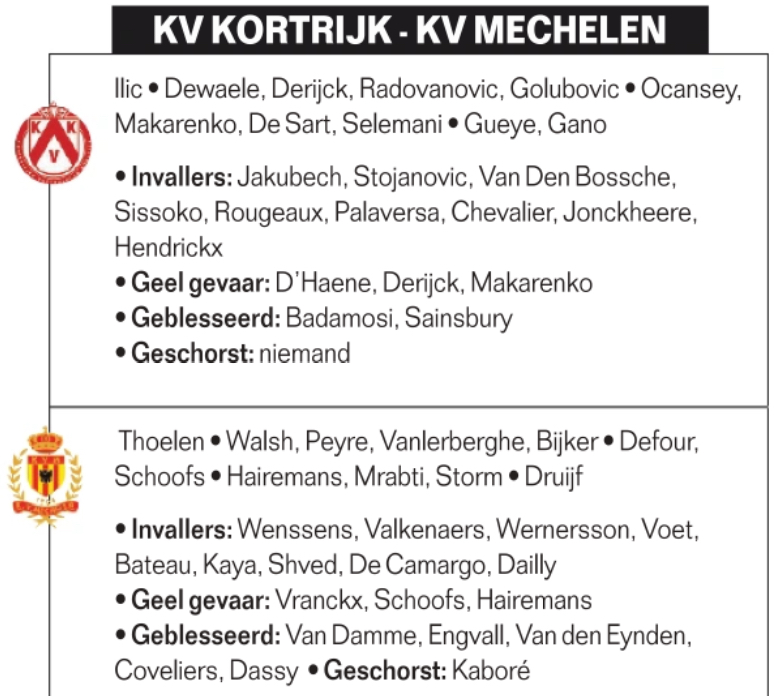 Kortrijk took a win last week breaking a 4-game losing streak they needed a last-second goal against Waasland who were fighting for relegation though and I don't see them as a team to confidently back. Mechelen has a fair chance to get inside playoff 2 in case they take the win today. Based on what I've seen the last couple of weeks, I'm not so sure if many of the teams are jumping to play playoff 2 giving them extra matches without fans and extra covid tests each time. Mechelen was the big favorite and ended up winning 4-2 against Zulte-Waregem last week what was a fairly even match. They are still without Van Damme. Similar to many matches lately, this one surely has the potential to see many goals but odds also are adjusted to that with a 3.25 line. I'm not so sure all Mechelen players really want to play Playoff 2 but I also don't see a point in Betting Kortrijk as the home underdog. Mechelen had on average 14 corners in their last 6 away matches against non-top-teams and I already took a tiny bet (due to small limits) on
Over 10 Corners @ 2.17
with an eye to increase my stakes early in-game.
---
Oostende vs Cercle Brugge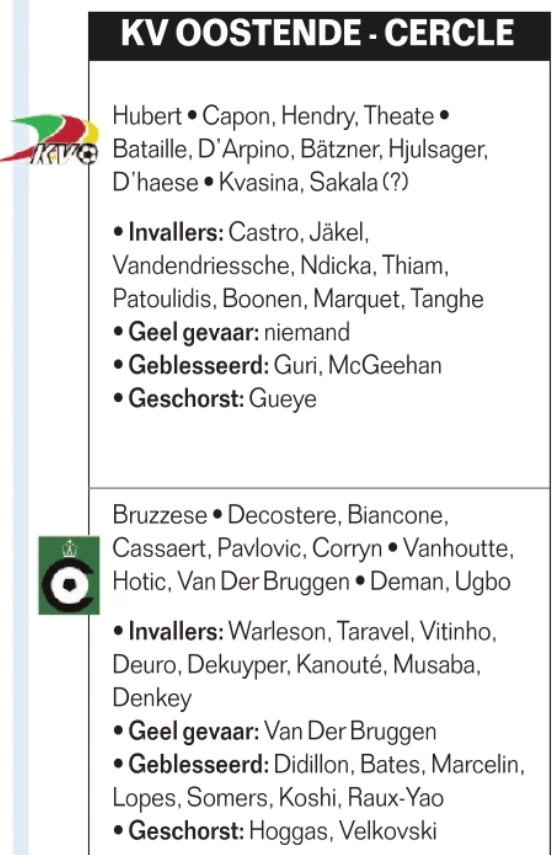 Oostende needs to win this match and Anderlecht to lose in order to make it into playoff 1. If anything, they are a team that would deserve a spot based on their entire season but they most likely will fall short. Last week they took the deserved win right at the end away against Beerschot despite falling 1-0 behind against play. They weren't convincing at the start of the 2nd half but managed to pull through. They will be without Gueye (Important having scored 11 goals) and Nsakala (13 goals) is also questionable. Cercle Brugge sealed the 16th place last weekend and are fully safe which likely will bring some decompression (as seen with stvv last weekend). I need to see Oostende playing good with Sakala in the team with Cercle showing signs of a let-down spot before possibly getting in on the home team.
No pre-Game Bets
---
Oud-Heverlee Leuven vs Waasland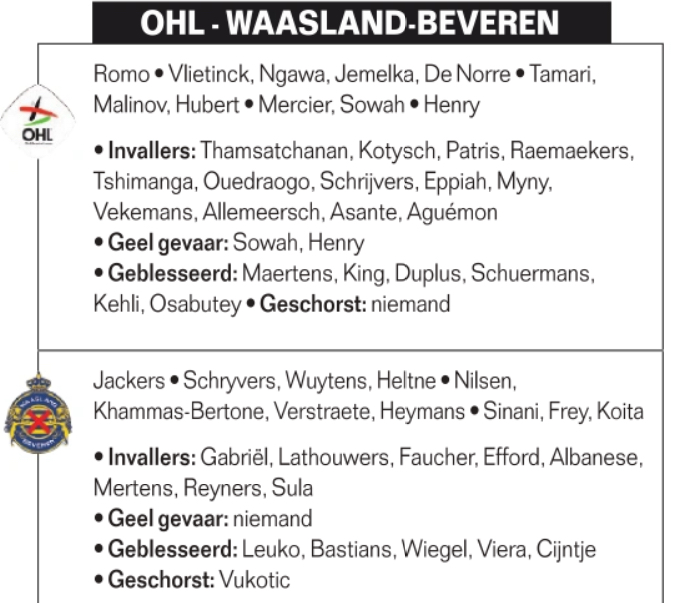 This is the do or die match for Waasland who have been in this situation countless times before each time playing out in them actually being quite good screwing themselves over one way or another in the form of a red card, penalties against or getting late goals against. The good thing is that if they win, they are very likely to avoid direct relegation. OH Leuven is currently in the 11th spot with only a win giving them some hope to play playoff 2 if they want to play that to begin with that is. I'm sure that there will be a lot of talk about how they absolutely want to reach it but I'm not sure if all players think that was as they won't even play on their own pitch in case they get in Playoff 2. Waasland will be without important Vukitic while OHL also still has some injuries. If anything, this is a match between teams who only can be happy with the win while in the last 5 matches they on average conceded 2.2 and 2.4 goals. So a goal-fest certainly would not be a surprise and I did get in on
Over 2.75 @ 1.786
early in the week on this. by now the line has dropped to Over 3.5 @ 1.98 which makes sense but is too much risk for me as I do expect at least a defensively focussed Waasland at the start. The matches at the end of season from teams in relegation battle are a tricky thing and I don't see Waasland without a chance tonight even though it's likely that they will screw themselves over again. I'm did take a beer bet on
Waasland Win @ 4.51
in crypto on
wagerr.com/sportsbook
and likely will have some more serious action in-game as this one might get really interesting.
---

For a Full Guide on what Wagerr is about and how to bet there see here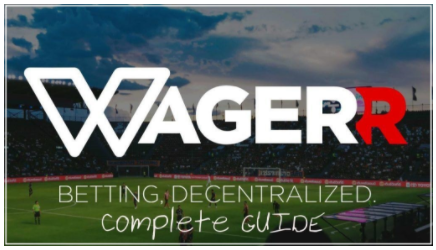 ---
Standard vs Beerschot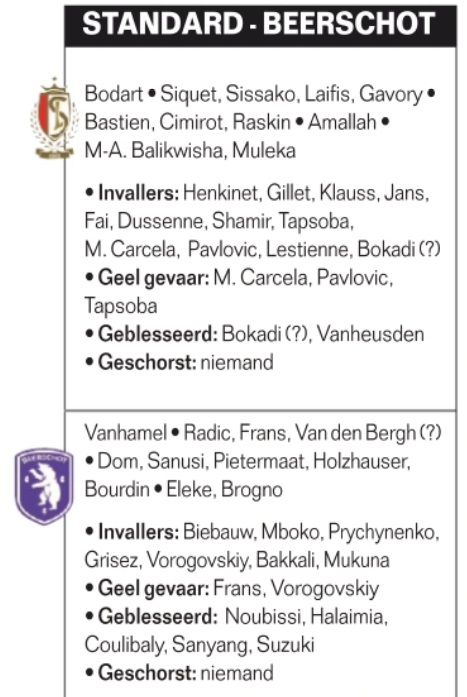 This is a direct fight between playoff 2 contenders with Beerschot having enough with a point. They have been playing mostly defensive after their coach Losada left and they have been getting a ton of corners against which is something I have been writing about week after week. Beerschot remains on my list of teams to fade as they just haven't looked all that good. Standard took a 0-4 win last week but was hardly impressive. The week before they won 2-1 at home against AA Gent which was deserved based on a good 2nd half after seeing a boring 1st half and AA Gent not using the space they were getting. Beerschot will be without Noubissi & Suzuki leaving them with limited options in the offense. I'm not willing to take Standard at a -1 handicap and at the same time fear that an early lead would kill the -2.5 handicap on the corners for them. For now, I'm just going to keep my discipline and wait it out to see what the match brings as there could be a lot of scenarios very much suited for in-game betting.
No Pre-Game Bets
---
Zulte-Waregem vs AA Gent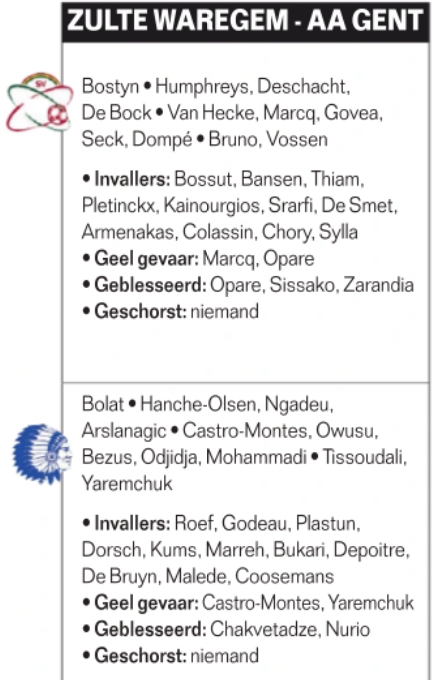 AA Gent has everything in their own hands in this direct clash for a playoff 2 spot as they are 1 point behind on Zulte-Waregem who is in 8th position. If anything, it is mandatory for AA Gent to win this one and I think they will be the more motivated team. It can't be neglected though that they haven't had a good season and there is no guarantee whatsoever that they will play a good match today even with Odidja, Yarmechuk & Tissoudali in the team. Zulte-Waregem in previous matches didn't convince all too much and always needed to be woken up getting a goal against. I'm not willing to gamble on an easy away win even though that is certainly possible. The best thing is likely to just wait it out and see what happens before making a play.
No Pre-Game Bets
---
Sint-Truiden vs Anderlecht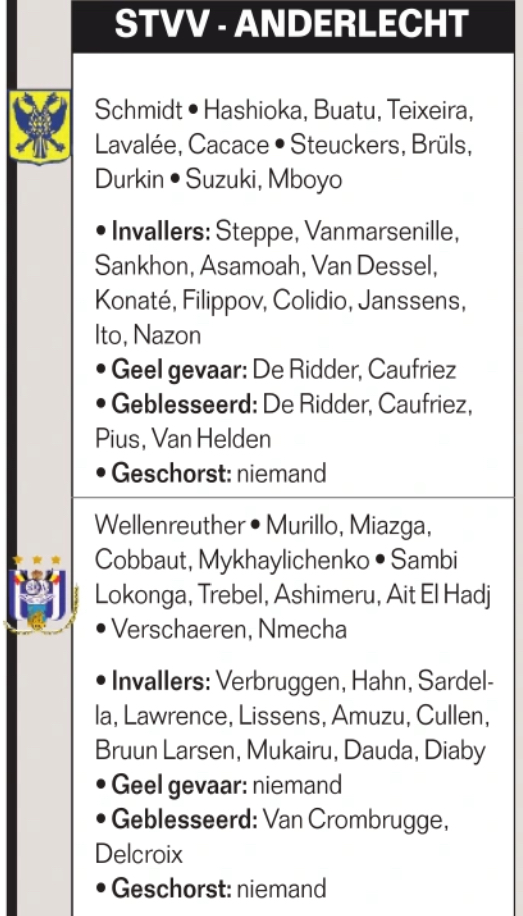 Stvv had some major decompression last match after saving themselves the week before in it remains the question of how far their mindset was able to get shifted by the coach since they have nothing to play for. Anderlecht another one of those weird wins last week in a match where Club Brugge seemed to have things totally under control. A draw will do today for Anderlecht to reach playoff 1 and if anything, they have been really solid defensively and I expect this to be the same today. The main question is if Stvv is going to be focused or not. If that is the case, I would not be surprised to see another one of those matches where Anderlecht needs a Penalty to make the first goal. 1.6 type odds for away teams is something I stay away from at all cost so I'm just going to stay away. Too much depends on how Stvv presents themselves and this should become clear during the match.
No pre-Game Bets
---
Late info might change my view on what is written in these previews. I will cover these matches live in our SBC Discord Channel. All my bigger pre-game & Live bets can automatically be followed on Copytip.
---
Pre-Game Preview Bets
I continue to share many of my pre-game bets in all my preview posts. Most of them are smaller bets or trading positions and some of them I took early in the week and might not have the exact same odds available. These bets should just be seen as info and not as something to blindly follow. Record on them so far this season is 221 Bets | +10.12% ROI on Flat Unit bets (See Results) Bigger pre-game bets which are rare these days I also tend to take extra on those in BTC.
---

I take all my Pre-Game & Live bets with my Betting Broker Sportmarket Pro who always provide the best offers on the market with a 1 click solution and don't limit winning players offering high limits. For more info check my Sportmarket Pro Review
Season 2020-2021 BTC Bets
| Date | Bet | mBTC | Odds | Result | Betslip |
| --- | --- | --- | --- | --- | --- |
| 11/01/2021 | Standard vs Waasland BTS | 2.5 | 1.86 | +2.15 | sportbet.one |
| 01/11/2020 | Antwerp -0.5 | 10 | 3.50 | -10 | sportbet.one |
| 03/10/2020 | OHL vs Zulte 1H Under 1.25 | 10 | 2.010 | +5.005 | sportbet.one |
---

I have taken most of my crypto bets so far this season on sportbet.one
---
Other Bookies, Projects & Platforms I use...
| Month | Bets | Won | Lost | Push | Staked | Profit BTC | ROI |
| --- | --- | --- | --- | --- | --- | --- | --- |
| Jan 2020 | 1 | 1 | 0 | 0 | 0.0100 | +0.01271 | +127% |
| Dec 2019 | 2 | 0 | 2 | 0 | 0.0200 | -0.002000 | -100% |
| Nov 2019 | 2 | 1 | 1 | 0 | 0.0200 | -0.001800 | -9.00% |
| Oct 2019 | 4 | 1 | 3 | 0 | 0.0400 | -0.020800 | -52.00% |
| Sep 2019 | 4 | 3 | 0 | 1 | 0.0400 | +0.028890 | +72.22% |
| Aug 2019 | 10 | 7 | 3 | 0 | 0.1000 | +0.033860 | +33.86% |
| July 2019 | 2 | 2 | 0 | 0 | 0.0200 | +0.018000 | +90.0% |
| Jun 2019 | 0 | 0 | 0 | 0 | 0.0000 | +0.000000 | +0.00% |
| May 2019 | 7 | 0 | 5 | 2 | 0.0700 | -0.050000 | -71.43% |
| Apr 2019 | 5 | 3 | 2 | 0 | 0.0500 | +0.024170 | +48.34% |
| Mar 2019 | 7 | 3 | 3 | 1 | 0.0700 | +0.004120 | +5.89% |
| Feb 2019 | 6 | 4 | 2 | 0 | 0.060 | +0.023210 | +23.21% |
| Jan 2019 | 10 | 0 | 9 | 1 | 0.100 | -0.079640 | -79.64% |
| Dec 2018 | 15 | 4 | 10 | 1 | 0.150 | -0.058880 | -39.25% |
| Nov 2018 | 17 | 7 | 10 | 0 | 0.170 | -0.032170 | -18.92% |
| Oct 2018 | 15 | 6 | 9 | 0 | 0.150 | -0.028290 | -18.86% |
| Sep 2018 | 14 | 13 | 0 | 1 | 0.140 | +0.141820 | +101,3% |
| Aug 2018 | 8 | 5 | 1 | 2 | 0.080 | +0.045470 | +56.84% |
| Jul 2018 | 17 | 8 | 9 | 0 | 0.135 | +0.033590 | +24.88% |
| Jun 2018 | 15 | 7 | 7 | 1 | 0.150 | +0.018200 | +12.13% |
| May 2018 | 2 | 2 | 0 | 0 | 0.020 | +0.023440 | +117% |
| Feb 2018 | 12 | 3 | 8 | 1 | 0.091 | -0.036293 | -39,88% |
| Jan 2018 | 21 | 10 | 10 | 1 | 0.147 | +0.005800 | +3.95% |
| Dec 2017 | 19 | 9 | 8 | 2 | 0.148 | +0.010422 | +7.04% |
| Nov 2017 | 21 | 11 | 10 | 0 | 0.210 | -0.008030 | -3.82% |
| Oct 2017 | 21 | 10 | 10 | 1 | 0.210 | +0.003080 | +1.46% |
| Sep 2017 | 9 | 4 | 4 | 1 | 0.090 | +0.001440 | +1.60% |
| Total | 266 | 124 | 126 | 16 | 2.491 | +0.092319 | +3.71% |