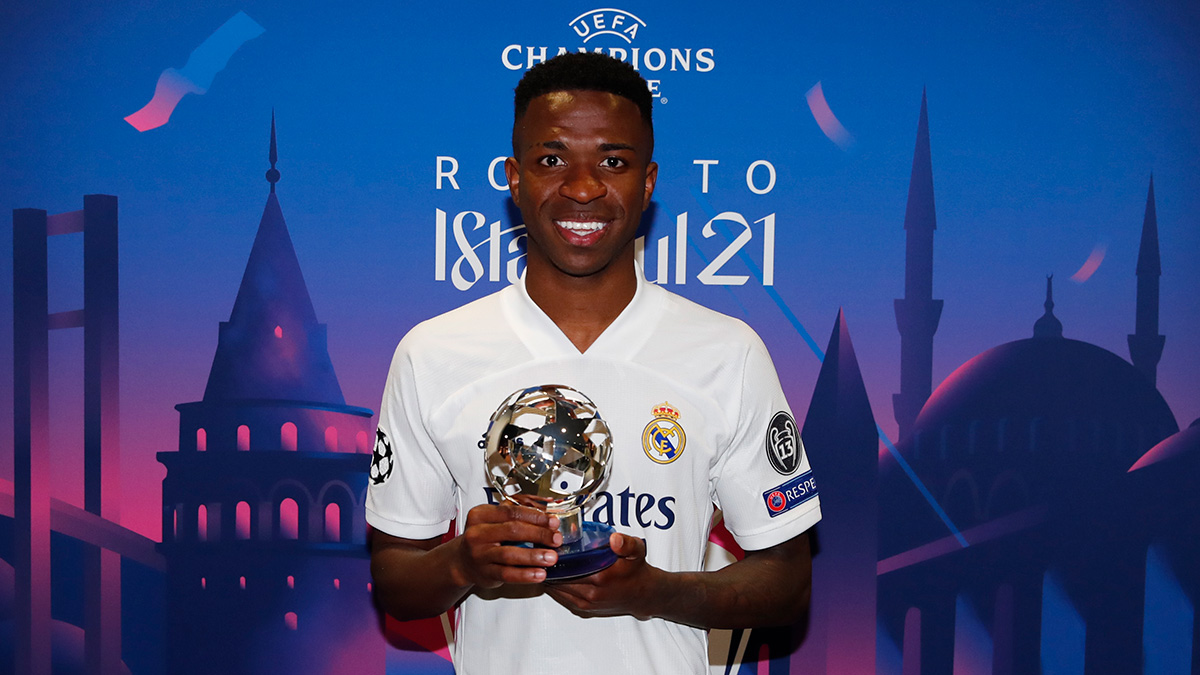 Source
English
Español
---
The Champions League is finally back and what a better way for this competition to return than to present a match between the 2 teams that played the Champions League final of 2018. Real Madrid vs Liverpool have been 2 of the best teams in the past 5 years, and even though both teams are currently not in their best shape, I was still expecting to see a good match with exciting performances from both sides.
Why I said the teams aren't in their best shape?
Well in the case of Real Madrid, since CR7 left the team they have managed to compete without a superstar goalscorer. Let's be honest here, Benzema can be good sometimes but he isn't a top goalscorer like CR7, Messi, Lewandowski, among many others. The team was able to win the previous Spanish league, but there is still the need to bring over a new generation of superstar killer.


It is no secret that a lot of Real Madrid fans have the desire of seeing Mbappe wearing Real Madrid's shirt. And now with Haaland proving he is also a super killer, then there are now 2 options. In my opinion, if Real Madrid doesn't sign either Mbappe or Haaland this summer, this will condition the team's future success. It is imperative to bring one of those 2 players if the team wants to remain competitive in the coming year. I think Haaland should be an easier option simply because it will probably be a cheaper operation.


Besides the lack of a superstar killer, the team has also suffered a decrease in their defensive performance. Last year they had the best defense in all Europe and this year they are just good but not the best. They have been receiving more goals than last year and that's why they aren't in the first position of the Spanish league. So, no top goalscorer, and a weakening defense leaves Real Madrid in a slightly vulnerable position.


In the case of Liverpool, they don't have any goalscoring problem. They have excellent attacking players such as Salah, Mane, Firmino among others, and they can easily score 3 goals in any match. Salah, who is Liverpool's best player, always competes for the individual trophy of the top scorer in the Premier League, so it is fair to consider him a superstar killer. In fact, he scored Liverpool's goal today.


I consider Liverpool isn't in its best shape because of huge bad luck with the injuries on the defensive side. When they lost Virgil van Dijk over a long-term injury they were completely unable to remain a competitive team. van Dijk is one of the best defenders in the world, and without him their defensive performance is mediocre. But they didn't just van Dijk, they also lost other key players such as Henderson, Joe Gomez (another important defensive player), and Joel Matip (another defensive player). Their entire defensive line has been injured which results in an unbalanced, they have great attacking players but bad defensive players.


How was the match?
I couldn't be on time so I missed the first 10 minutes but since the moment I began watching it, I saw Real Madrid as the clear dominator. I was expecting Liverpool to do a lot of high pressing in the beginning of the match, and maybe this happened in the first 10 minutes, but I didn't see anything like that.


Real Madrid was in complete control with Kross and Modric remembering their better days when they conquered all the major stadiums year after year in the 2016-2018 period. They imposed their skills once again, and it was very frustrating to Liverpool players to be incapable of taking away the control of the match from Madrid players. Vinicius had the best match as a Real Madrid player. He caused a lot of danger as a left-winger over and over again and drove Alexander Arnold crazy. He scored 2 goals, which is very unusual for him, and both goals were great. Besides the goals, he also participated in a lot of attacking plays and could have both scored more as well as give some assists but his performance was spectacular. He was clearly the man of the match today.


Liverpool had no way of stopping long passes from Kross and this was how the first 2 goals started. Kross is excellent when it comes to finding open spaces to sneak a good pass and did a terrific job today, the pass he gave Vinicius in the first goal was perfect. Modric was also great at moving between lines and helping both in attacking plays as well as in defensive moments.


I mentioned a few paragraphs above that Liverpool's defense was mediocre thanks to injuries, well, this can be seen in the second Real Madrid goal. It was scored by Asensio, Kross makes a long pass and a Liverpool's defensive player gives a header but instead of sending the ball away from Real Madrid players, he sends it straight to Asensio and what's even worst, he leaves Asensio face to face against the goalkeeper. This was such a horrible mistake that's hard to justify for Liverpool.


The second part started with a 2 goal advantage for Real Madrid but this wouldn't last much because Liverpool would quickly score a goal after a good play involving Salah and Diogo Jota. Having so many good attacking players, it was almost impossible for Madrid to receive zero goals today. I think that in the end, they were happy just receiving one.


Once Liverpool scored their first goal, their confidence grew and it was clear they were looking to tie this match but this is when Real Madrid's defensive began to shine. Sergio Ramos and Varane, who are the 2 main central defenders, were unable to play today, but luckily for Madrid, they have 4 excellent central defenders and not just 2. So, the 2 who are almost always on the bench, had an opportunity to prove how good they are. Most people already know who is Nacho, a very polyvalent player that can play in different defensive positions and he always gives a good performance. Militao, on the other hand, is the youngest and newest central defender and is the one with the least amount of minutes played so far this season but he is also a great defender. Today, he was the best defender of the entire match, even better than Nacho I would say. Militao is super fast, has a good header, and is simply an awesome defender.


These 2 central defenders, along with the great performance from Mendy and Vazquez, which is usual by this point, allowed Real Madrid to survive Liverpool's attacks and eventually win the match. The third Madrid goal would be after a good movement from Modric inside the area that finished with a pass to Vinicius and an immediate shoot that went straight in. This was another excellent goal.


The only Real Madrid player that had a bad match was Rodrygo, again. He appears to have been going through a rough moment when it comes to his performances, but I think he will eventually begin to feel more comfortable again. He recently had a long-term injury so this might be what's causing his low performance. In the case of Liverpool, his attacking players were very good, there were good movements from Mane, Salah, and Jota, but this wasn't enough to obtain a good result. Liverpool's defense was a mess which was expected due to the reasons explained before, and due to this weakness, they ended up suffering a hard defeat. You can see the match summary in this ESPN page.


Whats next?
It is still too soon to say Real Madrid already reached the semifinals because there is still a second match coming next week. What's sure is that after this result Madrid players will be much more secure in their plan compared to Liverpool players. Next week we will see what happens. In the past, Liverpool has accomplished great comebacks so everything is possible.


Later today I will be watching the match between Bayern Munich and PSG, the same match as last season's Champions League finale. The only bad thing is that Lewandowski won't be able to play due to an injury, and currently, he is considered the best player in the world so this is an extremely important absence. I am expecting to see an energetic Mbappe and a creative Neymar. Without Lewandowski, I think PSG is the favorite. We will see...
Por fin ha vuelto la Champions League y qué mejor forma de que vuelva esta competición que presentando un partido entre los 2 equipos que disputaron la final de la Champions League de 2018. Real Madrid vs Liverpool han sido 2 de los mejores equipos de los últimos 5 años , y aunque ambos equipos no están actualmente en su mejor forma, todavía esperaba ver un buen partido con actuaciones emocionantes de ambos lados.
¿Por qué digo que los equipos no están en su mejor forma?
Pues en el caso del Real Madrid, desde que CR7 dejó el equipo han logrado competir sin un goleador superestrella. Seamos honestos aquí, Benzema puede ser bueno a veces pero no es un goleador como CR7, Messi, Lewandowski, entre muchos otros. El equipo pudo ganar la liga española anterior, pero aún existe la necesidad de traer una nueva generación de superestrellas que sean killers.


Para nadie es un secreto que muchos aficionados del Real Madrid tienen el deseo de ver a Mbappé con la camiseta del Real Madrid. Y ahora, con Haaland demostrando que también es un súper killer, ahora hay 2 opciones. En mi opinión, si el Real Madrid no ficha ni a Mbappé ni a Haaland este verano, condicionará el éxito futuro del equipo. Es imperativo traer uno de esos 2 jugadores si el equipo quiere seguir siendo competitivo el próximo año. Creo que Haaland debería ser una opción más fácil simplemente porque probablemente sea una operación más barata.


Además de la falta de un killer superestrella, el equipo también ha sufrido una disminución en su desempeño defensivo. El año pasado tuvieron la mejor defensa de toda Europa y este año son buenos, pero no los mejores. Llevan más goles recibidos que el año pasado y por eso no está en la primera posición de la liga española. Por lo tanto, no tener un goleador top y una defensa debilitada deja al Real Madrid en una posición ligeramente vulnerable.


En el caso del Liverpool, no tiene ningún problema de gol. Tienen excelentes jugadores de ataque como Salah, Mane, Firmino entre otros, y pueden marcar fácilmente 3 goles en cualquier partido. Salah, que es el mejor jugador del Liverpool, siempre compite por el trofeo individual de máximo goleador de la Premier League, por lo que es justo considerarlo un killer superestrella. De hecho, hoy marcó el gol del Liverpool.


Considero que el Liverpool no está en su mejor forma debido a la mala suerte con las lesiones en el lado defensivo. Cuando perdieron a Virgil van Dijk por una lesión de larga duración, no pudieron seguir siendo un equipo competitivo. van Dijk es uno de los mejores defensores del mundo, y sin él su desempeño defensivo es mediocre. Pero no solo Van Dijk, también perdieron a otros jugadores clave como Henderson, Joe Gomez (otro jugador defensivo importante) y Joel Matip (otro jugador defensivo). Toda su línea defensiva se ha lesionado lo que se traduce en un desequilibrio grave, tienen grandes jugadores de ataque pero malos jugadores de defensa.


¿Cómo estuvo el partido?
No pude llegar a tiempo, así que me perdí los primeros 10 minutos, pero desde el momento en que comencé a verlo, vi al Real Madrid como el claro dominador. Esperaba que el Liverpool hiciera mucha presión al comienzo del partido, y tal vez esto sucedió en los primeros 10 minutos, pero no vi nada de eso la verdad.


El Real Madrid tenía el control total con Kross y Modric recordando sus mejores días cuando conquistaron todos los estadios principales año tras año en el período 2016-2018. Volvieron a imponer sus habilidades, y fue muy frustrante para los jugadores del Liverpool ser incapaces de quitarles el control del partido a los jugadores del Madrid. Vinicius tuvo el mejor partido como jugador del Real Madrid. Causó mucho peligro como extremo izquierdo una y otra vez y volvió loco a Alexander Arnold. Marcó 2 goles, lo cual es muy inusual para él, y ambos goles fueron geniales. Además de los goles, también participó en muchas jugadas de ataque y podría haber marcado más y dar algunas asistencias, pero su actuación fue espectacular. Claramente fue el hombre del partido de hoy.


El Liverpool no tenía forma de detener los pases largos de Kross y así empezaron los 2 primeros goles. Kross es excelente a la hora de encontrar espacios abiertos para hacer un buen pase e hizo un gran trabajo hoy, el pase que le dio a Vinicius en el primer gol fue perfecto. Modric también fue excelente para moverse entre líneas y ayudar tanto en las jugadas de ataque como en los momentos defensivos.


Mencioné unos párrafos arriba que la defensa del Liverpool es mediocre gracias a las lesiones, bueno, eso se puede ver en el segundo gol del Real Madrid. El gol fue de Asensio, Kross hace un pase largo y un jugador defensivo del Liverpool da un cabezazo pero en lugar de mandar el balón lejos de los jugadores del Real Madrid lo manda directo a Asensio y lo que es peor, deja a Asensio cara a cara contra el portero. Este fue un error tan horrible que es difícil de justificar para el Liverpool.


La segunda parte empezó con 2 goles de ventaja para el Real Madrid, pero no duraría mucho porque el Liverpool marcaría rápidamente un gol tras una buena jugada de Salah y Diogo Jota. Teniendo tantos buenos atacantes, era casi imposible que el Madrid recibiera hoy cero goles. Creo que al final, estaban felices con solo recibir uno.


Una vez que el Liverpool marcó su primer gol, su confianza creció y estaba claro que buscaban empatar este partido pero fue entonces cuando la defensiva del Real Madrid comenzó a brillar. Sergio Ramos y Varane, que son los 2 centrales principales, no pudieron jugar hoy, pero por suerte para el Madrid, tienen 4 centrales excelentes y no solo 2. Entonces, los 2 que casi siempre están en el banquillo, tuvieron una oportunidad para demostrar lo buenos que son. La mayoría de la gente ya sabe quién es Nacho, un jugador muy polivalente que puede jugar en diferentes posiciones defensivas y siempre da una buena actuación. Militao, por su parte, es el central más joven y nuevo y es el que menos minutos ha jugado en lo que va de temporada, pero también es un gran defensa. Hoy fue el mejor defensor de todo el partido, incluso mejor que Nacho diría yo. Militao es súper rápido, tiene un buen cabezazo y es simplemente un defensor increíble.


Estos 2 centrales, junto con la gran actuación de Mendy y Vázquez, que ya es algo habitual a estas alturas, permitieron al Real Madrid sobrevivir a los ataques del Liverpool y finalmente ganar el partido. El tercer gol madrileño sería tras un buen movimiento de Modric dentro del área que terminó con un pase a Vinicius y un disparo inmediato que se fue directo adentro. Otro excelente gol.


El único jugador del Real Madrid que tuvo un mal partido fue Rodrygo, de nuevo. Parece estar pasando por un momento difícil en lo que respecta a sus actuaciones, pero creo que eventualmente comenzará a sentirse más cómodo nuevamente. Recientemente tuvo una lesión a largo plazo, por lo que esto podría ser lo que está causando su bajo rendimiento. En el caso del Liverpool, sus jugadores de ataque fueron muy buenos, hubo buenos movimientos de Mane, Salah y Jota, pero esto no fue suficiente para obtener un buen resultado. La defensa del Liverpool fue un lío pero esto ya se esperaba por las razones explicadas anteriormente, y debido a esta debilidad, terminó sufriendo una dura derrota. Puedes ver el resumen del partido en este enlace de ESPN.


¿Qué sigue?
Todavía es pronto para decir que el Real Madrid ya ha llegado a semifinales porque aún queda un segundo partido la semana que viene. Lo que sí es seguro es que tras este resultado los madridistas estarán mucho más seguros en su plan que los del Liverpool. La semana que viene veremos qué pasa. En el pasado, Liverpool ha logrado grandes remontadas, por lo que todo es posible.


Más tarde hoy estaré viendo el partido entre el Bayern de Múnich y el PSG, el mismo partido que la final de la Liga de Campeones de la temporada pasada. Lo único malo es que Lewandowski no podrá jugar debido a una lesión y actualmente es considerado el mejor jugador del mundo por lo que esta es una ausencia sumamente importante. Espero ver un Mbappé enérgico y un Neymar creativo. Sin Lewandowski, creo que el PSG es el favorito. Veremos...