A new month means a fresh start. Let's leave the past behind and aim for a strong start this time. After a rough beginning in January with 15 consecutive losing parlays, I managed to make a comeback and almost turn the month around. But, this time let's aim to stay in the green from the get-go.
With the postponed game between Eupen and Genk finally being played, and the first leg of the cup between Union and Antwerp, there will be plenty of opportunities to choose from. Add in cup games across Europe and a full matchday in Ligue 1, and we're sure to have a winning start to the month.
Unpredictable Transfers Shake Up the Field: How It Impacts the Bets
The recent transfers have created an unpredictable playing field, with some teams weakened by the sudden departure of key players. This can make it difficult for punters to make informed bets. The end of the winter transfer window marks the third restart of the season, following the summer transfer window and the World Cup break.
I have high hopes for Genk's away game in Eupen despite Genk's tendency to use the flanks and the narrow pitch in Eupen. The Union vs Antwerp cup match is expected to be a thrilling encounter, with both teams eager to win the cup and not quite on fire with scoring goals but still managing to win most of their games. I predict an over for this match.
I'm also focusing on the Toulouse vs Troyes game in France. Toulouse has won three of their last five games, while Troyes has only managed one win and two draws. I believe Toulouse will come out on top as the home team, with Troyes feeling the pressure from being near the relegation spot.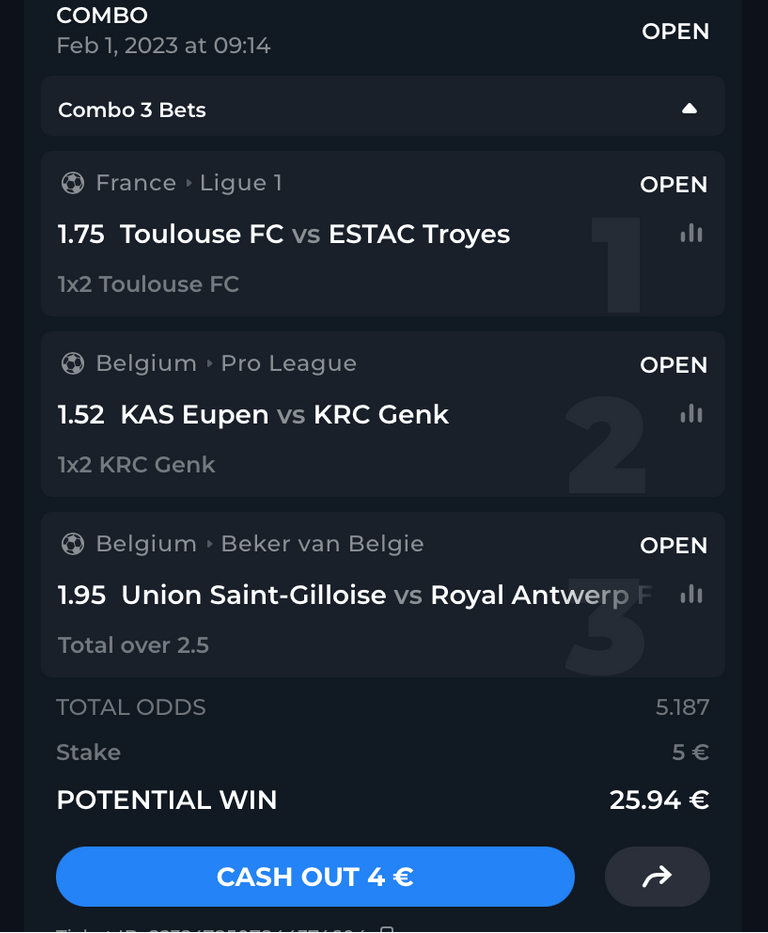 All bets are placed using this bookie!

Disclaimer
It is always a good idea to do your own research and to carefully consider the risks and potential returns before placing any bets. I am not a professional punter, for me it is just a hobby. I do place most of my bets in advance and do keep records of all my bets, but it is not encouraged to follow my bets blindly!